Melvin Brewing Launches RIIPA "Rotational Imperial IPA" Program
|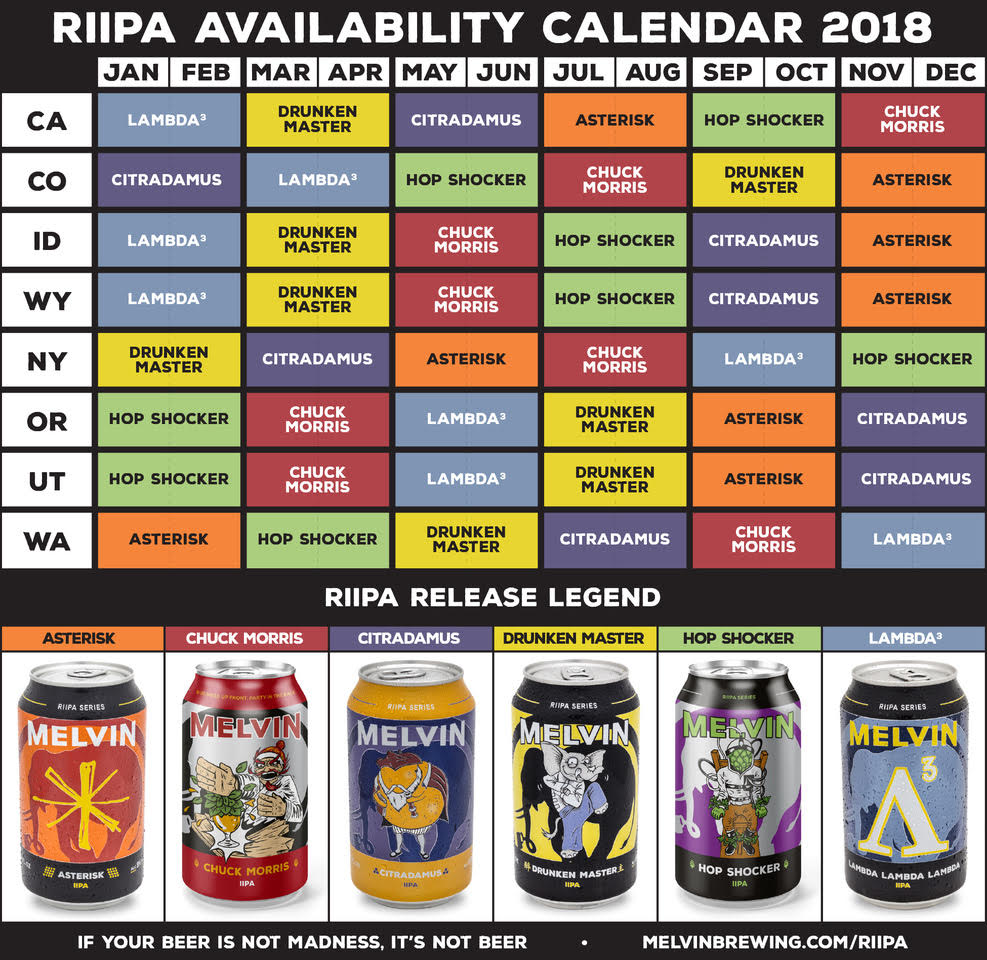 The brewing and marketing geniuses at Melvin Brewing are back at it with a new lineup of Imperial IPAs with its new Rotational Imperial IPA (RIIPA) Program. Throughout 2018, Melvin Brewing will release a new Imperial IPA every two months in its new RIIPA program.
As part of its paradigm shifting Rotational Imperial IPA program, one Melvin RIIPA will be released in select markets in cans and on draft every 60 days through the end of 2018. The rotation, shown above (RIIPA chart), will be continually updated for retailers, vendors and consumers at https://melvinbrewing.com/riipa/.
"Melvin Brewing was established in the heart of the Tetons, which provide the perfect background for making wicked Imperial IPA Melvin beers," said Jeremy Tofte, Co-owner of Melvin Brewing in a statement. "Yet, once we started to share the secret recipes in limited cans the community started asking for more. Hence the desire to keep beer fresh and exciting we created the RIIPA series."
Additionally, Melvin is introducing two entirely new Imperial IPAs that will fall into this new rotation with Hop Shocker and Chuck Morris. Rounding out the rotating lineup is: Asterisk; Citradamus; Drunken Master; and Lambda, Lambda, Lambda.
Hop Shocker IIPA:
Don't touch me, 'cause I'm electric. And if you drink me, you'll get SHOCKED! Experience pure uncut lupulin powder. In their clandestine lab in the wild of Yakima, the crew processed Mosaic + Simcoe hops into alpha acid pow pow. The Melvin posse inhaled deep, and the legend of the Hop Shocker was born. (available on draft)
Chuck Morris IIPA:
Business up front, party in the back. Chuck Morris is a Double IPA that will roundhouse kick, karate chop and machine gun its way to your heart. Dry hopped to perfection, strong like its namesake, but as balanced as a fighter doing the splits. Make sure to stretch first! (available on draft)
Visit https://melvinbrewing.com/riipa-new/ for the complete rotation schedule in in California, Colorado, New York, Idaho & Wyoming, Washington, and Oregon & Utah.