Mt. Hood Brewing Co. To Expand with Brewery Barn + Winter Beer Releases
|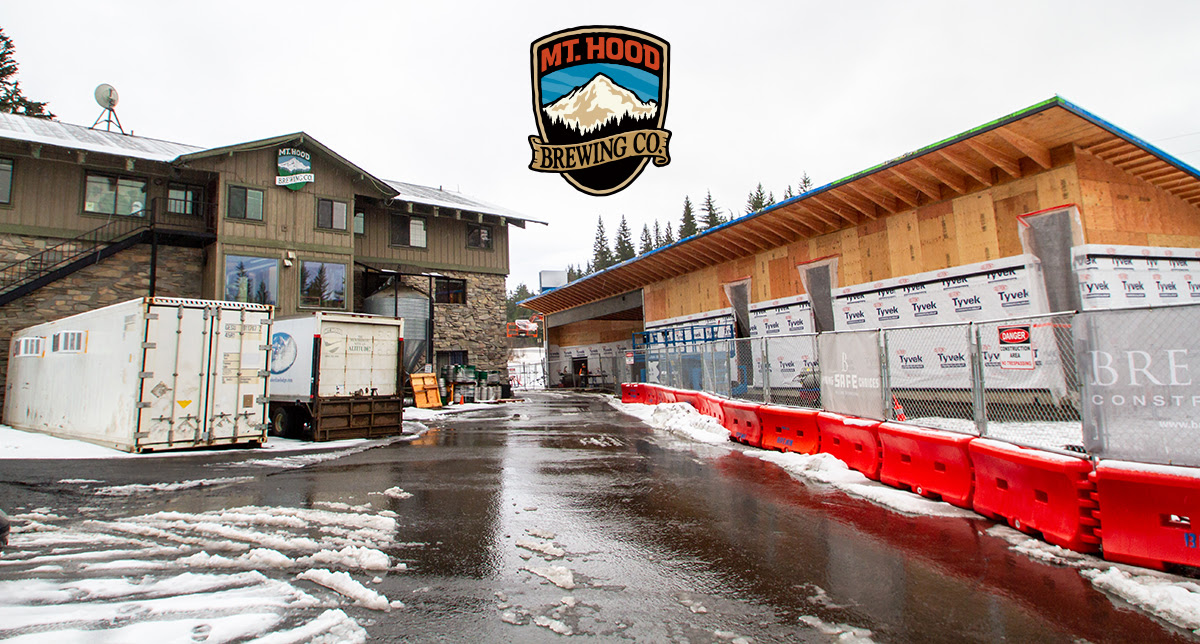 Located at 4,000 feet in Government Camp, Mt. Hood Brewing Co. has recently begun its brewery expansion adjacent to the existing brewery and brewpub along US Hwy 26. What is being called the Brewery Barn, this new space has its infrastructure now in place to allow for its continued build out before the heavier winter snow arrives.
This new expansion from Bremik Construction will allow Mt. Hood Brewing to more than double its current production capacity of 1200 barrels per year to about 2500 barrels. The addition of two fermentation tanks, finished beer storage tanks, dry and cold storage will allow for this uptick in production. This increased capacity will also allow the 28-year-old brewery to offer a greater breadth of seasonal beers, including barrel-aged beers in bottles. A new canning line is also part of this expansion that will allow for additional year-round offerings in cans for on and off premise sales.
The goal is to have this construction in place by late spring or early summer. Obviously, our winter weather on the mountain can place a damper on this progress. But once this new Brewery Barn is open, Mt. Hood Brewing will likely begin to offer brewery tours.
With this expansion of production capabilities of upwards of 2500 barrels per year, the brewery also expects to sell more beer off premise in bottle shops and pubs. Mt. Hood Brewing currently sells its beers at its brewery in Government Camp and its Tilikum Station in Portland, as well as at Timberline Lodge's eight food outlets.
Mt. Hood Brewing Co. was established in 1991 and brewed its first beer in Government Camp in October 1992 on its 10-barrel brewery. The brewery is now operated by R.L.K. and Company whom also operate Timberline Lodge. During the fall of 2016, the brewery hired Bryan Borgmeier as its Head Brewer, joining longtime Mt. Hood brewer Jeff McAllester. Borgmeier grew up in Oregon City and has a Bachelor of Science Degree in Economics from Linfield College and and Associate Degree in Brewing Technology from Siebel Institute of Technology.
In addition to this construction taking place at Mt. Hood Brewing, the brewery has also released a few winter seasonal beers in bottles and a few year-round offerings in cans. Look for Dichotomy Bottle Conditioned Farmhouse Ale, Old Battle Axe Rum-Barrel Aged Barley Wine, Magnetic North Whiskey-Barrel Aged Imperial Stout, and Pittock Wee Heavy Scotch Ale in bottles. Joining these bottles are 16oz cans of Phlox Point White Ale, Cascadian Pale Ale, Cloudcap Amber Ale, Ice Axe IPA, Hogsback Oatmeal Stout and Timberline Tucker DIPA.
Here's a rundown on the winter beer releases from Mt. Hood Brewing Co.
Dichotomy Farmhouse Ale – An elegant ale in its simplicity. Bottle conditioning results in a finer, silkier texture, more complex flavors, superior foam retention, and better aging ability. O.G. 1.054 ABV 6.2% $7.00/500ml
Pittock Wee Heavy Scotch Ale – Adapted from its inception circa 1992. A complex blend of malts results in a smooth, strong, and slightly smoky ale. O.G. 1.080 ABV 8.2% $7.00/500ml
Old Batgtle Axe Barleywine – A rich and malty barleywine aged in rum barrels which adds a hint of dark fruit sweetness. O.G. 1.098 ABV 10.2% $10.00/500ml
Magnetic North Imperial Stout – Aged in Westward Whiskey barrels. Meant to be shared. Silky & full-bodied with notes of vanilla, cocoa, coee, charred oak. O.G. 1.068 ABV 13.1% 10.00/500ml
These craft ales can be enjoyed at Mt. Hood Brewing Co. in Government Camp and Tilikum Station in Portland, as well as throughout Timberline Lodge on Mt. Hood. All can be purchased to go as well.