Multnomah County Brewery Taprooms, Bars and Restaurants Reopen Today During the COVID-19 Pandemic
|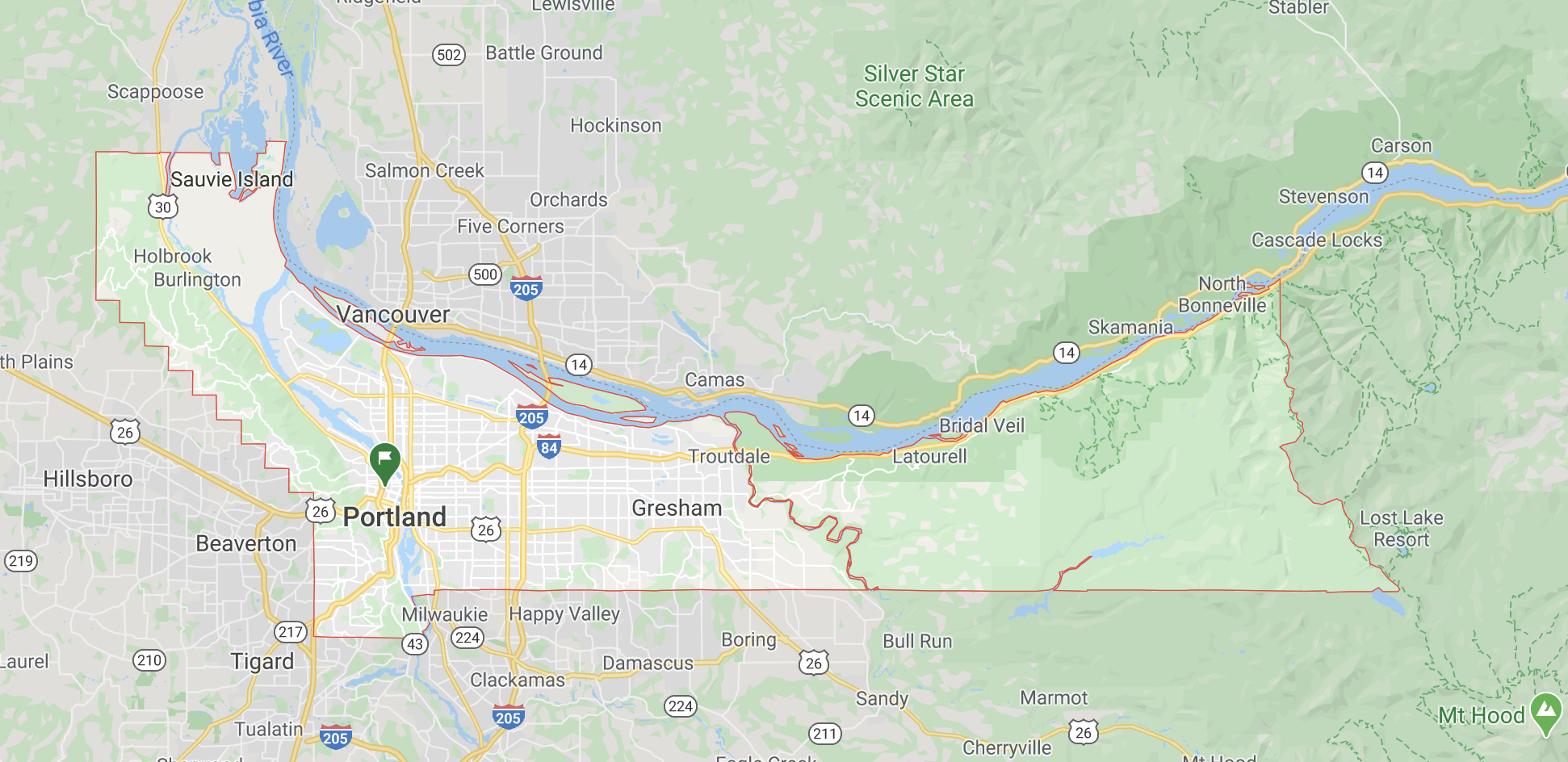 As Oregon continues to document a record number of confirmed COVID-19 cases, Governor Kate Brown has decided to give the green light to allow Multnomah County to reopen under Oregon's Phase 1. This was essentially the county's second try as the county attempted to open a week ago on June 12 but was denied by the Governor within hours of the clock turning over to the new day.
Five weeks ago 31 of Oregon's 36 counties were allowed to reopen during Phase 1 of the Governor's reopening policy. Now all 36 of Oregon counties are either Phase 1 or Phase 2 of the state's three phase approach. Most counties are in Phase 2 but to enter Phase 3 a reliable treatment or a vaccine for this coronavirus must be available.
This policy that needs to be followed in Phase 1 places a lot of burden on the business owner but does allow for on-premise consumption of alcohol and food. Because of this, many brewery taprooms, bars and restaurants are maintaining a more wait and see approach.
The situation with the novel coronavirus is one that does not appear to be going away here in Oregon or elsewhere anytime soon. The past week has seen many record setting days of confirmed COVID-19 cases where the state has seen eight consecutive days of 100+ confirmed cases. On Monday there were 184 cases, Tuesday had 278, Wednesday had 122, and Thursday saw 148 cases along with 4 deaths. In all the state of Oregon has had 6,366 confirmed and presumptive coronavirus cases of the virus.
The state has now recorded 6,366 confirmed and presumptive coronavirus cases as at least 187 people have died from the virus as young as that age of 36. Additional info on COVID-19 updates from the Oregon Health Authority can be viewed here: https://govstatus.egov.com/OR-OHA-COVID-19.
When Multnomah County reopens today, it will now be part of a tri-county region for the phase that the county will be in that also includes both Washington and Clackamas Counties. All three counties will remain in Phase 1 for at least the next three weeks.
These brewery taprooms, bars, and restaurants were instructed to close its doors for onsite consumption nearly three months ago. The reopening of these businesses is quite different and is a challenge for business owners. All of these businesses will be operating on very limited capacity, limited hours that will see them all closed by 10:00pm, tables spaced at least six feet apart, groups no larger than 10, and no bar seating all the while sanitizing more frequently.
Workers are required to wear masks or face shields. Then beginning on Wednesday, June 24 customers will be required to in Multnomah, along with Clackamas, Washington, Hood River, Marion, Polk and Lincoln while indoors at a business. And businesses can refuse to serve any potential customer that is not wearing a mask
"Masks need not be medical-grade N95, but can be fashioned at home from an old T-shirt," said Governor Brown in a news conference. "No, you won't get arrested or get a ticket for not wearing a face covering. However, this is a requirement and it is enforceable."
Also part of Phase 1 will see an increase in gathering size. When at baseline status only gatherings of up to 10 people were allowed. Now, in person gatherings now can have up to 25 people while practicing social distancing.
We all need to do our part in protecting ourselves and others from the novel coronavirus. If not, our most beloved places may have to shut back down.
Up in Seattle, Fremont Brewing ended up closing its Urban Beer Garden on Tuesday of this week after one of its employees tested positive for the coronavirus. The employee last worked a shift on June 9, three days after the taproom had reopened. But to be safe, the brewery decided to shut down for on-premise consumption for the time being. Something that we feel was the correct move. Let's hope if and when this happens here locally the brewery or bar will do the correct thing.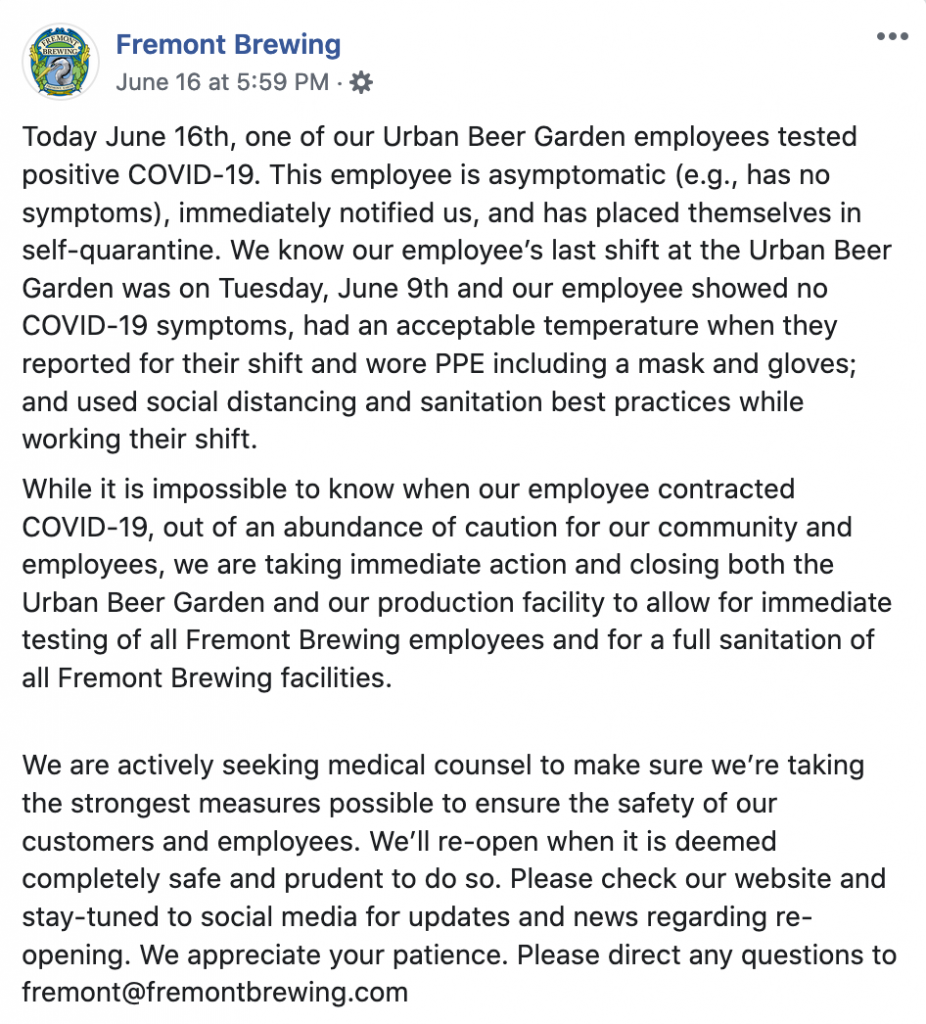 Within Multnomah County, a majority of the breweries that we reached out to will not be reopening today as many are taking a more conservative, wait and see approach upon entering Phase 1. That said, there will be several that will be reopening today or on Saturday. It's probably best to check the brewery's social media page and website for the most up to date info.
Both Migration Brewing locations will open today. To make sure that its beer is the freshest that's being served, Migration has done the right thing and disposed of its out of date beer. "Early on we decided that when the pubs reopen, we wanted to make sure that all of our beers were fresh and tasting great. We believe everyone has earned fresh beer after enduring the past 3 months of the stay at home quarantine," said co-owner, Mike Branes, in a statement. Migration Brewing also decided to refresh their entire distribution beer inventory in order to make sure fellow restaurants reopening had access to high quality products.
McMenamins, the Pacific Northwest's largest chain of breweries and pubs will reopen its Multnomah County locations on Friday. Edgefield, Kennedy School and its Portland-area pubs are ready to welcome you back for dine-in service, many with outdoor seating.
With three Portland locations, Rogue Ales is ready to open today. "Our pub staff has been in trainings all week and we've already opened our coastal pubs and we will be following all of the same guidelines," said Amanda Zessin, Communication & Marketing Manager at Rogue Ales.
Out near the airport, Level Beer will reopen its brewery location today with spacious outdoor seating across its property. Its Multnomah Village location will open on Tuesday for on-premise consumption.
"We're excited to reopen and looking forward to finally seeing everyone again," said Geoff Phillips, co-owner of Level Beer. "We have 40+ tables in the greenhouse and outdoors all appropriately spaced to accommodate groups of 1 to 10. Feel free to bring your own lawn chair or picnic blanket for our spacious grassy area."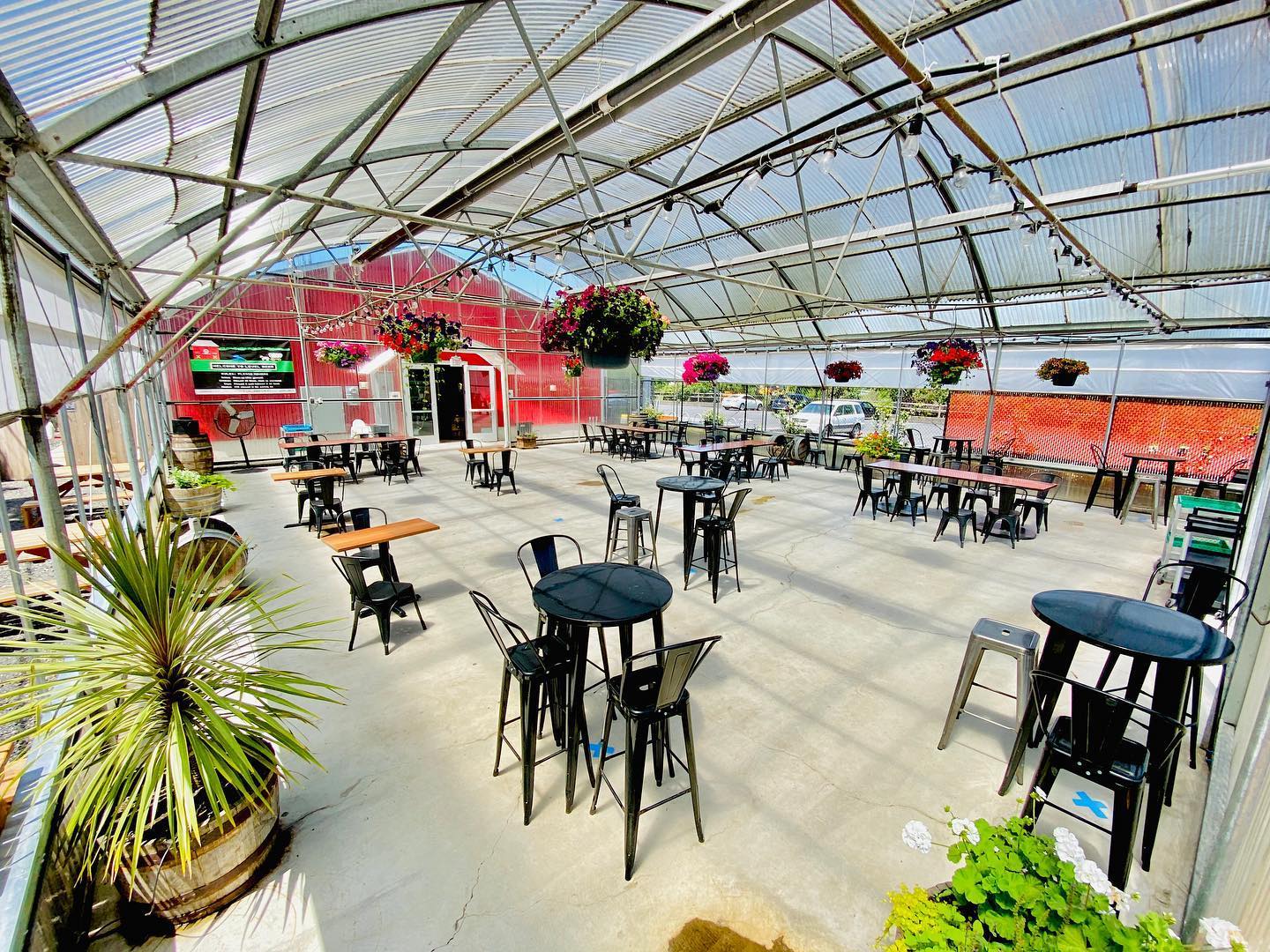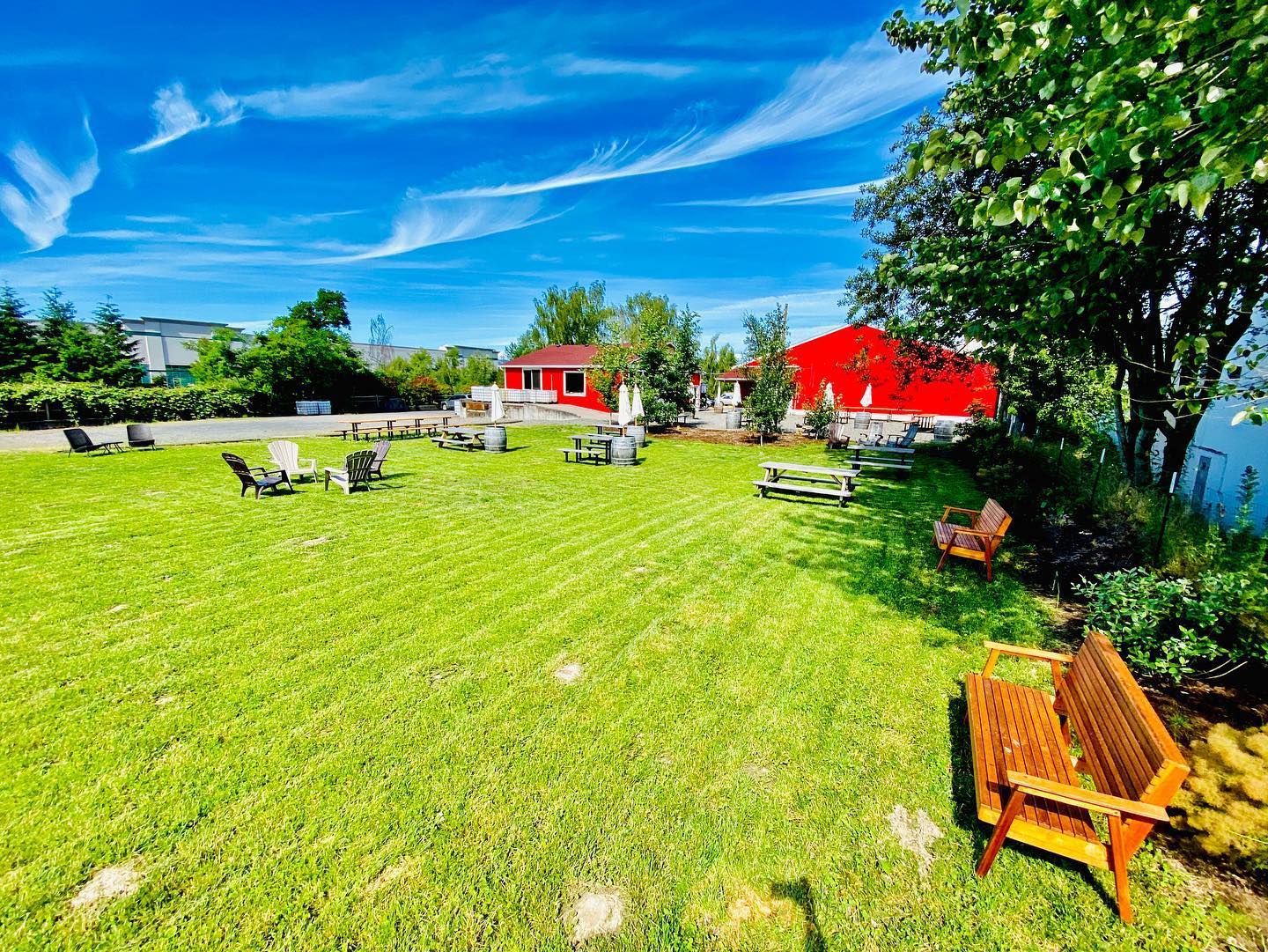 Zoiglhaus Breiwng will return today through Sunday from 4:00-9:00pm. The brewery will be hosting a BBQ Party in its adjacent parking lot with ribs, chicken, brats, burgers and more! Also in southeast Portland, Threshold Brewing & Blending will open today with hours of 4:00-7:00pm from Tuesday – Sunday.
One of Portland's newer breweries that opened just prior to the beginning of the pandemic is excited to pull beers from its taps. Gorges Beer Co. will be open today with hours Friday – Sunday from Noon-9:00pm. On Friday Gorges Beer will donate $1.00 for every pint to Urban League Portland. Their stretch of SE Ankeny St. will be closed down and there will be a social distancing block party.
Along North Mississippi, StormBreaker Brewing will be taking it to the streets. Well to Beech Street with outdoor tables set spaciously apart to maintain proper social distancing. Hours will be Noon-10:00pm every day to start and may be adjusted based on business trends.
"The team is currently working on getting the restaurant and patio spaced out per Phase I guidelines and we will be adhering to all sanitary procedures to keep the virus at bay," said Dan Malech, co-owner of StormBreaker Brewing.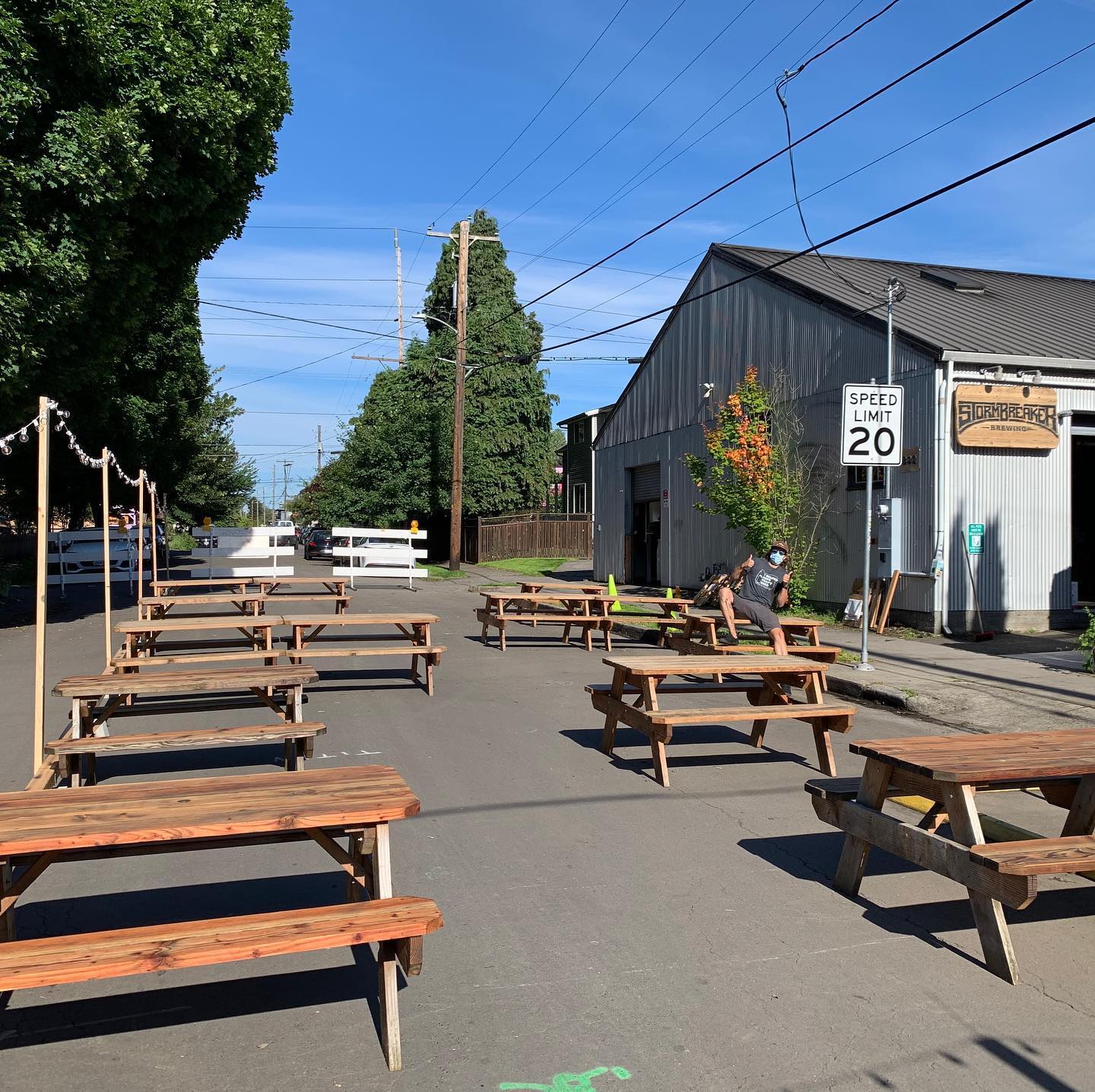 Nearby Ex Novo Brewing is ready to be back open. "We're fortunate enough that we've been able to "test" this Phase 1 model out in Beaverton for a couple weeks now," said Jeremy Backer, Ex Novo Brewing's Creative Director.
Laurelwood Brewing will reopen on Saturday, June 20th, as will Von Ebert Brewing. "We're so happy to be able to open our doors to the community again," said Tom S. Cook, owner, Von Ebert Brewing. "The past couple months have been challenging, but we've been blown away by the support we've received from customers, both returning and new, who have ordered food and beer to-go. As we re-open for dine in service, customer and staff safety will be our priority, so you'll see some new processes from us to help with that. These will be in addition to the stringent cleanliness standards we have always met."
Then after the weekend commences, Gigantic Brewing will reopen on Monday with expanded outdoor seating on the southside of the brewery. You'll get to this seating through the barrel room.
When it comes to popular beer bars here in Portland, most are also taking the wait and see approach. Belmont Station will continue to offer its curbside pickup and will reopen its Biercafe when it deems it's safe to do so. Also in Southeast Portland, The BeerMongers will continue its to go beer sales for the time being prior to reopening for on-premise consumption. "We plan on using a reservation system to help with social distancing," said Sean Campbell, proprietor of The BeerMongers.
In downtown Portland, Bailey's Taproom will remain closed for the time being with plans to open soon back up on Tuesday from 3:00-10:00pm. A bit farther west, Function hopes to have its bar open on June 26th with expanded outdoor seating.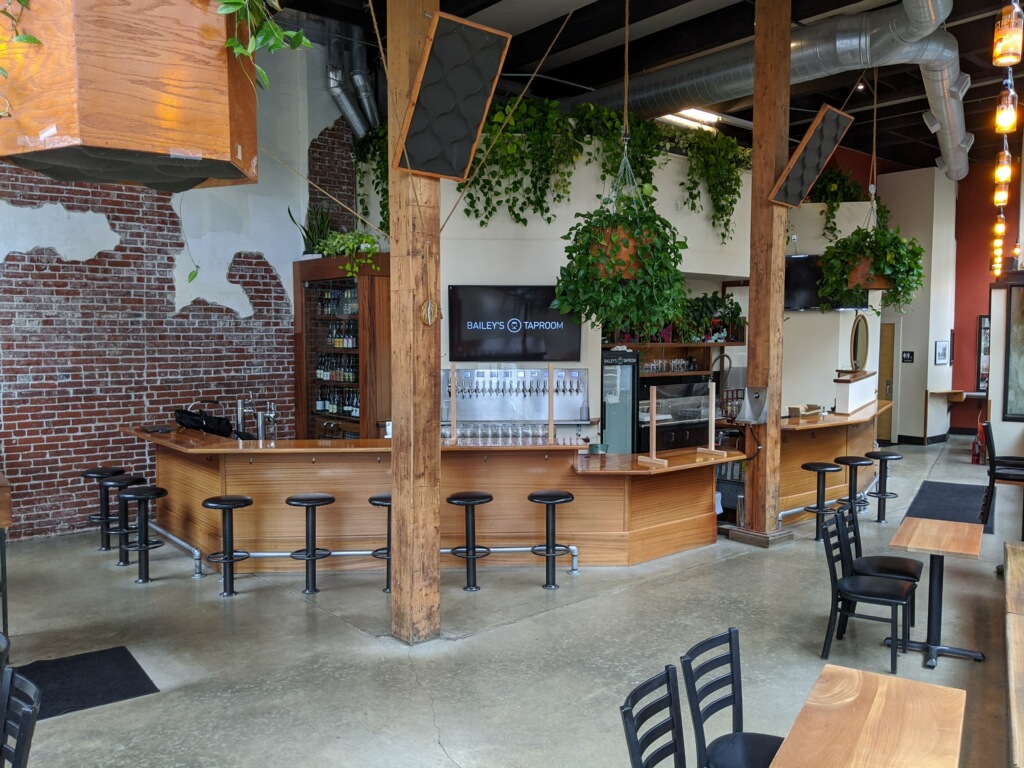 But a handful of beer bars will open today, including Horse Brass Pub at 4:00pm. Beer on SE Stark with hours from Noon-10:00pm. Farther out in Southeast Portland, Sessionable will reopen today. Also on the eastside both Prost and Stammtisch will reopen today as well.
Up in North Portland, Chill N Fill will take its on-premise serving outside with 8 to 12 tables on the sidewalk. "Patrons will come to our to go window, order a beverage then a server will bring that beverage to the table," said Chill N Fill owner, Paul Moglia. "Each table will be six feet apart and will be sanitized after each use.  We hope to have this up and running in the next couple of weeks. We would like to create some sort of Summer Beer Garden."
If you do decide to venture out for a beer today, just remember to be respectful of the business you visit and honor its policy when it comes to its safety protocols.