New Belgium Brewing Opens at Denver International Airport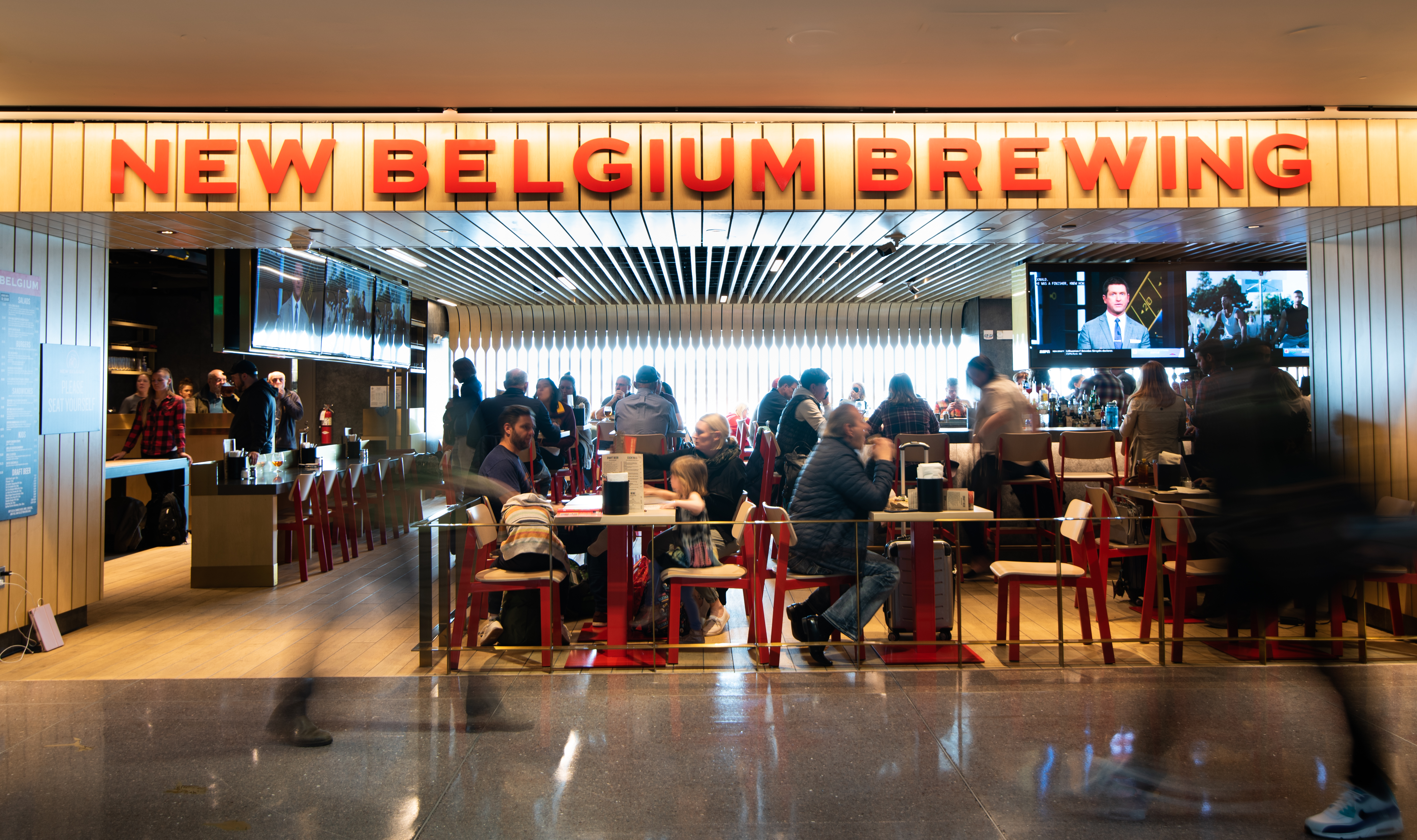 Next time you're traveling through the Denver International Airport (DIA), you'll have a new place to drink and eat at as New Belgium Brewing opened a new bar and restaurant at the airport last week. The newly opened New Belgium Brewing DIA location joins two other breweries at the fifth busiest airport in the United States with Breckenridge Brewery (Gate A71) and Great Divide Brewing (Gate C32).
Located in Concourse B at Gate B32, the terminal that is home to United Airlines, the newly opened New Belgium Brewing location is a full bar and kitchen takes up 4,500 square fee that will seat 125 people. The new space is open daily from 6:00am-11:00pm.
Here are additional details from New Belgium Brewing's press release…
"We're excited to give thirsty travelers the chance to experience the independent Colorado beer scene inside the airport, whether it be a first taste upon arrival or a departing cheers," said Leah Pilcer, New Belgium's Director of Retail Development & Operations. "New Belgium is synonymous with Colorado and we've made it a point to create a fun atmosphere that embodies a sense of place while showing off our local pride."
Guests can enjoy draft pours from a 20-handle tap system anchored by Fat Tire Amber Ale, Voodoo Ranger IPA, and many of the 100% employee-owned brewery's 15 year-round offerings. Seasonal and limited releases as well as New Belgium's award-winning wood cellar beers will rotate in throughout the year. Visitors can delight in finding first-to-market beers and rare one-offs as well as beer-centric cocktails.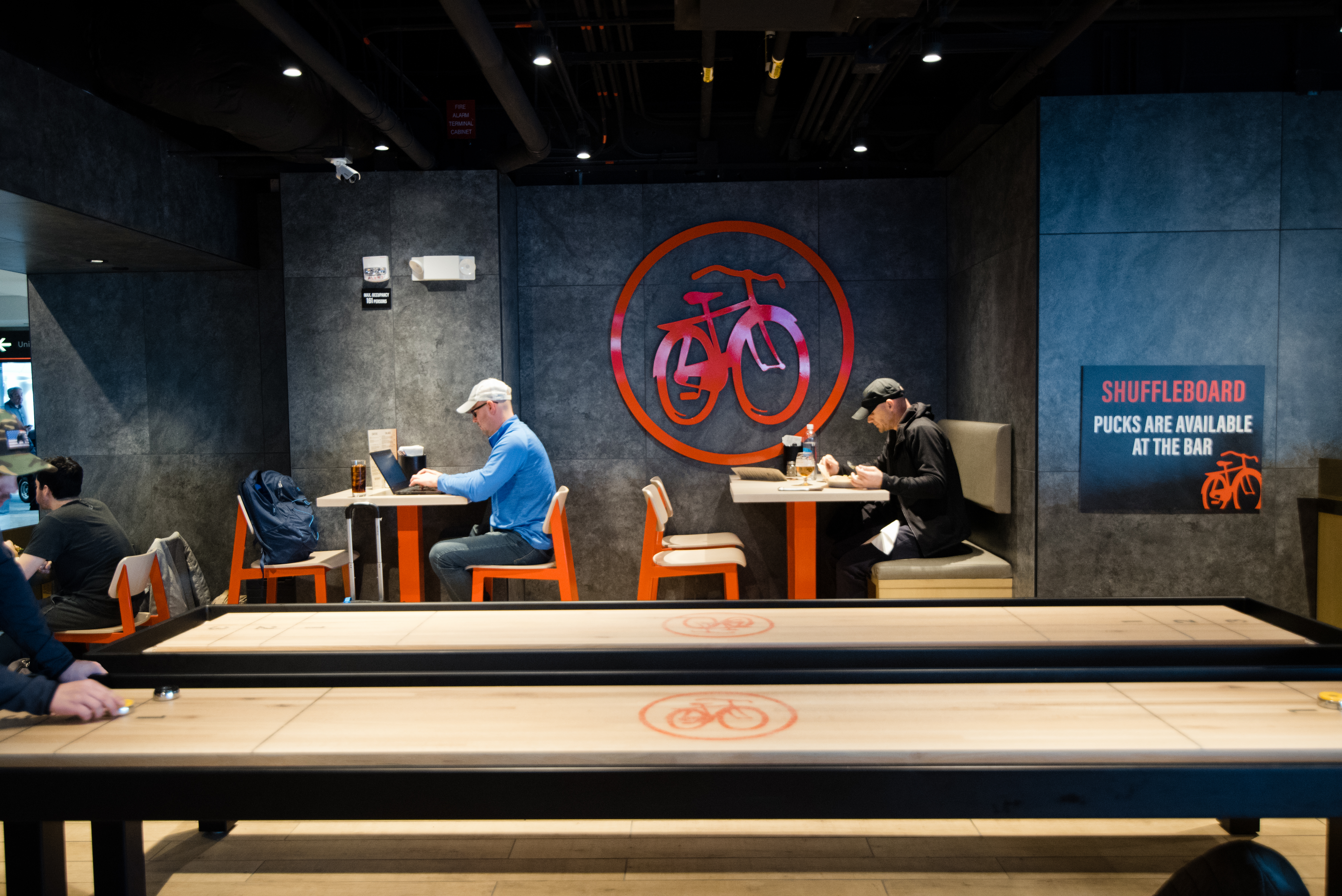 Complementing the tap offerings is a menu created by Paul C. Reilly, executive chef and proprietor of beast+bottle, Coperta and Pizzeria Coperta. Catering to traditionalist and culinary adventurers, Reilly's menu at this location consists of antibiotic-free proteins and fresh local produce while utilizing local ingredients, purveyors, and distillers including: Aspen Ridge Natural Beef, Haystack Mountain Cheese, Tender Belly meats, and Leopold Brothers to engrain a hand-made, Colorado vibe. 
"Relentlessly local American food is the best way to describe the menu, which will change seasonally," said Reilly. "This has been such a fun project working with New Belgium, an iconic Colorado company, and incorporating their unwavering commitment to quality into everything we serve. We're proud to showcase not only New Belgium beer, but the food and spirits of over 20 Colorado purveyors." 
Guests can start their early commute with the 5280 Burrito highlighting Morning Fresh Farm eggs, housemade tomatillo salsa, housemade habanero sausage, and local Raquelitas' flour tortillas paired alongside the Fix-A-Flat beer cocktail featuring Fat Tire Amber Ale, mezcal, housemade bloody mary mix, pickled veggies, and a tajin chili salted rim. Many of New Belgium's beers are incorporated in dishes such as the 1554 BBQ Pulled Pork Sandwich, Fat Tire Chicken Sandwich with housemade guacamole, and even a vegetarian option in the Voodoo Ranger Grilled Cheese.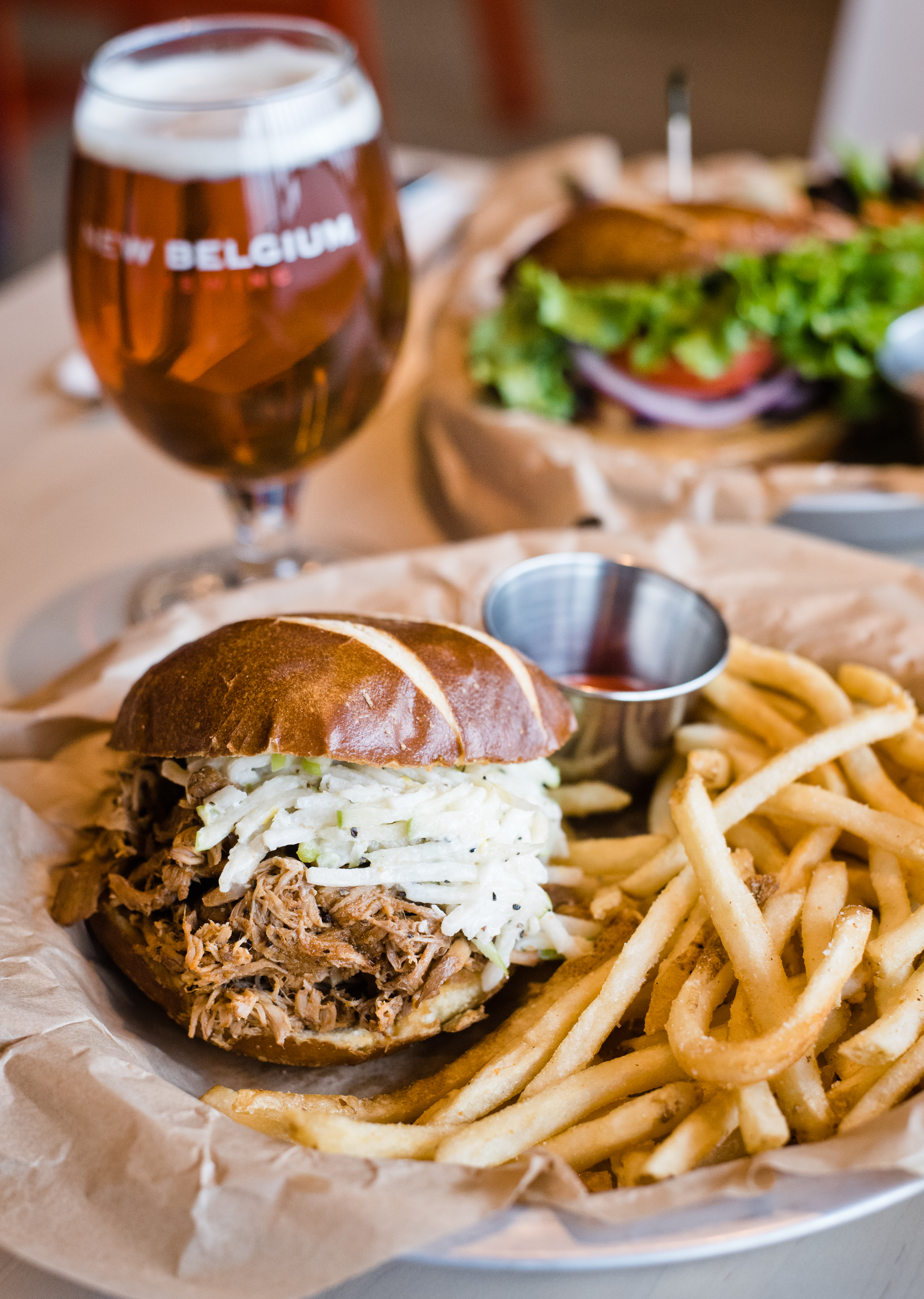 The nearly 4,500-square-foot dining oasis serves food all day and accommodates all palates including vegetarian, low calorie, and vegan options. A full bar featuring beer, wine and spirits is highlighted by a vibrant, bright design aesthetic. Light wood, slate and charcoal finishes, pops of bright red, and accents of gold create a retreat for travelers. For sports fans, state-of-the-art digital technology, including a "jumbotron" array at the bar, and custom branded shuffleboards which make for perfect ways to pass time during a layover. 
For travelers with little time on their hands, a Grab & Go section offers a quick meal before dashing off to the gate. New Belgium also offers a selection of branded merchandise, such as brewery t-shirts, hats and globe glasses, perfect take-home gifts for travelers on the go. 
This new concept is a partnership between New Belgium Brewing and High Flying Foods, a boutique, family-owned and operated company based out of Sausalito, California redefining the art of airport dining.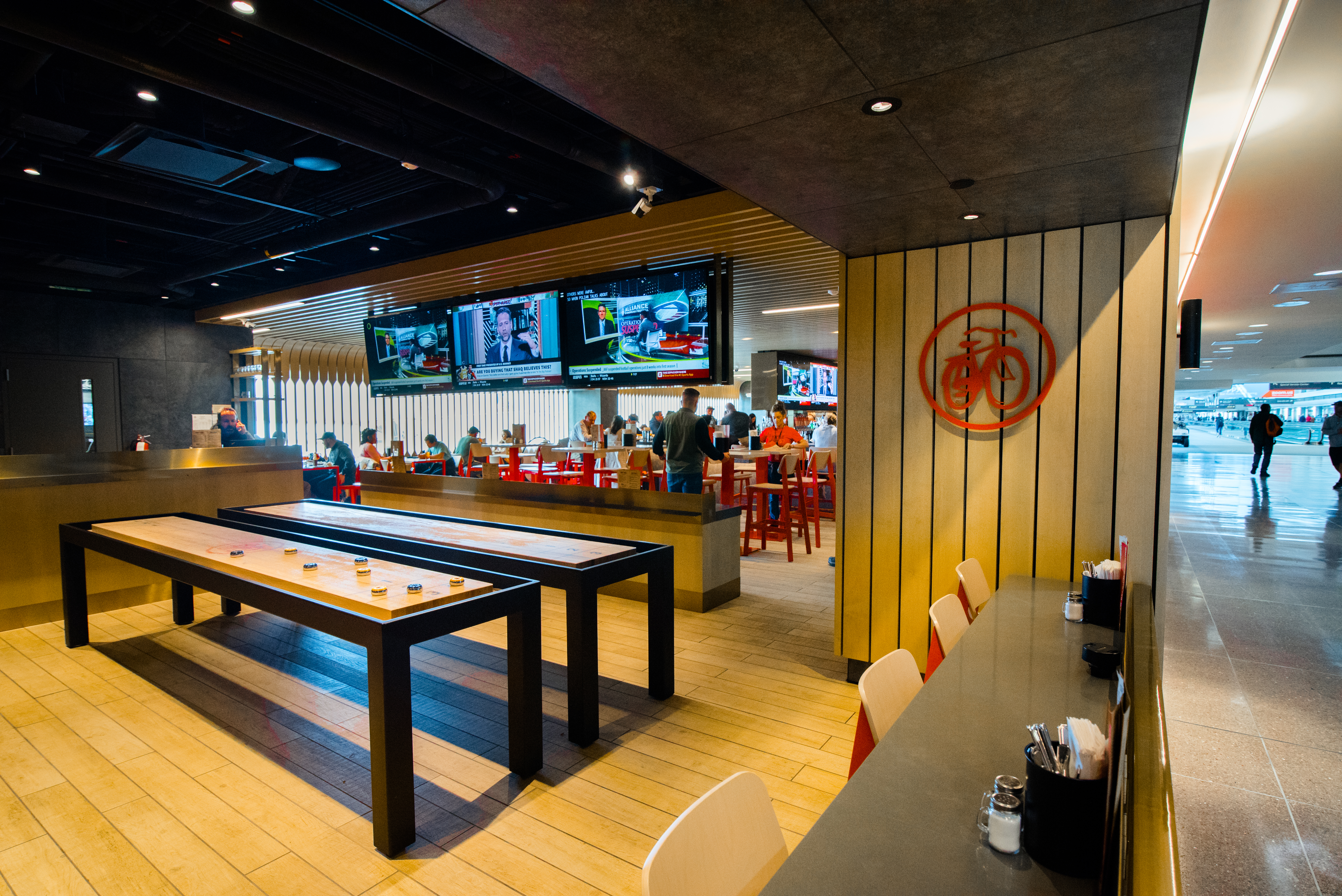 "We couldn't think of a better partner than New Belgium Brewing for our first project in the Denver International Airport," said Kevin Westlye, President of High Flying Foods. "Our shared values melded to create this culinary respite providing an amazing taste of Colorado's beer and food scene, and we couldn't be more proud to showcase so many thoughtful flavors in one location."
For more information about New Belgium or any of its beers, visit www.newbelgium.com.
About The Author
DJ
D.J. is a Portland, Oregon based writer that spent his formative years in the Midwest. With over 25 years under his belt of drinking beer at festivals across America and the world, he has developed a strong appreciation and understanding of craft beer and the industry that surrounds it. He can be found in any of the great breweries or beer bars that make Portland the best beer city in the world. His writing can also be found in the archives of Northwest Brewing News and can be followed on Twitter and Instagram at @hopapalooza.