Oregon Liquor Control Commission 2018 Beer Reports
|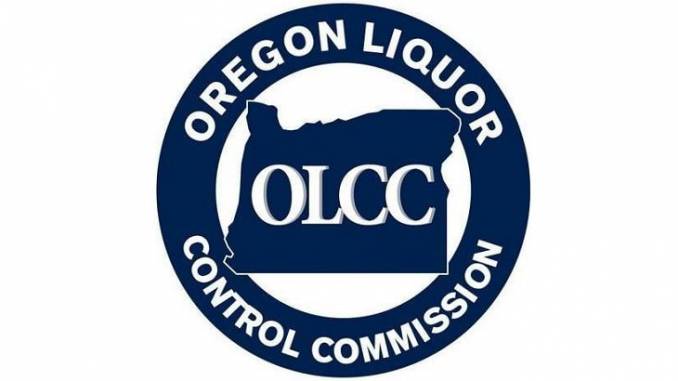 Last week the Oregon Liquor Control Commission released its 2018 Beer Report on taxable barrels of malt beverages reported as sold within the state of Oregon. The past year was a good one for Oregon based breweries as overall sales grew 3.48% in 2018.
In 2018 Oregon breweries and cideries reported 666,023 barrels sold within the state. During the previous year this total was 643,641 barrels. The year over year sales grew by 22,382 barrels or the previously mentioned 3.48%. This amount of growth is important to take note of as we continually see additional out of state breweries enter the Oregon markets that eat away at our intrastate beer sales.
Leading the pack once again is Deschutes Brewery with over 66K barrels of beer sold within the state of Oregon. This amount was a decrease of 3.7% from the year 2017. Looking back two years ago Deschutes sold over 83K barrels within our state. The Bend brewer peaked with over 89K barrels sold within the state of Oregon in 2014.
The brewery in the top 10 that grew the largest was Pelican Brewing, with a growth of 43.2%. Two of our state's breweries owned by the two largest breweries in the country also performed quite well during the past 12 months. Hop Valley Brewing, owned by MillerCoors grew 28.3% while 10 Barrel Brewing, owned by Anheuser Bush InBev grew 16.9%.
Boneyard Beer, the only brewery in the top 10 that only sells its beer on draft, well except for a few wild beers in cork and cage bottles, is maintaining its strong market presence. It grew to nearly 25K barrels with a growth rate of 2.1% after opening its delayed Boneyard Pub in Bend this past summer. Pretty amazing for this brewery known for its IPAs.
Also the past year saw the state's first cidery break into the top 10 list as 2 Towns Ciderhouse has grown exponentially by 46.9%. With the addition of 2 Towns into the top 10, this meant one brewery was displaced. Though it fell out of the top 10, Rogue Ales grew by 13.9% to nearly 18K barrels.
One brewery that is not included in this report is Widmer Brothers Brewing. The brewery is listed in the 34th spot as the Redhook/Widmer/Kona entry but this number of 3,211 barrels in 2018 must be from its 10-barrel Innovation Brewery. The brewery's last year fully listed in these reports was back in 2015 when it sold over 62K barrels within the state.
Two of our recent brewery closures, Burnside Brewing and BridgePort Brewing both saw a drop in its sales this past year. Burnside went from 2,736 barrels in 2017 to 2,050 in 2018. BridgePort fell a bit more from 8,524 barrels in 2017 to 6,703 in 2018. Now both are no longer brewing and you have until March 10th to visit BridgePort before the pub closes for good.
Here's a look at the top 10 breweries from 2018 and 2017 with their sales increase or decrease in percentage listed.
2018 Taxable Barrels Sold in Oregon:
Deschutes Brewery – 66,186 (

-3.7%

)
Hop Valley Brewing – 50,392 (28.3%)
Ninkasi Brewing – 50,228 (3.1%)
10 Barrel Brewing – 48,794 (16.9%)
Pelican Brewing – 25,255 (43.2%)
Boneyard Beer – 24,928 (2.1%)
Full Sail Brewing – 22,506 (

-12.9%

)
2 Towns Ciderhouse – 22,023 (46.9%)
Portland Brewing – 21,805 (

-12.3%

)
Breakside Brewery – 20,349 (19.6%)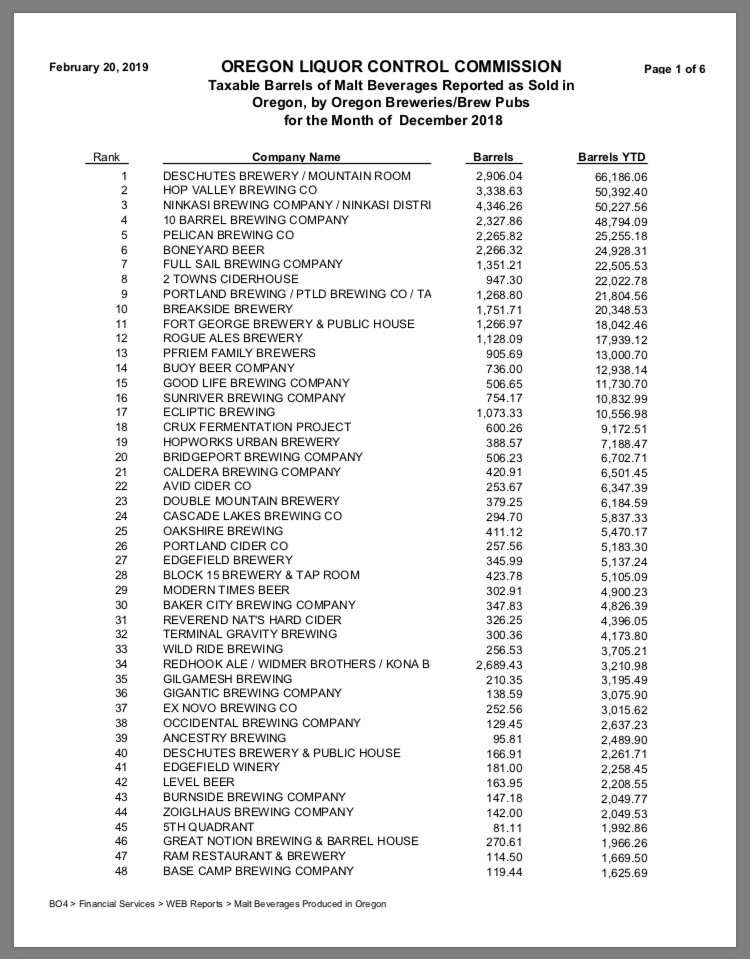 2017 Taxable Barrels Sold in Oregon:
Deschutes Brewery – 68,729
Ninkasi Brewing – 48,679
10 Barrel Brewing – 41,721
Hop Valley Brewing – 39,279
Full Sail Brewing – 26,345
Portland Brewing – 24,858
Boneyard Beer – 24,406
Pelican Brewing – 17,635
Breakside Brewery – 17,020
Rogue Ales – 15,749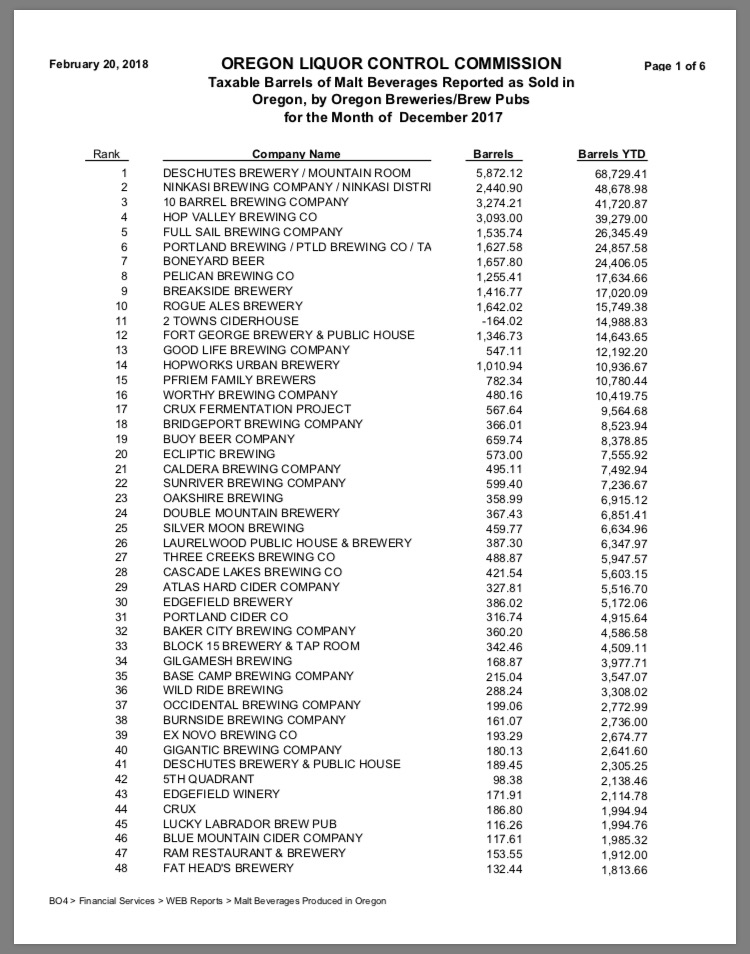 Looking back ten years ago, in 2008 Oregon breweries sold 290,818 barrels. During this past decade the industry grew by 375,205 barrels that equates to a growth of over 129%. Not too bad for an industry that contributes so much to the state's business landscape. It's interesting to take a look at the top 10 from 2008 (posted below) and compare it today's top 10. Only four breweries from 2008's top 10 are in today's top 10.