Pabst Blue Ribbon Supports Creative Artists with its Grabst A Pabst Campaign
|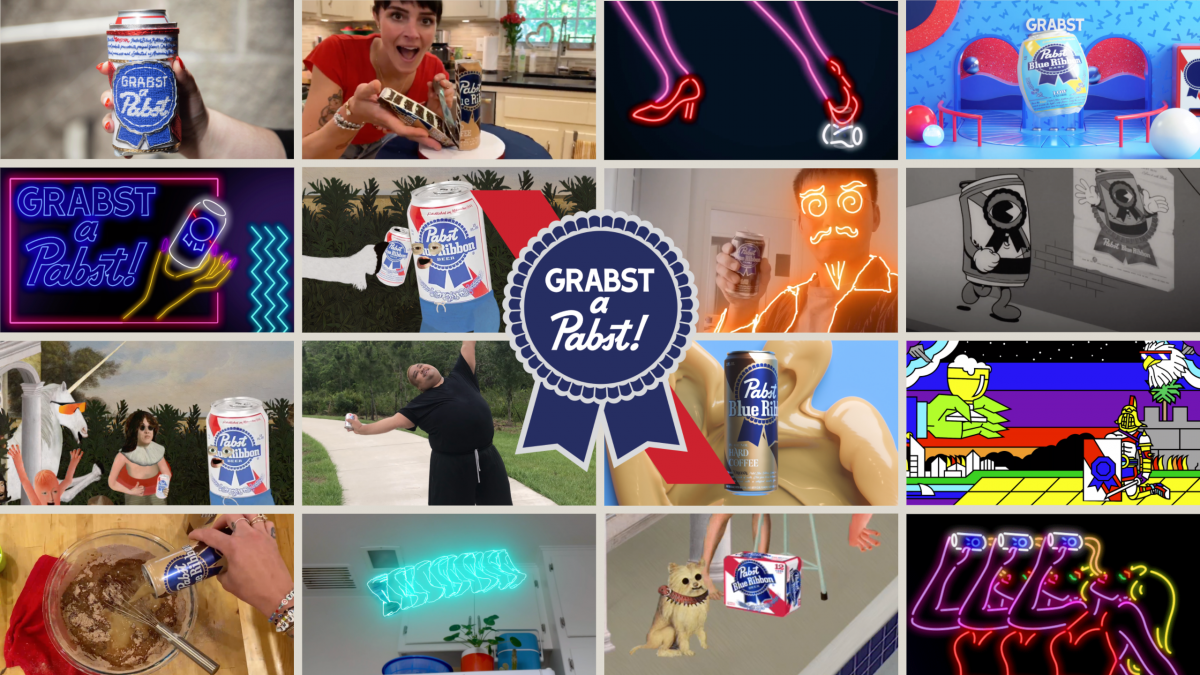 A new digital campaign that supports grassroots creatives has arrived from Pabst Blue Ribbon. The iconic brewery has been supporting local artists for years and is now stepping in during these challenging times with its new Grabst A Pabst campaign.
Pabst Blue Ribbon is commissioning 1000 acts of creativity that encompasses comedy, bartending, design, animation, drawing, dancing, singing, directing and more during this COVID-19 pandemic. This will enable 1000 creatives to do what they do best while assisting the creative community back to work, while inspiring those at home to get involved.
Through its more recent resurgence, Pabst Blue Ribbon has been involved with creative artists across the country. The brewer has printed some of these artists work on its aluminum cans while hosting a concert series, Project Pabst, that took place here in Portland for a few years.
During this pandemic, that art industry is said to be facing losses over $3.5 billion. With bars, restaurants, and music venues all closed, artists are getting creative while at home. The experimenting at home is more than just creating art, it's also cooking, home bartending, dancing and more. And Pabst wants to reward some of these folks throughout this year.
In 2020 Pabst Blue Ribbon will work with 1000 creatives that encompass the diversity of Pabst Blue Ribbon's community that will be part of the Grabst a Pabst campaign. The brand will invite bartenders, designers, animators, dancers, singers, directors and more to do what they do best, helping get its community back to work and those at home to get involved.
Creativity brings us together. It also happens to pair well with an ice cold Pabst. So we're making it our mission to bring even more creativity to the world. Grabst a Pabst, and get inspired! – Pabst Blue Ribbon
Already taking place is Pabst Blue Ribbon's weekly bartender program that invites bartenders to share a creative recipe ahead of the weekend. Every Thursday, PBR will be giving $250 to a select bartender to create a unique cocktail, which will be shared across PBR's social media, just in time to foster some creativity ahead of the weekend. This is just one of the programs they've initiated in hopes of inspiring individuals to Grabst A Pabst and just create. Listed below is one recipe that use the tasty Pabst Hard Coffee, as additional recipes can be found here: https://pabstblueribbon.com/straight-from-your-local-bartender/
"SMOKEY JOE" By: @joey_boozer
Ingredients:
2 oz Pabst Hard Coffee
1.5 oz Mezcal
.5 oz Kahlua
Dark Chocolate
Chili Powder
Add Hard Coffee, Mezcal and Kahlua into a tumbler then shake vigorously for froth. Pour and garnish with dark chocolate shavings and 2-3 sprinkles of chili powder. Relax and enjoy!
Grabst A Pabst honors Pabst Blue Ribbon's continued spirit of brewing up the unexpected. From Whiskey to Hard Coffee, to brand new innovations like Hard Tea and ready to drink cocktails, Pabst Blue Ribbon is committed to delivering a delicious beverage for everyone and every occasion.
To enter, artists can tag Pabst Blue Ribbon's Instagram social handle @pabstblueribbon with #grabstapabst to be considered!