Pike Taproom Opens in Seattle's Ballard Neighborhood
|
After 33 years of brewing, Pike Brewing has begun an ambitious expansion to get its beers into the neighborhoods of Seattle. Its first stop is the trendy Ballard neighborhood, home to many of Seattle's most popular breweries.
This past Friday, Pike Brewing opened the doors to its latest endeavor, Pike Taproom. The family friendly taproom has taken over the former space of Bramling Cross on the southern end of Ballard Ave NW.
Inside the 2,500 square foot space is a décor that is full of old brick walls adorned with artwork that highlights the history of Pike Brewing and a few photos that give nod to the maritime history of Ballard. The ample number of skylights offers the touch of natural lighting that rains down from the exposed wood ceiling.
"We're thrilled to be a part of this vibrant community," says Drew Gillespie, president of Pike Brewing. "It's exciting to open the doors and introduce our new and improved beers, new team, and fresh look to the neighborhood."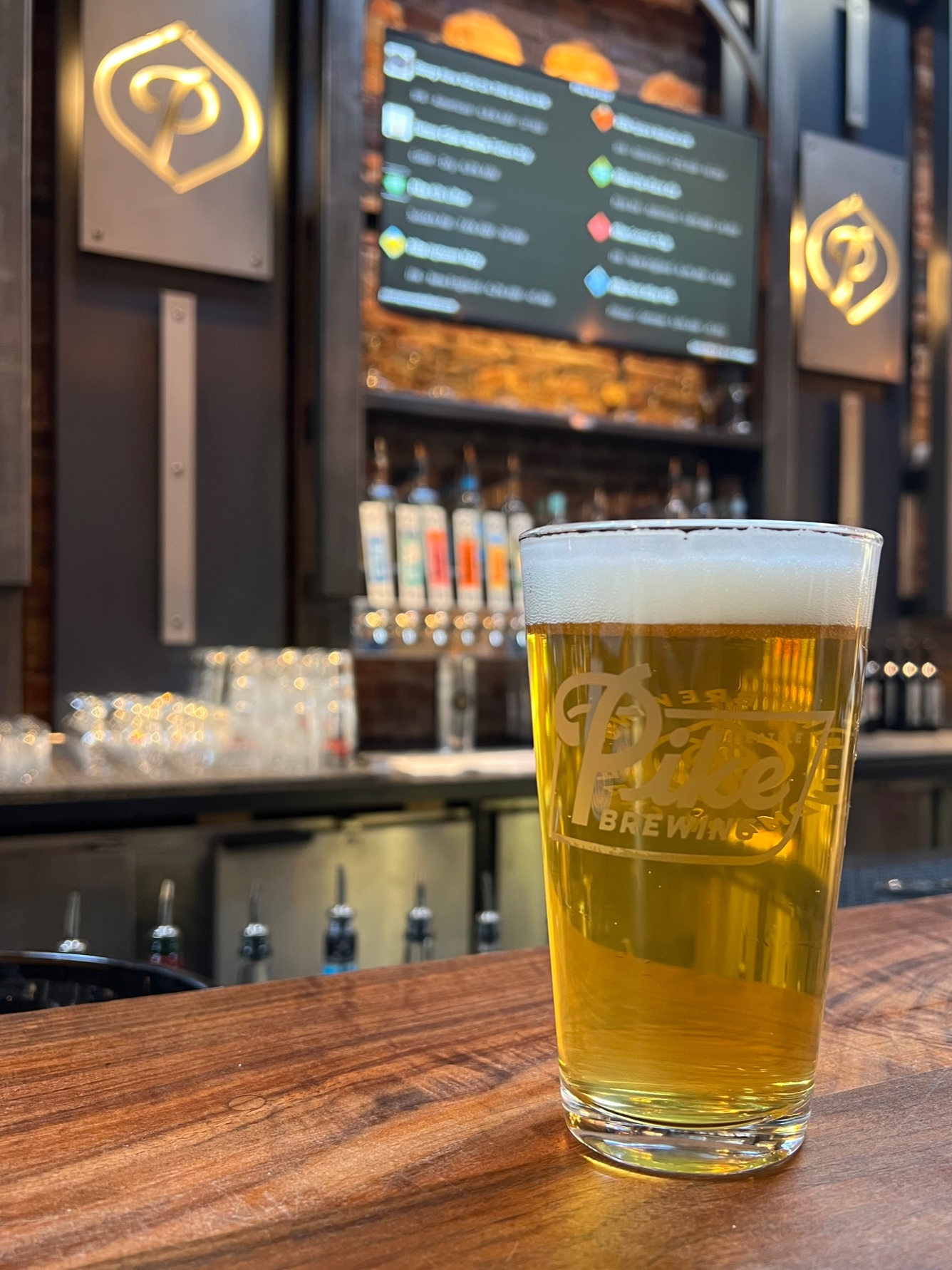 Pike Taproom features a full bar with many bottles from local distiller Copper Works, wine, canned beers, and eight rotating taps priced at $8 a pint. Six of these taps will be beers from Pike Brewing and will be complemented by a cider and local beer brewed at a nearby Ballard brewery.
And the first beer to be tapped by a Ballard brewery is a collaboration project from Stoup Brewing and Pike Brewing. New Kidz on THIS Block IPA is new Northwest IPA that was brewed in Ballard at Stoup Brewing.
This collaboration with Stoup Brewing came about after Pike Brewing's new Head Brewer, Leslie Shore, was tasked with reaching out to a Ballard brewer to brew the first collaboration beer for the new taproom. Prior to starting at Pike Brewing in June 2022, Leslie brewed at Reuben's Brews for 6-1/2 years. Therefore she has a few good brewery connections in the neighborhood. However, it was Drew Gillespie, President of Pike Brewing, that moved the needle to one specific brewery to collaborate with.
"Drew and I were talking about how are we going to let people know that we're in Ballard and that we want to be part of the community," Shore told us while quaffing the collaboration beer at the new Pike Taproom. "So we decided to make a list of all the breweries in Ballard and start with a brewery that reflects a lot of the same core values that we have. We want them to be inclusive, we want them to be small enough to make an impact with ingredients and having the right kind of staff on board. But also be scrappy enough and wanting to play with new ingredients and not being afraid to take risks."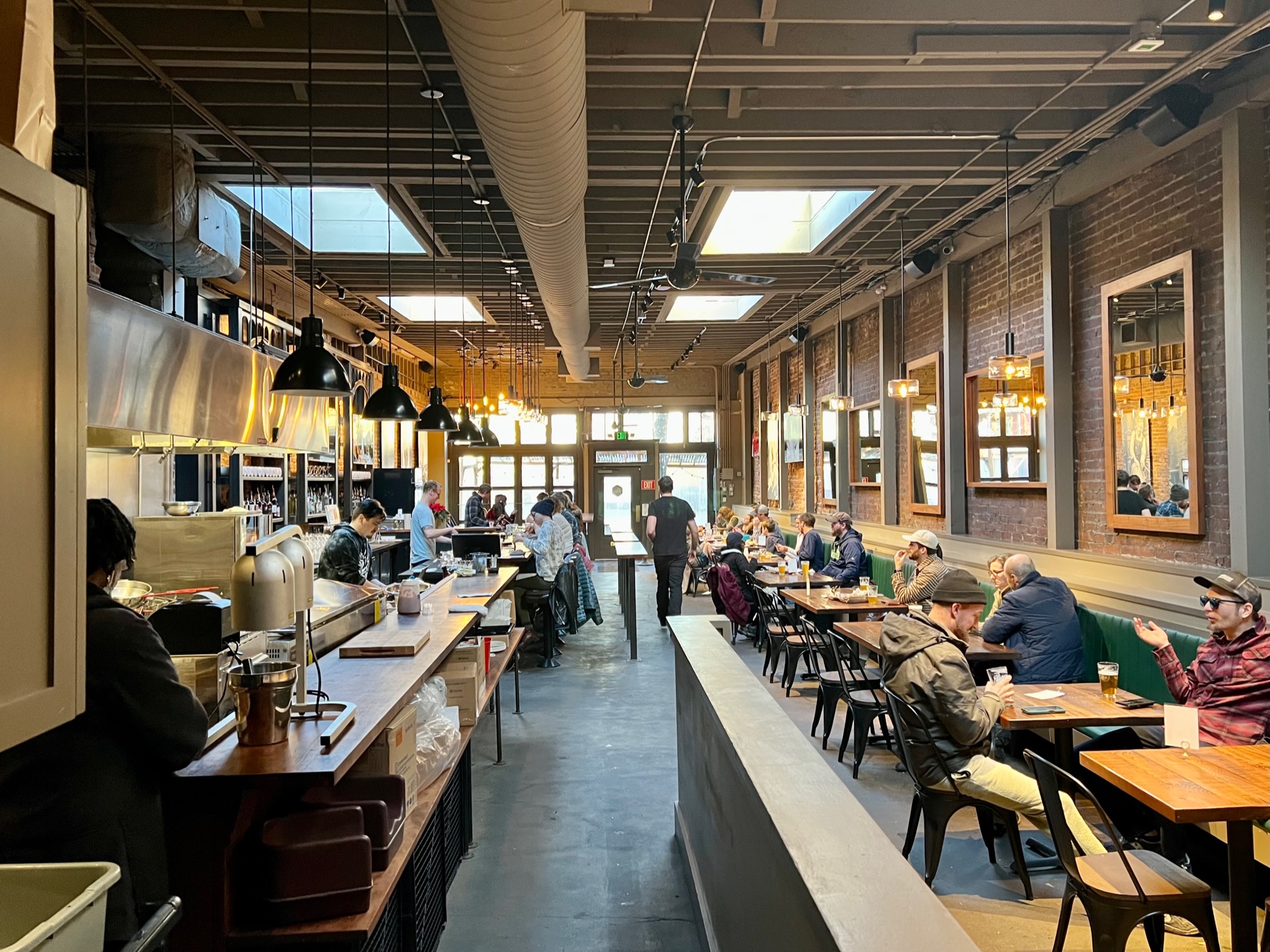 "So Drew said let's reach out to Stoup and ask them. We fired off an email to Brad (Benson), Lara (Zahaba) and Robyn (Schumacher), and they replied saying let's do this. So we just started talking about what kind of styles we wanted to do. Of course it's gonna be an IPA because it's Stoup. And it just boiled down to what kind of ingredients do you want to use. It was one of the easiest collaborations to come together on."
New Kidz on THIS Block IPA incorporates some fun hopping techniques for a whole lot of citrus, berry, and tropical aromas and flavors from Mosaic, Citra, and a touch of Sabro. It can be found on draft at the Pike Taproom and at both Stoup Brewing locations. It sits at 6.8% ABV and 37 IBUs.
The future seems endless for these Ballard collaborations. "The idea is to approach a lot of the other breweries within Ballard," stated Shore. "You know, like obviously Ruben's and Lucky Envelope. It would be really cool to do a Bail Breaker and Yonder collab. That would be crazy because then we're looking at that whole Yakima – Wenatchee – Ballard – Downtown dynamic."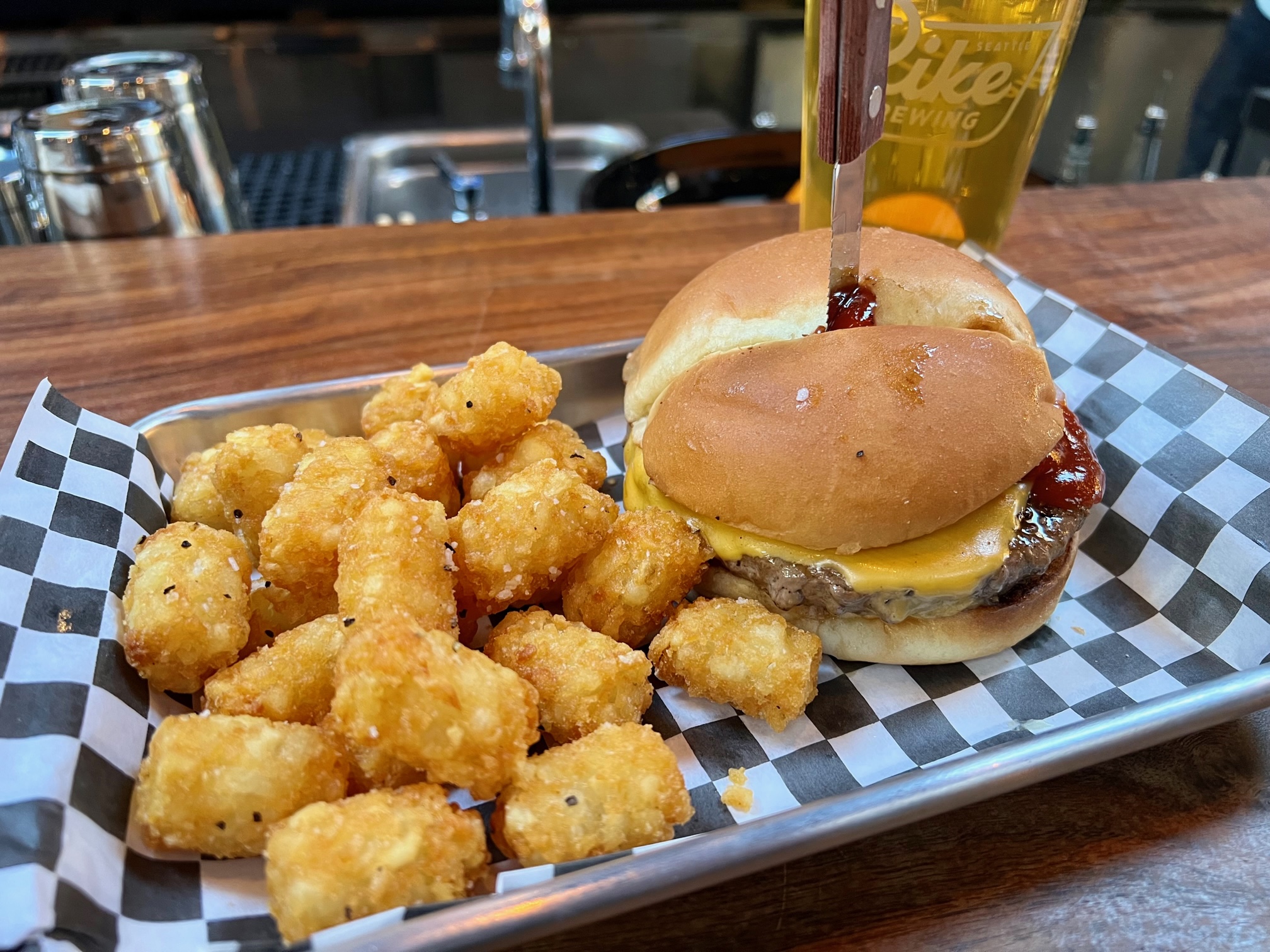 To complement this beer, the food menu is led by Ethan Stowell, the consulting chef for Pike Brewing culinary operations. Stowell created a menu that features burgers, fish, and a unique take on wings.
The food menu is served a la carte with the McPike Burger priced at just $8, add a side of fires or tots for an additional $4. This burger does one exceptional job at emulating the similarly named burger that is well known around the globe. Topped with diced onions, pickles, ketchup and mustard, it's quite delicious!
In addition to the McPike, there are a few other burger and sandwich options. This includes The Pike Royale, Pike Blue Ribbon with panko breaded chicken, ham, Swiss, shredded lettuce, and mayo; and an Ebi Burger with a panko breaded shrimp patty, American cheese, lettuce, Mama Lil's Peppers, and togarashi tartar. There's also a few other more creative burger options and a Fried Fish option with panko breaded rockfish, lettuce, tomato and tartar.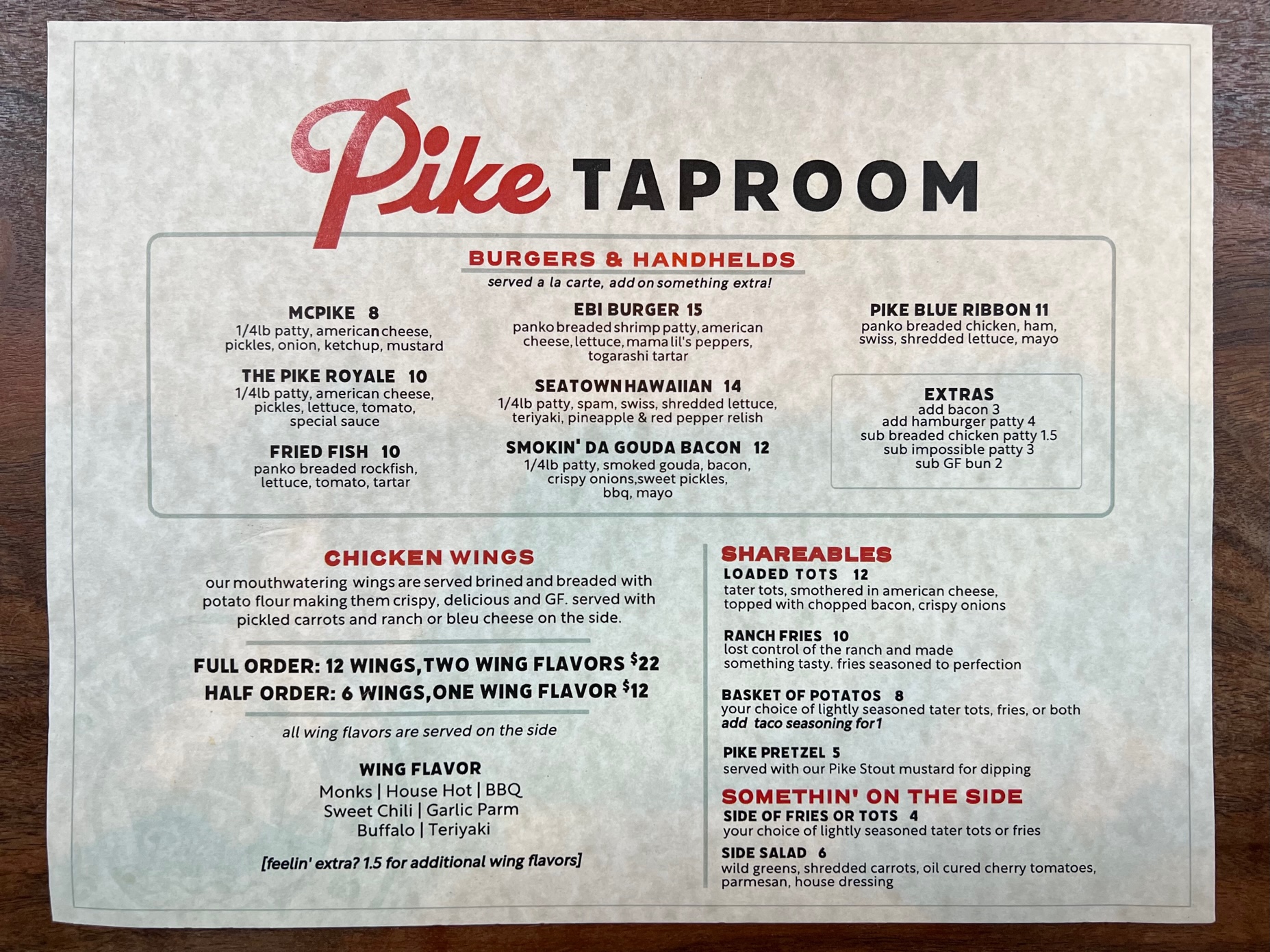 When it comes to the chicken wings, these are served gluten free as they are brined and then dusted in potato flour. These crispy wings are served with seven different sauce options for dipping: Monks, House Hot, Sweet Chili, Garlic Parm, BBQ, Buffalo, and Teriyaki.
The space was designed by Kelley Moore and has taken on its own aesthetics that are different from the iconic Pike Pub. Moore added a stylish green leather banquette that runs along one of the exposed brick walls, modern lighting fixtures, and mirrors, that complement the plentiful skylights that give a vibrant feel to the place.
There's seating for 45, as well as eight bar seats that overlook a back bar that represents the Ballard Bridge. The front area of the room offers shuffleboard and couches that are inspired by vintage truck seats, ideal for lounging with friends over beers. Then in the back of the room are two dartboards as televisions are placed thoughtfully throughout the room that'll show local sports teams. And if you feel like dinning or imbibing outdoors, there are additional tables in a covered parklet.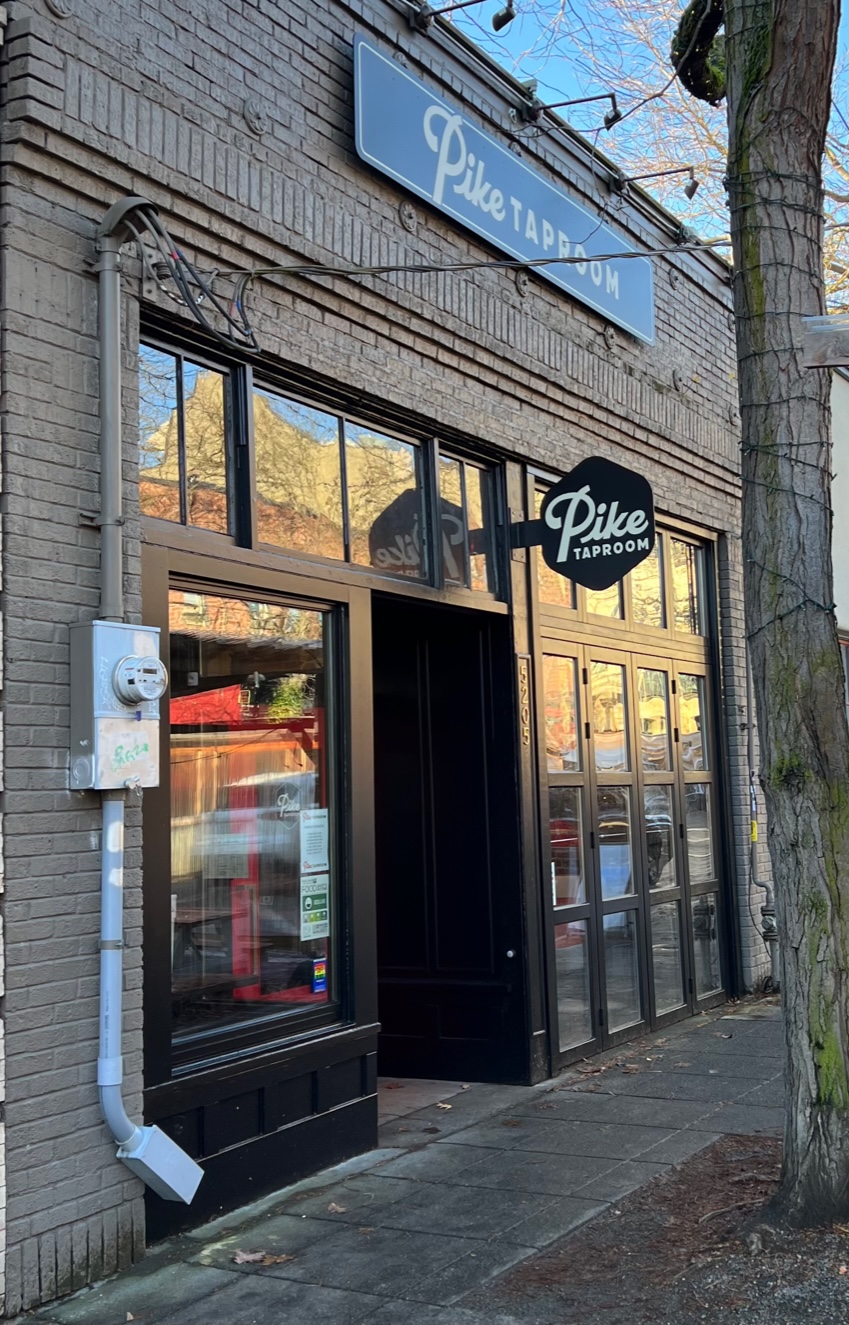 Join Pike Taproom for Happy Hour in Ballard during the week, Monday – Friday from 3pm – 6pm and late night on Friday and Saturday from 10:00pm until close. The happy hour menu offers two Adult Happy Meals ($14) that include choice of a pint of Pike beer along with tots or fries and a McPike burger or breaded shrimp nuggets. Loaded Hawaiian Tots ($12) come with spam, cheese, teriyaki, and crispy onions. The full menu of unique burgers and wings is also available during happy hour.
A Happy Mule with choice of spirit and ginger beer and Mischief Punch with bourbon, cinnamon whiskey, peach schnapps, orange juice, and grenadine are offered for $10. Plus, $1 off pints of Pike beer on draft.
Pike Taproom is open seven days a week. Its current hours are Monday – Thursday from 3:00-9:00pm, Friday from 3:00-Midnight, Saturday from Noon-Midnight and Sunday from Noon-9:00pm. For more information call 206.906.9158 or visit, piketaproomballard.com.
Pike Taproom – Ballard
5205 Ballard Ave NW
Seattle, WA 98107