Proper Pint Oakroom Opens Today In Multnomah Village
|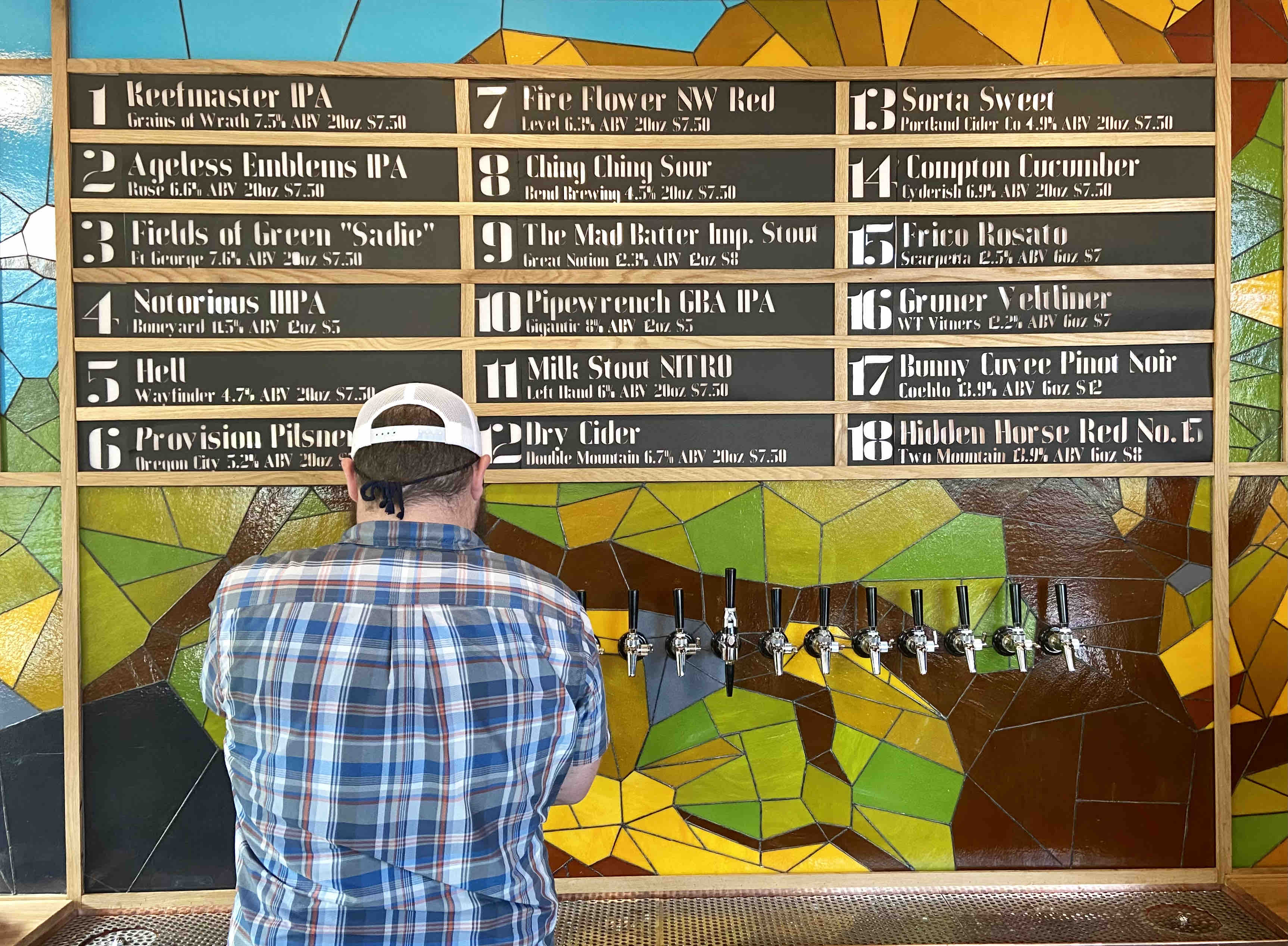 Nearly four years ago Sean Hiatt opened his first beer bar, Proper Pint Taproom. Today, he is all set to officially open the doors to his second location, Proper Pint Oakroom. This new taproom is located at the ground level of the recently constructed Multnomah Station apartment building in Portland's Multnomah Village neighborhood.
Proper Pint Oakroom will be the first beer taproom opening in Portland as COVID restrictions begin to ease. Hiatt has created a nice, inviting bar that is still a bit of a work in progress as it relates to the final touches of the decor.
Since Hiatt's a woodworker, he is finishing up all of the furniture that will soon adorn the establishment. His labor of love created the furniture four years ago that fills up Proper Pint Taproom in Southeast Portland. But until this work is done for his Multnomah Village location, he has secured plenty of temporary tables to fill up the place.
A significant part of this progress has already taken place inside Proper Pint Oakroom. The back of the bar is decorated with a stained-glass mosaic design that definitely gives the taproom a personal touch. Wood cabinets fill a tiny nook in the back corner where merchandise will fill the space.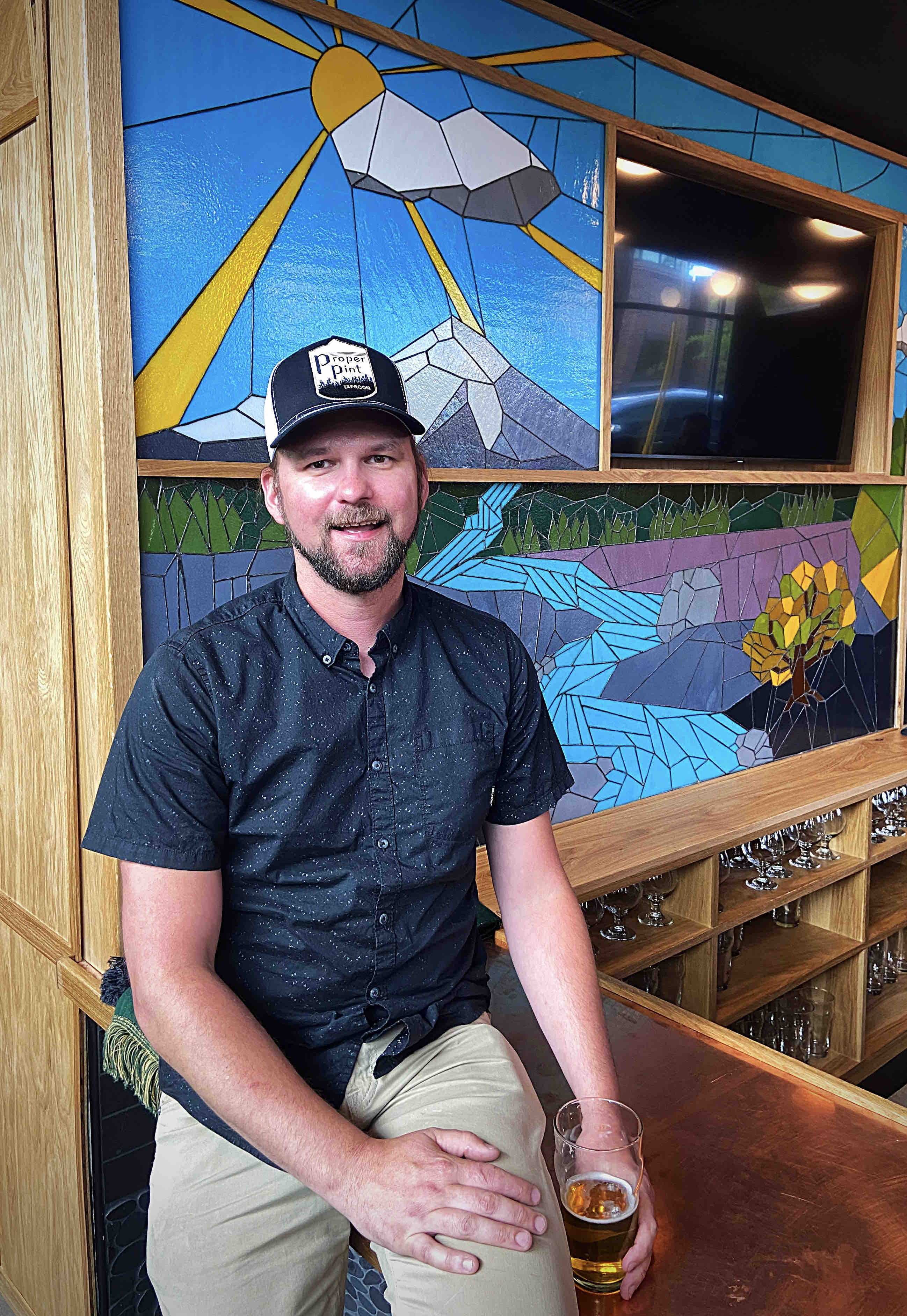 The taps at Proper Pint Oakroom will feature eighteen offerings that include 11 beer options with cider and wine rounding out the final seven taps. One beer tap is dedicated to nitro with Left Hand Milk Stout being served for the opening today. Many of the beer options will be served in 20oz pints. Beyond the draft list, Proper Pint Oakroom offers a cooler for cans and bottles to go or for on premise consumption.
Inside there are four strategically placed televisions that will surely be televising Portland Timbers matches as the season continues on. Hiatt has even created his own Timbers scarf that's for sale at the taproom.
With Proper Pint Oakroom joining the wide array of businesses in Multnomah Village, the neighborhood is truly becoming a great beer destination. Just across SW 32nd Avenue sits the Lucky Labrador Public House. Then a few blocks south is Level Beer – Multnomah Village and John's Marketplace. Plus, don't forget about the local dive bar, The Ship, as it serves a great rotating selection of craft beer!
For food, there are plenty of nearby options in Multnomah Village. Within a few blocks are Otto & Anita's Schnitzelhaus, Little Big Burger, Spielman Bagels, and Ice Cream Factory.
As the aesthetics of the buildout continues and COVID restrictions hopefully fully subside, Hiatt plans to host a proper grand opening in the coming months. For now, Proper Pint Oakroom will follow the same hours as Proper Pint Taproom for the foreseeable future. These hours will be Sunday: 1:00-9:00pm; Monday – Thursday: 2:00-9:00pm; and Friday – Saturday: Noon-10:00pm. Kids are welcome with parents on the outdoor patio only.
Proper Pint Oakroom
7654 SW 32nd Ave.
Portland, OR 97219