Pyramid Brewing Brings A Brand Refresh In 2020
|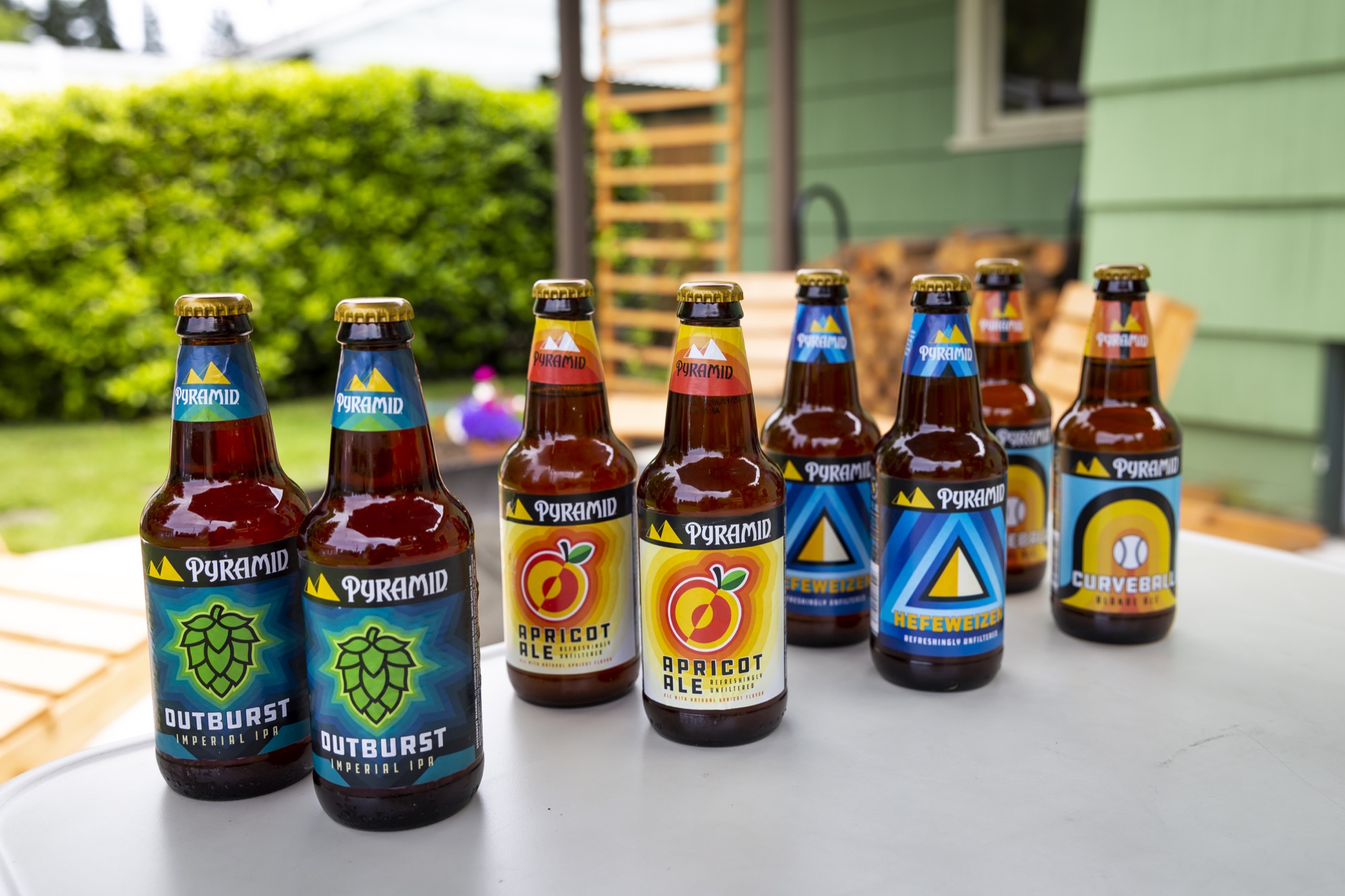 A new brand refresh from Pyramid Brewing is beginning to infiltrate the marketplace across the Pacific Northwest. It has only been three years since the brewery last tweaked its packaging and the 36-year-old brewery is back at it. The goal with this new refreshed brand image is to retain the long heritage of the brand while also bringing in new craft beer drinkers into the mix.
Through its history that began in 1984 in Kalama, Washington when the brewery was known as Hart Brewing, Pyramid Brewing has seen many variations of its branding change over the four decades, including its ownership. It is currently under the umbrella of the Costa Rican food and beverage company Florida Ice & Farm Co. The brewery has a long tradition of craft beer here in the Pacific Northwest and has been awarded for it receiving 19 medals at the Great American Beer Festival and 8 awards at the World Beer Cup.
The Pyramid Brewing Alehouse in Seattle closed its doors on March 12th during the beginning of the COVID-19 pandemic with plans to reopen for the Seattle Mariners season. As the virus grew larger and no signs of Major League Baseball returning across the street at T-Mobile Park, the brewery decided to pull the plug on operations there on April 30, 2020
Though its presence in Seattle is no longer, Pyramid Brewing is now officially based in Portland alongside its sister brewery, Portland Brewing, where it as been brewing for quite some time. At its height, Pyramid Brewing operated multiple taprooms, a brewpub and a production brewery in California. (It still has its name on a taproom in the Southwest Airlines terminal at the Oakland International Airport.) Now the legacy brewery is down to just one location and it's here in Portland.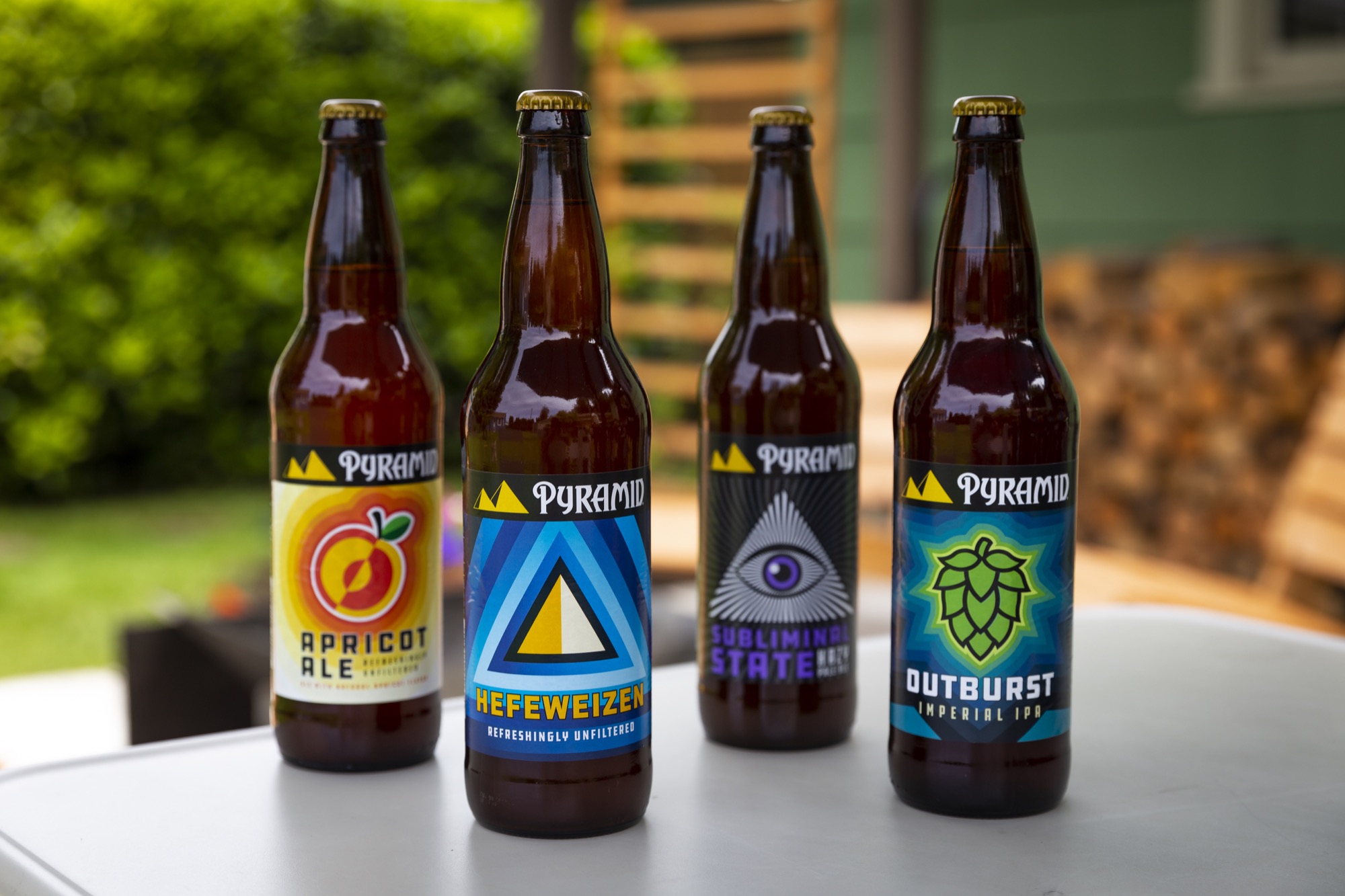 Now with operations fully in Portland, Pyramid Brewing as set out to create a fresh image with its packaging that brings in its heritage along with staying contemporary. To get this makeover right, the brewery took its time in developing its new look.
"After trying out a wildly new design on Blazing Bright, we knew it was time to take a big leap with our entire lineup," said Pyramid Brewing's Brand Director, Bruce Kehe, in a press release. "It's been a ton of fun working on and launching such a large packaging overhaul. The new art does a fantastic job echoing the pride we have in our beer's quality and flavor."
Through the brewery's history, the brewery's packaging has prominently featured the iconic pyramids situated in illustrated landscapes. For the new updated packaging, these landscape scenes are replaced with a graphic-forward, simplified identity. Each beer's ingredients, history, and personality are distilled into a single icon wrapped in waves of bright, radiating lines. As you can see below, when placed side by side, the individual brands contribute to a unified billboard effect.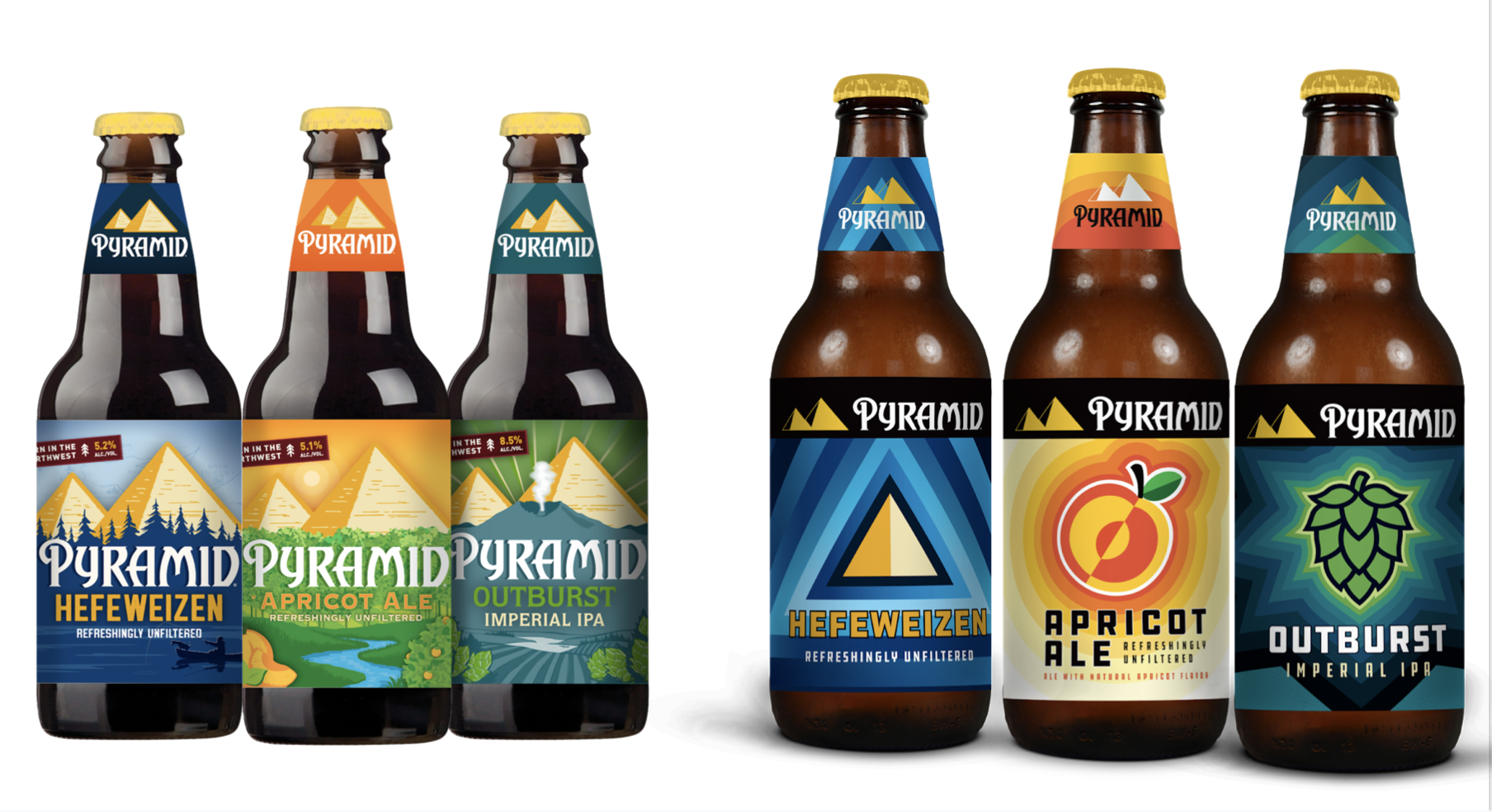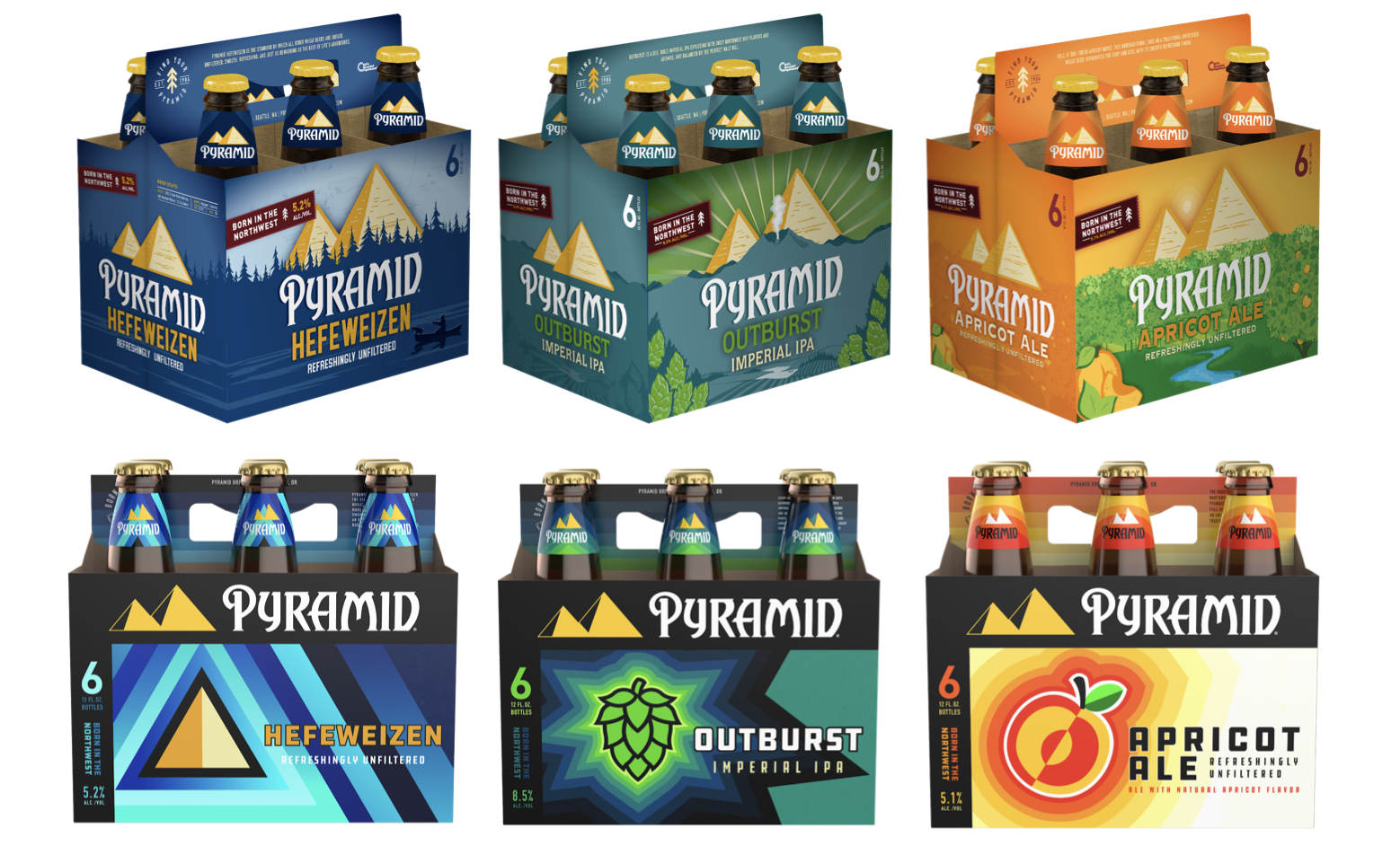 Pyramid also keeps its history and connection to the Pacific Northwest alive on this new packaging. The phrase "Born In The Northwest, Est. 1984" is displayed on the neck label of each bottle. And since this brand refresh was taking place as it closed its Seattle operations, early labels in the packaging still state both Seattle, WA and Portland, OR. Newer labels that we were presented with now only list Pyramid Brewing as being based in the Rose City.
Tim Karpinksi, a Portland-based graphic design conceptor, joined with the Pyramid Brewing in-house marketing team to chose a new subtle approach on the new brand packaging refresh. After testing a half dozen of ideas, the team settled on the new design that features new pyramids and focal points. Karpinksi made subtle adjustments to the Pyramid logo by giving the pyramids a cleaner and sharper two-color look and attaching them directly to Pyramid's wordmark.
This new brand refresh will affect all packaging including label art and package cartons for Pyramid Hefeweizen, Apricot Ale, Outburst Imperial IPA, and the seasonal series that includes the Curveball Blonde Ale, Snow Cap Winter Ale, and Subliminal State Hazy Pale Ale, a beer that saw this new design earlier this year as this was the brewery's spring seasonal. The remaining brands including the already in transition Blazing Bright Juicy IPA along with Outburst Citrus and Coast Day will receive the new design treatment throughout the year.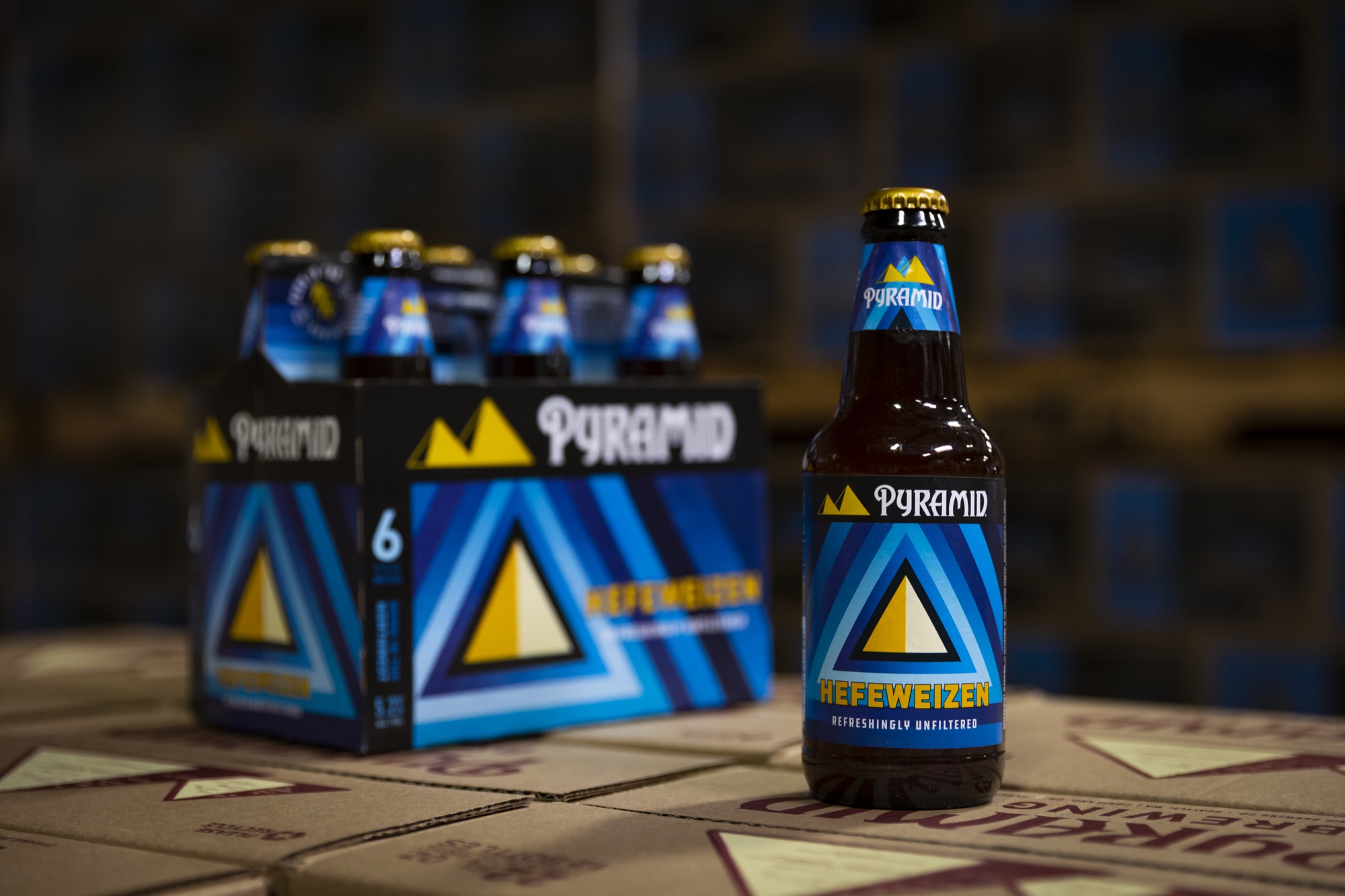 Pyramid's flagship beer, Hefeweizen continues to feature a pyramid in the center of the label but this new design took on a more modernistic approach. This is the only beer that the pyramid remains part of the focal point of the label. First packaged in 1992, Hefeweizen had long been the brewery's most popular beer. This is no longer the case but it's still the brewery's top selling draft beer. Hefeweizen has been awarded a Gold Medal at the Great American Beer Festival and a Silver and two Bronze Awards at the World Beer Cup. After sampling Hefeweizen yesterday, this American-Style Hefeweizen that is over 60% wheat still tastes very refreshing!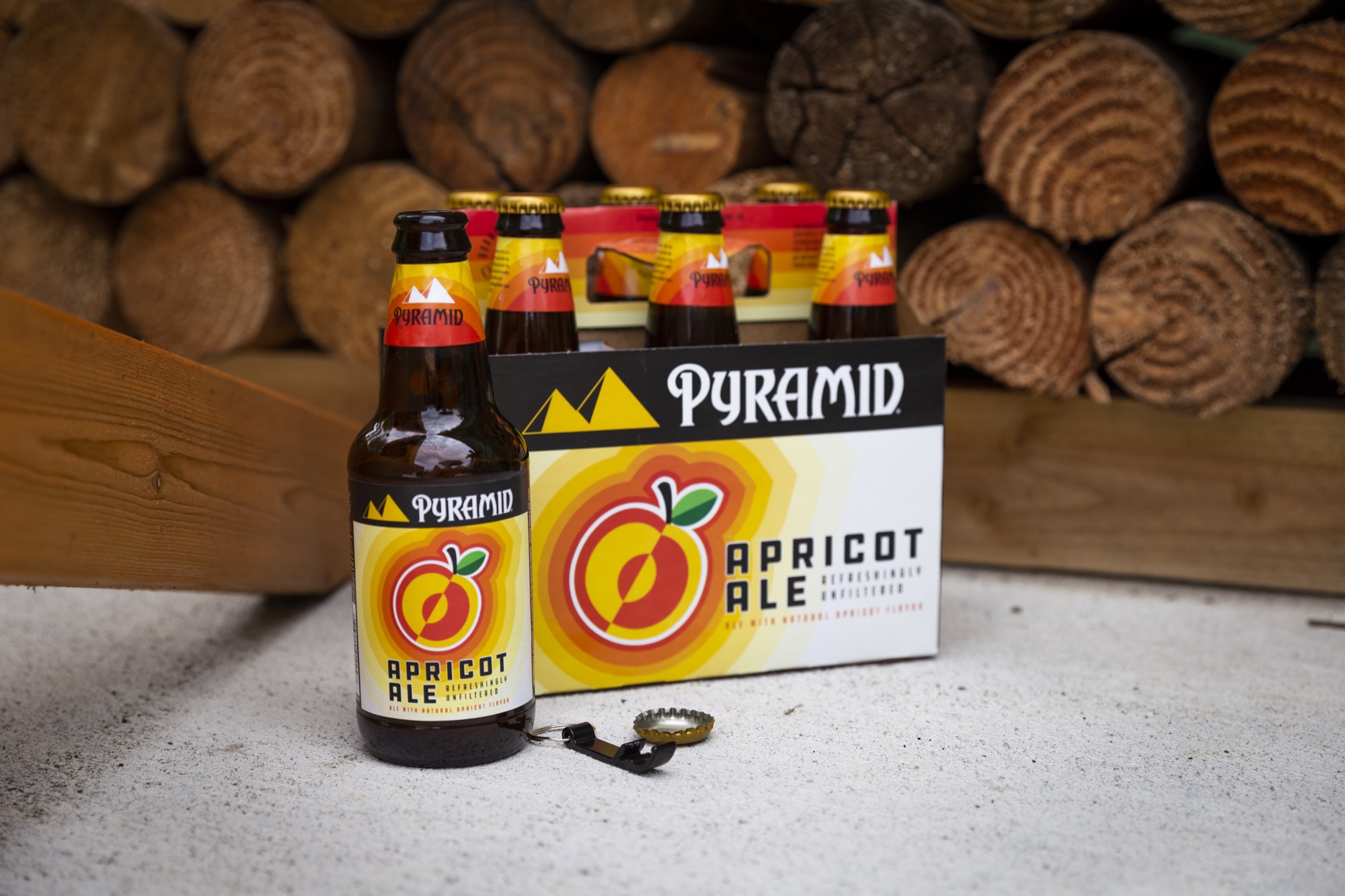 One of Pyramid's most beloved beers, Apricot Ale has seen its label change a few times over the beers 26 years. On the new label the apricot is featured prominently in a bit of a vibrant design on the label. This fruit beer was first introduced as a summer seasonal in 1994 and then soon thereafter joined the brewery's year-round lineup. Since its inception Apricot Ale has had an impressive run at the Great American Beer Festival being awarded three Gold Medals and one Silver Medal.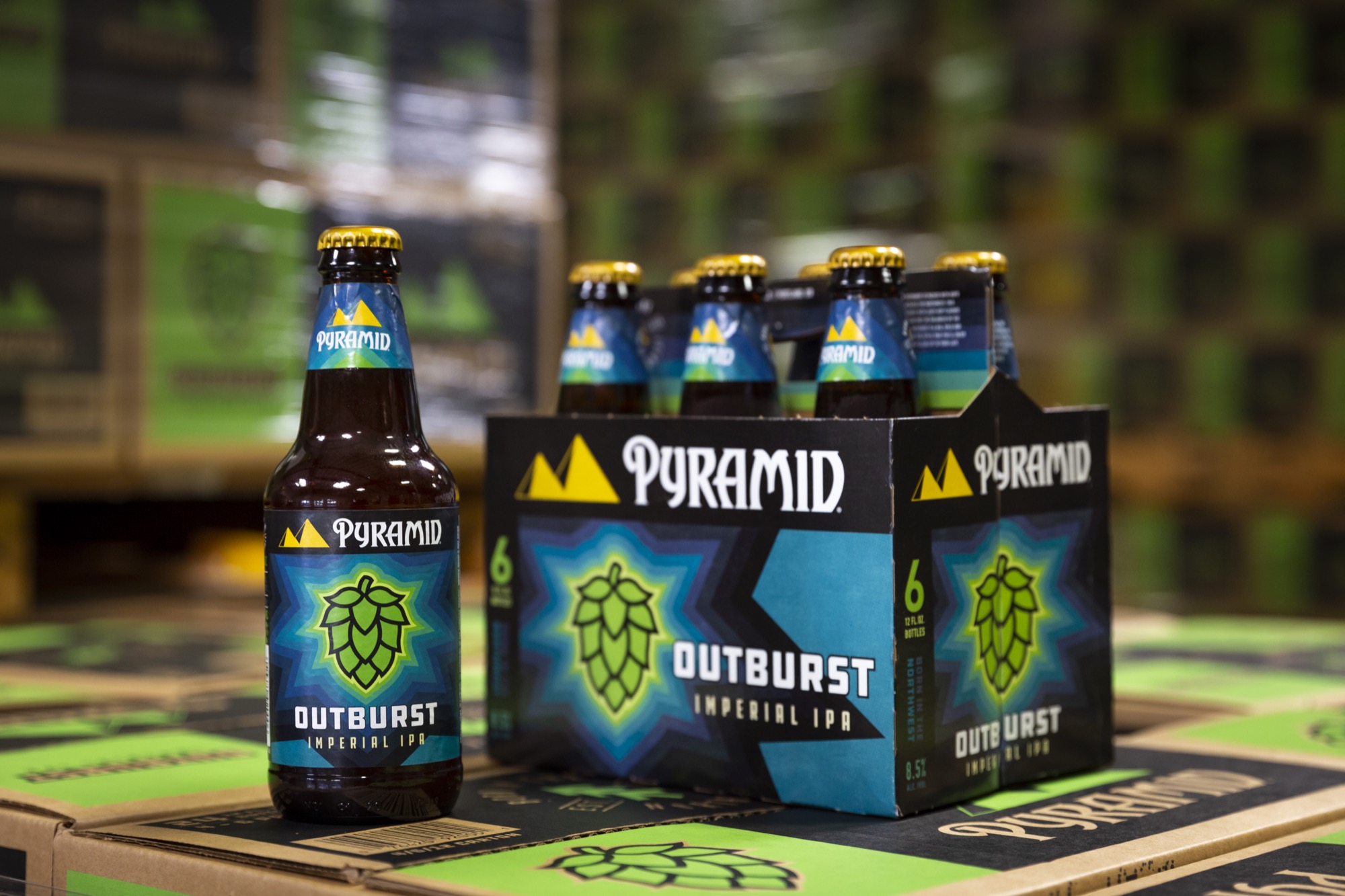 Pyramid Brewing's number one selling beer also has a nice bold new look, one that we really like that boldly showcases a hop, front and center. Led by strong sales at convenience and grocery stores, Outburst Imperial IPA has become the brewery's top selling beer. According to Ryan Pappe, Pyramid Brewing Brewmaster, "This started off as a limited draft one-off. It's kind of like lightning in a bottle!" We can attest that this has been a great go-to IIPA as we've been enjoying this beer ever since it was first on tap at Portland Brewing at the beginning of the last decade.
Consumers will see these changes and ones for other beers in the Pyramid Brewing portfolio over the coming months as inventory replenished through its distributor partners.