Reuben's Brews Discusses its COVID-19 Reopening Customer Survey Results on Sightglass Podcast
|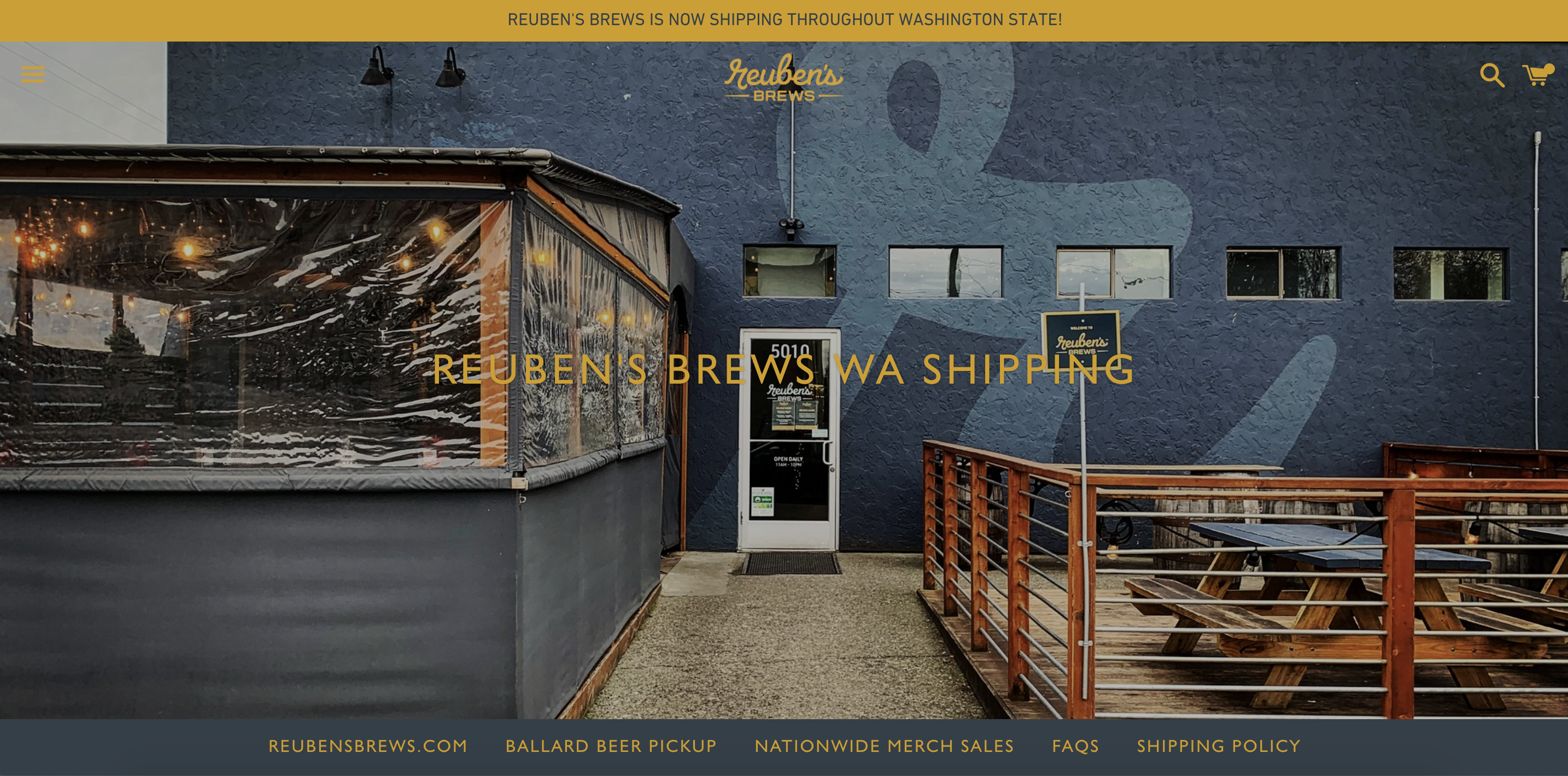 As brewery tasting rooms begin to open back up in the Pacific Northwest from the COVID-19 shutdowns, many breweries will be faced with a huge hurdle on generating much needed revenue. To assist in this reopening process, Reuben's Brews in Seattle sent out a survey last week to its faithful email subscribers to gather feedback about potentially reopening its two Ballard tasting rooms.
The feedback that Reuben's received was impressive with nearly 1,500 respondents, far greater than what the brewery expected. To help facilitate this feedback and to supply it to the people who completed it, Reuben's put together the results of its COVID-19 Reopening Customer Survey.
Some of the results are a bit surprising while others are expected and ones that many establishments that rely on sales of alcohol will be dealing with for many months to come. In returning to the Reuben's Tasting Room, 78% of those surveyed are concerned about the behavior of other guests while 64% are concerned with the necessary social distancing to keep the coronavirus at bay. Only 11% of those surveyed are not concerned about returning to the tasting room.
Here's a look at its survey results, you can click on the image to enlarge it…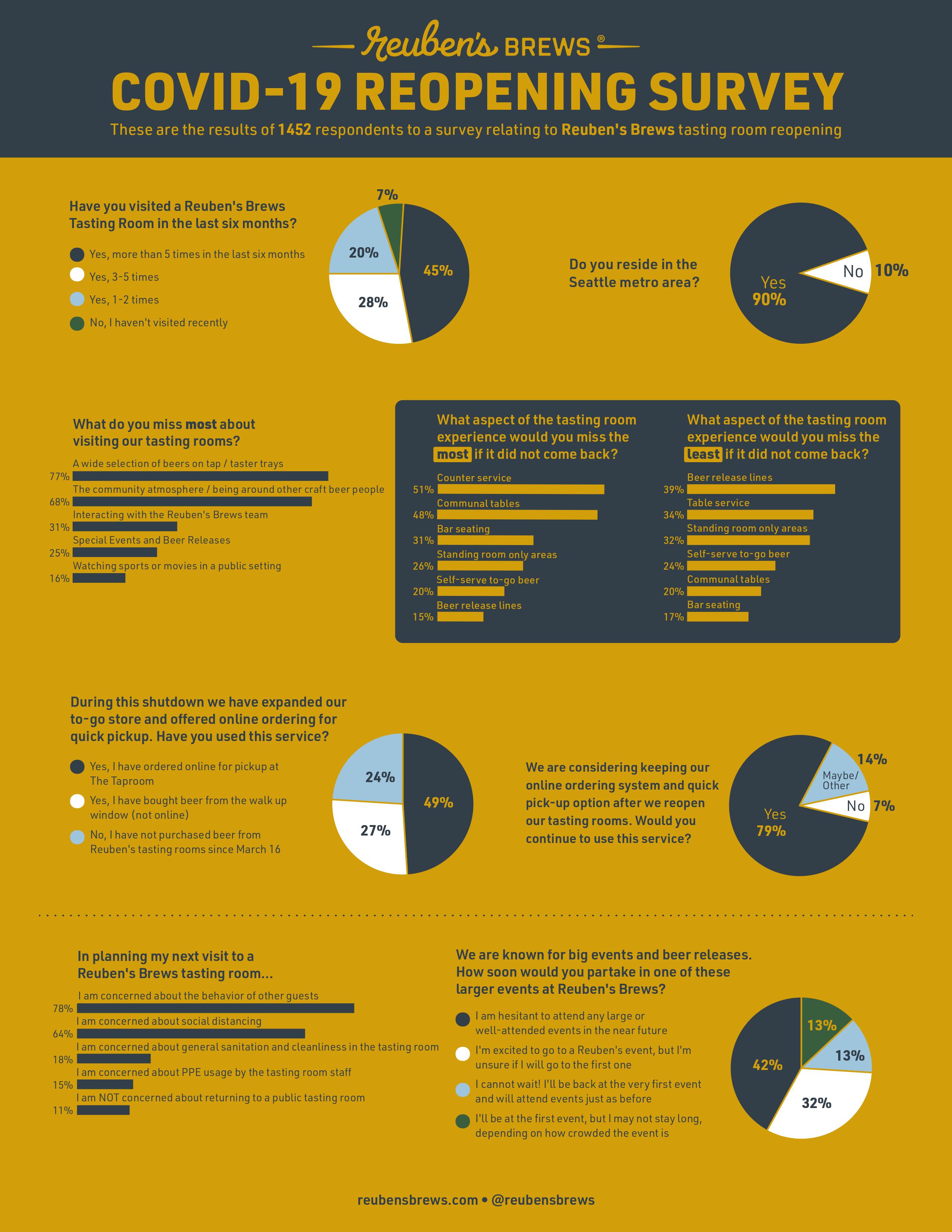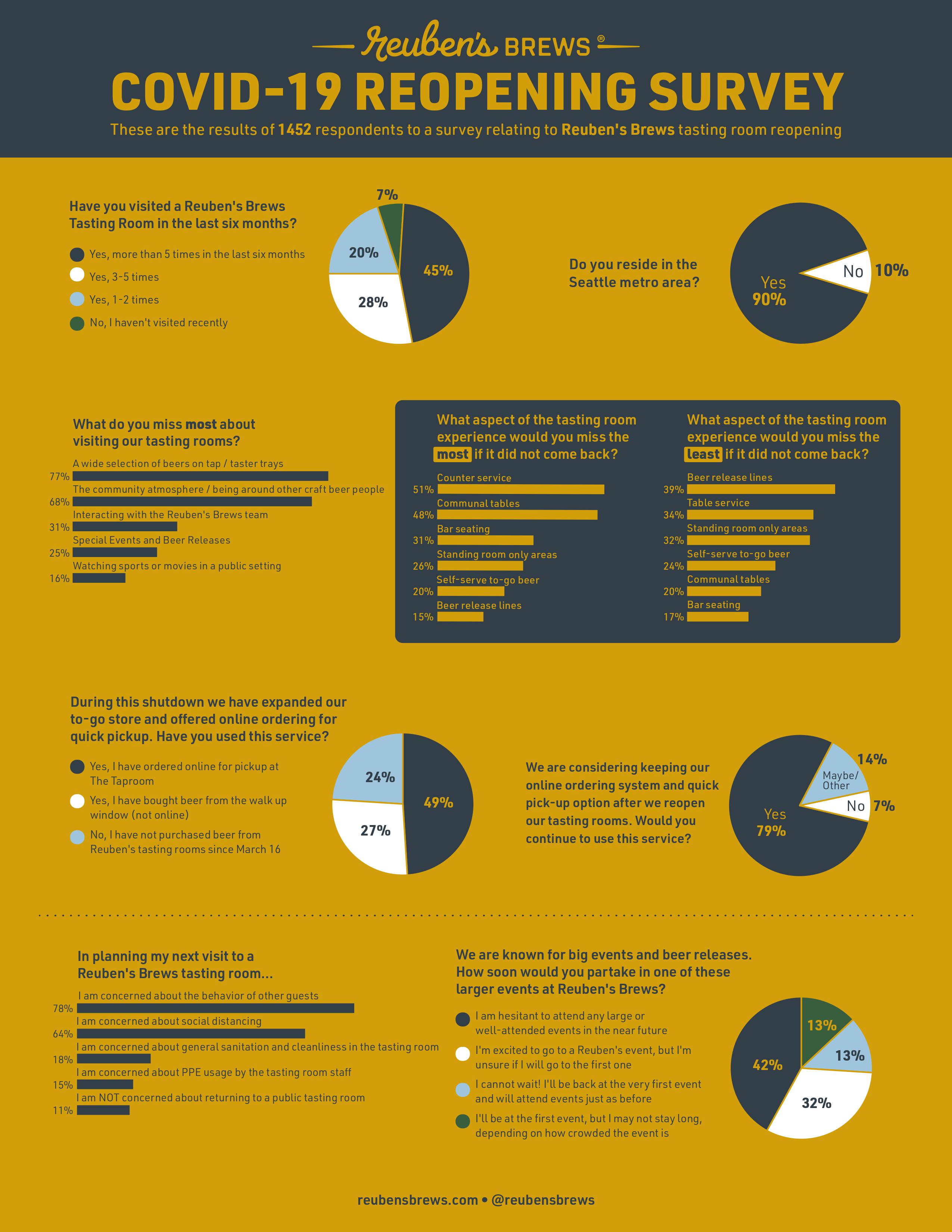 The phases of reopening are a bit different in Washington State than they are here in Oregon. Phase 2 in the Emerald State allows for brewery taprooms and bars to open in some limited fashion. King County, where Seattle is located, hopes to enter Phase 2 in early June.
What Phase 2 tentatively allows for is 50% of occupancy level, likely no counter service and five seats maximum at each table. Reuben's will switch to table service to better manage occupancy levels. It will also increase its use of PPE with plenty of sanitizer for both the employees and guests.
Reuben's will continue with its to-go beer in a new location on the backside of the brewery. Reuben's, as well as other breweries, will need to find ways to attempt to make up for the lost sales that the brewery will be facing with diminished on premise capacity.
To further discuss this COVID-19 Reopening Customer Survey, the folks at Reuben's Brews took an hour long deep dive on the results on its Sightglass podcast that was recorded on May 25th. This podcast features a live conversation between Adam and Grace Robbings (Co-Founders), Ashley Hermosillo (Tasting Rooms Manager), and Matt Lutton (Marketing Manager) as they discuss the survey results for the first time. The conversation is very interesting and one that any brewery owner should take a listen to.
Here's the link to Reuben's Sightglass episode: https://sightglass.simplecast.com/episodes/survey-results.