Stone Brewing Sells Out To Japan's Sapporo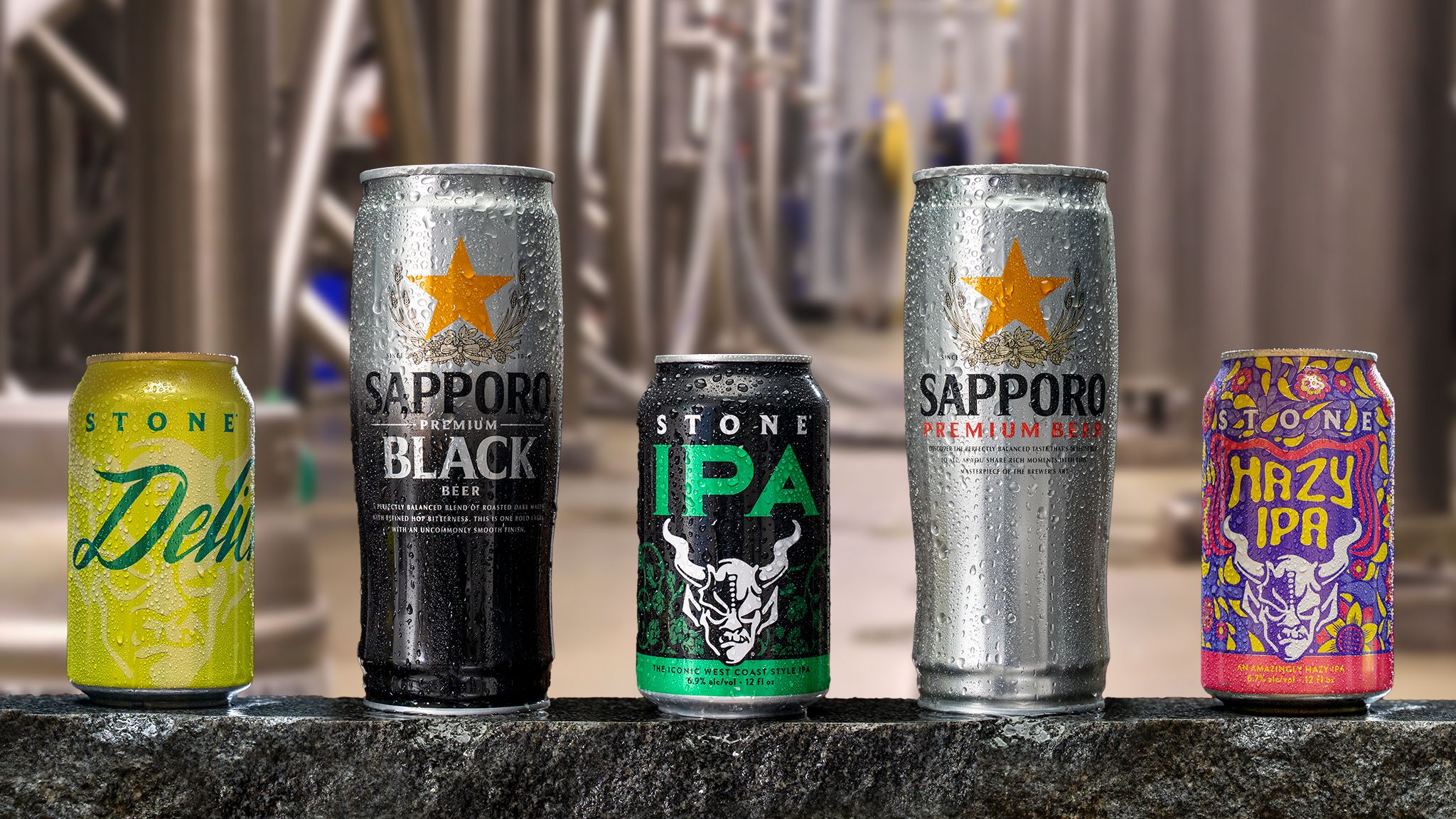 With its financial troubles highlighted in the lawsuit that it won against Molson Coors in late March 2022, Stone Brewing has just announced that it is selling its business to Sapporo U.S.A., a subsidiary of Japan's Sapporo Breweries. It's been reported that the Stone was sold for $168 million, The one entity of Stone Brewing's business that is not part of the sale is Stone Distributing Co. as it will become an independent company under current ownership. The transaction is expected to close in August 2022.
This acquisition by Sapporo, the number-one selling Asian beer brand in the U.S., will allow the brewer to have much needed capacity to brew it's beers for North American at Stone Brewing's two U.S. based breweries. 90% of its overseas sales come from this market. Most of the Sapporo sold in the U.S. has been brewed at City Brewing in La Crosse, Wisconsin, now this is certain to change.
Though the purchase price may seem a bit low for the Stone brand, it also comes with some debt. In late March a court sided in favor of Stone Brewing as it prevailed in its lawsuit against MillerCoors, now known as Molson Coors. In its lawsuit, Stone Brewing set out seeking $216 million but according to Reuters, the 9th largest craft brewer has been awarded $56 million. But with any case this does not mean that it's a done deal as Molson Coors has the ability to appeal the ruling.
In this same Reuters article, Molson Coors spokesperson Marty Maloney made a stunning announcement on what the future holds for Stone Brewing. "What we learned through this trial is that Stone Brewing's lawsuit was not driven by consumer confusion and that Stone Brewing has a $464 million debt to pay to their private equity investors in 2023." This debt to investor VMG/Hillhouse has proven to be too much for the longtime craft brewer and now Stone joins the Sapporo family and its portfolio that also includes Anchor Steam Brewing and Canada's Sleeman Breweries.
Here are additional details in today's press release from Stone Brewing…
This east-meets-west acquisition brings together the complementary strengths of Japanese artistry and innovation with the American craft brewing tradition in a fusion of cultures creating strength and growth potential for both brands. Sapporo gains major, high-quality brewing capacity on both U.S. coasts that will enable it to significantly increase production to meet the strong consumer demand of its Sapporo-branded beers for the domestic market. Stone Brewing gains the resources of the largest Asian beer brand in America and its commitment to preserve Stone's legacy, culture and innovative approach to craft brewing.
Sapporo intends to produce its Sapporo-branded beers for U.S. distribution in Stone's two state-of-the-art breweries, in Escondido, California and Richmond, Virginia. Building on existing capabilities, and supported by planned capital investments, Sapporo intends to brew 360,000 barrels in the U.S. by the end of 2024. This will essentially double Stone Brewing's current production and provide ample opportunities for growth for both brands.
"We approached Stone Brewing seeking a partner for our growth plans in the U.S, and we quickly recognized they were an ideal partner with bi-coastal brewing capacity, loyal fans, superb management, shared cultural values, and commitment to the highest quality standards," said Kenny Sadai, Chairman, Sapporo U.S.A. "This acquisition puts the resources and legacy of the largest Asian beer brand in America together with one of the most innovative and recognized craft beer brands in the world. It's a perfect fusion of east meets west that is an ideal marriage for Sapporo's long-term growth strategy in the U.S."
Under the agreement, Stone Brewing will continue to brew its celebrated craft beers at the two breweries, as well as operate its seven Tap Rooms and World Bistro & Gardens destinations with existing branding, management and workforce under the Sapporo umbrella. Best known for its award-winning beers like Stone IPA, Stone Delicious IPA and Stone Buenaveza Salt & Lime Lager, Stone will continue to brew with the same recipes and passionate team as before.
"This is the right next chapter for Stone Brewing," said Greg Koch, Co-Founder & Executive Chairman of Stone Brewing. "For 26 years, our amazing team has worked tirelessly to brew beers that have set trends and redefined expectations. To have the interest of a company like Sapporo in continuing the Stone story is a testament to the great beers we've created and will continue to create for our fans across the globe."
"I am thrilled that we have the opportunity to join forces with Sapporo," said Maria Stipp, CEO of Stone Brewing. "This unique partnership allows us to preserve the Stone legacy that our fans know and love and will add exponential opportunities for growth, from production to more investment in people, equipment, sales, and marketing."
Stone is the second acquisition in the growing craft brew segment of Sapporo U.S.A.'s business. Alongside Anchor Brewing Co., which was acquired in 2017, the acquisition continues the legacy of great brands coming together under the Sapporo banner. Anchor Brewing operations will remain unchanged.
Stone Distributing Co., Stone Brewing's distribution business, is not part of the sale, and will become an independent company under current ownership, maintaining its current leadership of day-to-day operations. Stone Distributing is a leading distributor in the nation's largest craft market and will continue to service Southern California with a portfolio of 42 distinctive craft brands, including Stone Brewing. As a separate entity from Stone Brewing, it will operate as it does today and with increased investment in its brands, people and future.
For more information, please visit: Stone Brewing and Sapporo Beer.