Sunriver Brewing Co. Reveals Its 2019 Limited Draft Beer Release Calendar
|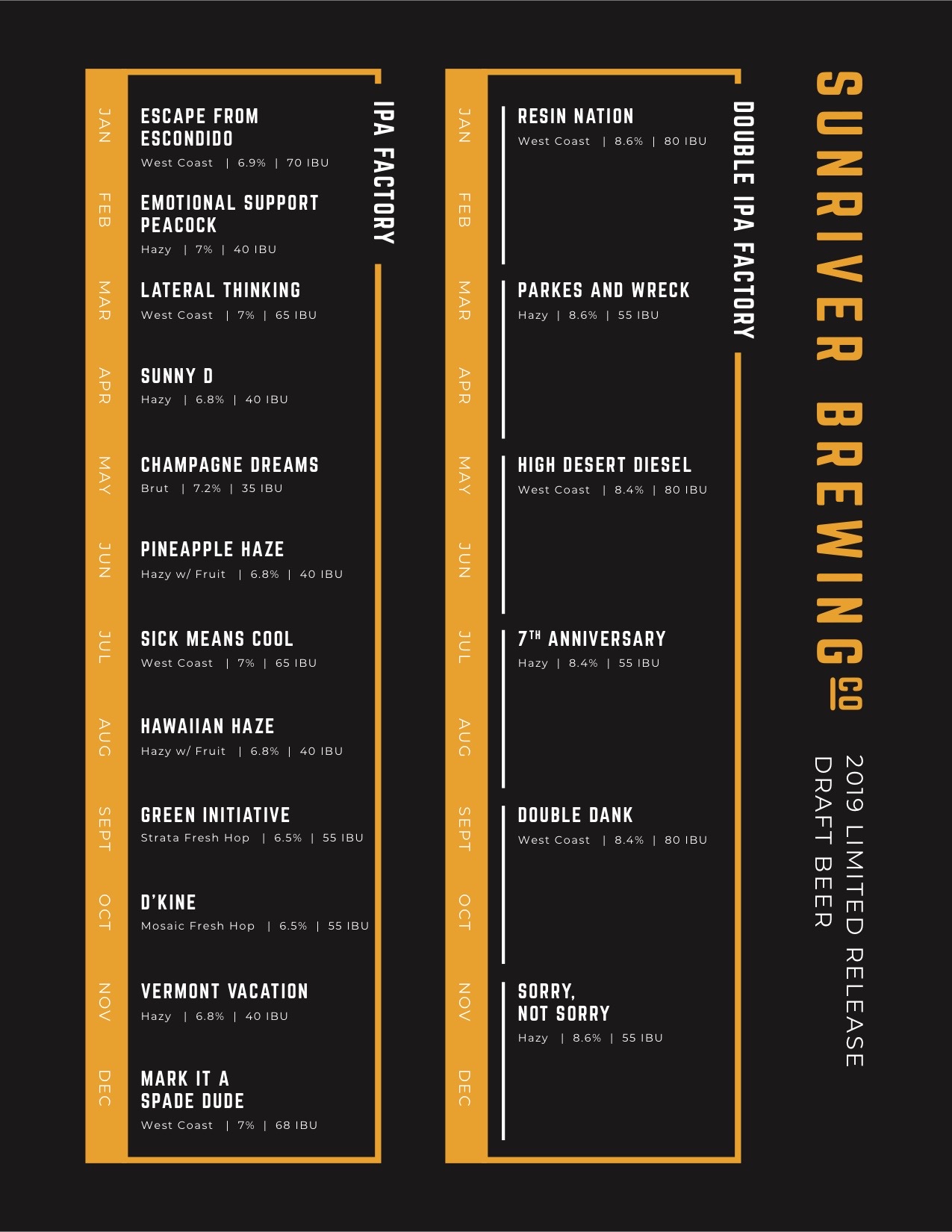 Each year Sunriver Brewing Co. releases many limited release draft beer offerings. This coming year will be no different as a full schedule of what will be brewed is now available to the public as part of its 2019 Beer Release Calendar.
For 2019 Sunriver Brewing will feature two categories of beers that are planned. One is the IPA Factory and the other is Double IPA Factory.
The IPA Factory will be composed of a different IPA each month. This will be consisting of West Coast, Hazy, Fruited and Brut IPAs. The new beers from the Double IPA Factory will be released every other month throughout the year making this lineup a bti more limited.
"We love hops, plain and simple. Sunriver Brewing Company has cultivated years of relationships with hop growers," said Brett Thomas, Director of Brewing Operations at Sunriver Brewing Co. in a statement. "We walk the hop fields each fall and then hand-select only the finest Pacific Northwest varieties. The end result of this process is presented in our limited release IPAs and double IPAs. We plan to boldly explore the diverse world of IPA styles utilizing hop oils, hops resins, cryogenic hops, fresh hops alongside our traditional hops. These hoppy ales will be a combination of fan favorites from years past, graduates from pub only small batches and some totally new awesomeness."
For many of these releases a limited supply of approximately 60 kegs of each beer will be available in the Sunriver Brewing's distribution footprint. This area covers Oregon, SW Washington and the Southern Idaho.