The 50 Fastest Growing U.S. Craft Breweries in 2018
|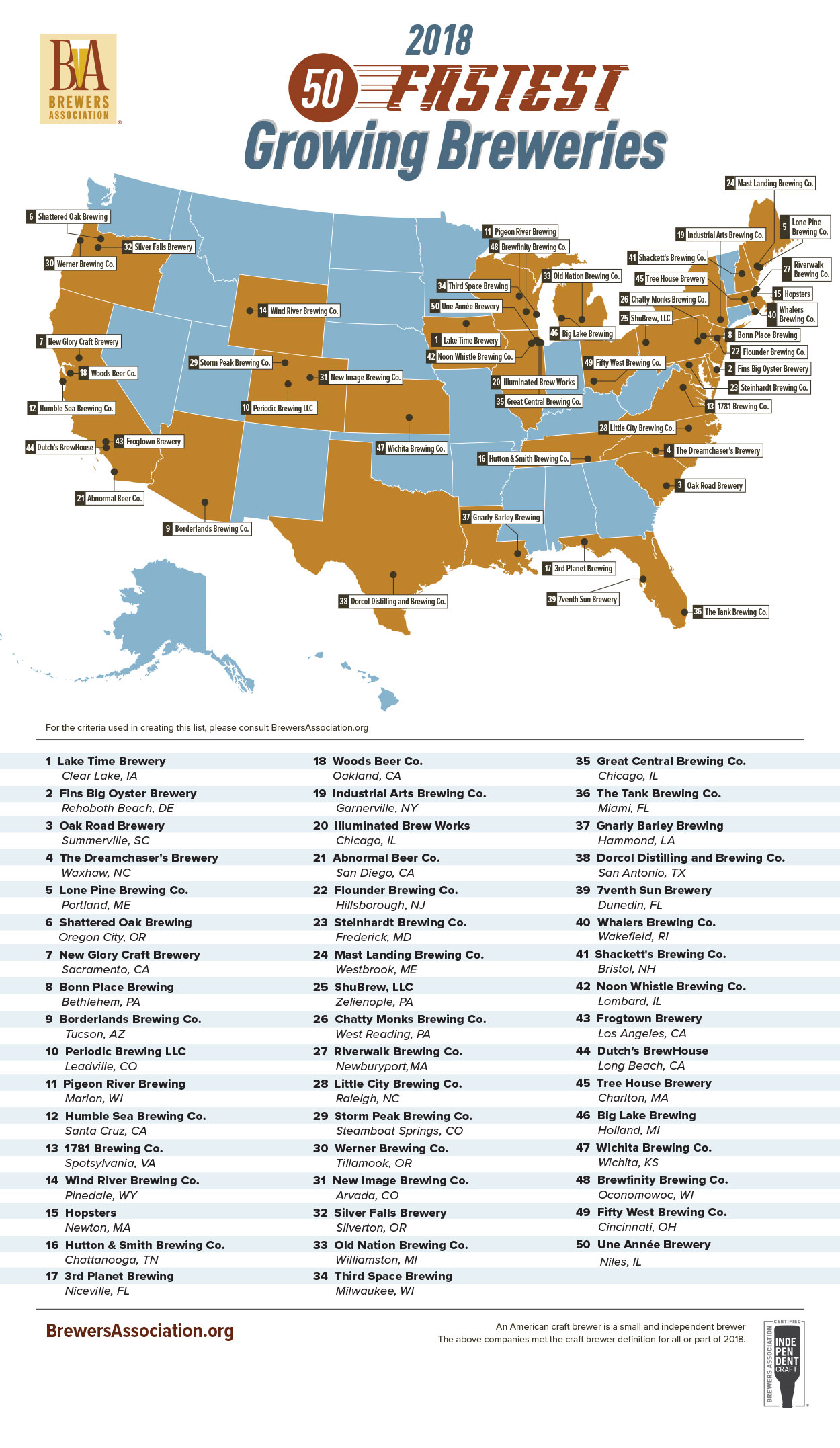 Today the Brewers Association (BA) released its list of the 50 fastest growing craft breweries of 2018 within the United States. This is the second consecutive year that the BA has released this list that is based on breweries that reported 2018 production to the Brewers Association's annual Beer Industry Production Survey.
The 50 fastest growing breweries in 2018 are located in 27 states across the U.S. Of these 50, the median growth rate was 163% with the median size being 1,350 barrels of in-house production in 2018. This list contains breweries that brewed 50 barrels to more than 40,000, and grew from less than 70,000 barrels collectively in 2017 to more than 170,000 barrels in 2018. As a group, these brewing companies represent approximately 10 percent of total craft growth by volume for the year, and include 13 brewpubs, 35 microbreweries and two regional craft breweries.
"Even as market competition continues to increase, these small and independent breweries and brewpubs demonstrate there are still growth opportunities across a diverse set of regions and business models," said Bart Watson, chief economist, Brewers Association in a statement.
Read More: Brewers Association Releases Top 50 Brewing Companies By Sales Volume in 2018
Here in Oregon three breweries made the list of the Top 50 Fastest Growing Breweries in 2018. All three being very small breweries. This list includes Shattered Oak Brewing from Oregon City (#6), Werner Brewing from Tillamook (#30), and Silver Falls Brewery from Silverton (#32).
When it comes to these three Oregon breweries sales and its rankings within the state of Oregon, all three are nowhere near the top in taxable barrels according the final Oregon Liquor Controls Commission (OLCC) in 2018. Within the state of Oregon, Werner Brewing was #205 in taxable barrels with 63 barrels sold and Silver Falls Brewing was #167 within Oregon with 195 barrels sold. Shattered Oak Brewing brews at Feckin Irish Brewing Co. in Oregon City and did not have any sales numbers reported to the OLCC in 2018. Most likely its numbers were reported by Feckin.
So how does the BA come up with this list? Here's what the trade group states…
The list presented includes only small and independent breweries. Growth is measured based on production at their own facilities. Breweries must have opened by December 31, 2016 or earlier to be considered. It only includes breweries that reported 2018 production to the Brewers Association's annual Beer Industry Production Survey; breweries with staff estimates or data from state excise tax reports were not considered. Breweries also needed a validated production figure for 2017, either via the production survey, or state excise tax data.
In a couple of weeks, a more comprehensive State of the Industry report will be delivered during the 2019 Craft Brewers Conference® & BrewExpo America®, held from April 8-11 in Denver, Colorado. The association's full 2018 industry analysis, which shows regional trends and sales by individual breweries, will be published in the May/June issue of The New Brewer, available in May 2019.