The Demise of the Brewing News Publications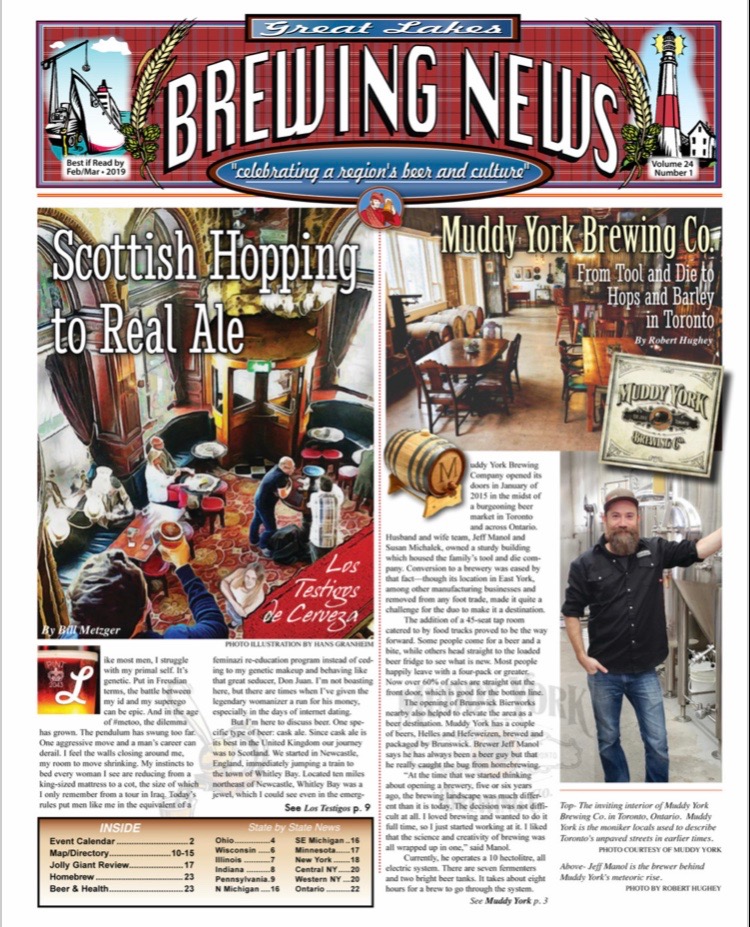 Published beer newspapers and magazines are cherished items these days. With the recent demise of magazines All About Beer and DRAFT, there are few regularly published beer periodicals. Now the latest publication that will likely hit the chopping block are the seven publications from the Buffalo, New York based Brewing News.
Up until yesterday I had been a contributing writer for Brewing News as the author of the Portland Pint column published in Northwest Brewing News. This is our regional publication that is tied to the publishing company that is owned by Bill Metzger. The other six regional bi-monthly beer newspapers include Great Lakes Brewing News, Southwest Brewing News, Yankee Brew News, Mid-Atlantic Brewing News, Rocky Mountain Brewing News, and Southern Brew News.
Yesterday, an article written by the previously mentioned Metzger made its waves on social media. I was first alerted of this article by the WorstBeerBlog twitter page. The article in question is "Scottish Hopping to Real Ale – Los Testigos de Cerveza" and had the byline of Metzger and was published in the February/March 2019 Issue of Great Lake Brewing News.
This cover story in the Great Lakes Brewing News recounts a misogynistic adventure searching for real ale while in the United Kingdom. The article starts out in very poor taste and continues to cross the line of male chauvinistic views along with complete lack of judgement throughout the article's entirety. Metzger's words are rampant of sexism at its finest and do not belong in a beer publication, or any other publication for that matter. It is 2019 after all and craft beer in our region is very much equally part male and female.
To get a better idea of the outrage, here's the lead in of the Metzger penned cover story…
Like most men, I struggle with my primal self. It's genetic. Put in Freudian terms, the battle between my id and my superego can be epic. And in the age of the #metoo, the dilemma has grown. The pendulum has swung too far. One aggressive move and a man's career can derail. I feel the walls closing in on me, my room to move shrinking. My instincts to bed every woman I see are reduction from a king-sized mattress to a cot, the size of which I only remember from a tour of Iraq. Today's rules put men like me in the equivalent of a feminazi re-education program instead of ceding to my genetic makeup and behaving like a great seducer, Don Juan. – Taken from Bill Metzger's article Scottish Hopping to Real Ale – Los Testigos de Cerveza
Since this disrespectful, sexist article made the rounds on social media, the folks at the Brewing News are trying to spin this cover story as just a joke or basically a satirical article. Maybe I missed the punch line or maybe this was an inside joke gone awry. How about placing some sort of statement as such at the conclusion of this supposed fictional writing? This drivel wouldn't even be published by The Onion, a publication well known for its humor. Today Metzger apologized on the Great Lakes Brewing News Facebook Page, you can take a look HERE. He also sent an email to the writers and editors involved in his seven outlets of the Brewing News.
To Metzger's defense, this is the latest chapter in a series of articles based on fictional writing. It may have been a bit more wise to mention at some point in the story that this was supposed satire. A cursory Google search of "Los Testigos de, Cerveza" came up with a series of stories written by Bill Metzger. You can view these stories from this supposed satirical series HERE.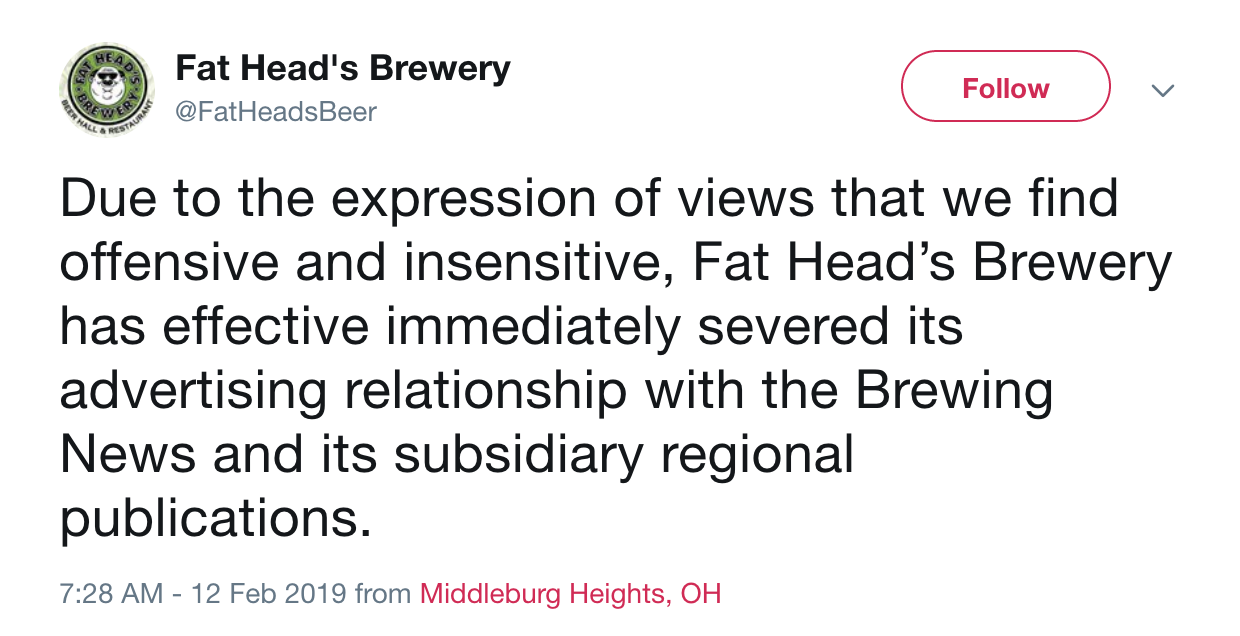 Now there's a change.org petition to boycott Metzger's seven publications and its advertisers. This is a blow that the seven bi-monthly beer newspapers will have trouble enduring. Advertisers are going to have to disassociate themselves from these publications and so will many of its contributing writers. This morning alone, Fat Head's Brewery and others have expressed their displeasure and have ceased advertising in any of its publications.
You can read the entire article for yourself by clicking HERE. Well at one time you could view the February/March 2019 issue, but now the publisher has scrubbed his website of this writing. Fortunately we have screen images of the long winded sexist tirade of an article posted below so you can make your own judgement.