TopWire Hop Project Beer Garden Opens for 2021 Season
|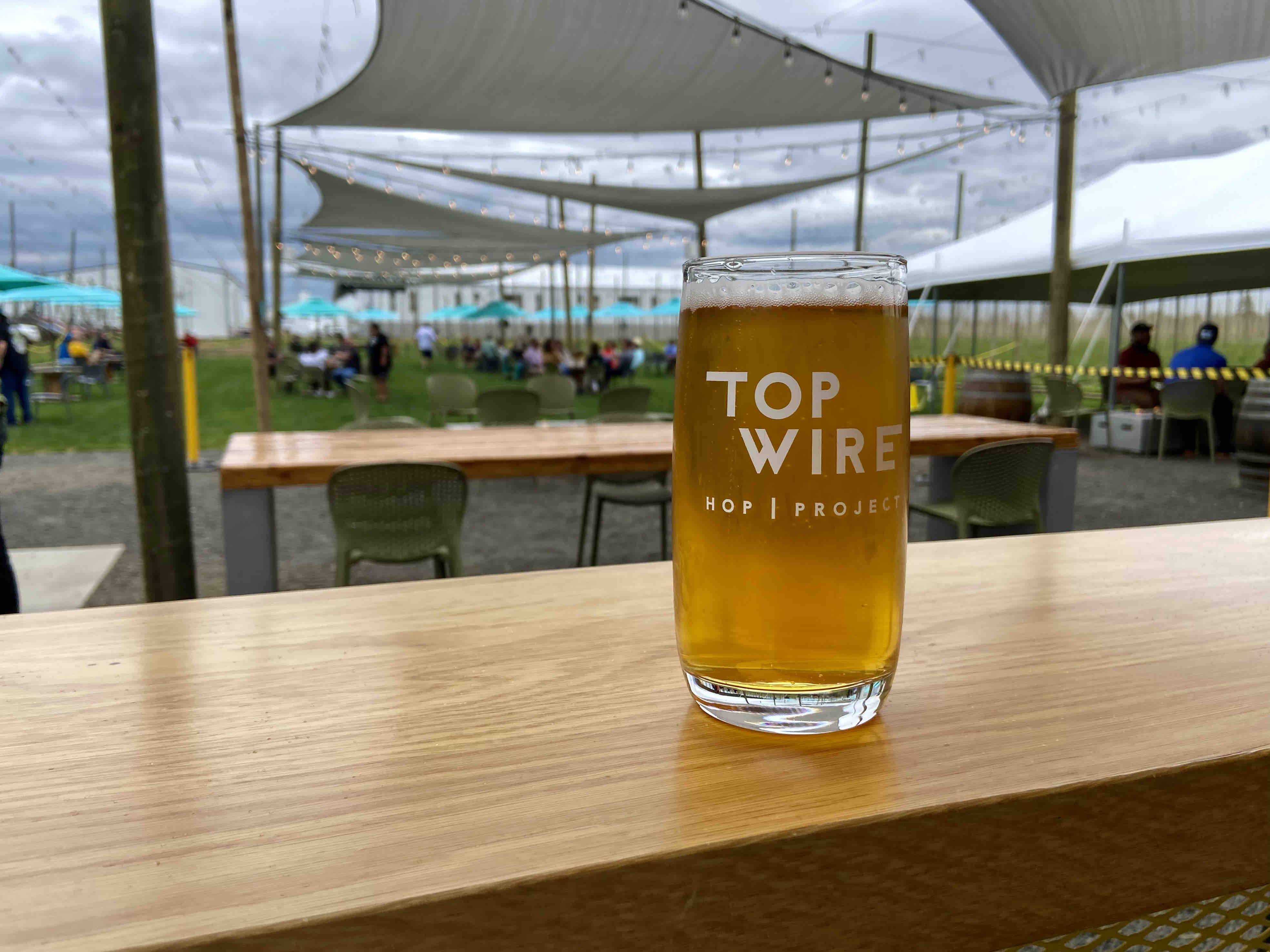 An oasis of hop forward beers, in the middle of a hop field, is now back in business just 31 miles south of Portland. TopWire Hop Project, the outdoor beer garden in the middle of a hop field at Crosby Hop Farm, has opened for 2021 Season.
TopWire Hop Project opened last summer as seasonal beer garden outside of Woodburn, Oregon. This new venture is a pillar of the Crosby brand family that also includes Crosby Hops and Crosby Hop Farm.
We made our way down on Friday afternoon to see what's happening this year at TopWire Hop Project. Upon pulling onto Lupulin Lane, the gravel road that leads you to the beer garden. But prior to arriving at the beer garden while on Lupulin Lane, patrons will drive through a planted hop field where the hop bines will soon be growing up towards the trellis in the coming months.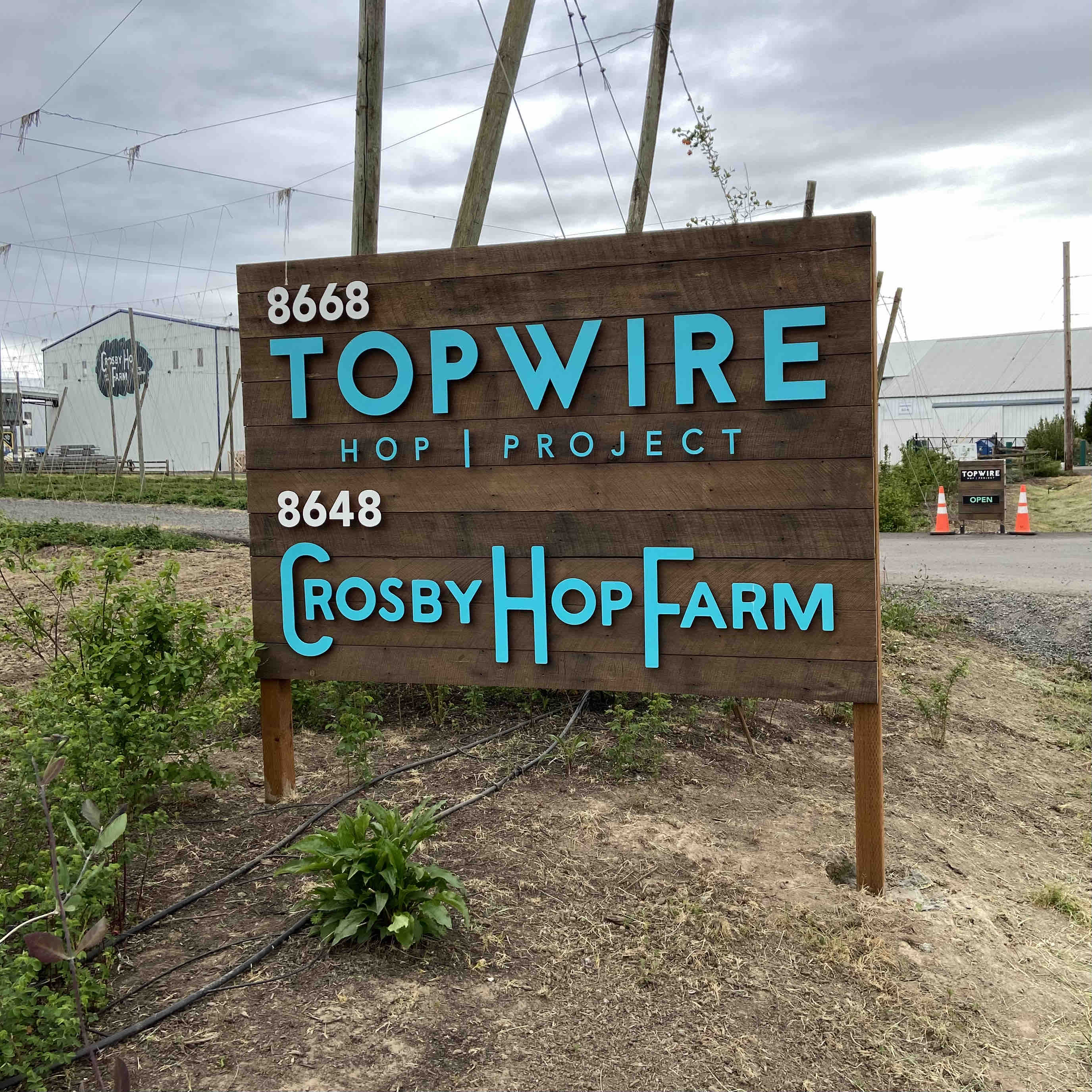 Upon arriving at TopWire Hop Project, guests are greeted with the normal COVID protocol signage which of course mentions maintaining your social distance. The bar is made from a reused shipping container and features a rotating tap list of nine beers and one cider. This includes the new TopWire beer and cider lines from Grains of Wrath and Incline Cider Company.
Ordering beers is a quick, easy process and are available in 16oz pours that on our visit begin at $7 a pint and go all of the way up to a $9 pint of Pliny the Elder. The pint price creep is not only taking place in Portland as it now hits the rural areas of Oregon. Not posted on the menu, guests can also order 10oz and 4oz pours, one just needs to ask for the smaller size pour. TopWire also offers a Taster Tray that includes five 4oz pours for $15.
But it's the beer garden that brings folks out to TopWire Hop Project. It provides a great, relaxing and spacious environment for all ages, including dogs on a leash. There's lush green grass with ample tables that are well spread out that provides a great view of the hop fields.
The team at TopWire Hop Project has created a great venue with all of the touches to provide for a fun experience. There are a couple of fire pits to ward off the spring chill and clean bathrooms in a permanent structure.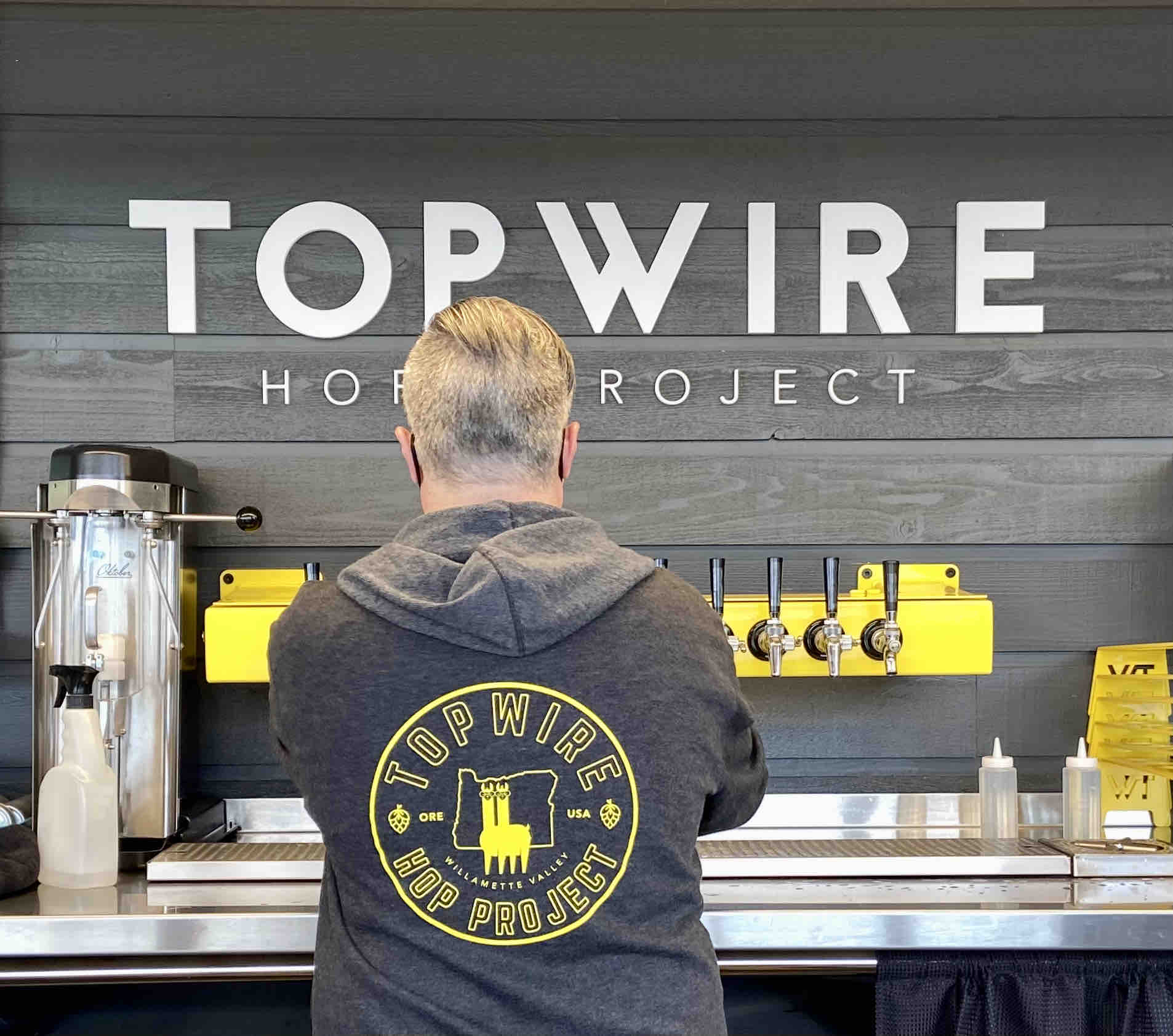 TopWire Hop Project, Top Wire Hop Project, Crosby Hop Farm, Crosby Hops, National Brain Tumor Society, Hop Field, Hop Field Beer Garden, Woodburn, Oregon Hops, Hop Bines, Grains of Wrath, Incline Cider
Then by the end of June when the hops are in full growth mode, TopWire Hop Project will add a second pouring station on the opposite end of the beer garden. This will be a nice feature when the space becomes a bit more popular.
Also new this year is the new lineup of beers and ciders from Grains of Wrath and Incline Cider. Each beer and cider release features estate grown hops from Crosby Hop Farm.
This new series from Grains of Wrath has knocked it out of the park on the first collaboration. TopWire IPA Series Vol. I is a perfect IPA that uses Strata, Amarillo, and Columbus Hops. Just a well-made beer that one would expect from the team at Grains of Wrath. Look for about four additional releases throughout the remainder of the year.
The rest of the tap list at TopWire features rotating, specialty craft beer and cider brewed by Crosby Hops' customers from across the country. This lineup will showcase new, classic, and novel hop varieties. A total of nine craft beers will be available, some for a limited time. NØ MØ, a refreshing non-alcoholic IPA from Crux Fermentation Project in Bend, Oregon will also be on tap.
Sixteen-ounce cans of any beverage on tap are available to go. Prices vary, and on our visit, they began at $5 per 16oz can, but are told they may be as low as $3. There's also a to-go cooler that features additional selections of craft beer, cider, wine and non-alcoholic beverages.
For the grand reopening, more than half of the tap list consists of unique collaborations and special releases brewed with Crosby Hops.
Grains of Wrath with locations in Camas, Washington and Portland, Oregon, is collaborating with TopWire for an exclusive rotating West Coast IPA series. Known for its bright, clean, bitter-but-balanced West Coast IPAs, this line will feature different hops for each brew.
Based on Block 15's Sticky Hands, a NW cult favorite and Gold Medal Winner of the 2020 Oregon Beer Awards, the first ever Sticky Hands collaboration, Sticky Hands: Crosby Cuts brewed with Strata®, Amarillo® and Comet will be on draught and available in cans for a limited time.
AZ Wilderness' dry-hopped lager collaboration, Green for Good brewed with Crosby Estate Grown Comet and Strata® hops has a charity component. A portion of the sales from the collaboration, which is pouring at TopWire and onsite at the brewery's taproom, will go back to the Michael James Jackson Foundation for Brewing and Distilling.
The family-owned Incline Cider Company based in Tacoma, Washington is debuting Grapefruit 7, a cider pouring only at TopWire, brewed with Crosby sourced Idaho 7® hops.
Grain Station Brew Works in McMinnville, Oregon brewed Lager Rhythms, a Helles with all Oregon ingredients using Crosby Estate grown Mt. Hood hops.
Stick City Brewing based in Mars, Pennsylvania brewed an original beer to support the seasonal opening. The hazy IPA utilizes Idaho 7®, Strata® and Columbus from Crosby Hops.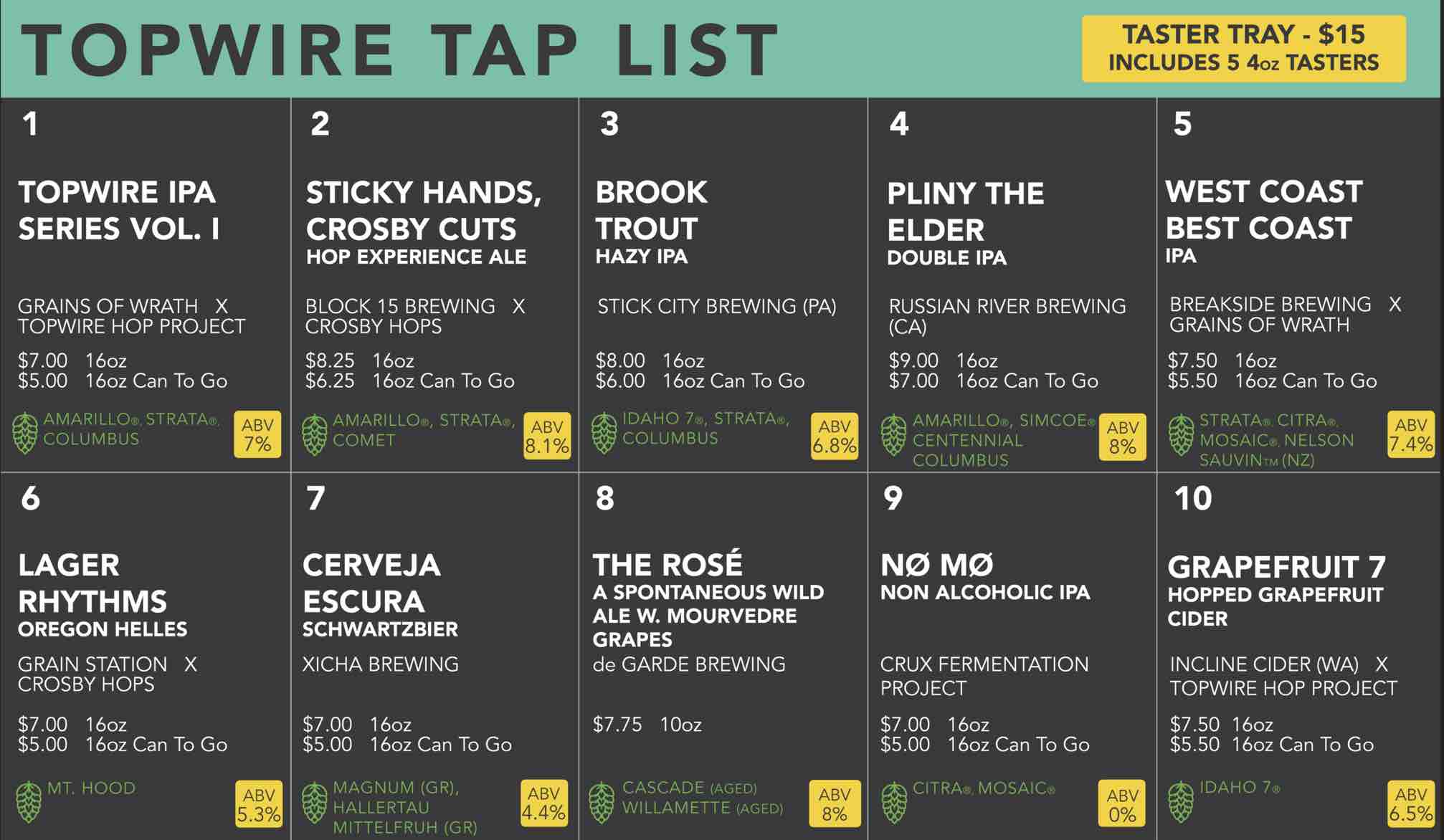 To view the TopWire tap list click here: https://www.topwirehp.com/taplist.
When it comes to food, TopWire has you covered with onsite snacks such as pre-packaged Tillamook Cheeseboards, Chips & Salsa, and Olli Snack Packs. Patrons can also order authentic Mexican food from Luis's Taqueria, which will deliver to guests on-site as its food menu can be viewed here: https://www.topwirehp.com/taplist/food. Also, outside food is allowed.
During this phase of the governor's ever evolving COVID protocols, Top Wire can host up to 100 guests. From our visit to TopWire yesterday, we observed the sanitation of the facility to be on point. There was one employee that was continually wiping down tables as patrons left. Tables are fitted with "clean" and "dirty" placards. To minimize additional contact, patrons are asked to bus their own table.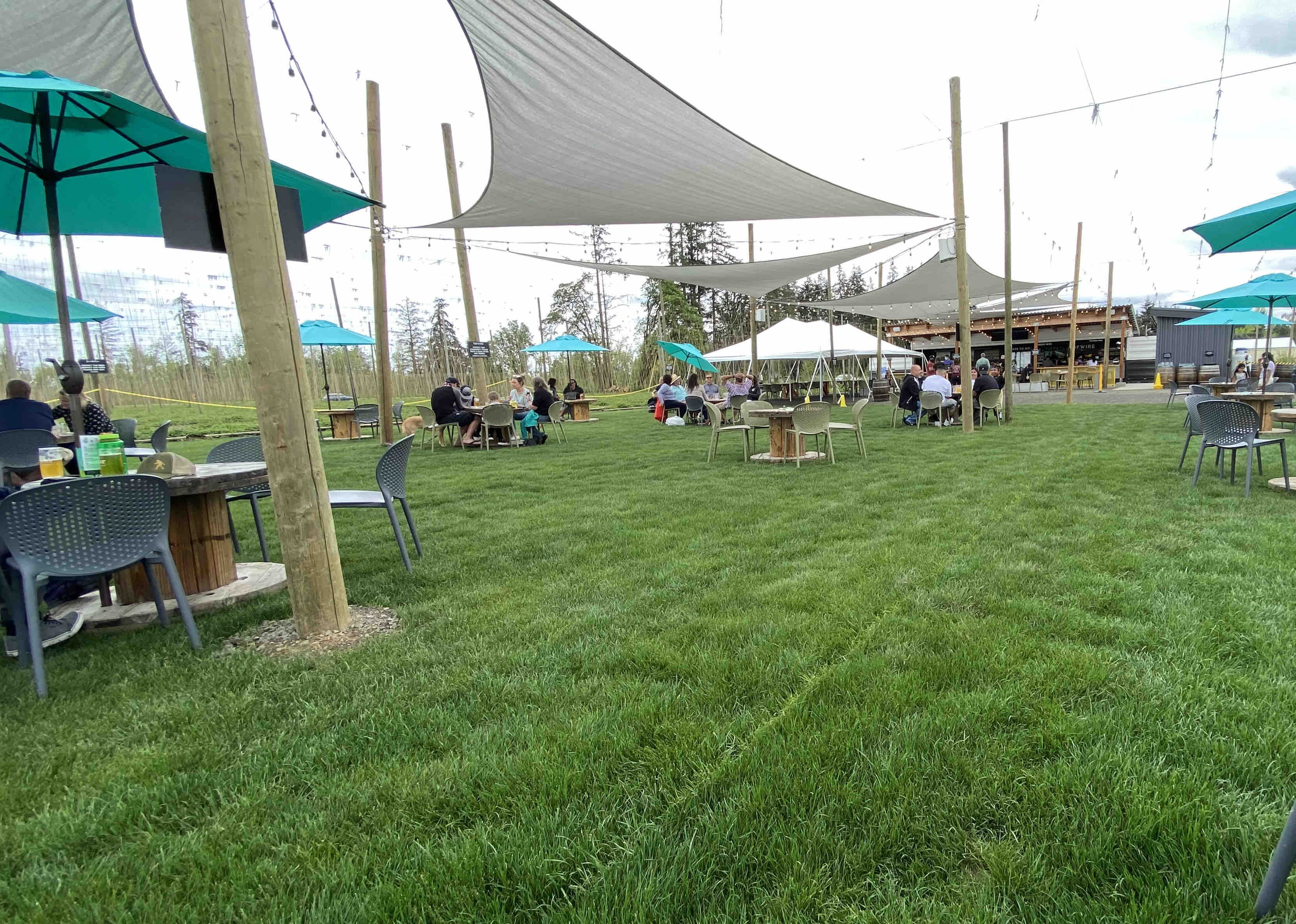 In addition to signage that will visually remind patrons to stay one hop row (6 feet) apart, respect the beer, hops and each other, TopWire management is implementing COVID-19 measures. If required by the county, a ticketed RSVP system will be implemented to maintain maximum occupancy requirements. Information will be listed on the FAQ page and on the social media accounts. https://www.topwirehp.com/faq.
The seasonal beer garden will remain open through hop harvest season. It will close in October for the 2021 season.
On Sunday, May 2 at 10:15 am, all are invited for a short walk down Lupulin Lane around TopWire Hop Project to raise money for the National Brain Tumor Society. During the opening weekend, $1 per pint will go toward the National Brain Tumor Society. Cash and credit card donations will be accepted.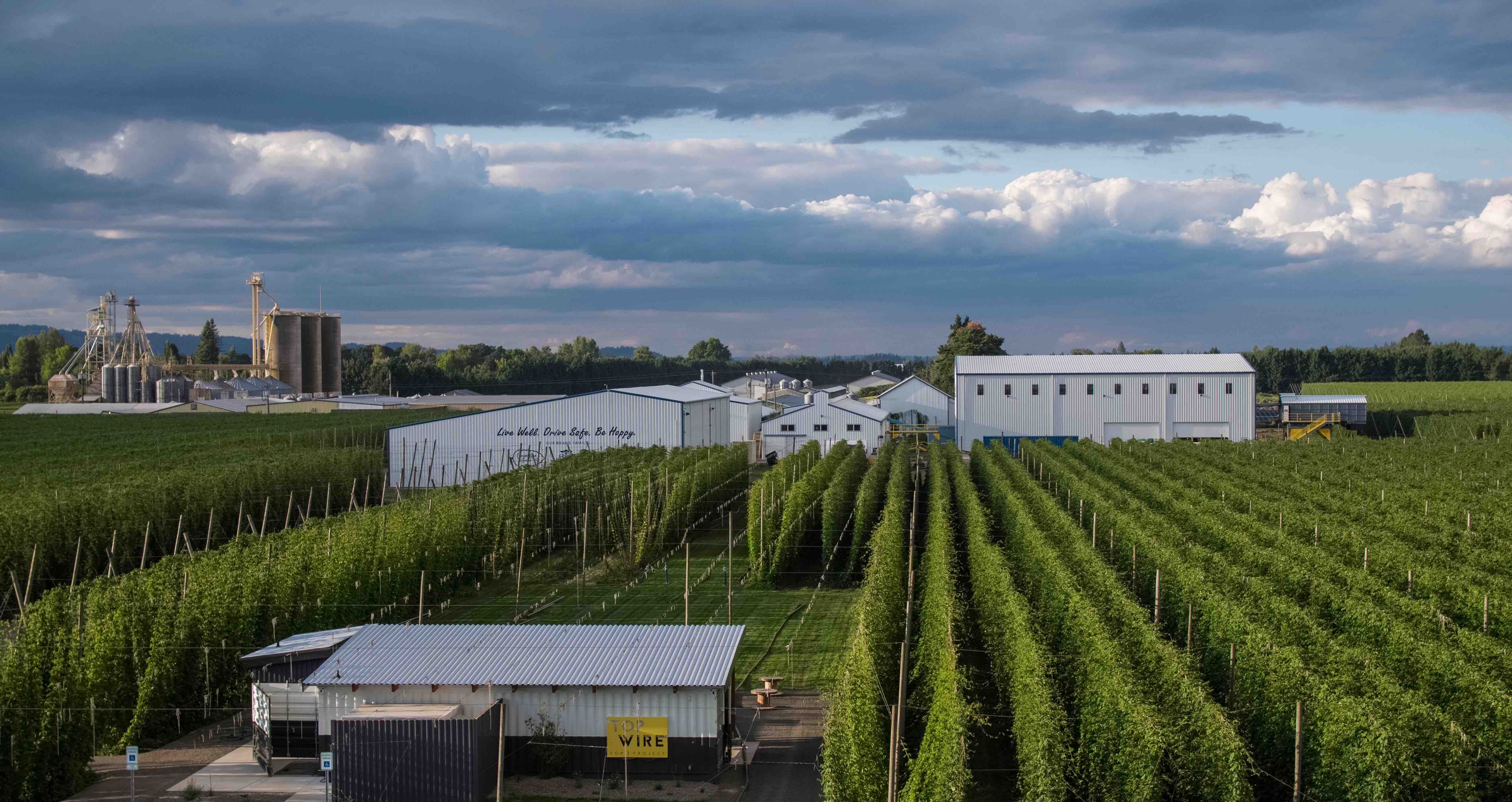 TopWire Hop Project is open four days a week, Thursday through Sunday. Operating hours: Thursday 11:00am – 8:00pm, Friday 11:00am – 9:00pm, Saturday 11:00am – 9:00pm, and Sunday 11:00am –- 8:00pm.
TopWire Hop Project
8668 Crosby Rd NE
Woodburn, OR 97071