TopWire Hop Project Opens Today at Crosby Hop Farm in Woodburn
|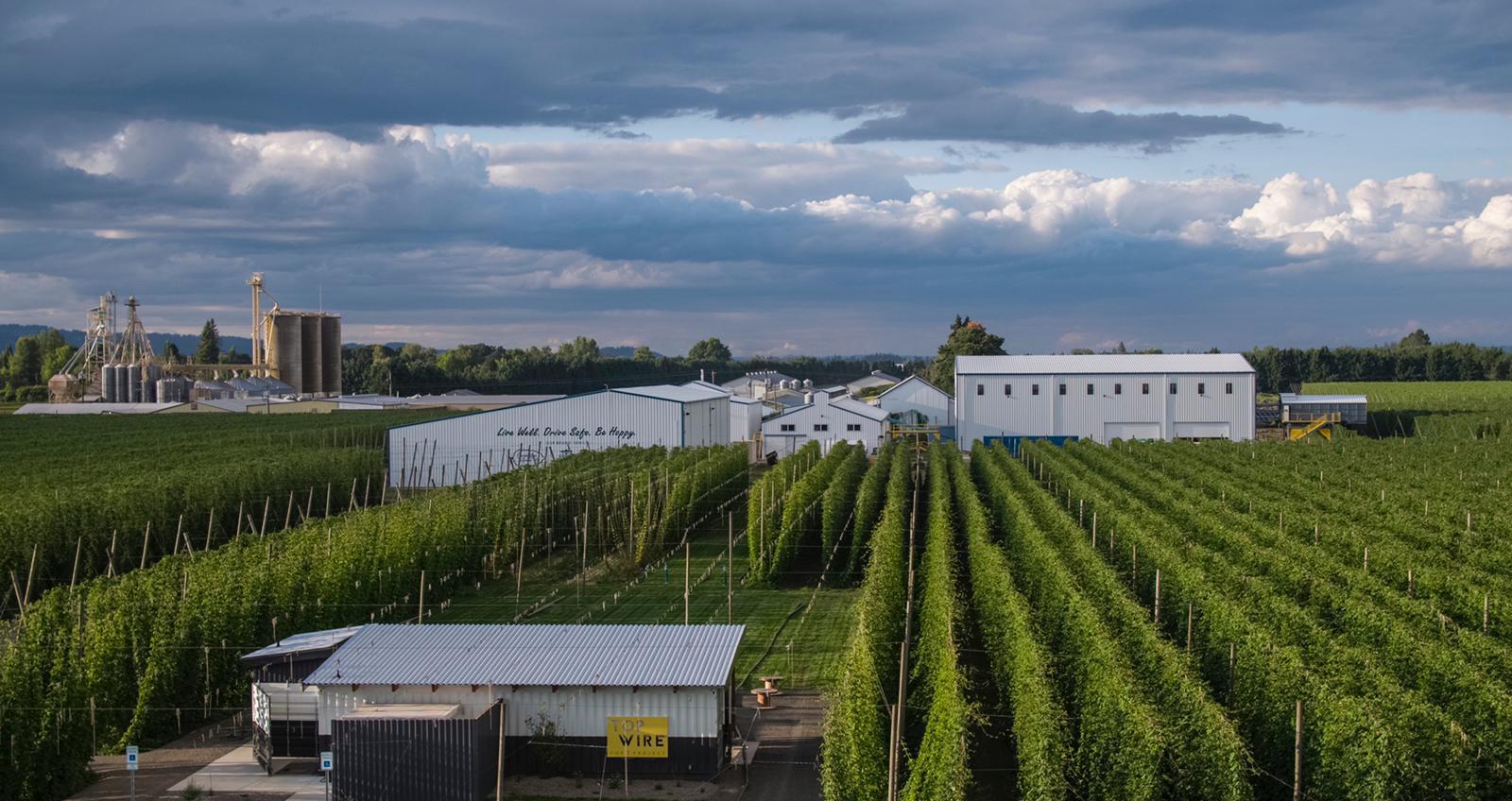 Nearly two years in the making, Crosby Hop Farm is excited to open its new outdoor open-air beer garden TopWire Hop Project beginning today, July 24th at 11:00am. Nestled inside the fifth-generation hop farm's 600 acres and inside its Centennial Hop Yard, this new beer garden will be a true hop heads dream.
Located 30 miles south of downtown Portland, upon entering TopWire Hop Project, Lupulin Lane takes you down a half-mile stretch where views of 18-feet high hop rows will amaze your senses. Once there, customers will be able to choose from a rotating tap list of beers from breweries both near and afar that all feature hops grown on the farm. And all of this is in the middle of a hop field filled with aromas of hops growing on the bine!
Crosby Hop Farm dates back to the year 1900 when Albert and Mary Crosby began growing hops in the fertile Willamette Valley. Now 120 years later, the farm is headed up by Blake Crosby, CEO of Crosby Hop Farm, Crosby Hops and TopWire Hop Project. Through the years the hop farm has seen its ups and downs as brewing trends have changed but now the farm grows 11 distinct estate grown hop varieties over its 600 acres.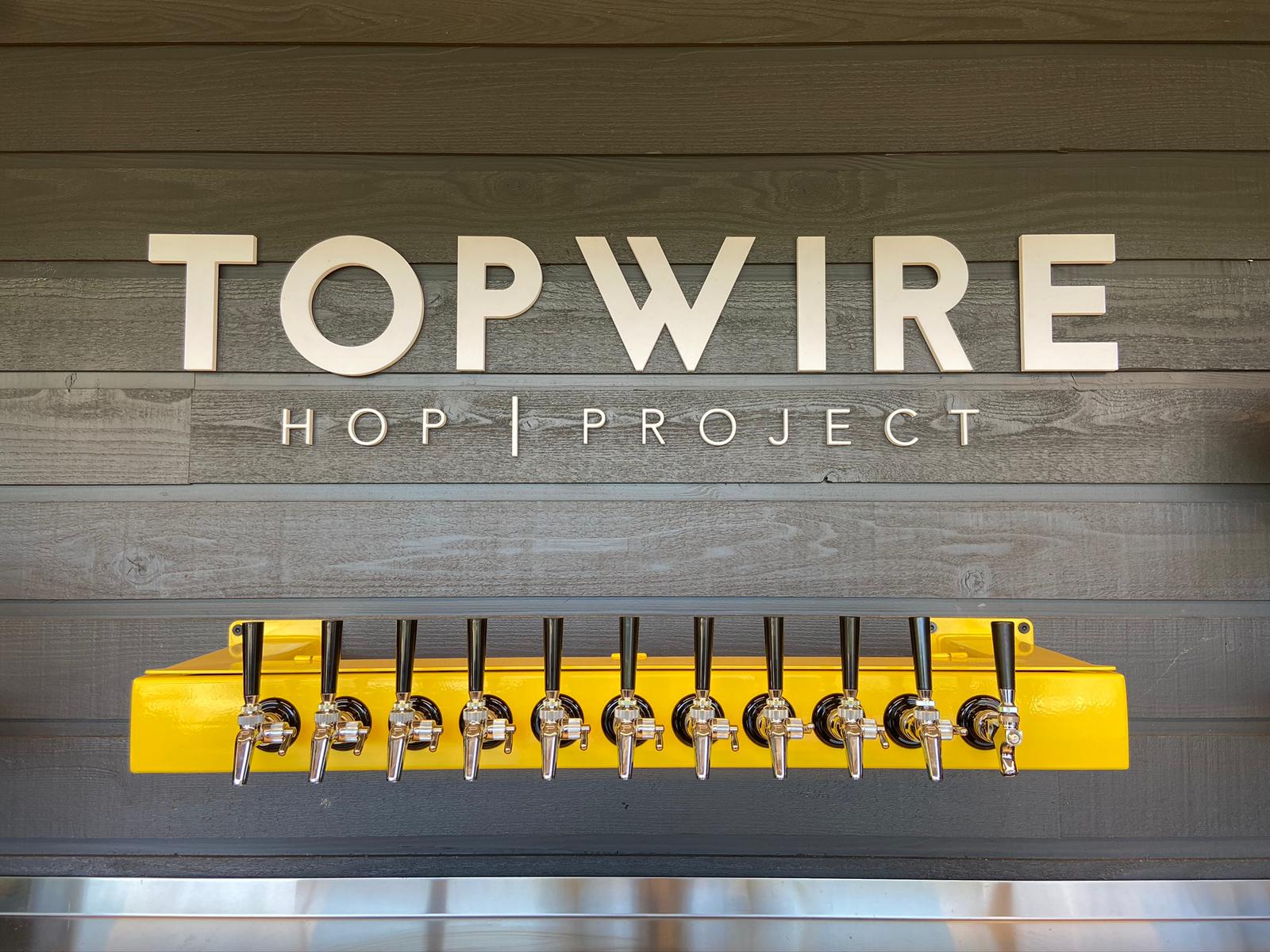 Here in Oregon, Crosby Hop Farm was the first hop farm to commercially grow Amarillo®, Idaho 7®, Comet, El Dorado®, Belma™, and Zappa™ hops. Three years ago in 2017, the farm established its on-farm hop breeding program.
Being a steward of the environment, Crosby Hop Farms has become a Salmon-Safe and GlobalG.A.P. certified grower that's synonymous with quality hops tailored to craft brewers and the evolving needs of the industry. The farm has also become a Certified B Corporation® as Crosby Hops balances profit with purpose, rooted it's our core values of quality, innovation, sustainability, and community.
This certification is one that Blake Crosby is proud of. "Every day it's a learning opportunity and new challenge," wrote Blake in an email to BREWPUBLIC. "We value the accountability system that B Lab has in place; it keeps us focused on using our business as a force for good. Especially in times like these, having that compass help guide us is more important than ever."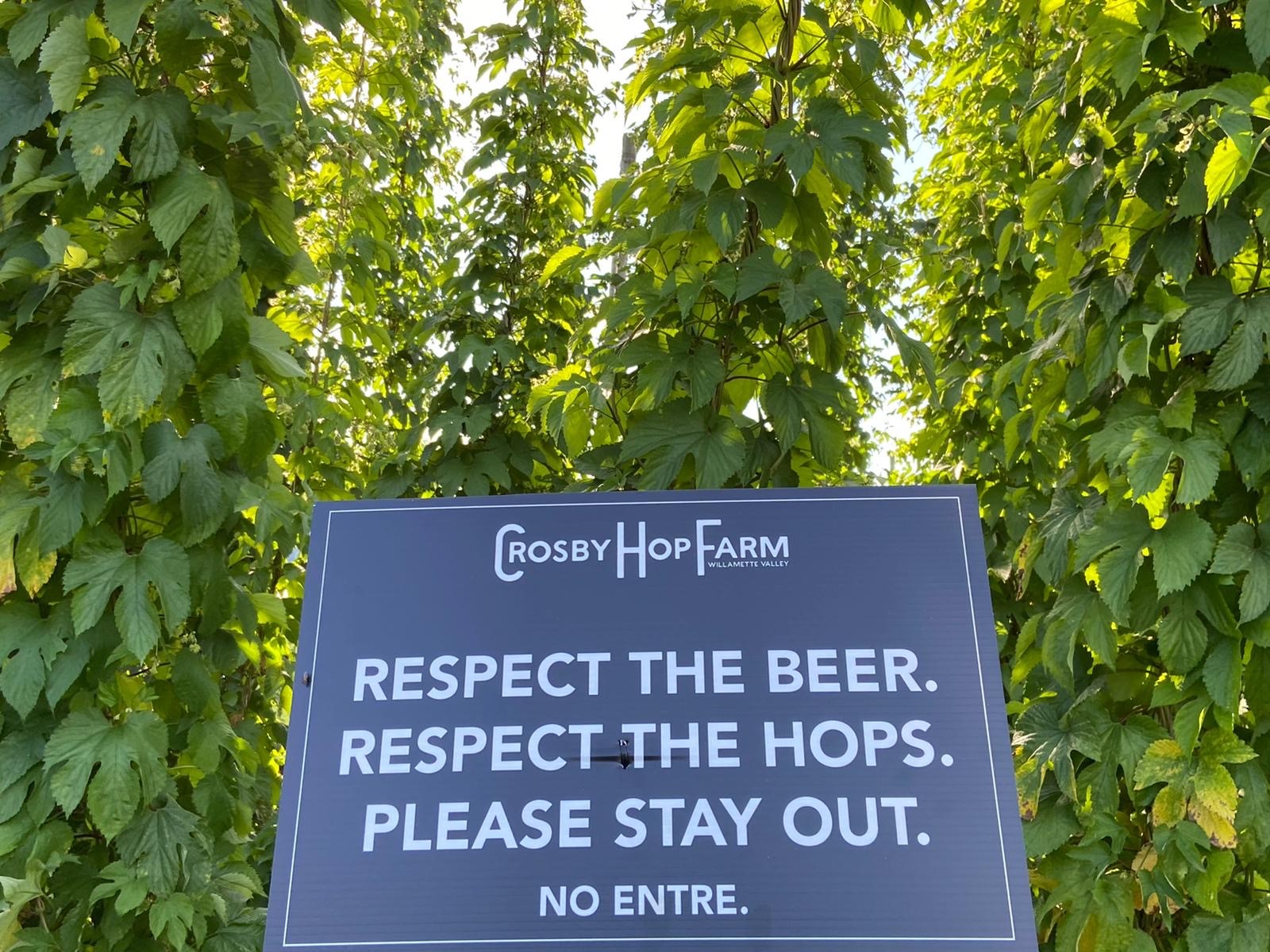 Now the hop grower is excited to open up part of its hop fields to the public with the opening of TopWire Hop Project. This open-air beer garden with a view of Mt. Hood to the east is constructed out of a large shipping container, but with many touches that brings an inviting feel to its aesthetics. Open to all ages, including well behaved dogs on a leash, TopWire is a perfect outdoor venue to enjoy a beer.
"Having grown up on the farm and seeing our connection to craft brewers grow over the years, it's exciting to launch this new chapter that ties our values and vision together cohesively," said Blake in a press release. "As we look to the future, now is the right time to rearticulate our purpose and celebrate each of our core areas of focus." He continued, "We couldn't be more thrilled to highlight what each business unit brings to the table whether it is growing, processing and sourcing hops, or hosting our brewing industry friends and consumers at TopWire. This is truly a story of how we are all interconnected. I am honored to lead a team that is relentlessly focused on delivering unique value while continuing to be changemakers in the evolving craft beer industry."
The mission of TopWire is to be the pillar of the Crosby brand family that works symbiotically with Crosby's R&D and new variety development efforts. It is here where there will be a rotating tap list of 10 offerings of 8 specialty beers, a cider and a sparkling water brewed by Crosby Hops' customers from across the country. The selection includes many of the most well-regarded craft beers showcasing new, classic, and novel hop varieties from the farm.
It's opening day tap list is pretty impressive. Beers being served range from Vermont to Texas and of course ones from Oregon, Washington and California. One brewery that is not often in Oregon is Celestial Beerworks out of Dallas, Texas. Its When Is The Future, a Double IPA, will be on tap today alongside the non-alcoholic Bubble Party Hops seltzer water with grapefruit and Crosby Hops Estate Grown Sterling hops. Check out TopWire's updated tap list here: https://www.topwirehp.com/taplist.
During its opening over the coming days and weeks, TopWire's tap list looks pretty impressive. "For our opening tap list, we brought in Celestial Beerworks (Dallas, Texas), Foam Brewers (Burlington, Vermont), Templin Family Brewing (Salt Lake City, Utha), and Chainline Brewing (Kirkland, Washington)," wrote Jenna Steward, Brand Experience Specialist at Crosby Hop Farm, in an email to BREWPUBLIC. "We will have more U.S. based Crosby Hops' customers beer on tap rotating through regularly."
And if you want to take one or more of these beers home with you, TopWire will be able to accommodate you on this. Beverages can be enjoyed on premise or to-go in 16 oz. cans priced from $3-$6.
When it comes to food, outside food is allowed for a nice picnic. TopWire has also partnered with Luis's Taqueria, a local restaurant that has been serving Michoacan style Mexican food since 1993. "Luis's Taqueria is offering a limited menu for food delivery directly to TopWire," said Steward. "Free delivery is available opening weekend only, minimum $20 order."
In the future and once we get past the COVID-19 pandemic there will be some great opportunities for hop education and tours. "We hope to offer farm tours in the future," wrote Steward. "We are exploring the possibilities of how to do this safely during the pandemic."
Below is a video that Crosby Hop Farm put together prior to the pandemic that features interviews from craft brewers and hop growers.
TopWIre Hop Project is open Thursday through Sunday at 11:00am. Closing time it 8:00pm on Thursday and Sunday and 9:00pm on Friday and Saturday. The plan is to keep TopWire open beyond hop harvest. "We have the ability to tent and heat a portion of the outdoor beer garden, making it hospitable year-round," wrote Steward.
TopWire Hop Project
8668 Crosby Rd NE
Woodburn, OR 97071