Vertigo Brewing Reopened Today Amidst the COVID-19 Pandemic
|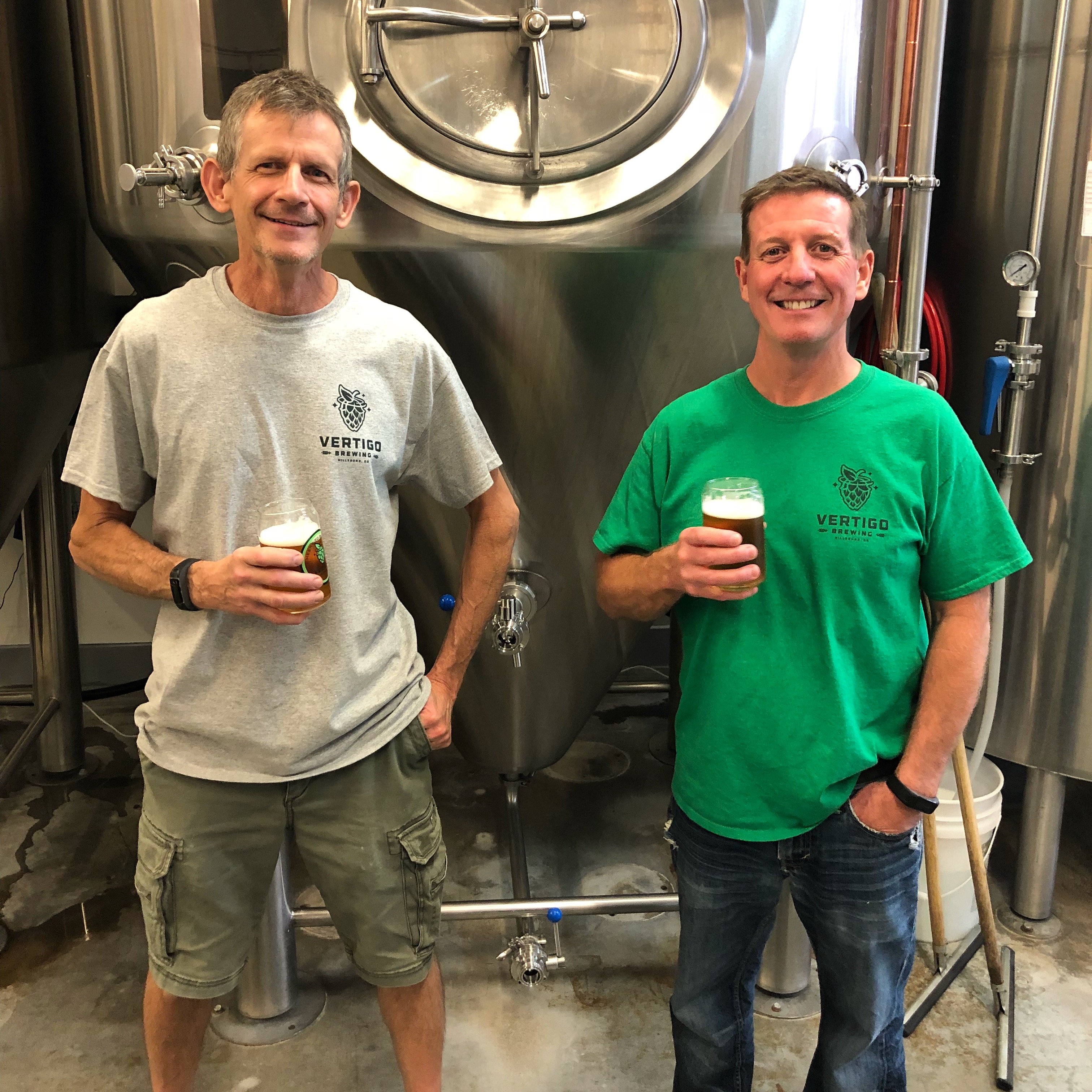 After near nearly twelve years of brewing, Vertigo Brewing is cautiously optimistic as it begins to reopen its taproom during the COVID-19 pandemic as Washington County begins Phase 1 of reopening on June 1st.
Today, Vertigo Brewing has reopened its taproom for on-premise drinking after being shut down since mid-March. Along with this way to garner much needed revenue, the decisions to reopen during a pandemic are ones that were not take lightly.
On the eve of reopening, we reached out to Vertigo Brewing co-founders Mike Haines and Mike Kinion to learn what their plans on reopening look like and to look at what has been taking place at the Hillsboro brewery.
We also learn about Vertigo leaving its distributor to return to self-distribution, something that was an amicable split. Over two years ago Vertigo Brewing abruptly changed distributors when General Distributors Inc. (GDI) sold out to Columbia Distributing. This transition saw the GDI portfolio of many small breweries move over to Columbia, the large MillerCoors house that when it came to craft beer predominately distributed the larger craft players.
"It was an amicable separation," said Haines. "Columbia came up with an exit agreement as a way for small brewers who would be better served by self-distribution to terminate their contract," adds Kinion. "There were options to explore partnering with another distributor also, but we thought self-distribution was the right choice for Vertigo at this time."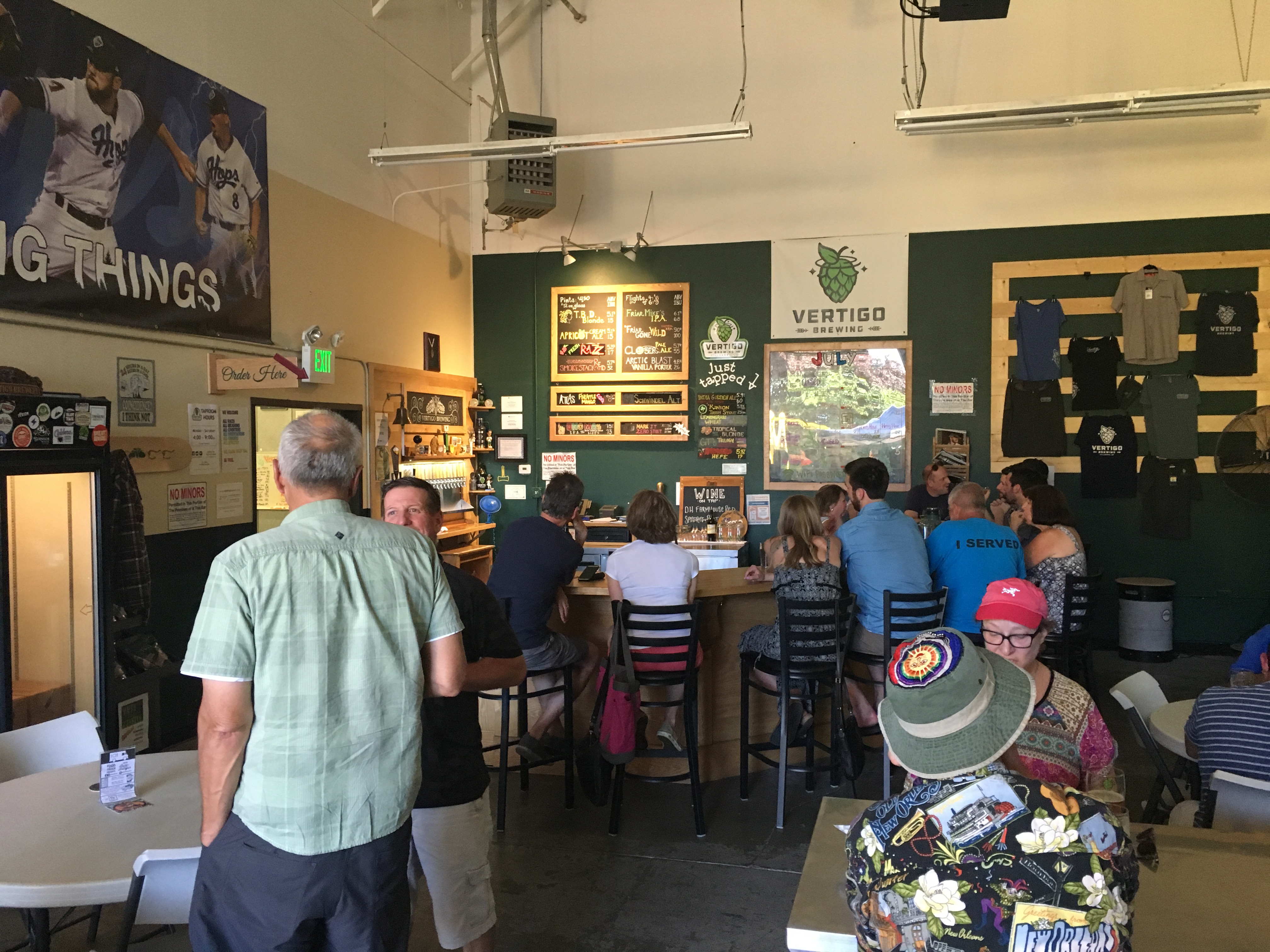 In addition to the return to the brewery's original distribution model, while dealing with the coronavirus outbreak, proved to provide some challenges for the brewery. What has transpired over the course of the past 2-1/2 months is not an easy one for many businesses. For a brewery with this mandatory shutdown of all taprooms, bars and restaurants, it meant very limited sales of draft beer along with a bit more anxiety than normal.
"Pretty stressful, fortunately we had a pretty recently acquired canning set up and quickly changed to a "to-go" model," said Mike Haines. "Our customers have been incredibly supportive."
It was not only Haines feeling pressure as Mike Kinion adds, "Things have certainly been a bit chaotic for the past few months. We have started self-distributing again. We even shipped product to Japan recently!"
For those seeking growler fills and draft options Vertigo kept up with this as well. "We are keeping a lot of 1/6 bbl inventory for dock sales which has really helped," continued Kinion. "We have also partnered with Mad Greek Deli and their food cart is now on-site during days we are open."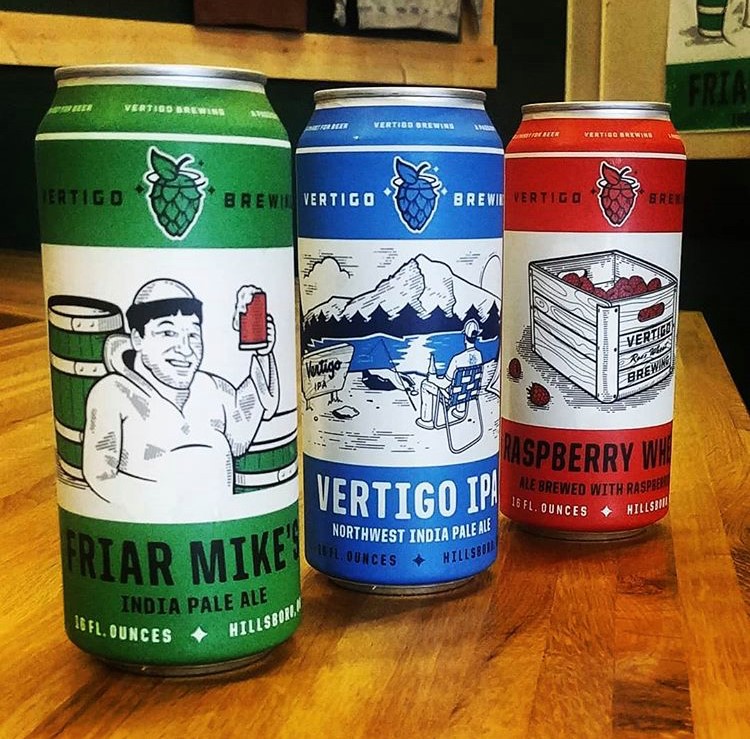 But today is the day that customers will once again be welcomed back to the Vertigo's taproom to enjoy a draft beer. Both Haines and Kinion have some trepidation but realize that its best to get back to some normalcy.
"We're cautiously optimistic," said Kinion. "This is unchartered territory for everyone which makes us a bit anxious, but we look forward to getting back to some sort of normalcy and being able to socialize with our friends and customers and pour them a cold one!"
With Phase 1 comes many changes to the way a brewery can operate. There's no bar seating, all tables need to be at minimum six feet apart, no large groups, and lots of sanitizing.
"Obviously, it will be great to see our regulars in a setting other than picking up some cans," said Haines. "But how we keep the number of customers allowed while not creating animosity to those who show up when we don't have available tables will be tricky."
Prior to reopening today, both Haines and Kinion reached out to a few of their peers to gain some insight at breweries that are already open in Phase 1. This came somewhat quickly as they received official word on Thursday that the day would be June 1.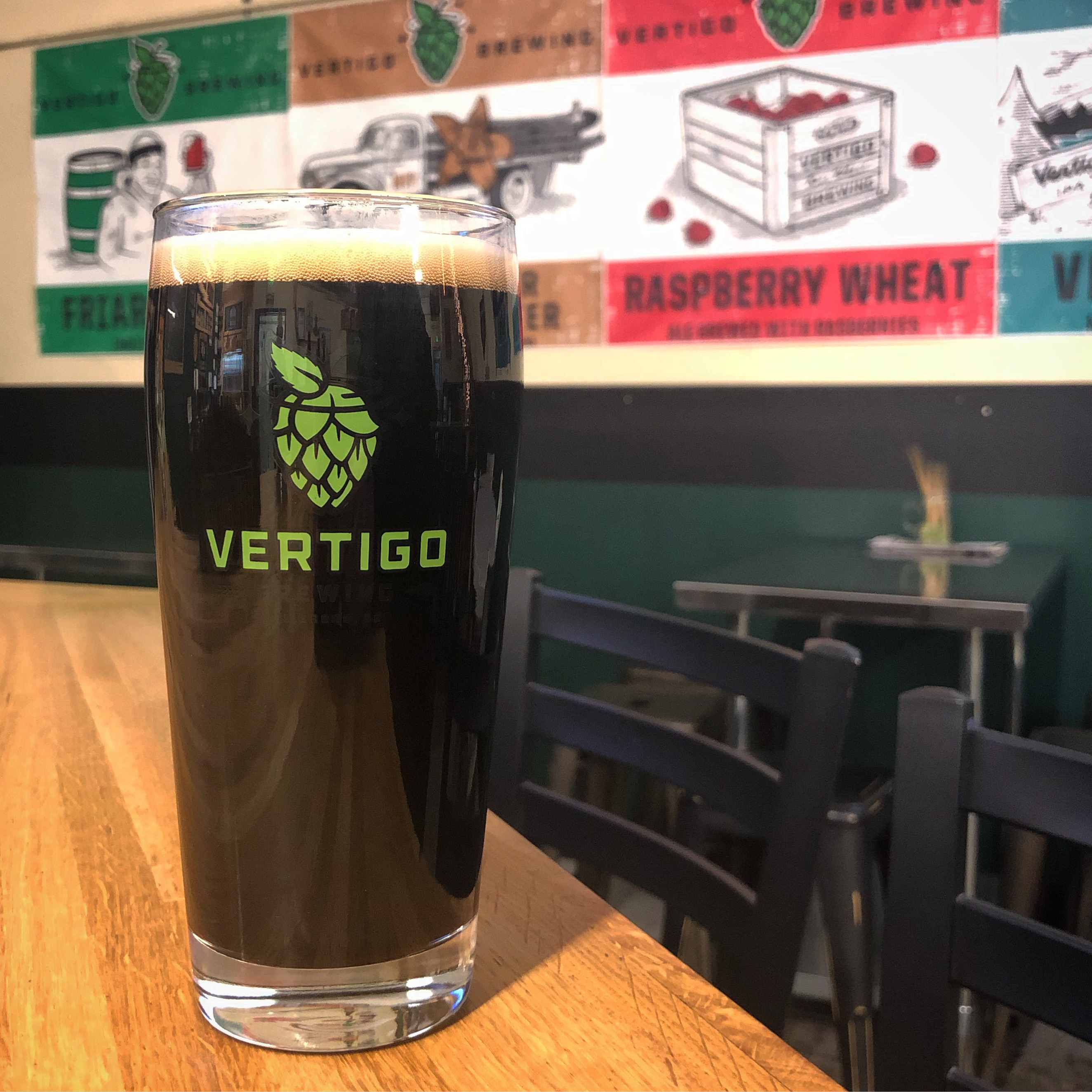 "We are working hard to get our taproom setup to meet all the new guidelines for social distancing," said Kinion. "Our staff is excited and really looking forward to get back to work."
One thing on alleviating potential coronavirus concerns of its customers is that when the weather permits, it has a decent sized outdoor space that's nestled in the industrial park that the brewery is located in.
"We are pretty fortunate that we have a good-sized parking lot that we can and are planning on increasing our outdoor seating," adds Haines. "Of course in Oregon, the weather may not always be our friend in this matter." Fortunately this week it looks as if the weather gods have listened for some nice, inviting weather in the forecast.
When Vertigo Brewing reopened today, its tap list features Madagascar Vanilla Porter, Vertigo IPA, Friar Mike's IPA, Rock Creek Amber, Red Your Mind, TBD Blonde, Apricot Cream Ale, Raspberry Wheat, Pineapple Gose, Schwindel Alt, and a rotating Pepper beer that's currently Razz HEAT. It will also have a new Pale Ale on tap that is a collaboration beer with Barn Door Brewing from Dundee, Oregon.
And when it comes to the future, we asked Haine's what Vertigo customers should expect. He joyfully stated, "The same delicious beer and friendly staff as always. Just fewer folks together at the same time."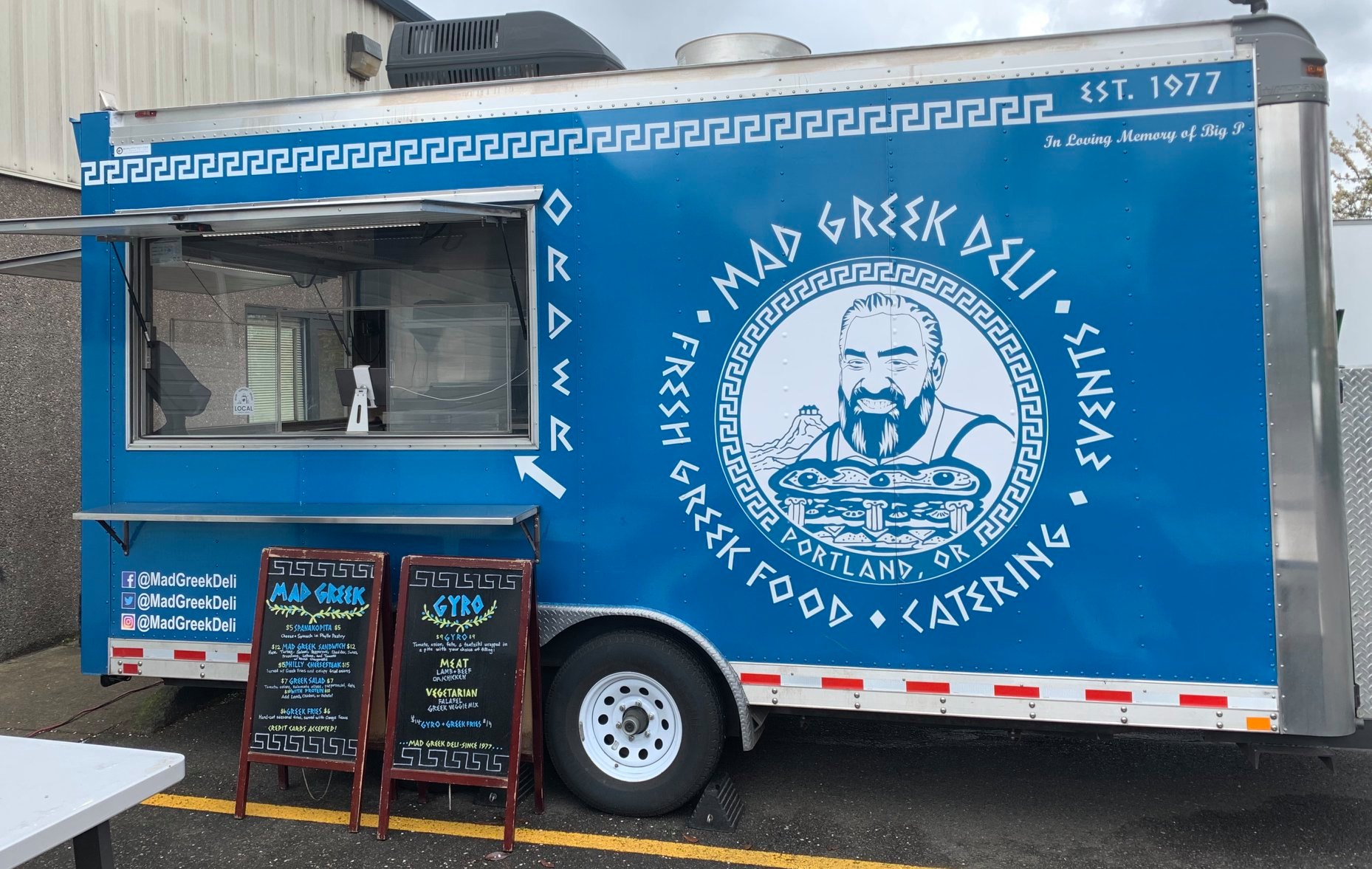 Vertigo Brewing is open Monday – Friday from 4:00-9:00pm and Saturday from 1:00-9:00pm. Mad Greek Deli will continue to serve its delicious Greek food Monday – Friday from 3:00-9:00pm and Saturdays from 1:00-9:00pm.
Vertigo Brewing
8130 NE Nicholas Ct
Hillsboro, OR 97124