Via Beer, the New Brewery from Charlie Devereux Debuts Today
|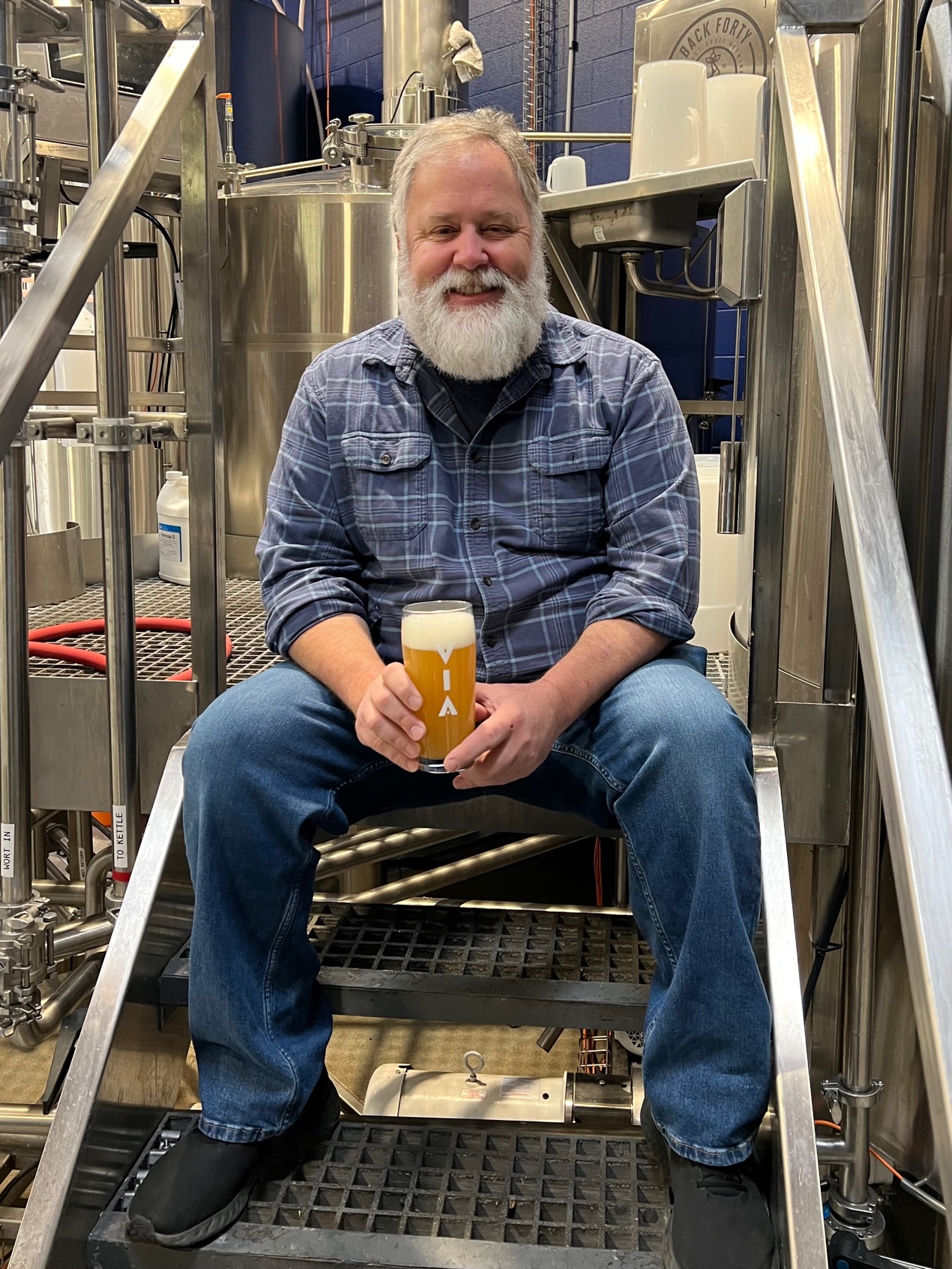 One name in the Oregon beer community that has had involvement in a handful of breweries is Charlie Devereux. His latest project, Via Beer, makes its debut today with the brewery's first two beers – Spiral Light West Coast IPA and Special Pils Hoppy Pilsner. And if you're looking for fresh beer, both beers are being canned today, just in time for the release at The BeerMongers in Southeast Portland later this afternoon!
Devereux gained notoriety in the Oregon craft beer community when he and Matt Swihart co-founded Double Mountain Brewery in Hood River in 2007. Prior to Double Mountain, the two had worked in the brewhouse together at Full Sail Brewing. Then in June 2013, Devereux announced that he was selling his shares to Swihart and departing Double Mountain to pursue new opportunities closer to his home in Portland.
Then three years later, Devereux and Matthew Jacobson of Sizzle Pie and Relapse Records and Rodney Muirhead of Podnah's Pit opened Wayfinder Beer in Southeast Portland. For the first five years he was involved in sales and marketing for Wayfinder Beer. After stepping aside from that role a few years ago, Devereux decided it was time that he pursued his own interests and open a brewery that he could call his own. But this does not mean that he is leaving Wayfinder Beer as he will stay on as an owner but not actively part of their business.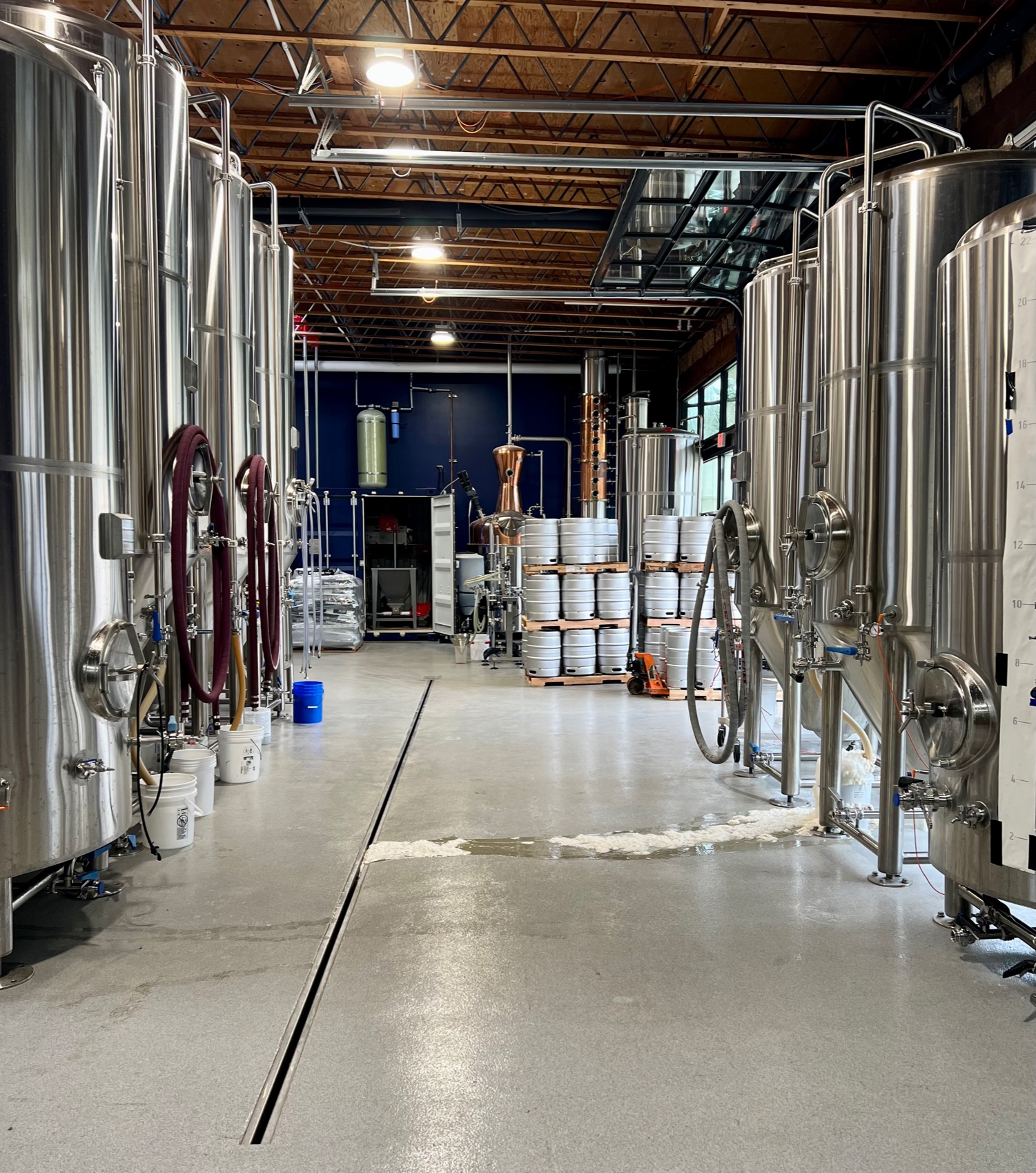 He is happy to have passed the sales torch at Wayfinder Beer on to the capable hands of Lindsay Allen. "Early on in the Covid meltdown, we at Wayfinder had an opportunity to make a great hire in Lindsay Allen, formerly of pFriem," stated Devereux. "I quickly realized that Lindsay could basically do our sales job better than I could, and she's been killing it for us ever since. With the brewery itself humming along (under the watch of brewmaster Kevin Davey), it freed me up to reassess my role and explore some new territory in the beer world."
Leading up to today's debut of Via Beer, it has been a unique road for Devereux. He connected with Barrett Beverage, a new contract brewer and distiller in Clackamas, Oregon. It is with this team where he provided the new beverage startup with informal consulting and ultimately dusted off his brewer boots and joined the team as a brewer. Working in the brewhouse is something that he hasn't done full-time since the early days of his career at Full Sail Brewing.
"I realized that this was a rare opportunity to get back to where it all started for me," Devereux says now. "And it was a great way to make the Via project a much more personal effort. Plus, they really needed the help."
Barrett Beverage is home to a new 20-barrel brewhouse built by Marks Design & Metalworks in Vancouver, Washington. The brewery's first client was Kings & Daughters, a brewery led by Kyle Larsen that debuted in July 2021. Larsen pulls double duty at Barrett as he ended up coming on full-time for Barrett as its Brewmaster where besides brewing his own beers, he assists other clients in ramping up production on Barrett's brewhouse.
With both Devereux and Larsen together as full time brewers, in the first six months the duo brewed over 1,200 barrels, not too bad for a few industry veterans. Plus, it was a way to reacquaint himself with the full-on brewing process from grain to glass and to work with Larsen once again.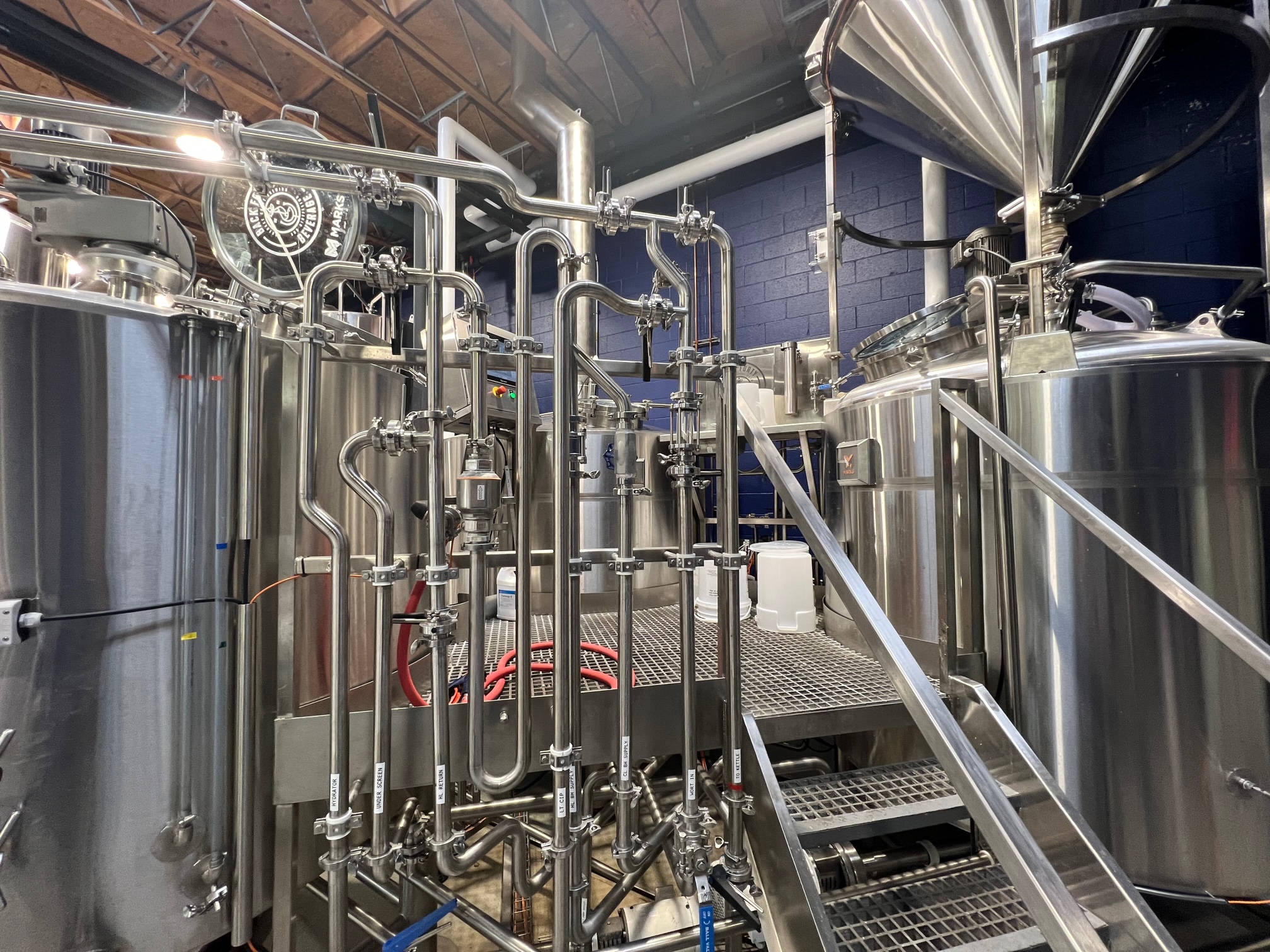 "Kyle Larsen, my colleague and friend since our days together at Double Mountain, was back in Oregon after three years running a new-school brewery in England called Siren Ales," Devereux continues. "We made a loose plan to see if we could collaborate on a new venture for me while he pursued his own project with his wife Kacie."
Larsen serves as consulting brewmaster for Via Beer, designing recipes after discussing goals and styles with Devereux. "We are pursuing beers that are modern and mostly hop-focused, with an eye for unique approaches and ideas," says Devereux. "Ultimately most startup breweries are a reflection and expression of the people making the beers, and ours is no different." Both Via and Kings & Daughters operate under alternating proprietorship agreements at Barrett, giving them full ownership and control over all their production.
To help bolster this team and the projected growth, the two have brought on Matt Speckenbach to be the Director of Brewing Operations. After spending nearly 14 years at Hopworks Urban Brewery, "Speck" will be an exceptional asset to Devereux and Larsen.
With a new brewery, one element that is almost as important as what is in the can is the marketing of the brewery. This includes the name of the brewery.
"The naming thing is brutal," stated Devereux. "I was looking for something short, something open ended, kind of expressive and would mean different things to different people. I like omnibus names like that!"
Now with the brewery name completed, Devereux needed to come up with branding. For this, he reached out to Orion Landau, his colleague at Wayfinder Beer who created that brewery's eye-catching design and graphics.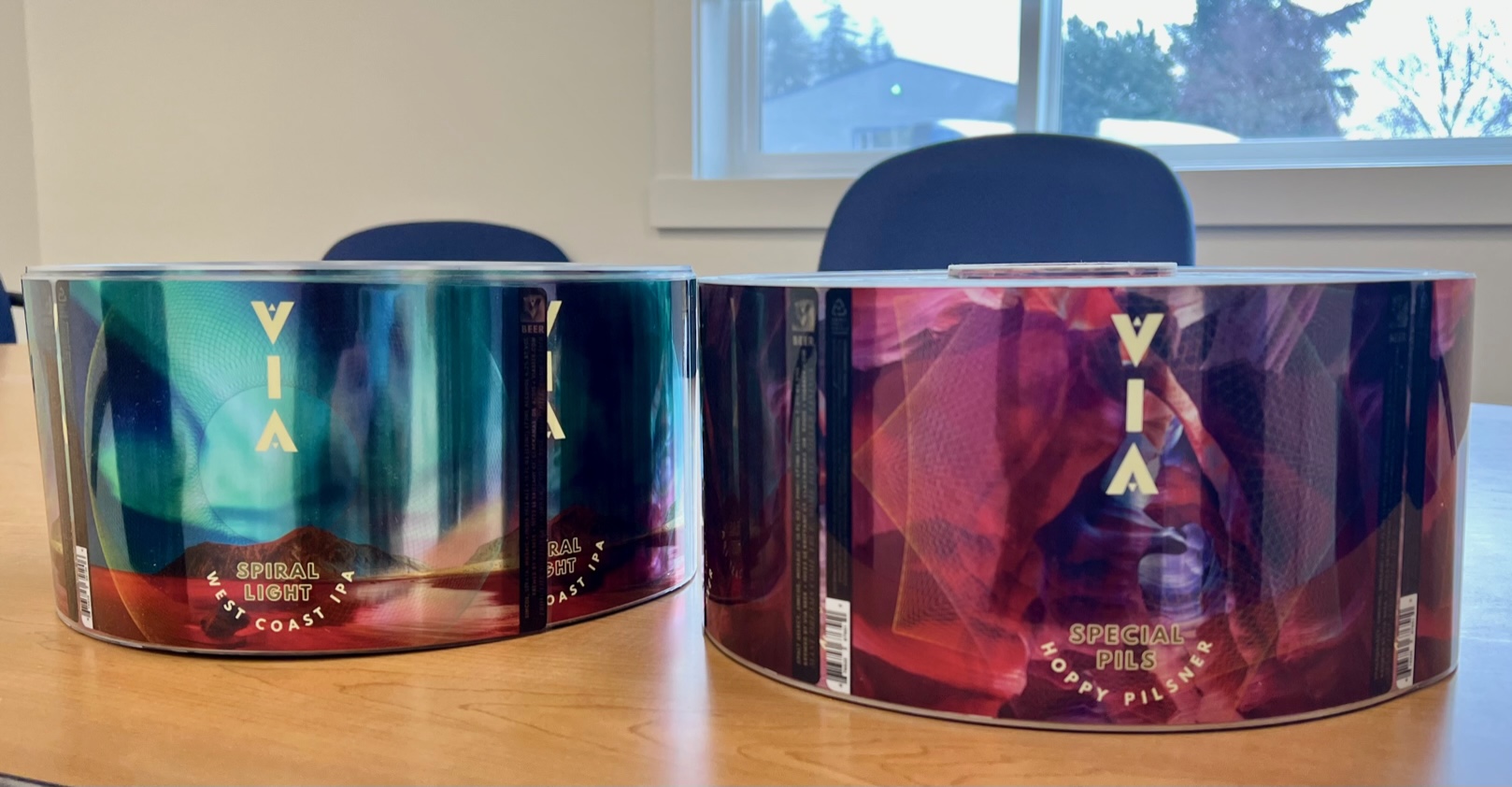 "The new labels are insane," said Devereux. He has allowed Landau to explore a new creative direction as he interweaves nature and psychedelia together to create the image of the new brewery.
When it comes to reaching the marketplace in Oregon, Devereux has signed with Day One Distribution. Through the years he has become friends with Day One's owner, Robby Rodda, and has admired how he has grown his unique distribution business.
"I've watched Robby Roda (founder of Day One) with admiration as he's grown his business from humble beginnings," says Devereux. "He's built a great team and they are doing something special. Hopefully Via can be a big part of their success going forward."
As previously mentioned, the first two beers hitting the market are a West Coast IPA and Hoppy Pilsner. Spiral Light West Coast IPA is a light-colored and supremely hoppy 6.2% ABV version of the style with Simcoe, Mosaic and Strata hops, and Special Pils Hoppy Pilsner is a 5% ABV straw-colored lager that daringly pairs German malts and Spalt Select hops with a generous dose of Simcoe and Mosaic in the dry-hop.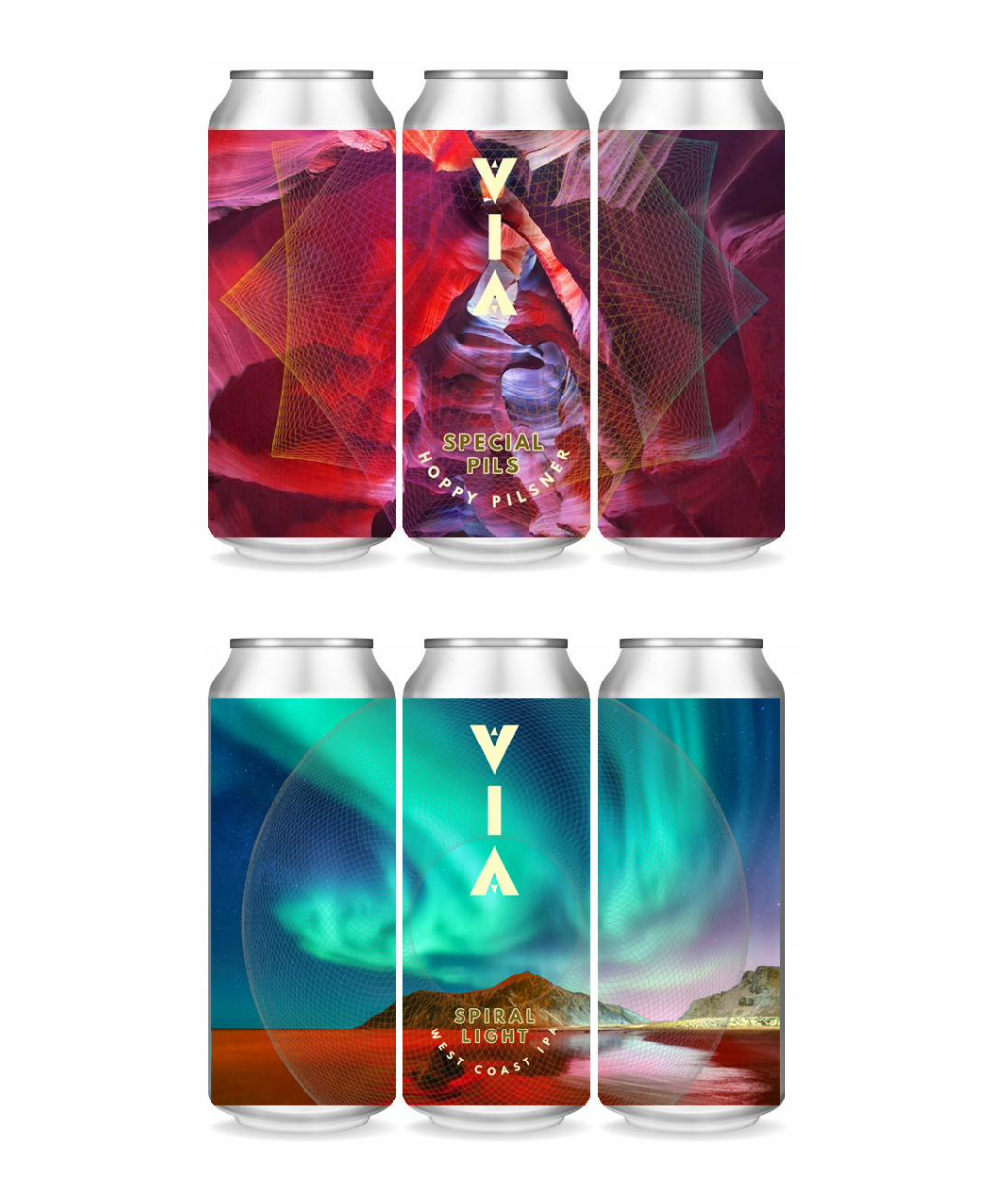 During our visit with Devereux over the weekend, he did mention that he plans to release other variations of West Coast IPAs and a triple-hopped Hazy IPA. He also plans on doing some collaborations. The first one will likely be with Sean Burke of Foreland Beer.
"The current idea is to release two limited-release beers every three weeks or so and do our best to keep it always fresh," says Devereux. "And always have fun with it."
Spiral Light and Special Pils will begin reaching the market this week on draft and in 16-ounce cans in Oregon through Day One Distribution. Via Beer plans to launch self-distribution in Western Washington in the near future.
To celebrate the launch, Via Beer has planned a Release Tour starting Monday, February 28 at craft beer mainstay The BeerMongers and ending at local hero Lombard House in St. John's. It'll feature the two Via beers along with some friendly company: selections from Kings & Daughters, a few rare gems from other Day One brewers, and kegs of Wayfinder's epic YOB Doppelbock. There also may be a special playlist or two.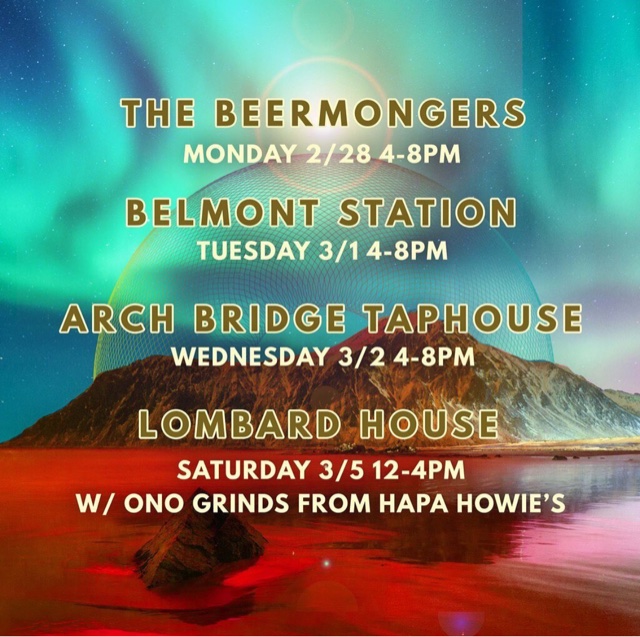 Via Beer Launch Portland Metro Launch Events:
To learn more about Via Beer, visit www.viabeer.com or follow the brewery on Instagram at @drinkviabeer.