An Interview with Alex Ganum as Upright Brewing Celebrates 10 Years
|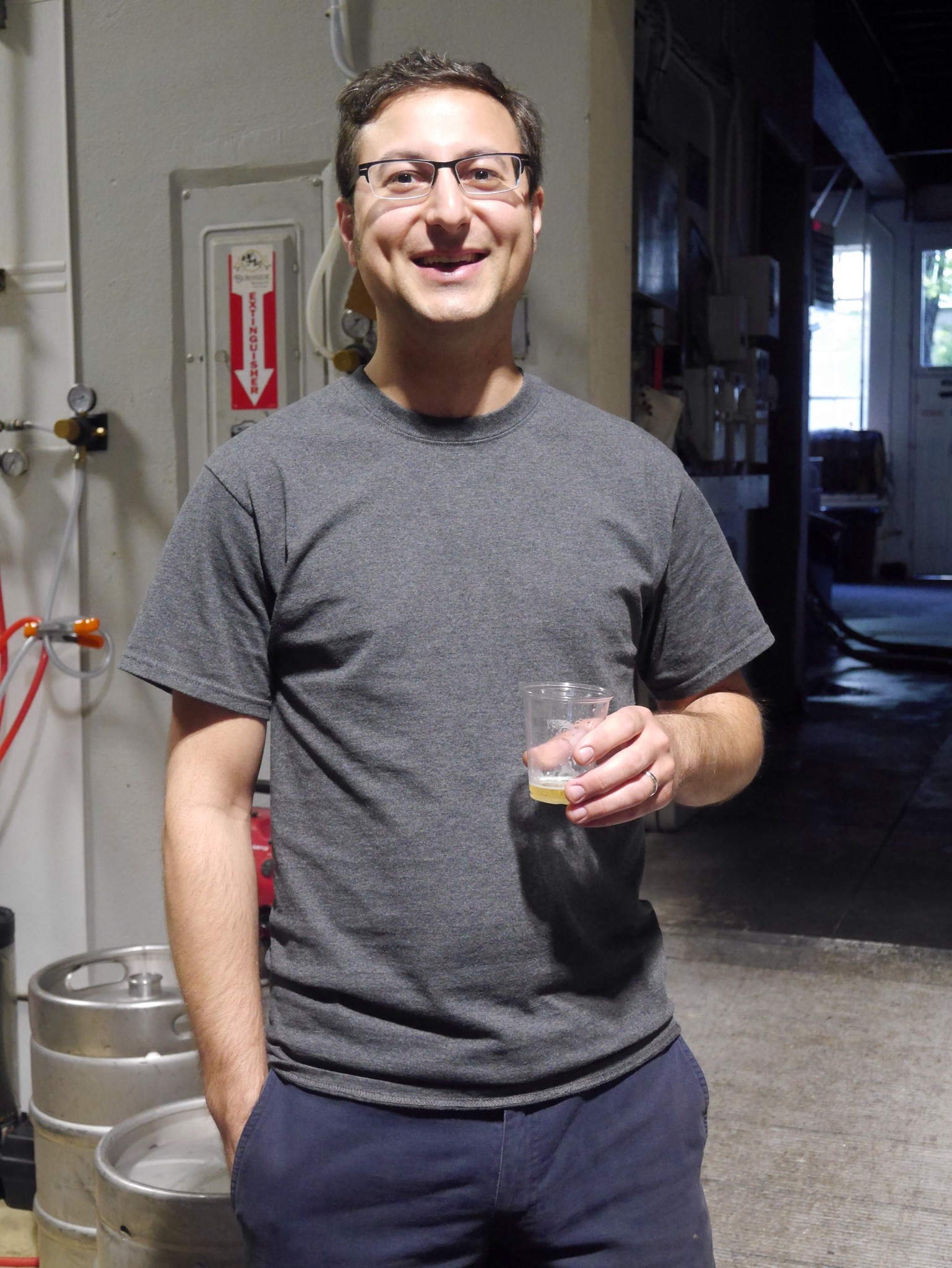 Ten years ago Alex Ganum took his brewing skills he acquired from time spent at Brewery Ommegang, albeit briefly and BJ's Brewhouse to open Upright Brewing. Alex found the perfect location for his farmhouse inspired brewery in the basement of the Leftbank Building, a recently renovated building across from the Rose Quarter.
Building out a brewery in a basement was not the easiest task, and one that would incorporate open fermenters provided to be an even more interesting task. But once he mustered through and finally opened the brewery in 2009, Alex has been winning over fans of his beers ever since. Us included, as we always place Upright Brewing in the top 5 breweries in the Rose City.
On Saturday, March 30th, Upright Brewing will look back at its first decade in brewing when it hosts its Ten Year Anniversary Party from 1:00-8:00pm. The daylong celebration will include a special anniversary taplist that will feature the brewery's 10th Anniversary Saison in 750mL bottles. In addition to this beer Upright will also be tapping Sherry Finish Vanilla Quad, Foeder Doppelbock, Bill's Bitter, Vintage Ives Blend, and Barrel Aged Wit. There are more details on all six of these beers a bit later in the article.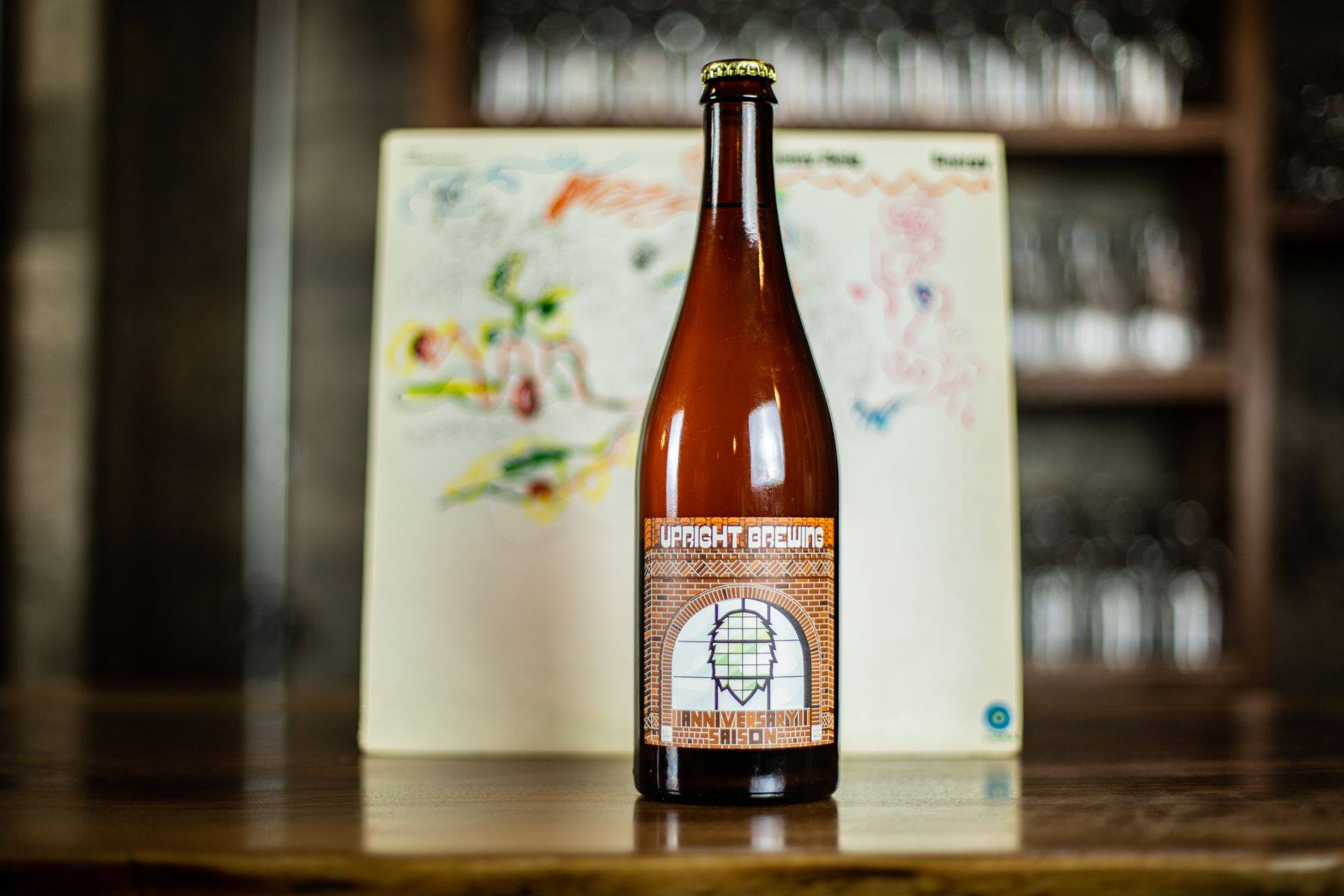 In anticipation of Saturday's anniversary celebration we reached out to Alex to learn what's in store for Saturday and to learn what has been happening at Upright Brewing. Enjoy!
Ten years ago you opened Upright Brewing in a basement inside a renovated building in North Portland. Did you expect your beers to be so well received ten years later?
Alex: Honestly, I didn't think too much about how the beers would be received in the long term, I was just a young brewer excited to start my own joint and brew beers that represented that excitement. At the time I was floored with the direction of the industry and heavily inspired by other breweries from the United States and across Europe.
From your prospective how has the beer industry changed locally, nationally and internationally over the past 10 years?
Alex: Oh man, it's changed more than probably any of us imagined. The increase in breweries and associated businesses has been staggering, and of course there's always the good and the bad. I would be lying if I didn't say that I miss the focus and integrity our industry had ten years ago, it was special in the way the whole city of Portland was, overflowing with creativity and craftsmanship. Luckily there's more of that than ever now, but modern consumerism drives the industry in a way that sometimes compromises those core ideals. Overall things always look up in my book, and a huge positive for me is seeing craft beer take off across the globe in places that many of us would have considered unlikely not long ago.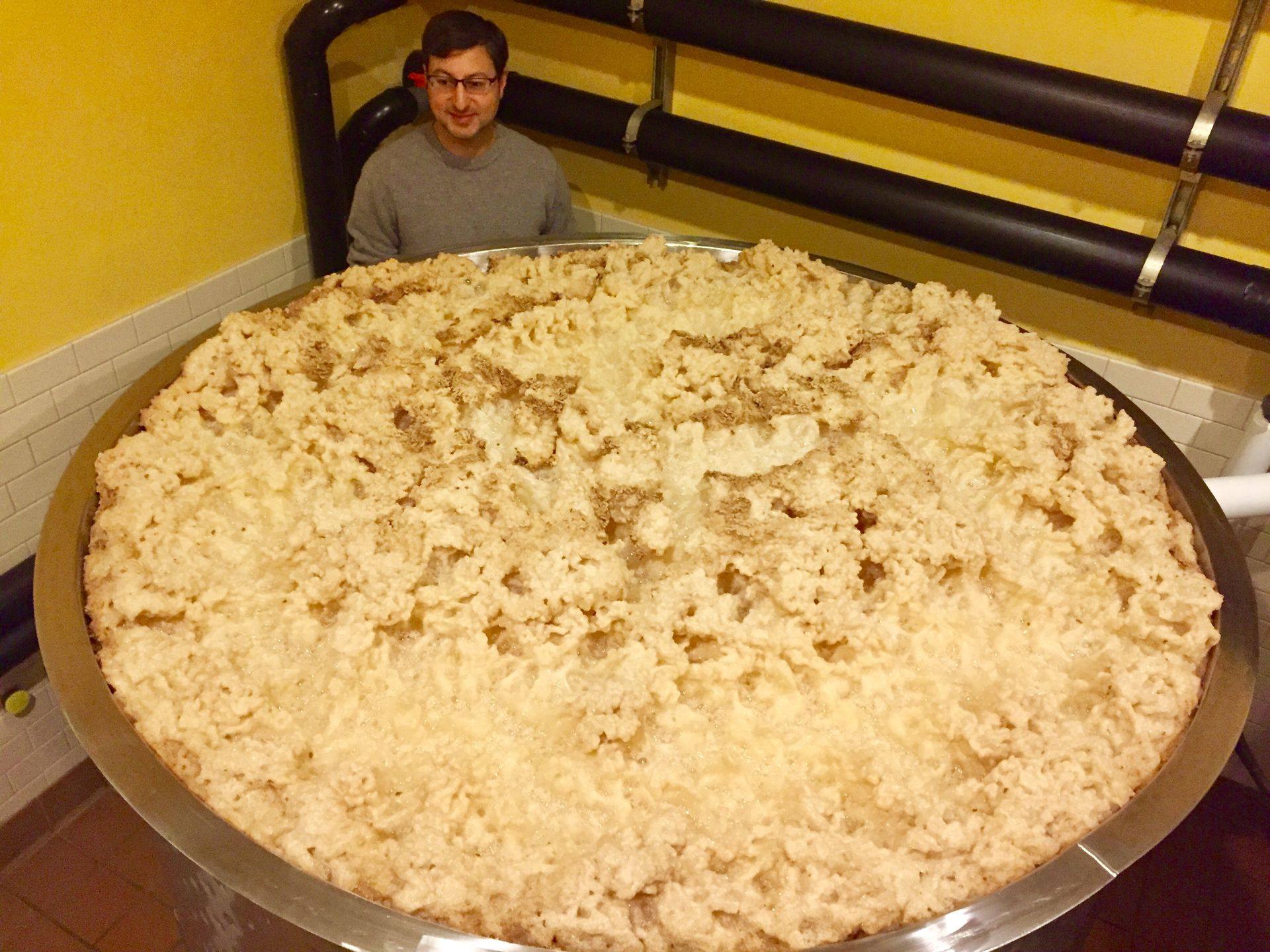 You use open fermentation tanks that offer an interesting visual. Have you considered placing a webcam in the room so anyone could view the fermentation process?   
Alex: It's certainly neat to view the beer from above. As brewers we're able to see lots of differences between yeast strains, worts, temperatures, geometries, etc by keeping a regular eye, learning things you wouldn't necessarily pick up on by just glancing through the window in our tasting room. I used to keep a reef aquarium at home and it's similar in that regard, where a quick look only shows you a small part of what's happening as opposed to monitoring it throughout a long term period. At any rate, I haven't put much thought into a webcam; I'm not sure that a visual on a screen would tell the complete story, it's really something better suited to viewing in person.
Read More: Lowdown on Upright….circa 2009 by Angelo De Ieso
About one year ago you did a remodel of the taproom and finally added an actual bar for patrons to sit at. Why did you wait these many years to install one? Has this addition benefited Taproom sales?
Alex: This is an embarrassing question because we should've done that remodel a long time ago (and yep, sales are up)! I don't have any real reason for waiting so long but am glad that we finally got it done, we're really happy with how it turned out. I've always felt that what drives us more than anything is showing true character and being in the moment, and the tasting room feels like an extension of that drive now between the look, feel, music, and friendliness.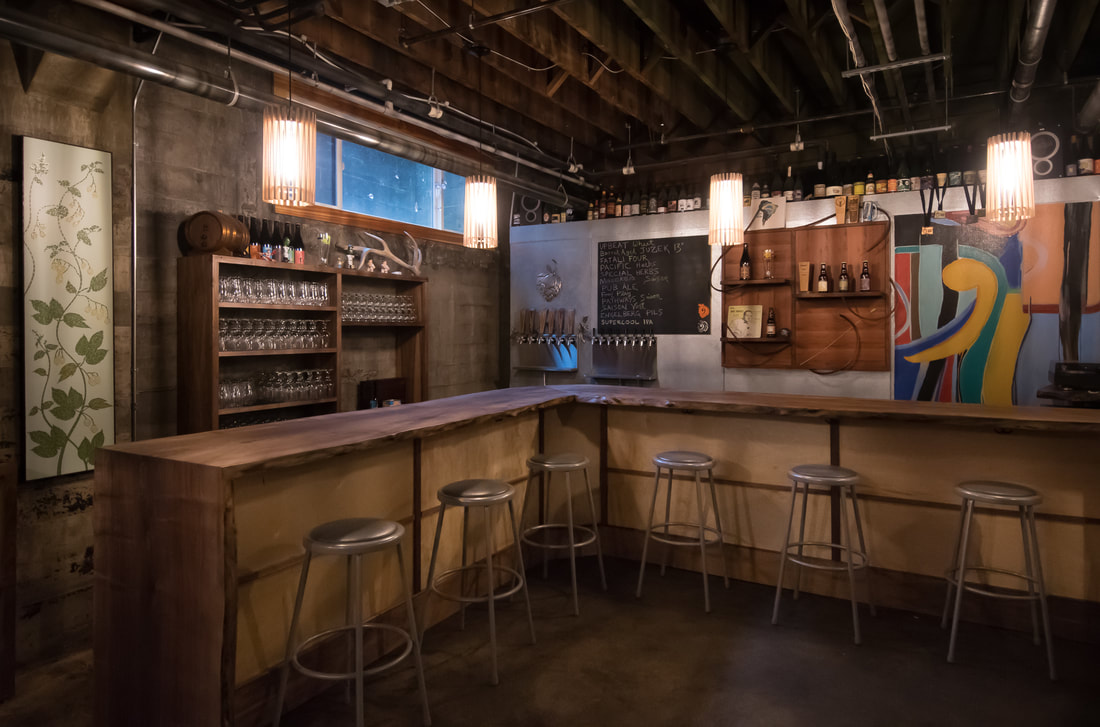 During this remodel you added a Crowler machine. How has this been received?
Alex: It's been great, particularly for the one-off beers we produce that don't get packaged otherwise, and I think all of us enjoy bringing home the Engelberg too.
You recently mentioned that Bobby Birk left the brewery relocating to Idaho. How many years was he at Upright? Have you filled his position? If so, with whom?
Alex: Bobby has been a part of the brewery since 2012. Being such a small crew, all of us really make the place what it is and losing him is significant to both myself and the business. It will be a big change not having him but we have found someone to take his spot and is excited to join the team; we'll likely let that news out in the next few weeks. I would like to point out again that Upright revolves around character, and I can't say enough how much Bobby and everyone here is what the brewery is all about.
You have a few beers being released on Saturday. Please give us a preview of each of the beers?
Alex: We've got a slew of fun stuff coming up for the anniversary, including our first two foeder aged beers, a barrel aged wit on apricots, a special Ives blend, the Anniversary Saison in both draft and bottle conditioned form (the bottles are tasting killer), and a wonderful bitter for folks that want to drink high volume.
(Additional details on each of the special beers can be found at the end of this article.)
Beyond the new beers, what else should we expect on Saturday at the 10th Anniversary?
Alex: We'll be announcing details for a fun prize giveaway later this year, have a couple really fun new shirt designs by Lloyd Winter who does all our label art, and don't be surprised to see other special beers available that day. All in all it's a day for celebration and good times, and we're looking forward to enjoying it with everyone!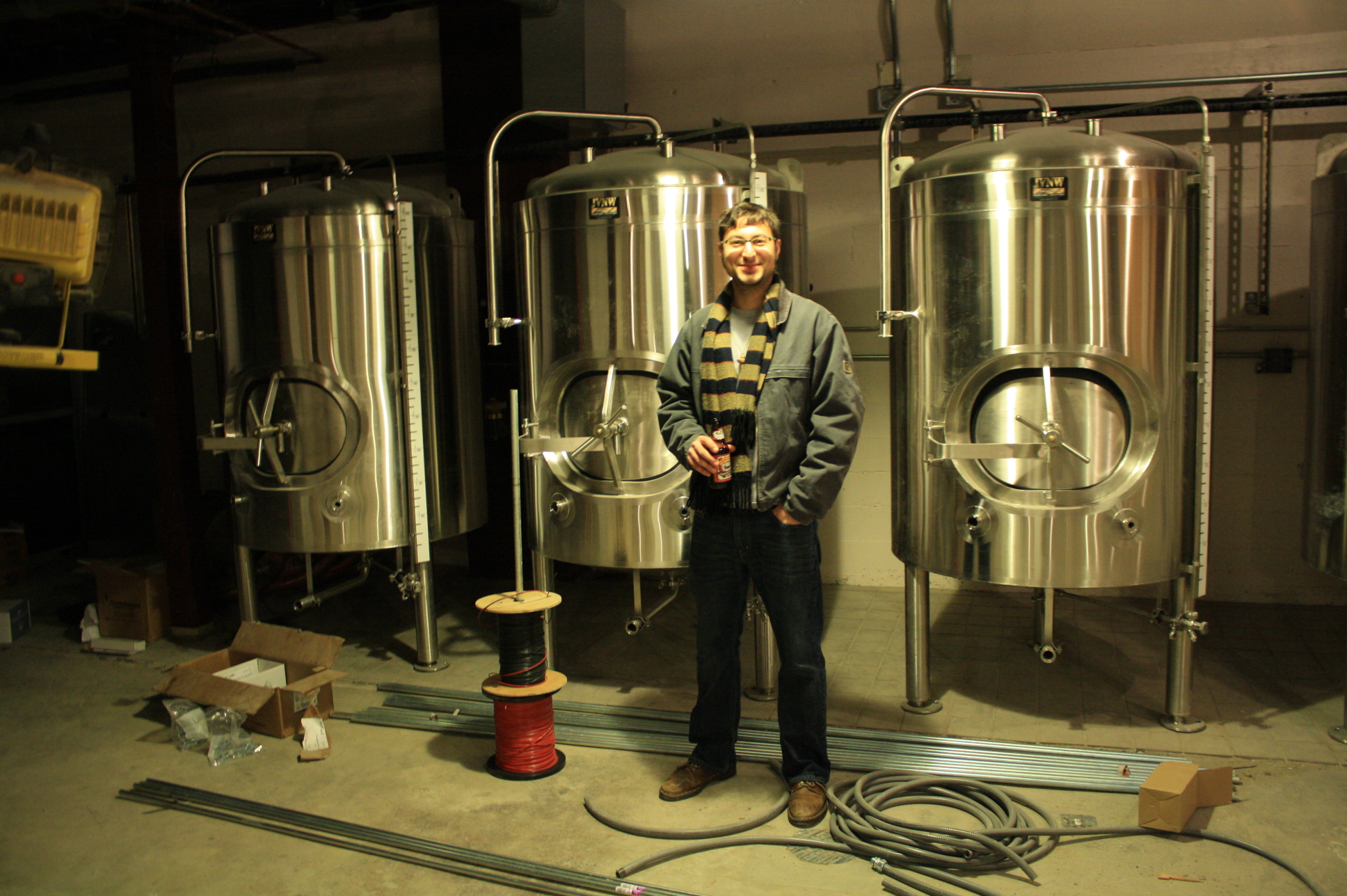 On Saturday, March 30th during Upright Brewing's 10th Anniversary, a few of the special beers that will be pouring include Sherry Finish Vanilla Quad, Foeder Doppelbock, Bill's Bitter, Vintage Ives Blend, Barrel Aged Wit, and 10th Anniversary Saison. Here are descriptions on each of the beers provided by Alex.
Sherry Finish Vanilla Quad is a celebratory brew made for our tenth anniversary. A big, complex beer that started in our open fermenter and later matured in a new foeder, the quad spent its final weeks in sherry casks with whole Madagascar vanilla beans. Layers of fruit and caramel notes fill in around the vanilla making for a fun but heavily nuanced flavor. 10%
Foeder Doppelbock is the first beer to come from our newest addition to the barrel program at Upright. Proudly made with 100% domestically grown and malted barley, then lagered in American oak, this doppelbock balances a warm and rich grain profile with an oaky edge that opens as it warms. 8%
Bill's Bitter is a truly traditional style ale made with notes from beer historian Bill Schneller. He kindly advised us in formulating a bitter we proudly feel is an authentic representation. A blend of marris otter, optic, and pearl barley varieties makes up the base, while a touch of crystal malt and house made invert cane sugar syrup adds to the profile. Hopped appropriately with challenger and East Kent goldings, then open fermented with a classic yeast from West Yorkshire. Bill's Bitter is the first choice for the discerning drinker. 3.8%
Vintage Ives Blend is a draft-only cut of our best casks, dating back to 2016 and 2017. This select blend shows complex brettanomyces development in the nose and layers of well integrated and balanced acidity, finishing with long lasting minerality and appetizing dryness. 6.2%
Barrel Aged Wit was brewed last summer with 100% Skagit Valley Malt of northern WA. Traditional spicing of coriander and bitter orange was supplemented with calendula flowers, a favorite here at Upright. The wit then spent several months in old pinot barrels with Baird Family Orchard apricots before being blended just in time for the brewery's tenth anniversary. 4.5%
Anniversary Saison comes in two forms for our tenth birthday – draft and bottle conditioned. The draft version blends five wine barrels and one gin barrel, evident right away in the nose with an oily, botanical nuance. An earthy hop component plays off the oak, with everything coming together under a rustic profile honoring the older brewers who've inspired us. 6.25%
Congratulations to Upright Brewing on ten great years of fabulous beers!
Upright Brewing
240 North Broadway
Portland, OR 97227