North Coast Brewing Debuts Scrimshaw in 12oz Cans
|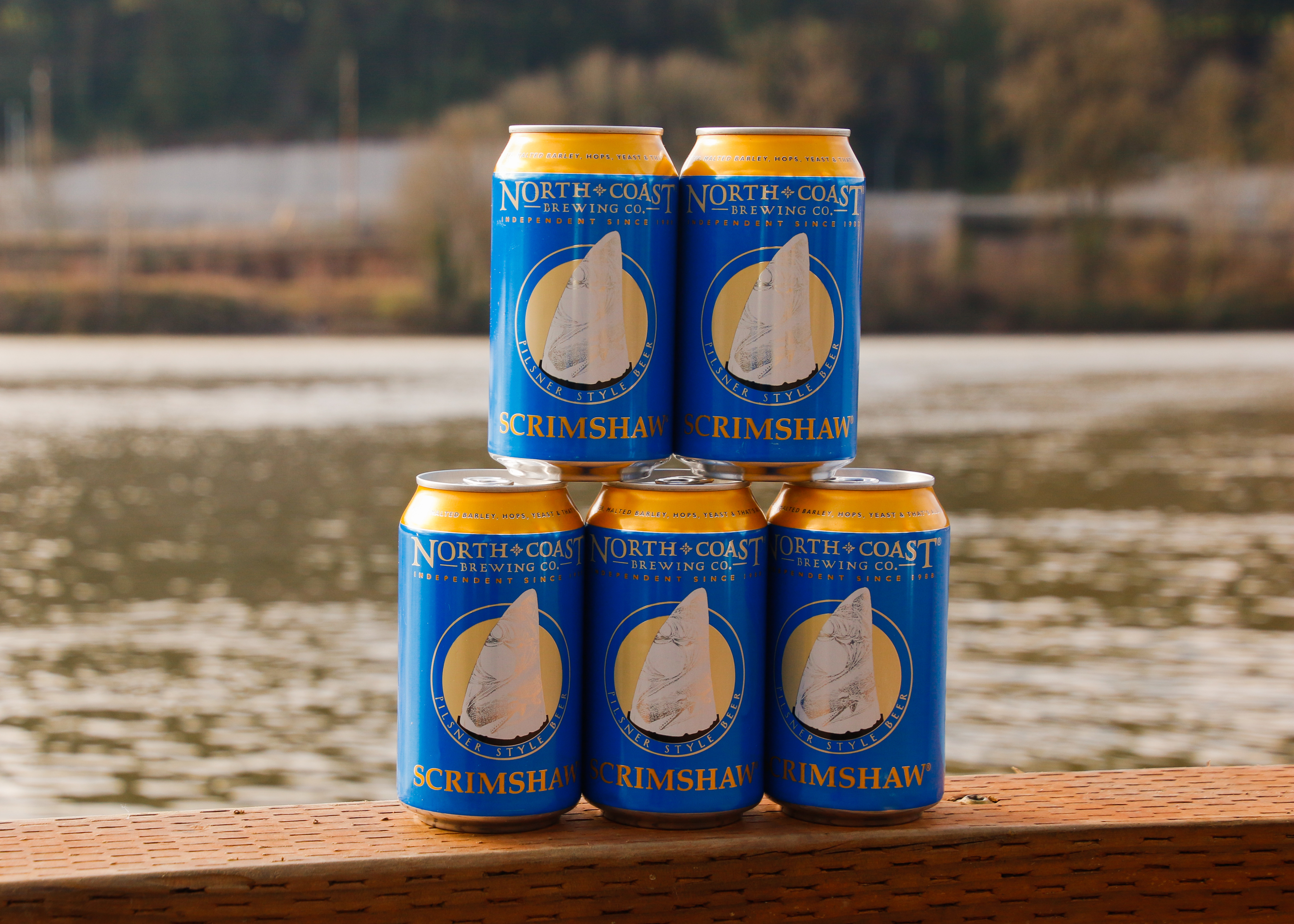 One of the pioneers in craft brewing is set to release its very first beer in a can. Today, North Coast Brewing Company makes it official that it will release its popular Scrimshaw Pilsner in convenient 12oz cans. Scrimshaw, the beer that dates back to the brewery's beginnings in 1988 will continue to be offered on draft and in bottles.
For this new can launch, Scrimshaw will initially be available in 12-pack, 12oz cans throughout the state of California. The beer will be packaged in screen printed cans available in recyclable 12-pack boxes. Therefore, no additional plastic can end up harming the environment.
Scrimshaw is the best-selling beer from the Fort Bragg, California brewer and is also one of the most popular pilsners in the country. This Pilsner offers a subtle hop character from its use of Hallertauer and Tettnang hops that's complimented by a crisp, clean palate and a dry finish. Scrimshaw is North Coast Brewing's unique take on a classic effort that sits at 4.5% ABV, 22 IBUs, 138cal, and 11g carbs.
Yesterday we spoke on the phone with Jeffrey Ottoboni, CEO of North Coast Brewing to learn more about this new venture into cans for the brewery. Ottoboni joined North Coast Brewing late last year. Prior to taking over the CEO role at the brewery, Ottoboni was previously the CFO at Paul Hobbs Winery.
Since Ottoboni was a fan of craft beer, entering this beverage segment was a no-brainer for him. "I had spent 30 years in the wine business, never a plan to do that," Ottoboni told BREWPUBLIC. "I've been in Sonoma County for a long time. And when I got the opportunity at North Coast as I have been a beer aficionado for much of my adult life."
Ottoboni goes on to add that the big piece that attracted him to North Coast is the philanthropy side and the benefit corporation aspect of the business that the founders made as part of their business. North Coast is a Certified B Corporation, something that few breweries are designated as.
"We are focused on making really great beer." – Jeffrey Ottoboni
As Scrimshaw makes it way to market in 12oz cans, there was a lot of thought and effort in deciding which beer North Coast would first package in this trending package. "We are trying to make our product accessible; you've got your draft; you have your bottles and cans are another packaging vehicle that opens up products to another group of customers," said Ottoboni. "And obviously with Scrimshaw it made sense to be the first one in the can given its popularity and is renowned as one of the top selling pilsners in the country."
And when it turned to the process of packaging Scrimshaw into 12oz cans, the quality of this process is an important one to the North Coast. When canning, the process of keeping excessive oxygen out of the wider diameter opening can be a challenging one when subpar canning equipment is used. This process is a bit more effective when bottling vs canning, that is unless you use a high-end canning line.
This is where Gordon Biersch comes into the picture. According to Brewbound, the San Jose, CA based brewer has invested nearly $2 million in a high-speed Krones canning line, capable of packaging 250 cans per minute. This is the type of canning line that will not compromise quality.
"We are using one of the other fellow Class of '88 members," said Ottoboni. "Gordon Biersch in San Jose is doing the canning for us. Our brewmasters obviously control the process."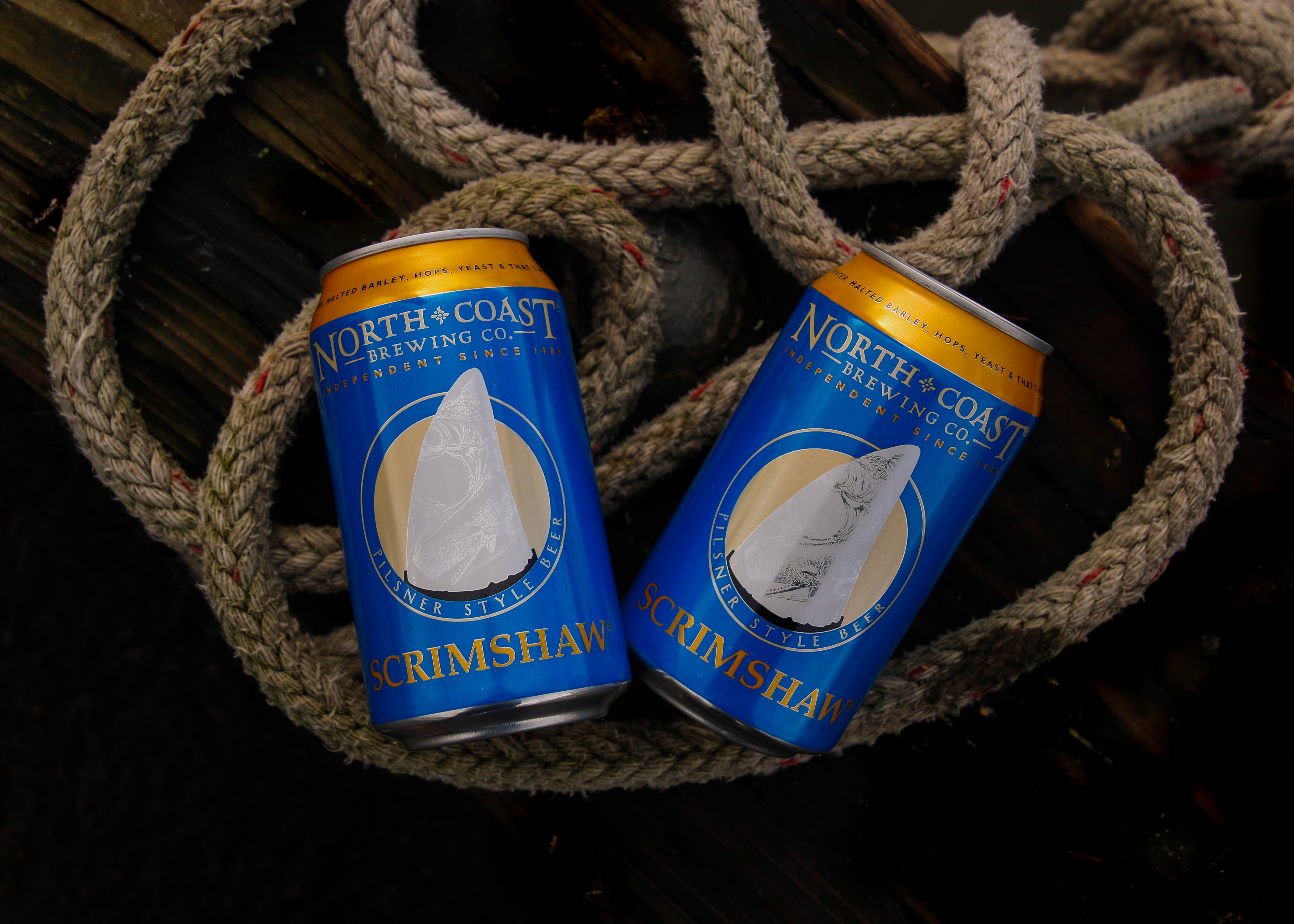 So for those of us outside of California, we are unfortunately out of luck at the moment on acquiring cans of Scrimshaw. The goal of the brewer is to eventually release canned Scrimshaw into these markets, it's just not known when.
"At this point we don't," said Ottoboni. "They're going to be up and down the state of California. We are just at the planning stages for the release outside of California. But I am sure that it is going to happen."
The marketplace is likely to see additional cans from North Coast in the future. "We are committed to coming out with more cans," stated Ottoboni. "The team here needs to decide on what we plan on canning and when."
Scrimshaw has been brewed and distributed as one of North Coast Brewing's core beer brands since 1988. While it is available across 48 states in the U.S. and internationally, the new cans are initially available throughout California, and North Coast Brewing's beer locator can be used to find specific locations in your area.