The Beer Jesus from America – a Film on Stone Brewing's Entry into Berlin
|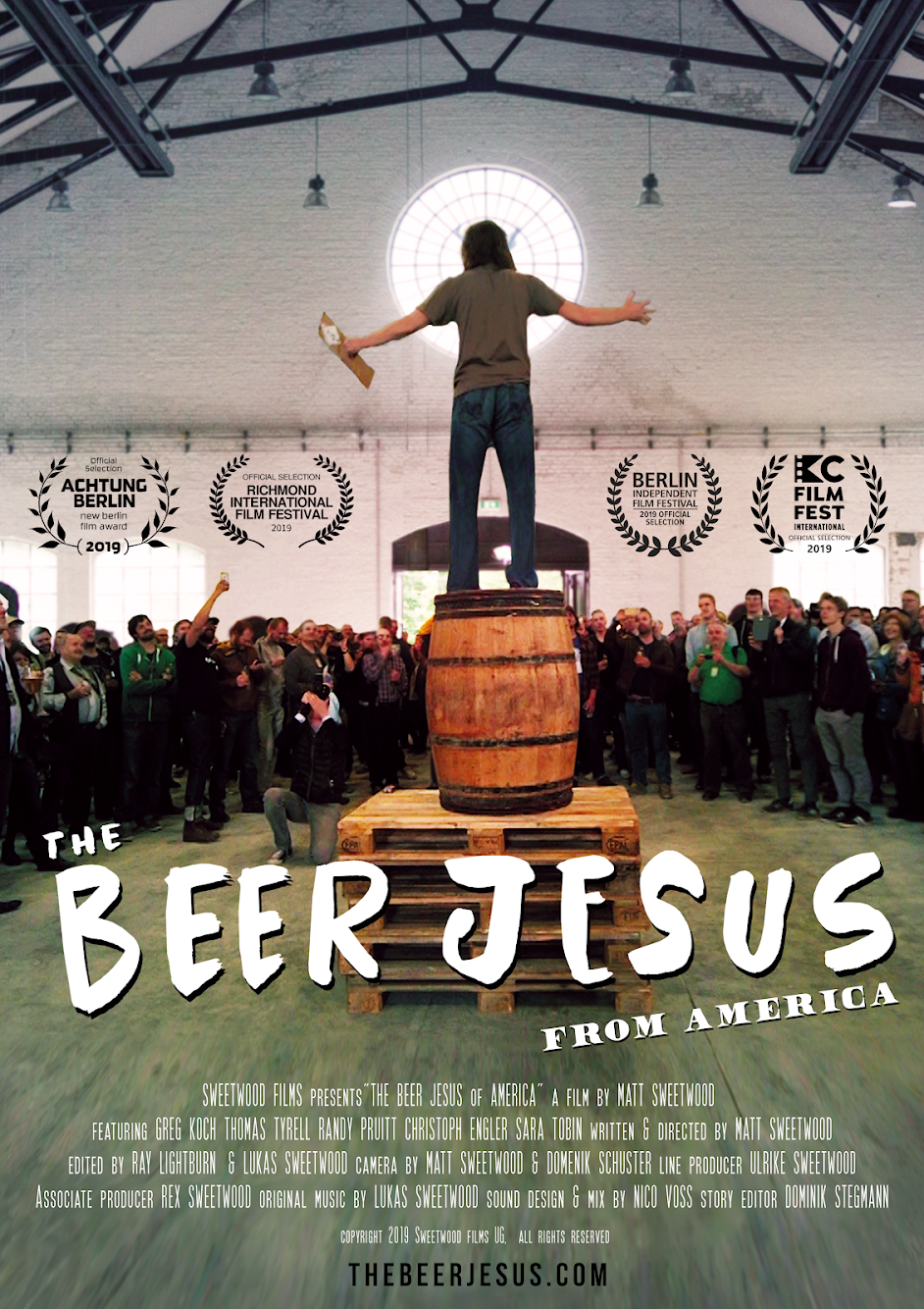 Note: This post has been updated on November 26, 2019 at 3:40pm
Five years ago in 2014, Stone Brewing announced its ambitious plan to open a brewery on the outskirts of Berlin, Germany. The brewery's outspoken co-founder, Greg Koch made this announcement in front of the 43,000 sq. ft. gasworks complex that would become Stone Brewing – Berlin that dates back to 1901. Two years later, a bit delayed and over budget, Stone Brewing finally opened the doors to its $30 million brewery on September 19, 2016.
When Stone Brewing made its original announcement of the new Berlin brewery, it attracted the interest of Matt Sweetwood, an ex-pat American filmmaker that had been living in Germany for over 20 years. Sweetwood had already released one film about beer, Beerland, that documented the German beer culture from an outsider's perspective. Matt ended up following Greg around Berlin during the build out of the new brewery all the way up to the public opening. This can now be viewed in the 104 minute independently produced film, The Beer Jesus from America produced by Sweetwood Films.
The Beer Jesus from America made its debut at film festivals scattered around the globe and is now available for streaming for the very first time on both Amazon Prime Video as well as Vimeo On Demand. After viewing this film this weekend on Amazon Prime Video, it is definitely a film that a fan of craft beer will surely enjoy viewing while opening a few beers from Stone Brewing.
Greg Koch is the main focus of the film that's narrated by the director, Matt Sweetwood whom was drawn to the idea of filming Greg and his adventure in Berlin from an article in a German tabloid newspaper. Berliner Kurier ran a front page article with the headline, Der Bier-Jesus aus Amerika, that also went on to become the film's translated title.
When Stone Brewing announced its entry into brewing in Europe, Greg made a few waves when he announced the project in July 2014 while standing in front of the future brewery in Berlin. At this announcement that was attended by Berlin city officials, Greg dropped a boulder from a forklift on an assortment of international industrial lagers, a nod to his normal yellow fizzy beer rant he has been known for here in America.
According to the San Diego Union Tribune, during this press conference, Greg stated, "I am not critical of German brewing — I am critical of the state of German brewing. And this isn't particular to Germany. Look at any country, including the United States, and most beer is industrial commercial beer. I'll agree that German commodity beer is better than American commodity beer, but who cares about commodity beer?"
As Greg railed against what he called international commodity beer, he may have pushed the envelope a bit too far as the German beer culture is much different than what we have here in the States. Germany has a long storied beer culture that is one of the oldest in the world, but was it ready for a radical change as this is the country that honors its 500+ year-old "purity law", Reinheitsgebot? One thing that Greg did learn was that many German beer drinkers were not a people in general that wanted to discuss and talk about beer, much different that here in the States.
This film showcases the build out process and the various hurdles that took place from this announcement in July 2014 to the brewery's ultimate opening a few years later in September 2016. Greg laid out an ambitious dream to build a state-of-the-art brewery and taproom that pays tribute to the Stone Brewing World Bistro And Gardens located in Escondido, California. From the film, it looks as if his dream did come to fruition as the brewery and the grounds truly do look amazing. Unfortunately, this was short lived.
"When we set out to build the first American independent Craft Brewery in Europe, we did so with that same spark – that passion and intensity – that drove us to offer something different in the US back in 1996," Greg said in a statement upon the film's on demand release. "This film captures the trials, challenges, roadblocks… and occasional triumphs of the project, but on a deeper level, it's a story of following your heart and challenging convention."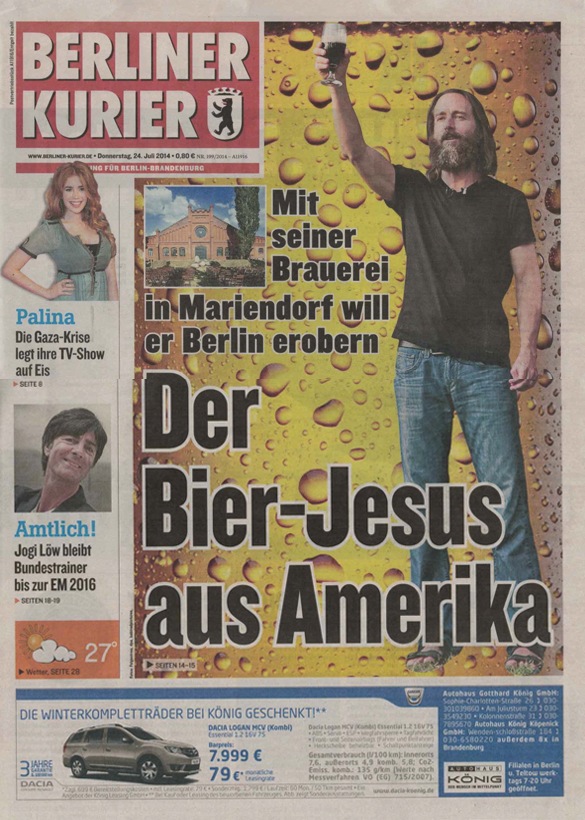 As shown by Matt in the film, Greg had a strong vision of what he wanted the Stone space to become in Berlin. The construction process in the 100+ year old building took a bit longer than was initially planned. Greg's frustration from these various delays is quite evident in the film, a frustration that is evident as these delays continued to halt the construction in a building that has a lot of mileage in it. This was all well chronicled in the film.
Throughout the film, Matt paints Greg in a real light to how he is and has sometimes been perceived by a portion of the public here in the States. Yes, Greg is outspoken and has a persona that may or may not live up to the name of one of Stone's beers. But in the end he and his team had a lot riding on this large undertaking of a project. Taking on a project this massive in a foreign land would not be an easy task for anyone.
Towards the end of the film a tired Greg admitted, "There is so much to figure out. Add in the cultural differences, the time zone differences, physical time to get here, travel, language of course, regulations, and of course that's the challenge."
Greg may have been a bit naïve when he decided to enter the German beer market and take on its brewing history, but in doing so the country is now beginning to embrace a larger array of beer styles that is evident over the past five years. After opening in September 2016, less than three years later, Stone Brewing – Berlin shuttered its brewing operations in April 2019. Greg may have been a bit ambitious and quite possibly a bit arrogant to decide what the German beer drinking public desired, and in the end this was proven to be true to some degree. That said, he may have helped lay the groundwork for a broader beer future in Germany.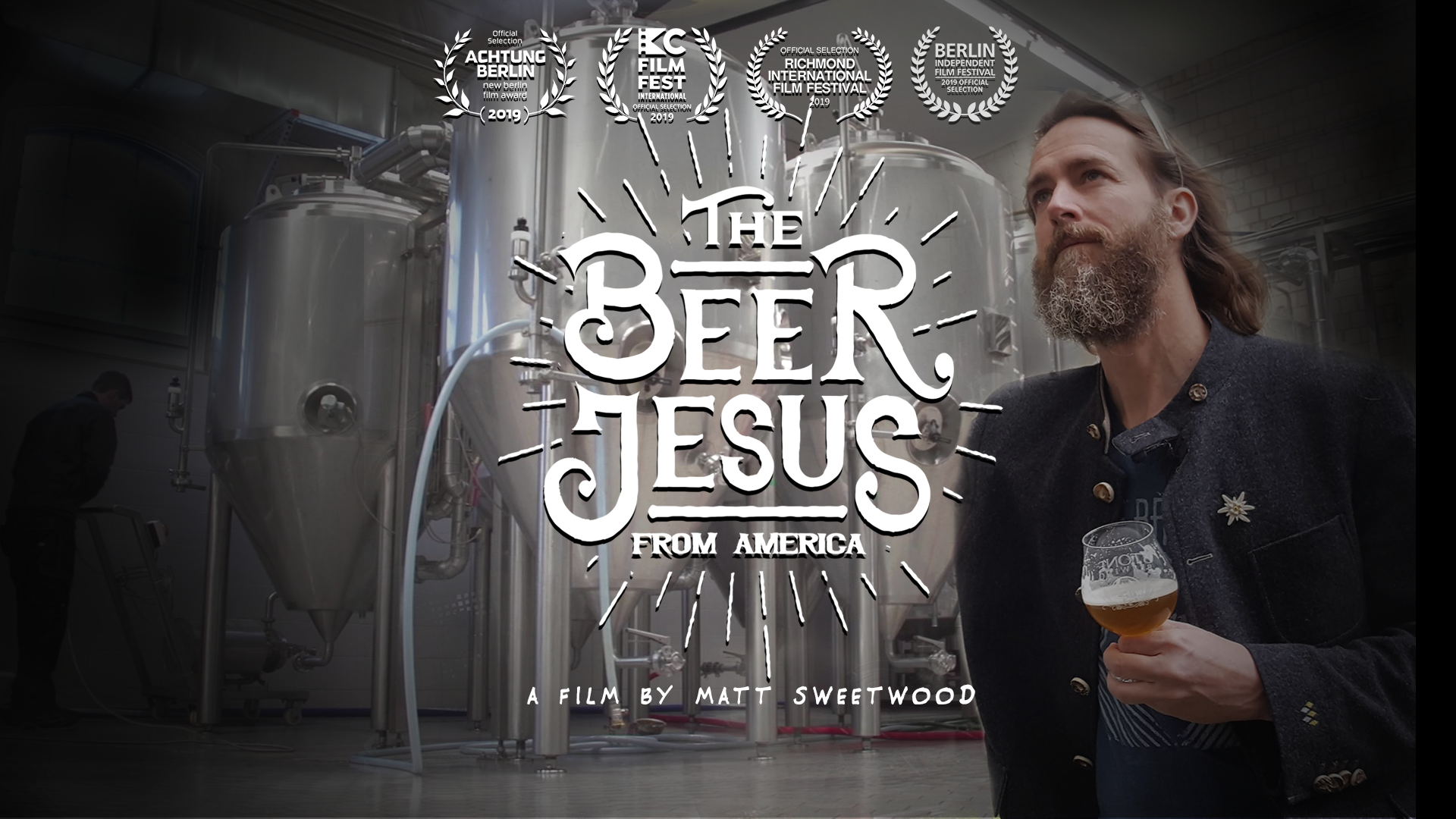 The former Stone Brewing property in Berlin is now under ownership from the Scottish based BrewDog The Scottish brewer remodeled the space and has embraced the German culture a bit more that what Stone had attempted to do. BrewDog – Berlin continues to brew select Stone Brewing beers at its Berlin brewery for the European market. Plus, Stone Brewing continues to have a presence in Berlin at its Stone Brewing Tap Room – Prenzlauer Berg.
The Beer Jesus From America is now available for streaming through Amazon Prime Video as well as Vimeo On Demand. We highly recommend giving this film a viewing. A commemorative DVD will be available online at Shop.StoneBrewing.com in 2020.