10 Barrel Brewing Releases All Ways Down Double IPA
|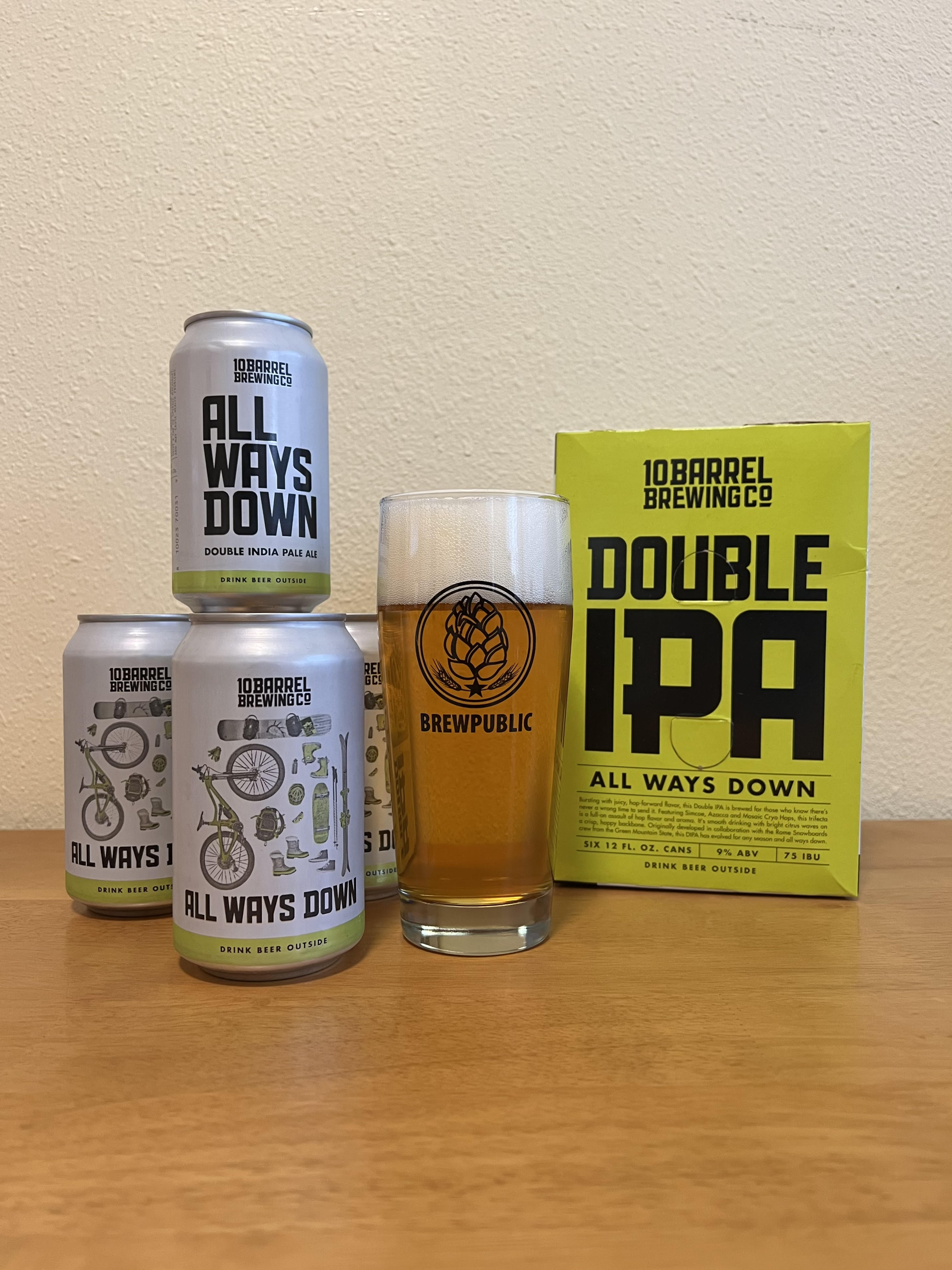 The last few packaged beers arriving from 10 Barrel Brewing have been beers that have already received awards when they were available only on draft. This holds true for the brewery's latest release, the cleverly named All Ways Down Double IPA.
Packaged in a graphic riddled can that features snowboards, skis and bikes, All Ways Down was conceived at 10 Barrel Brewing's Denver Pub from Head Brewer Kay Witkiewicz. He originally brewed this big IPA for the Rome Snowboards crew from Vermont for parties and events at and around the Winter Outdoor Retailer show. All Ways Down later went on to win a Gold Medal in the Imperial IPA category at the 2021 Oregon Beer Awards. Now the beer sees much wider distribution throughout 10 Barrel's footprint.
All Ways Down is a big Double IPA that is well-filtered and pours with a nice frothy, white head. A trifecta of hops were utilized by 10 Barrel – Simcoe, Azacca, and Mosaic Cryo Hops – to bring an IPA that's chopped full of juicy hop aromas and citrus flavors to market. It's a bold Double IPA that's fairly easy drinking but careful as this IPA sits at 9% ABV and 75 IBUs.
"This beer was originally created with the Rome Snowboards crew in mind, and contributing ideas to our head brewer in Denver, Kay Witkiewicz," said Grady Skelton, 10 Barrel Brewing's Sr. Creative Brand Manager, in a statement. "Originally, it was for an annual party at our Denver Pub during the Winter Outdoor Retailer show. We adopted Rome Snowboards' tagline as the name of the beer and to pay homage to the feeling of sliding down hills sideways. We kept drinking it after doing fun stuff, mostly downhill, so we expanded the idea to all the other gravity sports we enjoy. After three years of brewing this beer with Rome, we tweaked the recipe and got it ready to make a big splash in a package on the shelf of your local bottle shop or on draft at your local pub."
All Ways Down Double IPA is available on draft and in 12oz cans and bottles and 19.2oz stovepipe cans. To locate this beer or any other 10 Barrel beer, use the 10 Barrel Beer Finder.