10 Barrel Brewing Teams With Danner Boots on Rock Hop Cold IPA
|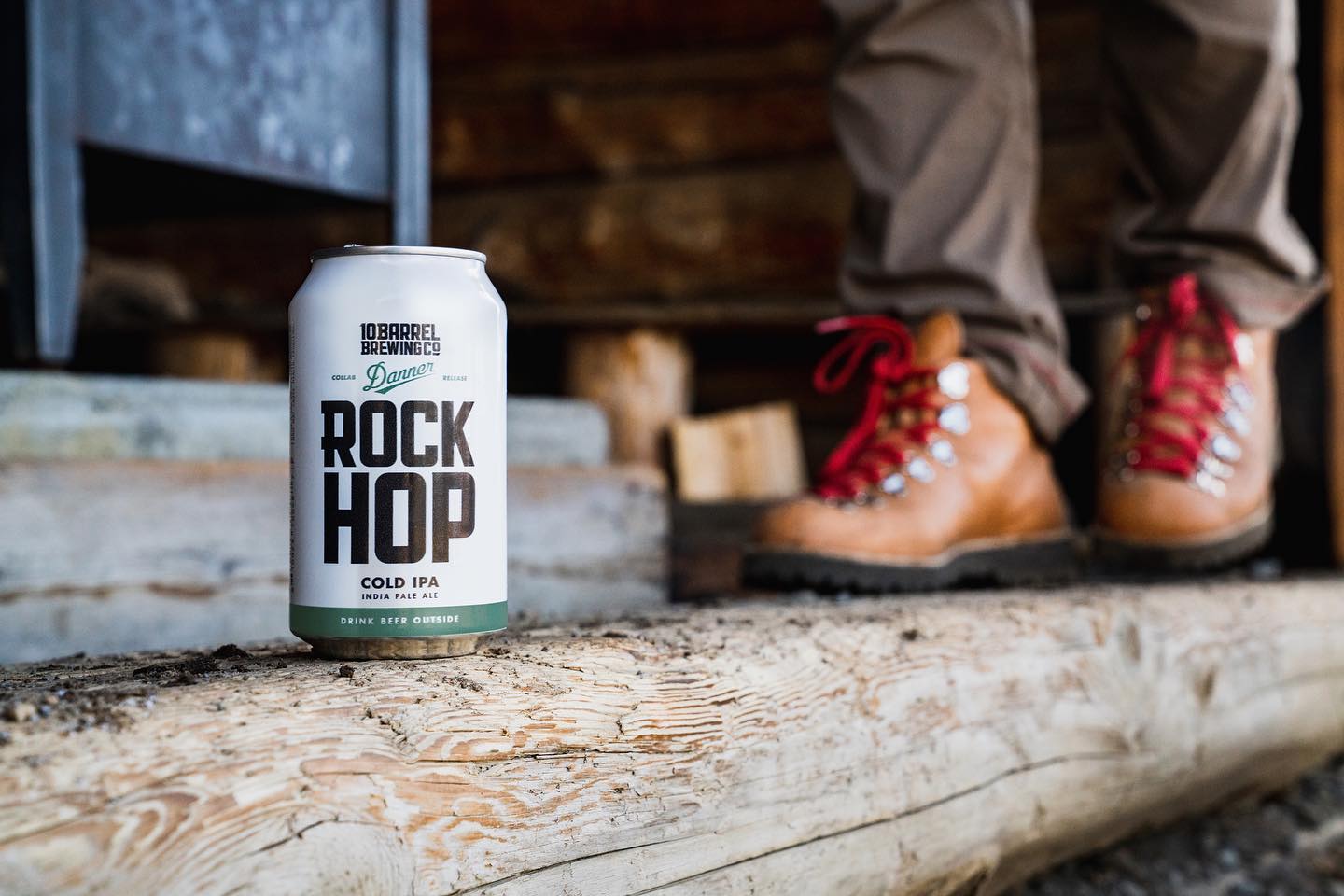 BEND, OR/ PORTLAND, OR (March 8, 2022) – Bend-based 10 Barrel Brewing and Portland-based Danner announce a brand collaboration to launch the latest beer in 10 Barrel's #drinkitforward program, Rock Hop Cold IPA. Similar to other 10 Barrel give back beers, a portion of proceeds from Rock Hop will benefit Trailkeepers of Oregon, a non-profit volunteer organization that maintains and preserves Oregon's hiking trails.
"Danner has been in Oregon, supporting our community, for much longer than 10 Barrel, but we believe in dedicating our collective energy to similar causes," said Grady Skelton, 10 Barrel's Senior Creative Director. "For 10 Barrel, this opportunity is an honor and we're excited to have our logo next to theirs on such an amazing product. Danner doesn't skimp on the details and makes a premier product that our brewers wear for both work and recreation. 10 Barrel is one of the most awarded breweries in the US and we take pride in our attention to details. Our two brands strive to produce the best possible product they can—we share the same values."
"There's no better way to end a great day outside than cracking open a cold beer," said Kate Maciejowski, Marketing Manager for Danner. "Both Danner and 10 Barrel are Oregon-based companies that take great pride in their craft – whether brewing or bootmaking. Cheers to the celebratory Rock Hop IPA at the end of a trail and the trusty boots that will get you there."
The new beer, Rock Hop Cold IPA, highlights the partnership through its cutting-edge brewing and taste. Rock Hop is a cold fermented beer with the bold hoppiness traditionally seen in a West Coast IPA. Azacca, Cashmere, El Dorado, and Idaho 7 hops give notes of fresh pine and orange zest with low bitterness on a soft malt backbone. The finish is crisp and refreshing, so lace up your boots, stash a few cans and get hiking – beer tastes best at elevation. For more about the Rock Hop Cold IPA, check out 10 Barrel's Cold IPA explainer on the 10 Barrel YouTube Channel.
"This Cold IPA was born out of my desire to blend the best of both worlds: IPA and Lager. Using refined German lagering techniques with unabashedly American hopping rates created a uniquely balanced and approachable beer for both Lager Heads and Hop Heads alike," says Kay Witkiewicz, 10 Barrel's Denver Brewmaster and brewer behind Rock Hop. "As a German immigrant, this beer marries my heritage with my drive for innovation."
Both Danner and 10 Barrel have a deep interest in supporting organizations that make it easier for people to recreate outdoors. Trailkeepers of Oregon (TKO) is committed to protecting and enhancing the Oregon hiking experience through stewardship, advocacy, outreach and education. TKO saves trails from neglect and renews public agency interest in hiking trail systems to grow and thrive. At the heart of their service, the non-profit brings community volunteers together to steward Oregon's trail systems on local, state and federal lands. We are proud to support TKO's service in providing safe and welcoming access to the benefits of the outdoors.
Outdoor enthusiasts, beer drinkers, and those who straight-up love anything that comes from the heart of Oregon should know that every adventure should start with lacing up a pair of Danner boots and end with cracking open a Rock Hop Cold IPA. Made for enjoyment at home and/or on the trails, the Cold IPA will be available at liquor retailers and on tap at pubs and restaurants throughout most western and mountain states.
To locate Rock Hop distributors, consumers can utilize 10 Barrel's Beer Finder here. For more information about Danner's high-quality boots, visit Danner.com.
Follow @10barrelbrewing and @dannerboots on social media for Rock Hop event information and updates.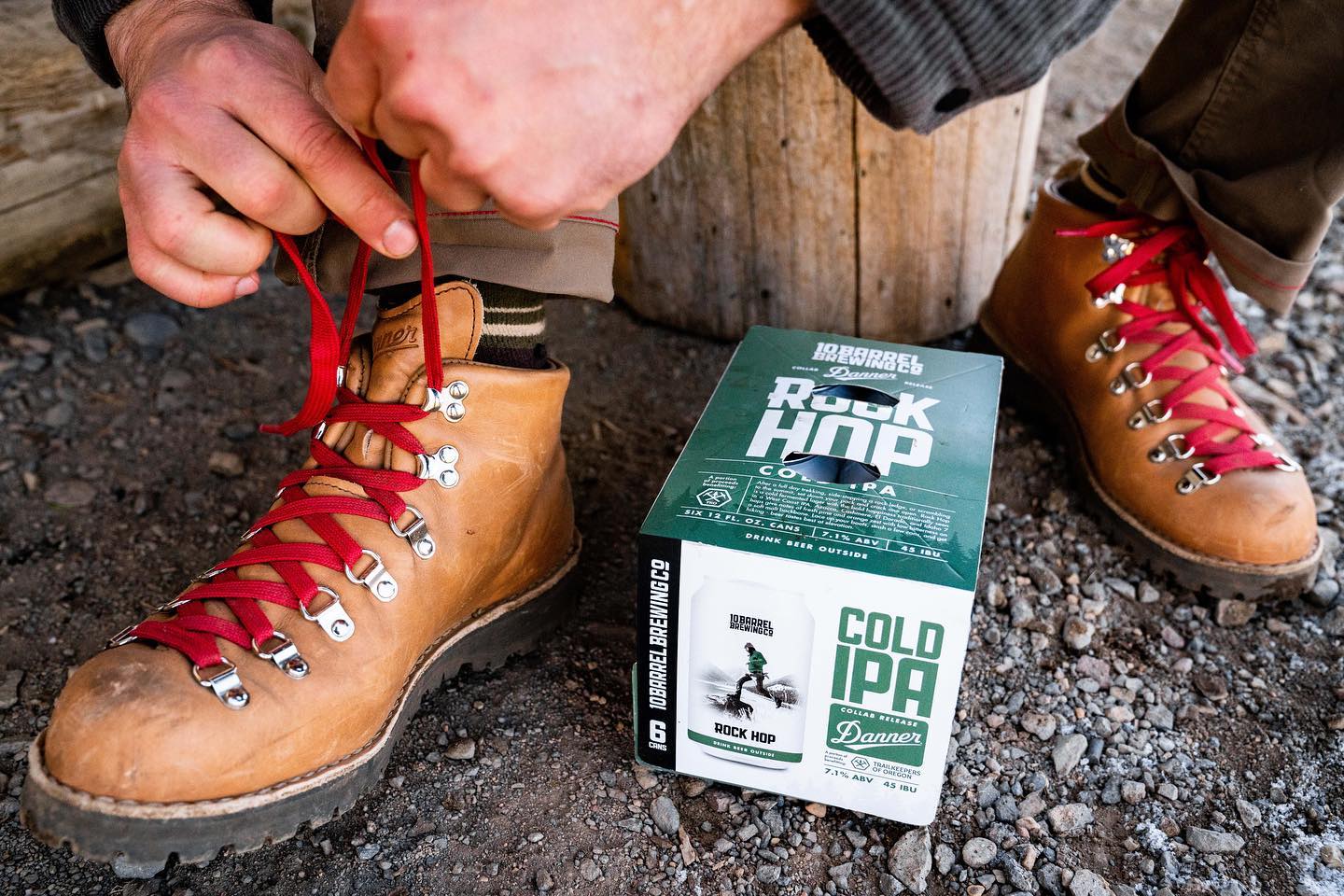 ABOUT DANNER.
For nearly a century, Danner has crafted boots with purpose and integrity footwear to equip those who choose the unlikely path, those who cut fresh trails, those who pioneer. In 1936, Charles Danner came West to build the best boots loggers had ever known, an effort that resulted in a long standing heritage brand with a renegade spirit. A spirit that proudly lives on in each pair of Danner boots we make to this day. Whether you want to hike, work or simply walk around town, Danner boots are meant to take you somewhere. Lace a pair up and Go There. www.danner.com.
ABOUT 10 BARREL BREWING CO. 
10 Barrel Brewing Company is a craft brewer based in Bend, Oregon, featuring innovative beers brewed locally at each of its five brewpub locations in Oregon, Idaho, and Colorado. 10 Barrel has one simple mindset: brew beer, drink beer and have fun doing it. For more about 10 Barrel Brewing Co., visit: 10barrel.com.