21st Amendment Brewing Returns with Fireside Chat Winter Ale
|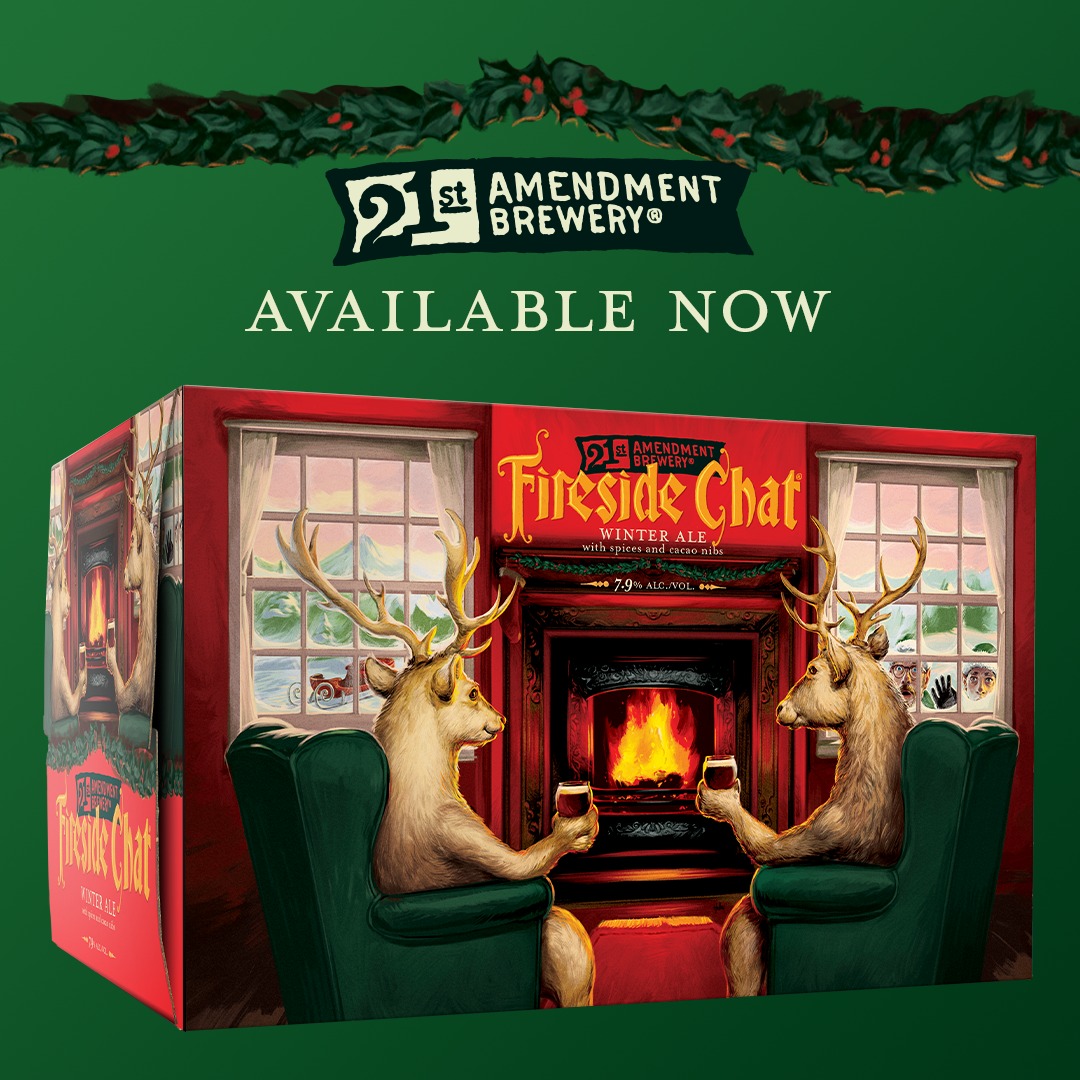 The beer that earned 21st Amendment Brewing its first Great American Beer Festival medal returns in time for the holidays with a new, refreshed look. Fireside Chat Winter Ale is now hitting store shelves and taps in new packaging that depicts two reindeer enjoying a Fireside Chat next to a crackling fireplace, with elves peeking through the windows.
Fireside Chat is a winter warmer that's full of spices and rich, decadent cocoa nibs. It's an excellent beer to have on hand for those chilly nights as it sits at a bold 7.9% ABV.
"Fireside Chat is a beer we've been making every holiday season since we opened our pub in 2000," says Nico Freccia, 21st Amendment COO and Co-Founder. "It's the very first Great American Beer Festival medal we won back in 2001. So it was really fun to re-think the design and branding for this beer, really leaning into the holiday season and a sense of fun. While we play with the spices each year for just the right holiday flair, the beer hasn't changed and it's still the best beer out there for your holiday table, as a gift for a friend, or just to enjoy by a warm fire."
Shaun O'Sullivan, Co-Founder and Brewmaster at 21st Amendment Brewery describes Fireside Chat as having "a deep amber color, bright toffee foam-laced head, soft spice profile, and a rich subtle chocolate layer on the finish that's wonderfully elegant." According to Shaun, Fireside Chat "really comes together with the new package design depicting two reindeer in comfortable chairs, enjoying glasses of Fireside Chat in front of a roaring fireplace while two despondent elves look on from the snowy outside wishing they were inside. Be like a reindeer and enjoy this beer with your reindeer friends."
Fireside Chat is available through the month of December in 6 packs and draft in all 34 states where 21st Amendment distributes. For more information and to find some using their beer finder, please visit www.21st-Amendment.com.