AleSmith Brewing and Weathered Souls Brewing Collaborate on Diego Antonio IPA
|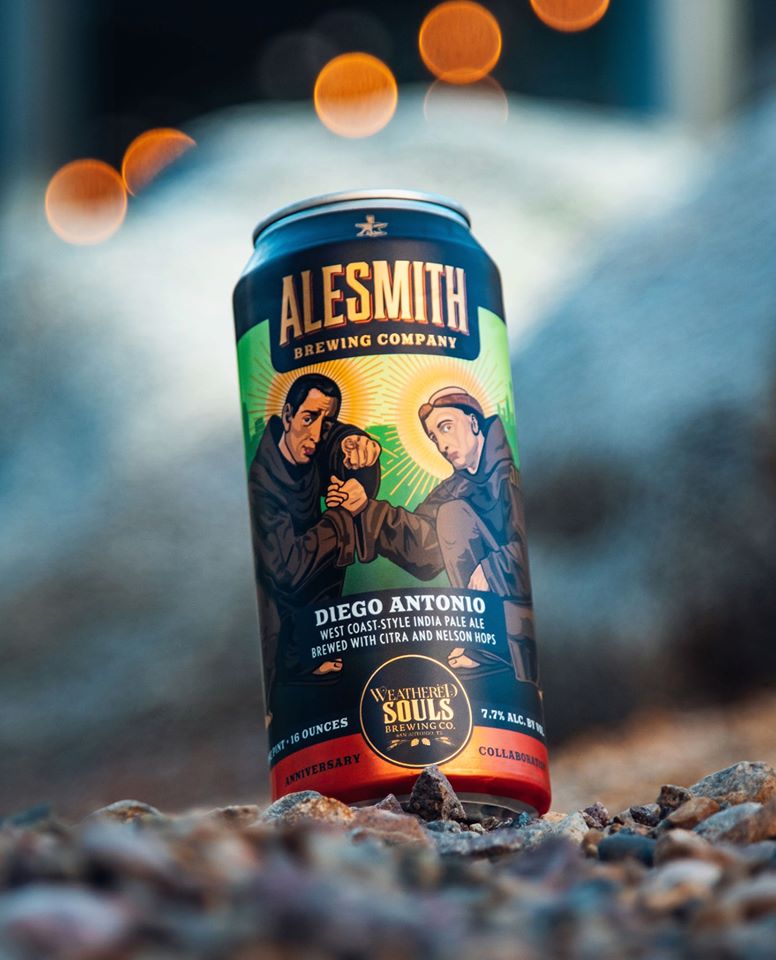 As it continues to celebrate 25 years of brewing, AleSmith Brewing has collaborated with Weathered Souls Brewing on Diego Antonio, a West-Coast Style IPA. Named after the patron saint of each brewery's hometown – San Diego and San Antonio – Diego Antonio is characterized by its unique Citra and Nelson Sauvin hops, yielding a smooth tropical flavor profile.
Weathered Souls Brewing has been in the press a lot lately regarding the brewery's Co-Founder, Marcus Bakersville initiative to create the Black is Beautiful beer collaboration movement. The connection between both breweries began years back when AleSmith Warehouse Supervisor/Brand Ambassador Will Izor and Marcus Baskerville connected through a private craft beer group.
"Even though we met before the beer group, the beer group is where we became really close," said Izor in a press release. "We were hanging out in San Diego among mutual friends crushing beers and realized we have the same passion for craft beer. That is when we knew we would be doing something big in the future."
Through their shared fervor for the industry, the two friends exchanged beer during Baskerville's visits to San Diego, where they ongoingly discussed potential partnership opportunities. Showcasing Baskerville's known expertise in stouts and hazy IPAs was a no-brainer for Izor as he honed a lineup of collaborations to celebrate AleSmith's 25th anniversary, and thus resulted in two projects between AleSmith and Weathered Souls: one stout-centric and one IPA.
Originally from Sacramento, Baskerville's deep appreciation for West Coast-style IPAs inherently aligned with AleSmith's Southern California roots, while his affinity for his craft spurred the addition of hops not typically found in West Coast IPAs.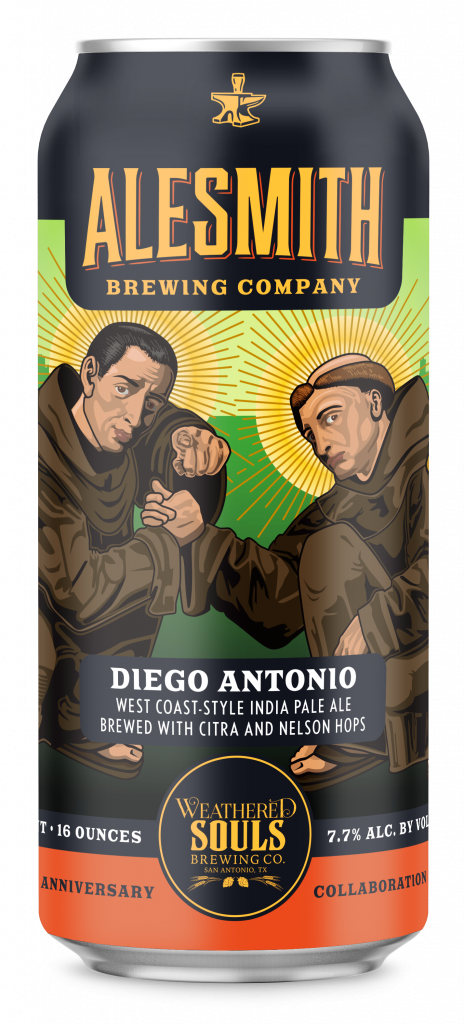 "When AleSmith and Weathered Souls collaborate, you can't be surprised when the beer is an easy drinking, hoppy, dank bomb that we all love…with a lighter malt build," says Izor, who applauds collaborative brew's uniquely refreshing taste.
Diego Antonio IPA is currently available in 16oz can four-packs and draft. It can be found in the marketplace with distribution throughout Arizona, Nevada, Oregon, Southern California, Texas (draft kegs only), Australia, Mexico and South Korea. To better locate Diego Antonio IPA use the AleSmith Beer Finder: https://alesmith.com/beer-finder.