AleSmith Brewing Company and Beachwood Brewing Collaborate on Tower of Flower IPA
|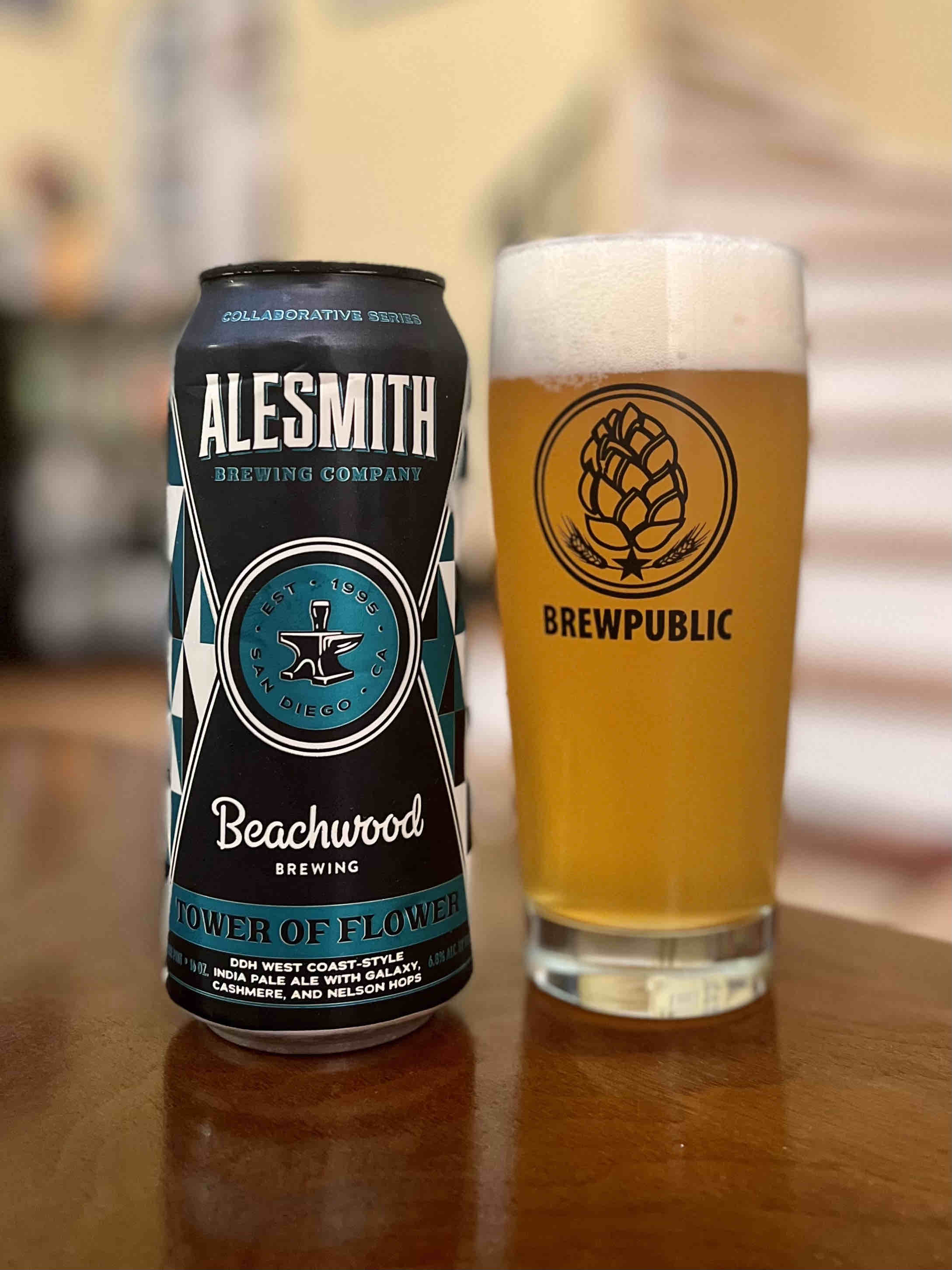 One of Southern California's long-standing brewers, AleSmith Brewing Company partners with Beachwood Brewing on Tower of Flower IPA. This new delightful double dry-hopped West Coast-Style IPA is bursting with hoppy tropical citrus aromas and flavors.
"We love partnering with breweries that enjoy the process of brewing as much as we do, so we were stoked to team up with Beachwood again for Tower of Flower," said Ryan Crisp, Head Brewer and Director of Brewery Operations at AleSmith, in a statement. "If anyone can forge a solid West Coast-style IPA, it's two SoCal breweries with a shared passion for hops."
This passion of hops sure shines through on Tower of Flower. Labeled as a West Coast-Style IPA, this hoppy ale shines with its tropical citrus aromatics and clean, filtered appearance. But its flavor is what leads us back to this IPA.
The hop blend of Galaxy, Cashmere and Nelson in Tower of Flower brings forth plenty of pleasant juicy flavors, almost what's found in a Hazy IPA. But these flavors are not as soft as what's expected in a Hazy and not as bitter in a true West Coast IPA. Almost a balance between the two styles and closer to the new Mountain IPA style that's beginning to hit the scene. Tower of Flower sits at 6.8% ABV and 40 IBUs.
"AleSmith is a bastion of the craft beer industry and Beachwood was honored to be a part of another amazing collaboration," said Co-Owner and Brewmaster of Beachwood Brewing, Julian Shrago, in a statement. "We're grateful for our collective group of beer-drinking fans and couldn't be happier with this fantastic IPA brewed with some of the finest and most aromatic hops around."
Tower of Flower IPA is currently available in 4-pack, 16-oz. cans at AleSmith's tasting room and at select retailers nationwide. Find a store closest to you by using the AleSmith Beer Finder.