Alesong Brewing and Blending To Host Winter Bottle Release On Zwickelmania
|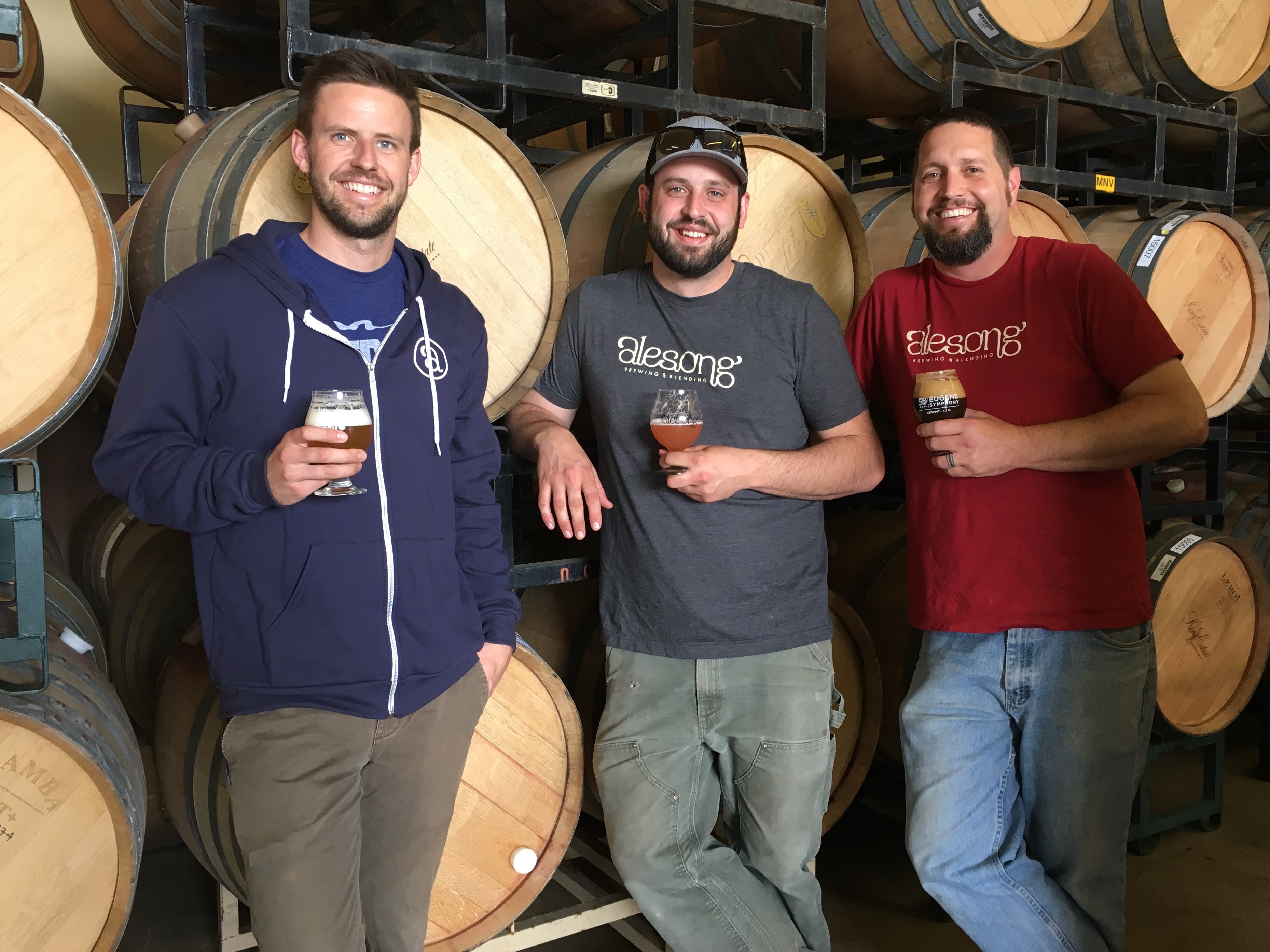 EUGENE, OR:  On Saturday, February 25th from 11 – 4 p.m., Eugene's Alesong Brewing and Blending is hosting its third release of barrel-aged beers in conjunction with the Oregon Brewers' Guild Zwickelmania Celebration. Alesong's new beers will be available for tasting for the first time and bottle pickup for mailing list members (sign up at alesongbrewing.com/join). Additionally, and in the Zwickelmania spirit, the brewery will be offering zwickel tastes off of the tank of a currently fermenting beer.
"This is a really fun release for us! We're putting out a couple of awesome bigger beers that will go well with a cold February day, but also starting to look forward to some sunshine in the not too distant future with a nice springtime Biere de Mars. And timing with Zwickelmania will allow people another different look into what we're doing here at Alesong," says cofounder Doug Coombs. Beers to be released include:
Mocha Rhino Suit – a coffee and cocoa version of Alesong's bourbon barrel aged imperial milk stout
Maestro – barleywine aged in a blend of whiskey (bourbon, wheat, rye) and Pinot Noir barrels
Cocoa Maestro – a chocolate variation of their barrel-aged barleywine (for mailing list only)
Cherry Parliament – a tart red ale with cherries, aged in wine and second-use bourbon barrels
Here Comes the Sun – our non-barrel-aged Biere de Mars, perfect for springtime sipping
EVENT DETAILS:
The event will take place from 11am-4pm on February 25th at Alesong's brewery at 1000 Conger Street in Eugene. Beers will be released online first to Alesong's mailing list a couple weeks prior to the release and this will be the official pick-up party. For members who have purchased bottles during the online presale, orders will be ready for pickup and free samples will be available of each, served in commemorative glassware and accompanied with carefully paired cheese bites.
Non-mailing list members are also welcome to come through as part of Zwickelmania and there will be a bus making rounds of the Eugene breweries throughout the day. For non-members, we'll have free zwickel samples and tours. Tastes of our newest release and cheese pairing will be available for purchase ($10; no commemorative glassware) as well as bottles of the new release depending on availability after the presale.
ABOUT ALESONG BREWING AND BLENDING: Alesong Brewing and Blending was founded by industry veterans looking to explore their creativity outside the constraints of a typical production brewery. Alesong strives to brew unique and small-batch beers with a focus on oak aging and Belgian-inspired techniques, brewing both wild and non-wild beers, using locally grown fruits, herbs and a host of special yeasts and other microbes. Once the beer in the barrels has matured, the team samples and selects each barrel individually to blend. Paying homage to old-world Lambic blenders and artisan winemakers, Alesong believes that the final, balanced blend of a barrel-aged beer is much more satisfying than the sum of its parts or each individual barrel by itself. For more information, visit alesongbrewing.com.