Alesong Brewing & Blending 2022 Fall Beer Releases
|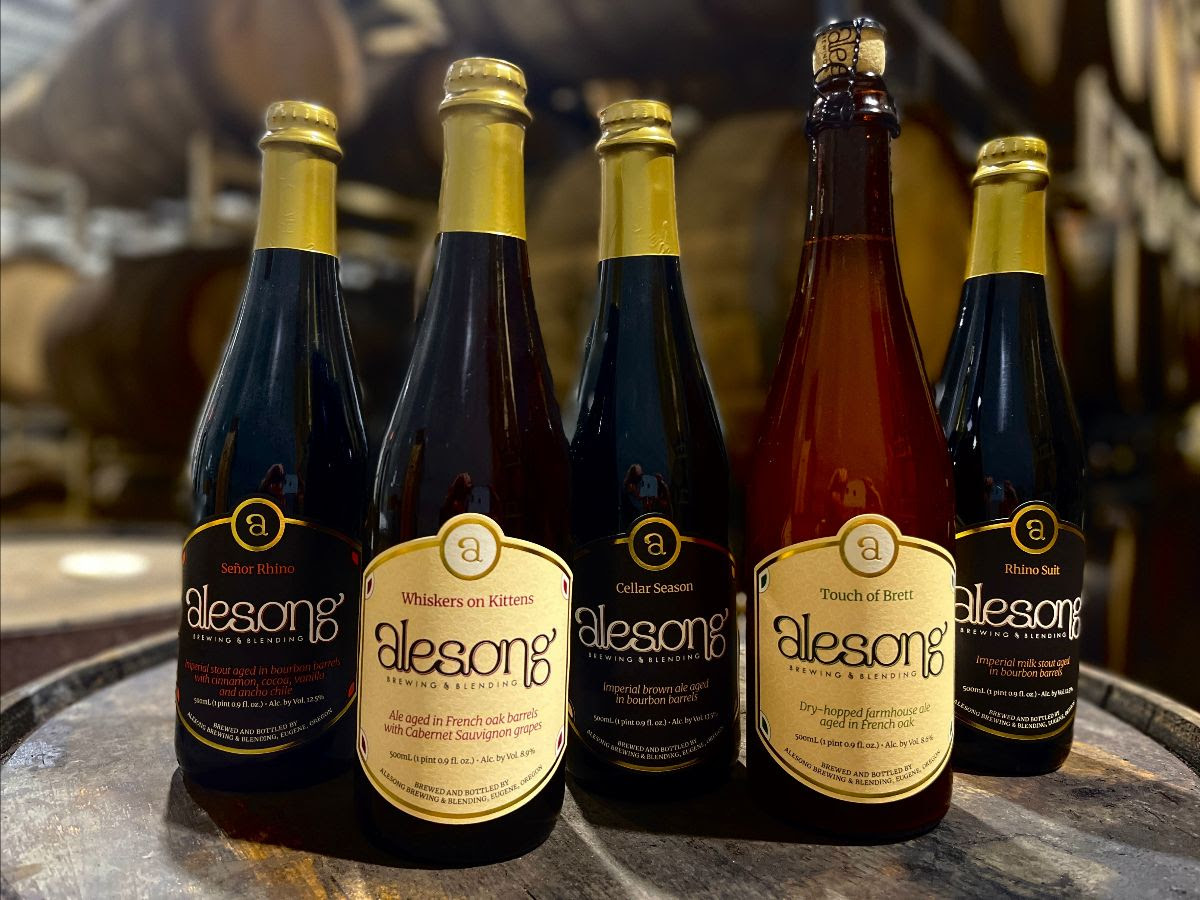 With autumn now in full swing, Alesong Brewing & Blending has released its assortment of five barrel-aged beers, perfect for the cooler days ahead.
This Fall Release includes the return of a few fan favorites including the award-winning Touch of Brett. Also part of the five-beer release are three bourbon barrel aged beers – Rhino Suit, Señor Rhino, and Cellar Season. Rounding out the release is the Blender's Circle Club only, Whiskers on Kittens.
Here's a rundown on all five beers.
Touch of Brett  – Our most award-winning beer and still one of our absolute favorites! This year's 100% brettanomyces-fermented saison was dry-hopped with Nectaron hops, an awesome new Southern Hemisphere variety that is loaded with stone fruit and citrus character.
Cellar Season – Like Kentucky Kilt's big brother, this massive brown ale was aged in bourbon barrels for the better part of a year and is ready just in time for your winter sipping needs!
Whiskers on Kittens  – The bold encore to Raindrops on Roses, Whiskers on Kittens showcases the big flavors of our favorite Bordeaux varietal, Cabernet Sauvignon, against the backdrop of a blend of tart farmhouse ales. (club exclusive)
Rhino Suit – The OG! This may be our best vintage of Rhino Suit yet! We love this beer and eagerly await its annual return. Rich chocolate, dark roast, and bourbon-barrel-induced vanillins never get old!
Señor Rhino – Mr. Rhino's Mexican-hot-chocolate-inspired cousin. Warming chiles, spicy cinnamon and smooth vanilla are the perfect complement to the rich and chocolatey base beer. ¡Salud!
All five beers will be available for tasting at Alesong's downtown tasting room in the 5th Street Public Market beginning today, while Rhino Suit and Señor Rhino will also be available at retailers throughout the Pacific Northwest.  Bottles of Whiskers on Kittens are reserved exclusively for Blender's Circle bottle club members. For more information on Blender's Circle membership, visit www.alesongbrewing.com/join
"Stout season is back!  We're thrilled to have a full lineup of bourbon-barrel-aged beers available again, especially with the onset of winter weather we've seen over the past week," says Alesong Founding Brewmaster and Director of Sales, Matt Van Wyk. "Obviously you can't overlook Touch of Brett, which has won four medals at the Great American Beer Festival, but really I've been waiting anxiously for another Cabernet beer since our 2019 hybrid featuring those grapes was one of my all-time Alesong favorites!"
More information on each of the new beers can be found on the Alesong Brewing & Blending blog at www.alesongbrewing.com/blog.