Alesong Brewing & Blending Fall 2018 Bottle Release
|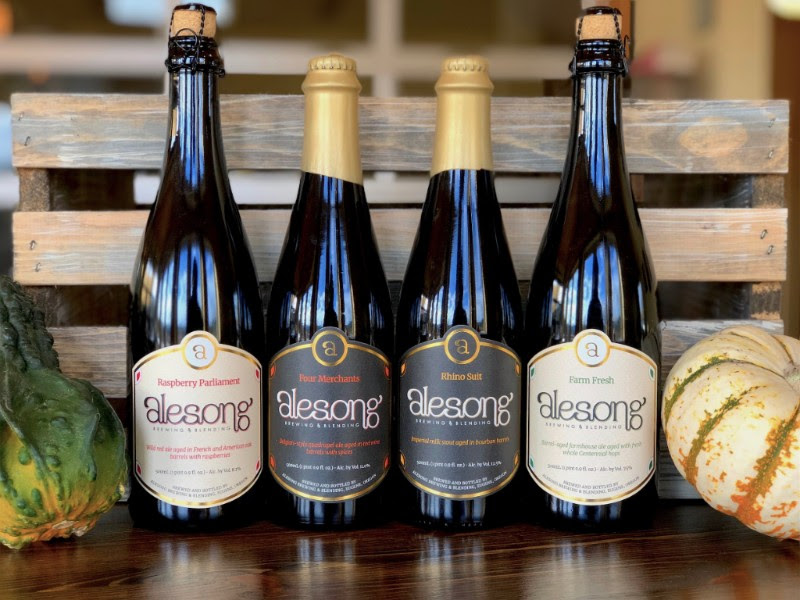 Still riding high winning three medals at the 2018 Great American Beer Festival, Alesong Brewing & Blending is preparing for its forthcoming Fall 2018 Bottle Release. In less than two weeks the Eugene based brewery will host its Fall 2018 Bottle Release for Raspberry Parliament, Four Merchants, Rhino Suit 18, and Farm Fresh.
"It feels like just yesterday the sun was shining and we were unveiling our summer release beers" said co-founder, Doug Coombs in a statement. "But fall is officially here and we're excited to share these new beers to enjoy as the seasons change!"
The bottle release will take place at Alesong Brewing & Blending's Tasting Room just south of Eugene on Sunday, November 11, 2018 from Noon-6:00pm. Visit Alesong's online store (here) to pre-order bottles of this quarter's beers. A 6-bottle purchase will get you access to the exclusive release party.
To gain access to the fourth beer in the release, Farm Fresh, you must become a member of the brewery's Blender's Circle. In joining you will also be allowed to bring a guest with you to the release, and all the other club member benefits!
During the release party Alesong will have tastings of each of the new beers paired with delicious small bites, and live music! Beers will be released online to its mailing list a few weeks prior to the event, and the only way to get into the party is to order from the presale.
Here are descriptions of each of the four Fall 2018 beer releases provided by Alesong Brewing & Blending.
Rhino Suit '18
Rhino Suit was the first spirits-barrel-aged beer we released at Alesong (way back in the winter of 2016!), but remains one of our favorites. This year's rendition of our imperial milk stout was matured in freshly emptied Heaven Hill bourbon barrels to add velvety layers of vanilla and coconut to the sweet and chocolatey malt flavors of the base stout. Click for the full backstory
ABV: 12.5%
IBUS: 31
Cases Produced: 380
Malt: Simpson Golden Promise, Rahr 2-row pale, Flaked Oats, Weyerman Light Munich Malt, Weyerman Caramunich II, Honey Malt, Simpson Chocolate malt, Simpson Coffee Malt, Roasted Barley, Black Malt, Weyerman Carafa III, Simpson Crystal 80 and 15, Simpson DRC, Lactose, Brown Sugar
Hops: Magnum
Yeast: Saccharomyces
Barrels: Freshly emptied Heaven Hill Bourbon
Food pairings:cocoa braised lamb shoulder, foie gras, aged parmesan, flourless chocolate cake with cherries
$16 / 500mL Bottle (Member Price $14.40)
Limit 12
Raspberry Parliament
Inspired by the red and brown ales from the Flanders region in Belgium, we initially matured this unique wild ale in Oregon Pinot Noir barrels. It was then moved into 2nd use charred American oak barrels that formerly held bourbon with Oregon raspberries to provide tart and sweet flavors that marry with the mild oak and funkadelic yeast complexities. Ya dig? Click for the full backstory
ABV: 8.2%
IBUS: 4
Cases Produced: 180
Malt: Rahr 2 Row Pale, Weyerman Vienna, Dark Munich, Acidulated Malt, Castle Biscuit, Special B, Caragold, Simpson Dark Crystal, Roasted Barley, Malpass Unmalted Wheat
Hops: Aged Lambic Blend Hops
Yeast: Saccharomyces, Lactobacillus and Brettanomyces
Barrels: French Oak
Food pairings: steamed mussels with white wine and shallots, marscapone on crostini with fresh raspberries, black forest cake
Barrels: Freshly emptied Suerte Extra Añejo Tequila
Food pairings: pollo tacos with salsa verde, queso fresco, lime cheesecake with raspberry sauce
$16 / 500mL Bottle (Member Price $14.40)
Limit 12
Four Merchants
We searched the high seas for just the right spices to complement our rich and complex Four Brothers Quad. Matured for nearly a year in red wine barrels, this mahogany hued, dry, and slightly vinous, trappist-inspired ale is a mosaic of aromas and flavors worthy of your contemplation and introspection. Click for the full backstory
ABV: 11.0%
IBUS: 22
Cases Produced: 40
Malt: Castle Pilsner, Weyerman Pilsner, Rahr 2-row, Weyerman Carafoam, Castle Special B, Rahr White Wheat, Simpson Crystal Rye, Simpson C-60
Hops: Magnum, Kasbek
Yeast: Saccharomyces
Barrels: Oregon Pinot Noir
Food pairings: braised Pork loin with rosemary, aged gouda, figgy pudding
$16 / 500mL Bottle (Member Price $14.40)
Limit 12
Farm Fresh (Member Beer)
Fall in the Pacific Northwest brings the harvest of one of our beer-loving state's most prized crops – hops! We took advantage of this year's bounty by stuffing fresh Centennial hops from nearby Norton Hop Farm into barrels of an aged, light-bodied, and tart farmhouse ale. The transformation brings fruity, citrusy and grassy flavors and aromas, awakening a whole new beer. It's Farm(house) Fresh! Click for the full backstory
ABV: 7.5%
IBUS: 2
Cases Produced: 15
Malt: Weyerman Pilsner, Weyerman Acidulated, Rahr White Wheat, Malpass Wheat, Flaked Oats
Hops: Aged Lambic Blend Hops
Yeast: Saccharomyces, Lactobacillus and Brettanomyces
Barrels: French Oak
Food pairings: grilled salmon with crispy shaved brussel sprouts, herbed chevre, blueberry and raspberry trifle
$16 / 500mL Bottle (Member Price $14.40) – SOLD OUT
In conjunction with the new release, Alesong will be hosting a Portland release celebration on November 14th at Belmont Station. Guests at both events will receive a complimentary tasting of the new beers and food pairings to go along. The new beers will be available for the public in the tasting room and at select restaurants and bottle shops beginning the following week.
Alesong Brewing & Blending
80848 Territorial Highway
Eugene, OR 97405