Alesong Brewing & Blending Fall 2020 Beer Releases
|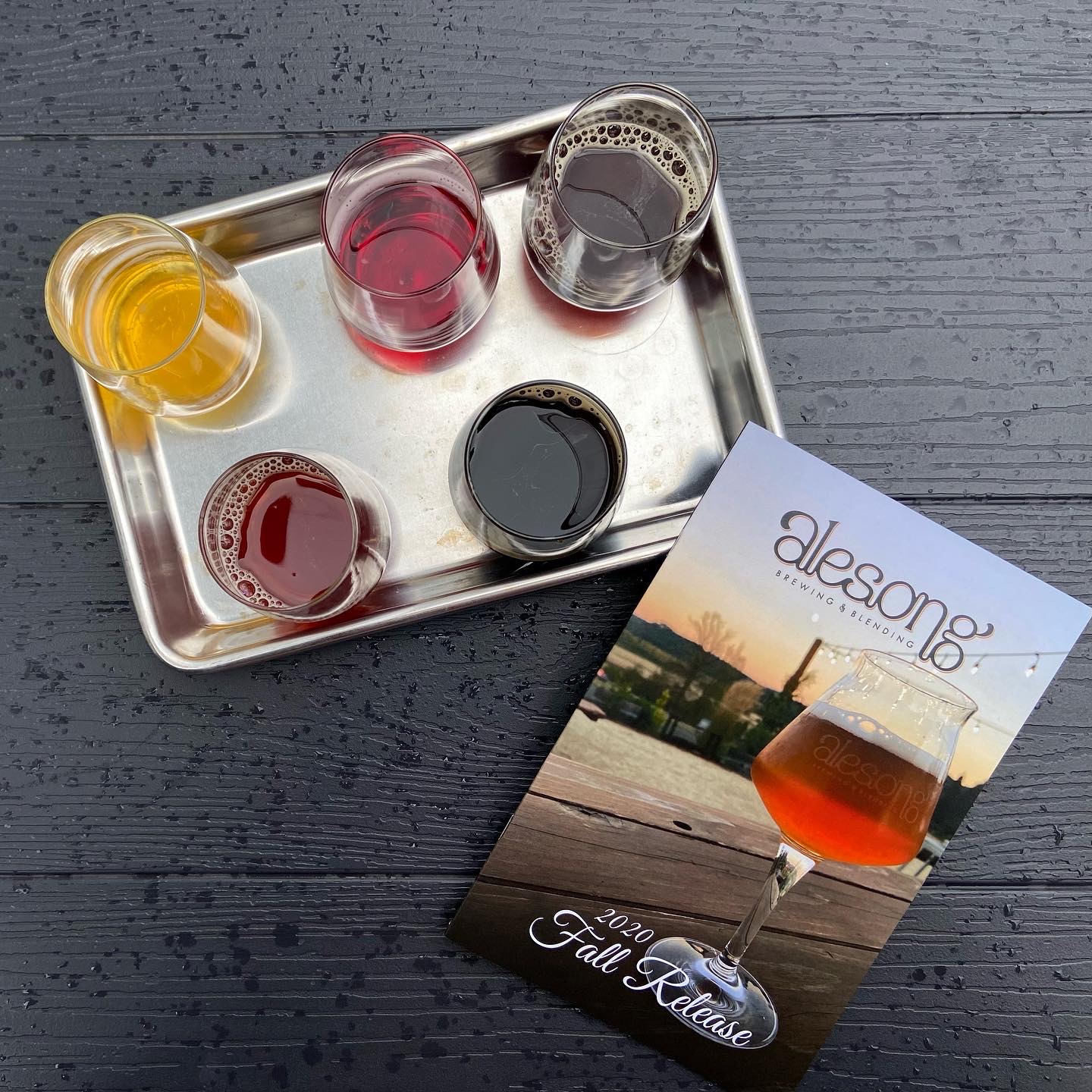 Fresh of medal winning at two prestigious beer competitions and the forthcoming opening of its second taproom, Alesong Brewing & Blending have released – French 75, Mocha Rhino Suit, Rackhouse Reserve, Manhattan, and Terroir Project: Antiquum Farm – all part of the brewery's 2020 Fall Beer Release.
Three of the beers will see full distribution, while the other two beers are essentially only available for Blender's Circle Members. French 75, Mocha Rhino Suit, and Rackhouse Reserve are available in distribution and via Alesong's mail order beer store. Manhattan is also available as part of the Alesong Seasonal Variety Pack that is available to order online and also has a sister beer, Old Fashioned that's being released from pFriem Family Brewers. Terroir Project: Antiquum Farm, that was originally intended to be served at the cancelled 2020 Firestone Walker Terroir Project, has limited availability. It's unfortunate as this beer-wine hybrid was our favorite of the bunch during the brewery's Blender's Circle release a week ago at Function PDX.
During this release in Portland, we also enjoyed the three main bottle offerings. French 75 melded the botanical flavor of the Old Tom Gin barrel quite nicely with the saison that was aged in these barrels. At 9%, this beer was a bit deceiving as it drank quite easily. Mocha Rhino Suit is what any fan of the Rhino Suit Series will come to expect. Lots of chocolate in this one but it's not just one dimensional. Vanilla and coconut flavors from the resting in Heaven Hill Bourbon barrels comes forth. Finally, Rackhouse Reserve at 12.5% ABV is a blend of various beers, some spending 1-1/2 years in bourbon barrels. This beer brings forth the complexities of each of the aged blended beers, perfect for the long nights ahead!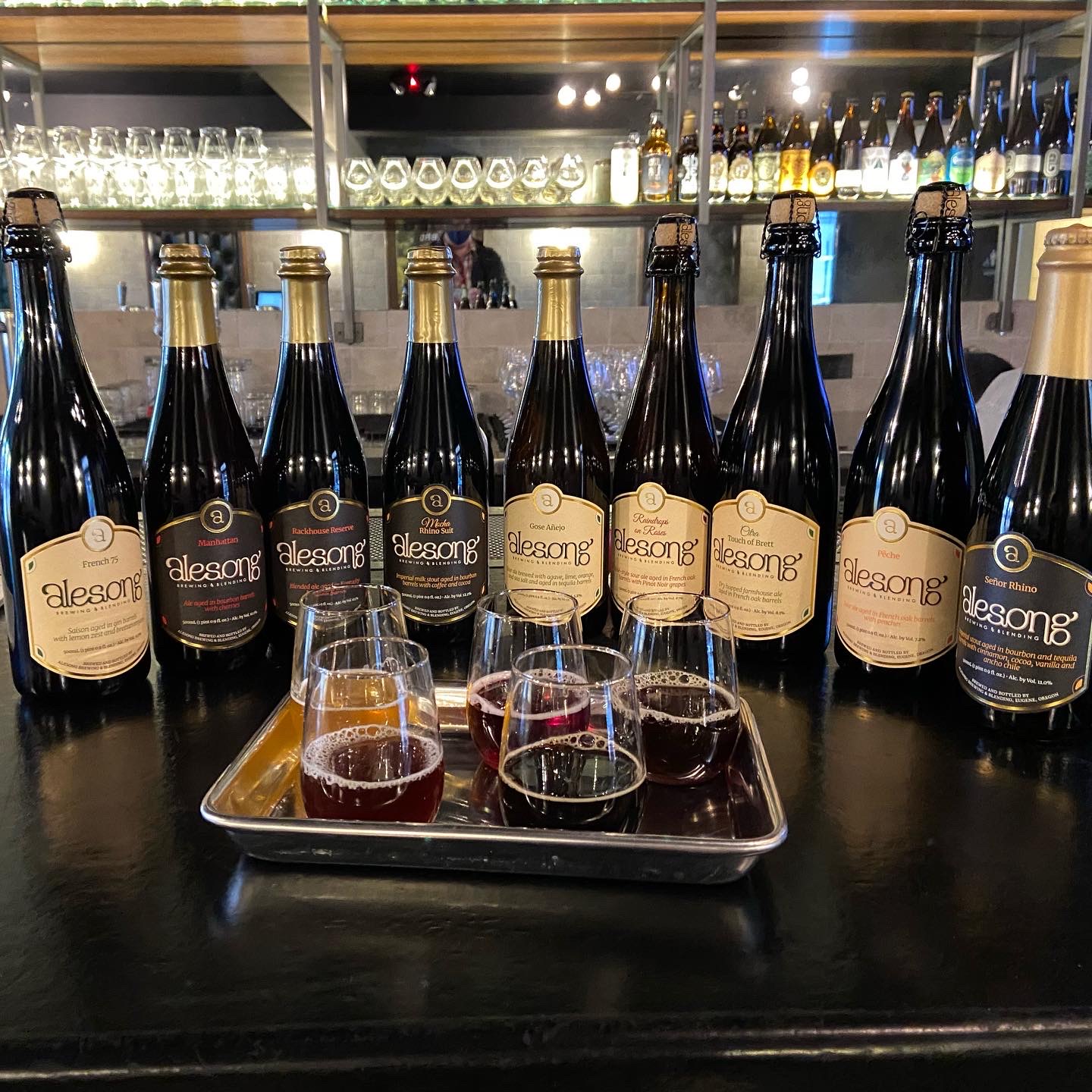 Here are descriptions on the five beers as provided by Alesong Brewing & Blending.
French 75
Our dry, French-style, saison matured in Oregon-distilled Old Tom Gin barrels from Ransom Spirits for nearly 9 months with brettanomyces, lending flavors of citrus, juniper and pepper. Drawing inspiration from our mixologist brethren, we further aged it on fresh lemon zest. A dusting of complex herbal flavors layer over the base saison, resulting in a dry, lemony, and spicy finish. Click here for the full story.
$16 / 500 mL bottle (Member Price $14.40)
Rackhouse Reserve
After tasting through our rackhouse of spirits barrel-aged beers, we selected a complex blend that evolves as you drink. Rackhouse Reserve incorporates ales aged in a variety of bourbon barrels for up to 18 months, culminating in a harmony of warm flavors reminiscent of caramel, toasted marshmallow, spicy oak and dark chocolate. Click here for the full story.
$16 / 500 mL bottle (Member Price $14.40)
Mocha Rhino Suit
A blend of imperial stouts aged in Heaven Hill bourbon barrels and finished on hand-selected and freshly roasted Nicaraguan coffee and Honduran cocoa nibs from the local artisans at Coffee Plant Roasters and Chocolate Alchemy. Notes of vanilla and coconut marry with the flavors of dark cocoa and roasty coffee for a decadent treat any time of day. Click here for the full story.
$16 / 500 mL bottle (Member Price $14.40)
Manhattan
Alesong's half of a two-part bourbon-barrel-aged collaboration with our friends at pFriem was inspired by one of our favorite heritage cocktails: the Manhattan. Our version boasts notes of spicy rye, barrel-induced vanilla, and sweet Oregon cherries, all coming together to bring you a beer that pairs perfectly with leather-bound books and mahogany-paneled walls. Click here for the full story.
Available via Alesong Seasonal Variety Pack
Terroir Project: Antiquum Farm
Brewed as part of Firestone Walker's collaborative Terroir Project, we co-fermented this beer with Antiquum Antiquum Farm Pinot Noir grapes, sourcing our yeast solely from the microflora naturally occuring on the grapes' skin. This beer is a marriage of Antiquum Farm's terroir and our processes, resulting in a beer that is a unique snapshot of our place and time. Click here for the full story.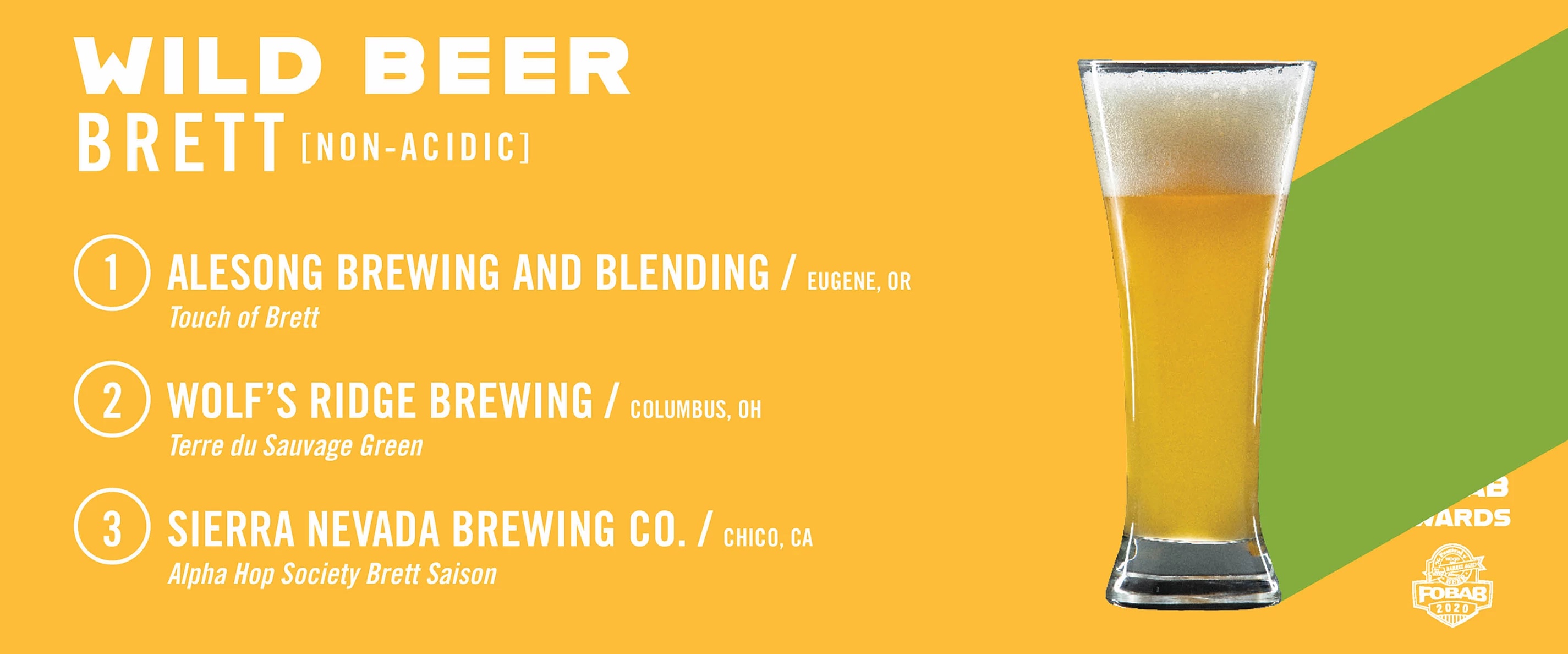 Circling back to the earlier mention of the recent medals that Alesong Brewing & Blending have been recently awarded with, the brewery still has bottles of its Touch of Brett: Citra. This past weekend, the beer took home a Gold Medal at the 2020 Festival of Wood & Barrel Aged Beer. And if this isn't enough to get you to purchase a bottle, the beer also was awarded a Silver Medal at the 2020 Great American Beer Festival. Definitely a great bottle to purchase for the at home drinking that will be more common place as the pandemic ravages on.