Alienator IPA – Brewed for McMenamins 20th Annual UFO Festival
|
The 20th Annual UFO Festival returns to downtown McMinnville, Oregon from May 16-18, 2019. This annual weekend festival that celebrates the lore of a UFO being spotted by a family some 70 years ago on its farm brings out some unique festivalgoers. It also marks the return of Alienator IPA from McMenamins.
This year's UFO Festival will feature renowned speakers and experts, movie screenings, radio broadcasts, vendor booths, live music, alien trivia, the Alien Abduction Dash fun run, pet costume contest, beer tastings, dining with speakers and the Alien Costume Ball.
And of course there will be plenty of Alienator IPA pouring at McMenamins Hotel Oregon. Here's a description of the beer provided by McMenamins.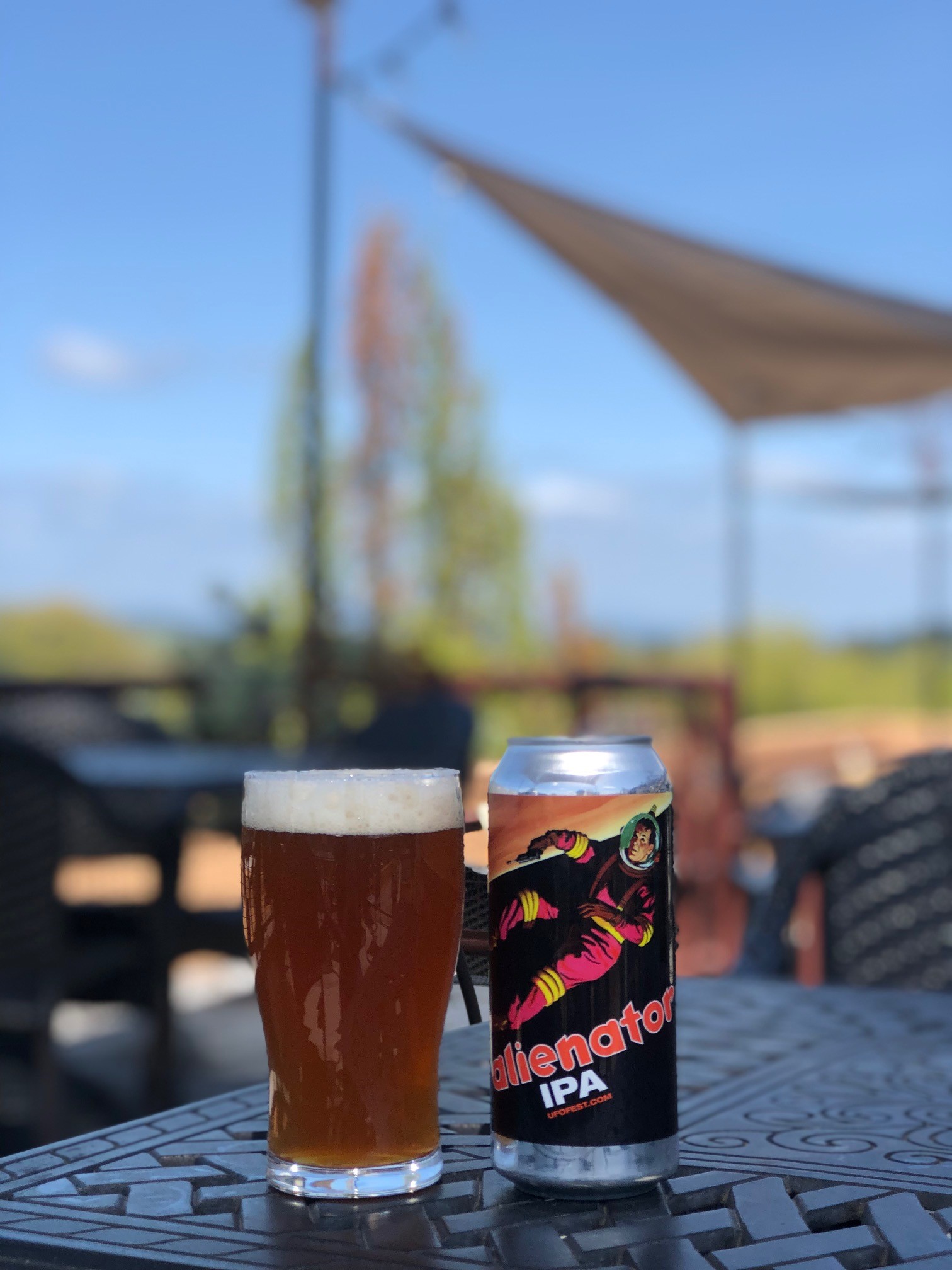 Alienator IPA
This beer is sure to make a believer out of any skeptic! Orbiting above the Alienator IPA are tropical, fruity aromas provided by a thorough dry-hopping using Mosaic and Citra Hops. This tasty recipe yielded a fascinating orange hue complete with luminous hop flavor. Alienator's lush aroma and distinct hop character is perfect for those who prefer their ales strong and hoppy.
Malts: Pale, Vienna, Rolled Oat, Carastan 30/37
Hops: Citra, Chinook, Mosaic
OG: 1.061 TG: 1.011 ABV: 6.45 IBU: 45
Another beer to be on the look out for from McMenamins is the return of Tropic Heat Sour in 16oz cans. This beer will be available beginning on May 24, 2019. Here's the brewery's description of Tropic Heat Sour.
Tropic Heat Sour
Tropic Heat is a kettle soured ale brewed with pink guava puree, coconut and habanero peppers. The heat contribution from the peppers is very minimal and creates a pleasant background quality that lingers. This slight spiciness accentuates the fruity, full guava taste that is this beer's foundation. Coconut was also added to pleasantly blend all the fine flavors together.
Special Techniques: Kettle Soured
Special Ingredients: Habanero, Coconut
Fruit: Pink Guava
Malts: Superior Pilsen, Pale, Wheat, Acidulated
Hops: Meridian
OG: 1.052 TG: 1.012 ABV: 5.16 IBU: 8