Anderson Valley Brewing Co Announces its 2023 Beer Release Calendar
|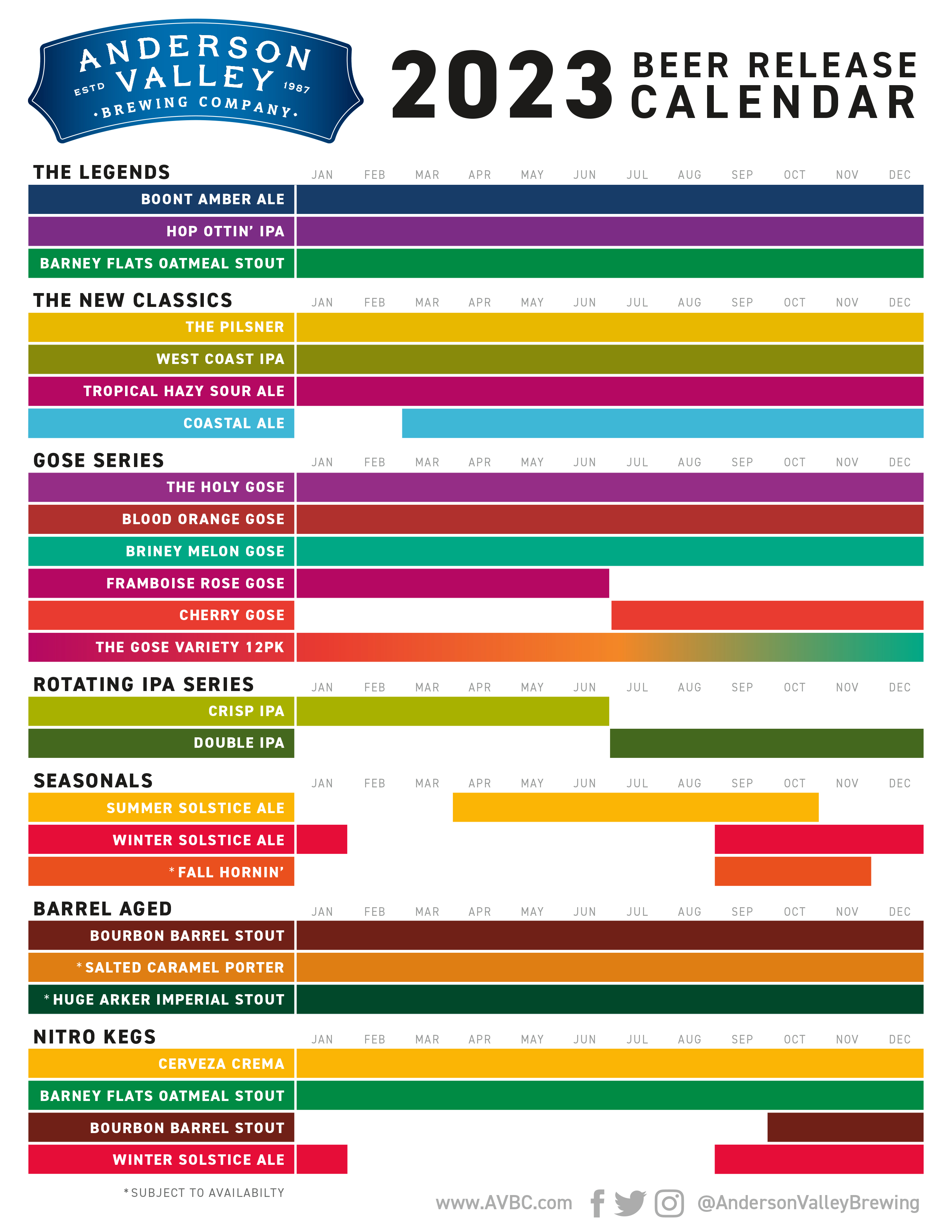 Anderson Valley Brewing Co., one of America's original craft brewers, has announced its 2023 Beer Release Calendar. The coming year will see many fan favorites returning alongside a few new beers from the brewery that keeps the Boontling language alive in Boonville, California.
AVBC will produce over a dozen of year-round beers. The Legend Series includes Boont Amber Ale, Hop Ottin" IPA, and Barney Flats Oatmeal Stout. The New Classics Series will see The Pilsner, West Coast IPA, and Tropical Hazy Sour Ale all available year-round. The new Coastal Ale will also join this series in March 2023 to be available year-round.
The brewery's popular Gose Series will see three offerings year-round. This includes The Holy Gose, Blood Orange Gose, and Briney Melon Gose. Framboise Rosé Gose and Cherry Gose will be limited release beers during the year. Other year-round beers include the brewery's Barrel Aged Series of Bourbon Barrel Stout, Salted Caramel Porter, and Huge Arker Imperial Stout.
In other brewery news, AVBC has phased out all glass bottles in favor of packaging its beers in aluminum cans in cardboard packaging. According to the brewery, this is the most sustainable beer packaging possible. Recycling an aluminum can uses 90% less energy than glass bottles and this packaging is much lighter and compact so the brewery can ship its beers more efficiently.
"Our last run of Boont Amber in glass bottles was a bit bittersweet because of how historic that beer is, but we have now officially transitioned entirely to aluminum cans with cardboard wrap packaging," said President and CEO Kevin McGee. "We also found that with our new cardboard wraps we use 52% less total cardboard than our old glass package format and we can reduce our overall material costs by up to 30% while doing better for the planet. This is the most environmentally responsible beer package available – a milestone that has allowed us to dramatically reduce both supply chain and packaging costs all while dramatically reducing our carbon footprint."