Bale Breaker Brewing 2022 Fresh Hop Releases
|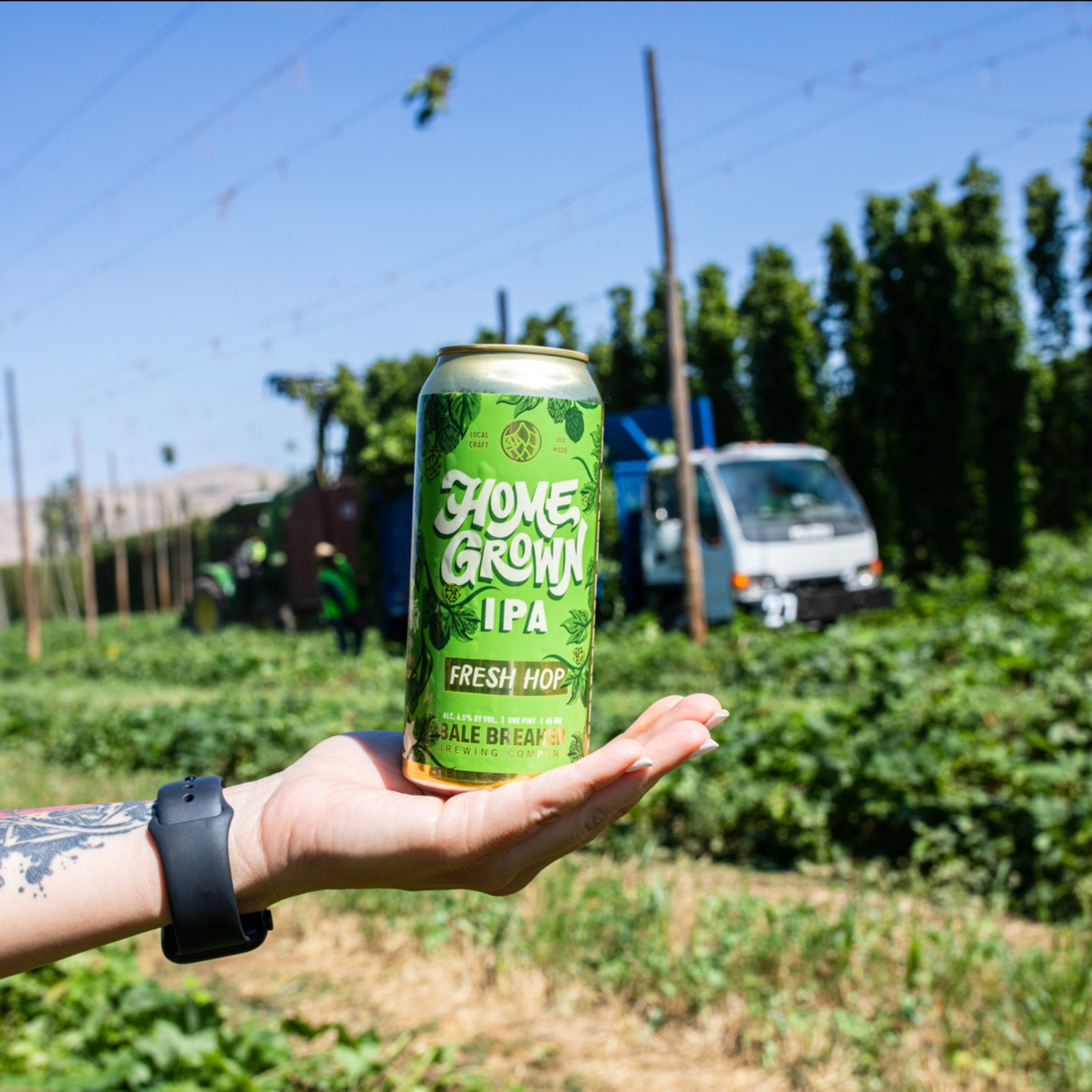 Yakima, Wash. – Bale Breaker Brewing Company, a family-owned brewery located in the beautiful Yakima Valley, is excited to kick off fresh hop season today at both their Yakima and Seattle taprooms with the release of Homegrown Fresh Hop IPA in 16oz 4pks and on draft. This release is the first of many fresh hop beers available from the brewery this season, releasing today along with False Start Fresh Hop IPA, on draft at both taprooms.
Fresh hop season is a special time for the Yakima Valley brewery, the only brewery of its size to grow 100% of their own hops on their 4th generation family hop farm. Homegrown Fresh Hop is an ideal start to the season, featuring fresh Simcoe® hops quickly transported from the farm (4 minutes total from farm to kettle!), as well as Bale Breaker's homegrown barley.
Today's fresh hop season kick-off will coincide with a giveaway: any in-person purchase of a 4pk to-go at either their Yakima or Seattle taproom from now until 9/18 will also serve as an entry into a raffle to win 4 VIP ticket's to Yakima's Fresh Hop Ale Fest on October 8th. Winners will be drawn and notified on 9/19.
Read on to see what's ahead for Bale Breaker this fresh hop season:
Homegrown Fresh Hop IPA
Now available throughout Bale Breaker's distribution network as well as at both taprooms. 
Here in Moxee, WA, September means harvest: coordinating with the barley maltster as the fruity, herbal smells of fresh hops being cut and kilned waft in our windows. Now in our third season as barley farmers and 90 years after the first hops were planted on our family farm, we're proud to share with you this Homegrown IPA featuring our homegrown hops and barley with a generous addition of freshly picked Simcoe® hops. Notes of ripe lemon, grapefruit, blueberry, pine resin, and fresh-cut grass.
ABV 6.5% | IBU 65
Citra Slicker Wet Hop IPA
Releasing 9/30 – available throughout Bale Breaker's distribution network as well as at both taprooms. 
Each hop harvest, the big city brewers from Cloudburst Brewing make the trek from downtown Seattle over the Cascades to team up with the farm brewers from Bale Breaker to brew Citra® Slicker Wet Hop IPA, a fresh hop beer that was first brewed in 2014 with then-owner of Elysian Brewing, Dick Cantwell. While it takes the Cloudburst team over two hours to get to Bale Breaker, the hundreds of pounds of wet Citra® hops picked fresh from the fields travel just four minutes from farm to kettle. Heavily dry-hopped, while light in color and body, this beer is all about these fresh, farm-grown hops!
ABV 6.2% | IBU 60
Draft-only Options
Starting with False Start Fresh Hop IPA, new releases will come out throughout the next few weeks.
False Start Fresh Hop IPA: now available at both taprooms
Piled High Fresh Hop IPA: releasing 9/23 at both taprooms – will also hit wider draft-only distribution throughout Bale Breaker's footprint
Last September releases (on draft at taprooms only):
Zombie Cones
3 Kings(collaboration with Wandering Hop & Variety)
Early October releases (on draft at taprooms only):
Whose Bine Is It Anyway(collaboration with Future Primitive)
Collaboration with 2 Canadian breweries (as yet unnamed)
Collabation with Tampa Bay Brewing Co (as yet unnamed)
About Bale Breaker Brewing Co.
Crafting fresh-off-the-farm brews from the middle of a hop field, Bale Breaker Brewing Company is a family-owned brewery located in the heart of the Yakima Valley. Hops are in the family's DNA: the great-grandparents of sibling-owners Meghann Quinn, Kevin Smith, and Patrick Smith first planted hops in the Yakima Valley in 1932, the year before Prohibition ended. Over four generations, their love of hops has evolved into a passion for craft beer. Today, Meghann, Kevin, Patrick along with Meghann's husband, Kevin Quinn, operate a 30-barrel brewhouse and a 27,000 square foot facility surrounded by their family's hop fields, crafting seven year-round canned beers including the widely celebrated Topcutter IPA, and are distributed throughout Washington, Idaho, and Oregon. For more information, follow Bale Breaker on Facebook and Instagram (@balebreaker), or online at balebreaker.com.