Bale Breaker & Sierra Nevada Collaborate on Frenz IPA
|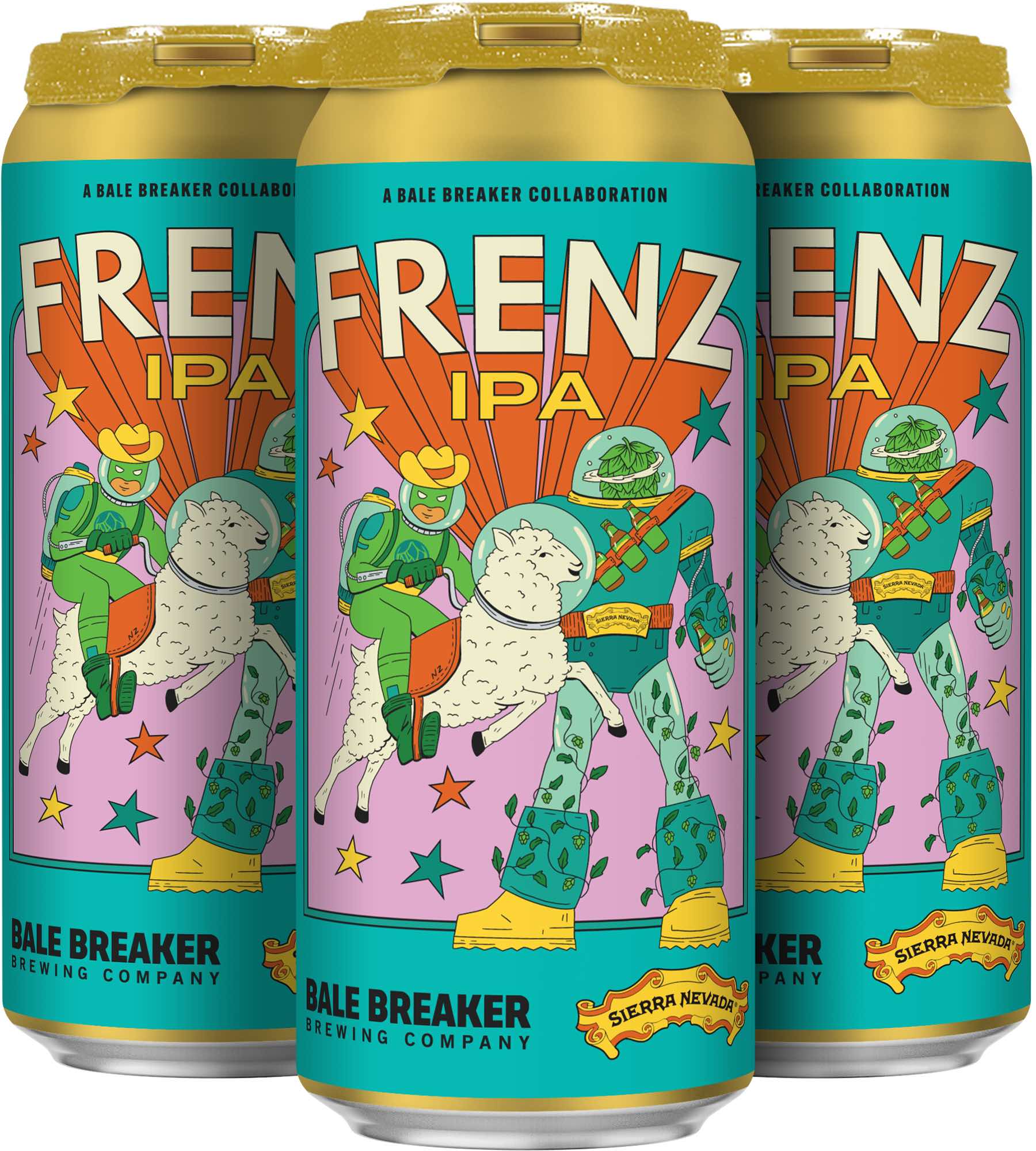 Yakima, Wash. – May 30, 2023 – Bale Breaker Brewing Company, a brewery located on their family's 4th generation hop farm in the beautiful Yakima Valley, is excited to announce the newest 16oz release in their Frenz Collaboration Series. Releasing 6/16 in their Yakima and Ballard taprooms, this summer's Frenz IPA is a collaboration with longtime brewing mentors and friends, Sierra Nevada, as well as Yakima Chief Hops and NZ Hops.
2023 has been a big year for the Yakima Valley brewery: 10 years ago, they opened their doors for the first time, and to celebrate they've had a slew of new releases (including March's Daybreak Pale Ale and the upcoming August release of Skyward IPA). 2023's Frenz series has been particularly special for the brewery: all of the collaborations for 2023 have been with longtime heroes of the brand – these are the breweries that acted as mentors when Bale Breaker was first starting out and have since grown into lifelong friendships. February's Frenz release was with Georgetown Brewing Company, this summer's is with Sierra Nevada, and the brewery's fall release will be a fresh hop partnership with Russian River.
This June's Frenz release with industry trailblazers, Sierra Nevada, comes with an international twist: a partnership with two more multi-generational family-owned companies, Yakima Chief Hops and NZ Hops, to brew with new, highly sought-after New Zealand hops. Earlier this year, Yakima Chief Hops and NZ Hops launched a partnership that allows American brewers easier access to these international hops, and this Frenz release showcases two exciting new hop releases from NZ Hops, Superdelic™ and Nectaron®. PLUS, there's the added benefit of hops grown in the Southern Hemisphere: the hops featured in Frenz were grown and harvested this year! As if this partnership couldn't get even more special – some of the New Zealand hops were grown by longtime family friends of the brewery, Mac Hops, a 5th generation hop farm in Motueka, NZ.
As far as the Sierra Nevada partnership goes: "That was a no-brainer partnership for us for this year's Frenz series," says Bale Breaker co-owner Kevin Quinn. Sierra Nevada owner Ken Grossman's history with the Bale Breaker family goes back further than when the brewery first opened – he's been coming to the family hop farm, Loftus Ranches, since the early 1980s. "Ken Grossman and the entire Sierra Nevada team helped us out a ton from the get-go, even before we opened our doors. He's been an amazing mentor and helped us plan out the brewery, as well as supported us throughout our decade in business. One of our first collaborations as a brewery was when Sierra Nevada asked us to be the NW Region lead in Beer Camp Across America in 2016, and we collaborated on Moxee-Moron, an Imperial Session IPA." While the two breweries have collaborated in the past, this release is the very first time Sierra Nevada brewers have come to Bale Breaker to brew, rather than the other way around.
About Frenz with Sierra Nevada IPA:
7.1% ABV
We had to do something unique for our latest collaboration, this time with the industry pioneers at Sierra Nevada. This tropical bomb of an IPA was brewed with hops that traveled across the world from New Zealand, thanks to our friends at Yakima Chief Hops and NZ Hops. Features notes of nectarine, mandarin, white grape, and peach. Hop on your space-sheep and let this IPA take you to new heights – made with our Frenz to drink with yours.
Frenz IPA with Sierra Nevada will be releasing on June 16, 2023, at both their Yakima and Seattle taprooms. Teams from Bale Breaker and Sierra Nevada will be at the Bale Breaker Seattle taproom for the release on 6/16/23. This IPA will be receiving larger distribution throughout Washington, Oregon, and Idaho beginning in mid-June. To find the beer outside of the taprooms, check out Bale Breaker's online beer finder. Washington customers can also order the beer to be shipped directly to them from Bale Breaker via their online store after launch.
About Bale Breaker
Crafting fresh-off-the-farm brews from the middle of a hop field, Bale Breaker Brewing Company is a family-owned brewery located in the beautiful Yakima Valley. Backed by four generations of hop farming experience, Bale Breaker started in 2013, and has grown to become the fourth largest independent craft brewery in Washington.  With a 30-barrel brewhouse at a 27,000 square foot facility, Bale Breaker crafts seven year-round canned beers, including the widely celebrated Topcutter IPA, and a diverse offering of seasonal beers in cans and on draft. They have two taprooms: one onsite at the Yakima brewery; and another in Seattle's Ballard Brewing District. Bale Breaker beer can be found in retailers and bottleshops throughout Washington, Oregon, and Idaho. For more information, visit www.balebreaker.com or follow on Facebook and Instagram.