Beer Review – Lagunitas Brewing 2019 Born Yesterday Fresh Hop Pale Ale
|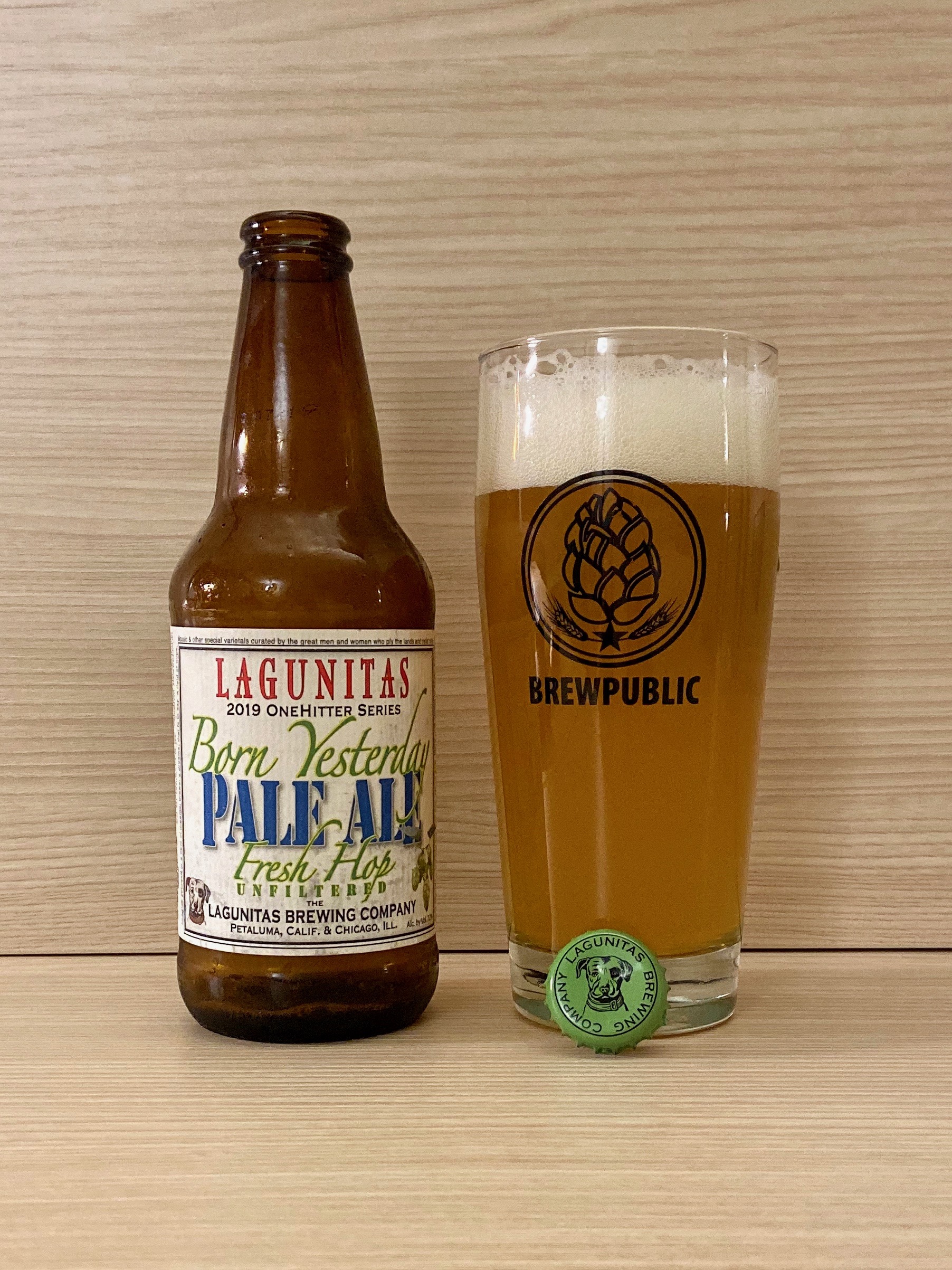 One of the last fresh hop beers to be brewed and released into the marketplace each year is Born Yesterday Fresh Hop Pale Ale. This annual fresh hop beer from Lagunitas Brewing 2019 One Hitter Series uses freshly harvested hops from Perrault Farms in Toppenish, Washington.
Described as a "Newer" New Dogtown Pale, a popular Pale Ale from Lagunitas that sits at a decent 6.2% ABV. However, Born Yesterday is a bigger beer at 7.2% ABV yet the brewer takes the liberty to continue to call the beer a Pale Ale even though it's a whole percentage point above the normal ABV threshold. But what truly sets Born Yesterday apart from New Dogtown is the generous abundance of fresh hops used in this beer!
Each year the brewery slightly tweaks the hop bill on Born Yesterday. The 2019 edition uses Simcoe, Citra, Mosaic, Sabro and one known only to Lagunitas, Indigenous Catawampus hops. Ok, the Indigenous Catawampus may not truly exist but none the less, Lagunitas uses 11 pounds of these wet hops per barrel. And the hops sure shine on this year's version of Born Yesterday.
These fresh hops that are un-kilned, whole cone wet hops bring forth a copious amount of fresh hop aromas and flavors. Once again, Born Yesterday does not disappoint and yet again it's one of the more notable fresh hop beers to hit the market each year. The bottle we sampled was packaged a few days ago on October 7, 2019. Get 'em while they're fresh!
Check out the video below to learn more about the 2019 edition of Born Yesterday Fresh Hop Pale Ale from Lagunitas' Brewmaster, Jeremy Marshall.
2019 Born Yesterday Fresh Hop Pale Ale is hitting the market any day now and will be available in 6-pack, 12oz bottles and on draft for a very limited time. Check out the Lagunitas Beer Finder to assist in your hunt!