Beer Review – Sixpoint Brewery Jammer, Citrus Jammer, Berry Jammer, Tropical Jammer, and Ruby Jammer
|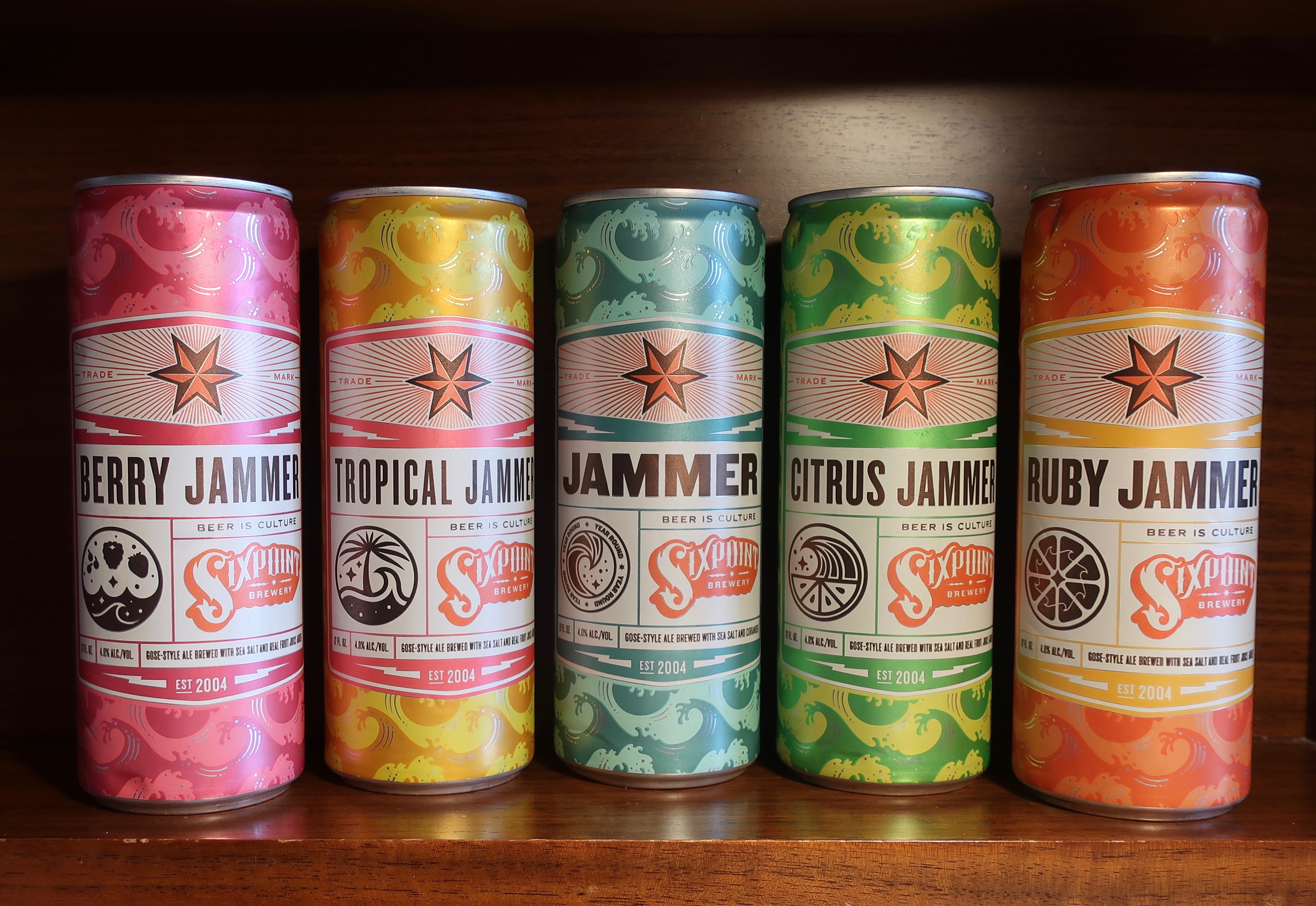 The biggest trend that we see taking place in beer in 2019 are beers that have a bit more of a health-conscious approach. We are seeing many low calorie and low ABV beers placements on store shelves and pouring on tap. Years of big, bold beers have taken its toll on many in the craft beer community and beers with flavor but lower on the calories, carbs and alcohol are making many inroads this year.
One brewery that embraced this movement a few years back is Sixpoint Brewery. The Brooklyn, New York based brewer released its Jammer, its take on a traditional German-style Gose Ale back in 2015.
Since its inception, Jammer had ties to Oregon in that this beer used Jacobsen Sea Salt harvested from Netarts Bay along the Oregon Coast. These sea salts add electrolytes to this beer that at 4% ABV and only 125 calories per 12 ounce serving, makes for the perfect beer for an active lifestyle.
Now in its fifth year, Jammer will see a full line extension with four fruit offerings to this Gose-style beer. Citrus Jammer will return with its lemon and lime juice flavors along with three newcomers – Berry Jammer, Tropical Jammer, and Ruby Jammer.
All five offerings of Jammer are well executed beers that honor the Gose-style ale from Leipzig, Germany. Sixpoint's use of Jacobsen Sea Salt offers the perfect balance to this tart and refreshing sessionable beer. The fruit flavors that are added to the other four Jammer offerings are dead on to the fruit that was used in each beer. Best of all, the five varieties of Jammer all come in at 4% ABV and 125 calories. Perfect for the upcoming warm weather activities in the months ahead.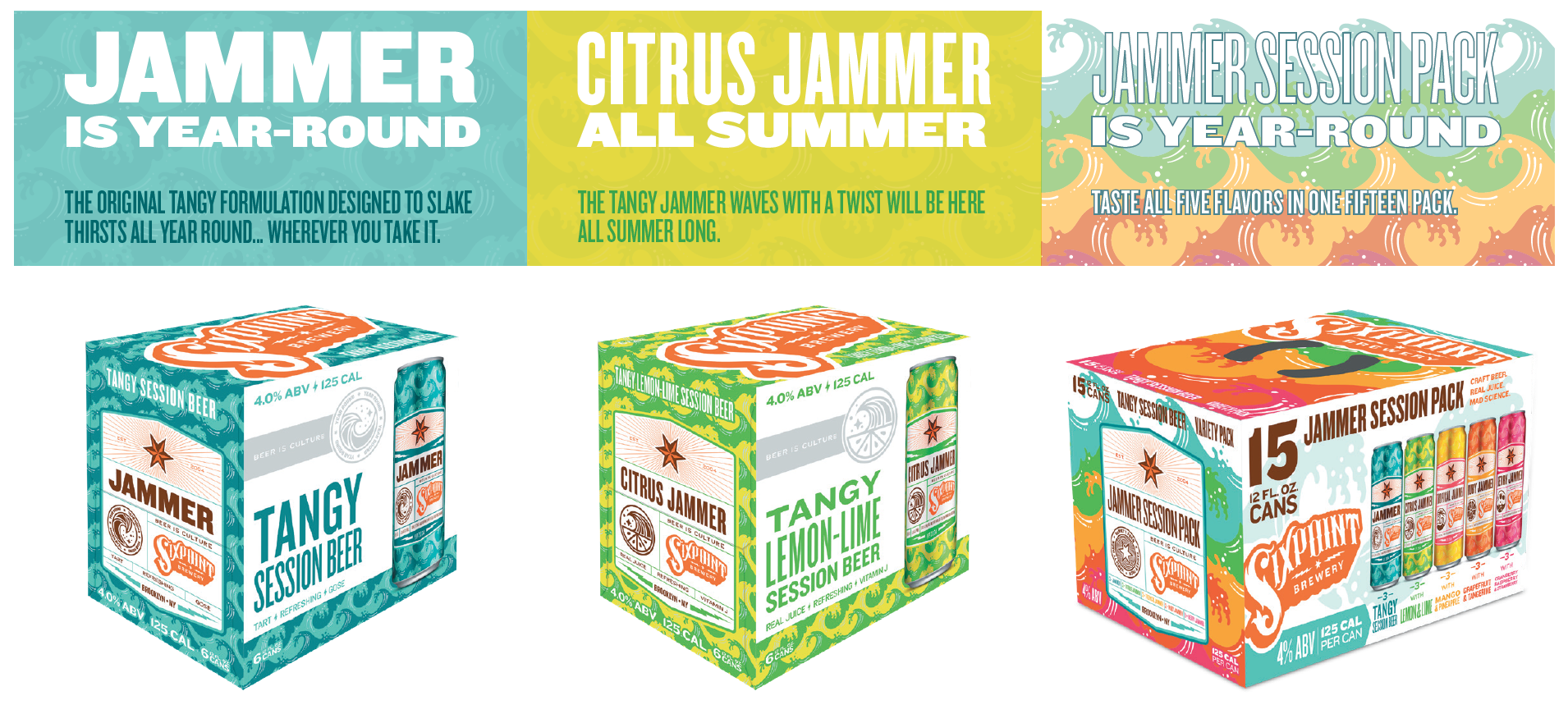 "The Jammer series is the perfect lifestyle beer for the active craft beer fan," said Eric Bachli, Sixpoint's Brewmaster in a statement. "At Sixpoint, we've always been huge fans of the traditional German gose, with its quenching repeatability. The original Jammer honors that heritage with a similar flavor profile, and, more and more, this refreshing formula is resonating with today's drinker. The beer style is represented on the package as 'Tangy Session Beer' to better capture the gently tart, refreshing, super repeatable experience of drinking a Jammer. It's brewed in the tradition of a classic German gose, with sea salt, coriander, and a tart element, but at 125 calories and 4% ABV, it's the type of beer you want to drink as part of a long session. It also serves as an excellent base for experimentation with other fruit profiles."
After sampling through all five Jammer varieties, not a single one disappointed. The fruit enhancements work perfectly with this Gose-style ale. Nothing too overwhelming and that tartness of the base beer works nicely with any sweetness that comes through from the fruit. But if we can only select two, the Tropical Jammer and Ruby Jammer win out. The tropical fruits meld nicely and are perfect for a day of outdoor adventure or lounging at home.
Jammer and Citrus Jammer are each available in 6-pack cans and a new Jammer Session 15 Pack will be hitting store shelves with all five varieties – Jammer, Citrus Jammer, Berry Jammer, Tropical Jammer, and Ruby Jammer.