Bend Brewing Company Announces 2021 Beer Can Release Calendar
|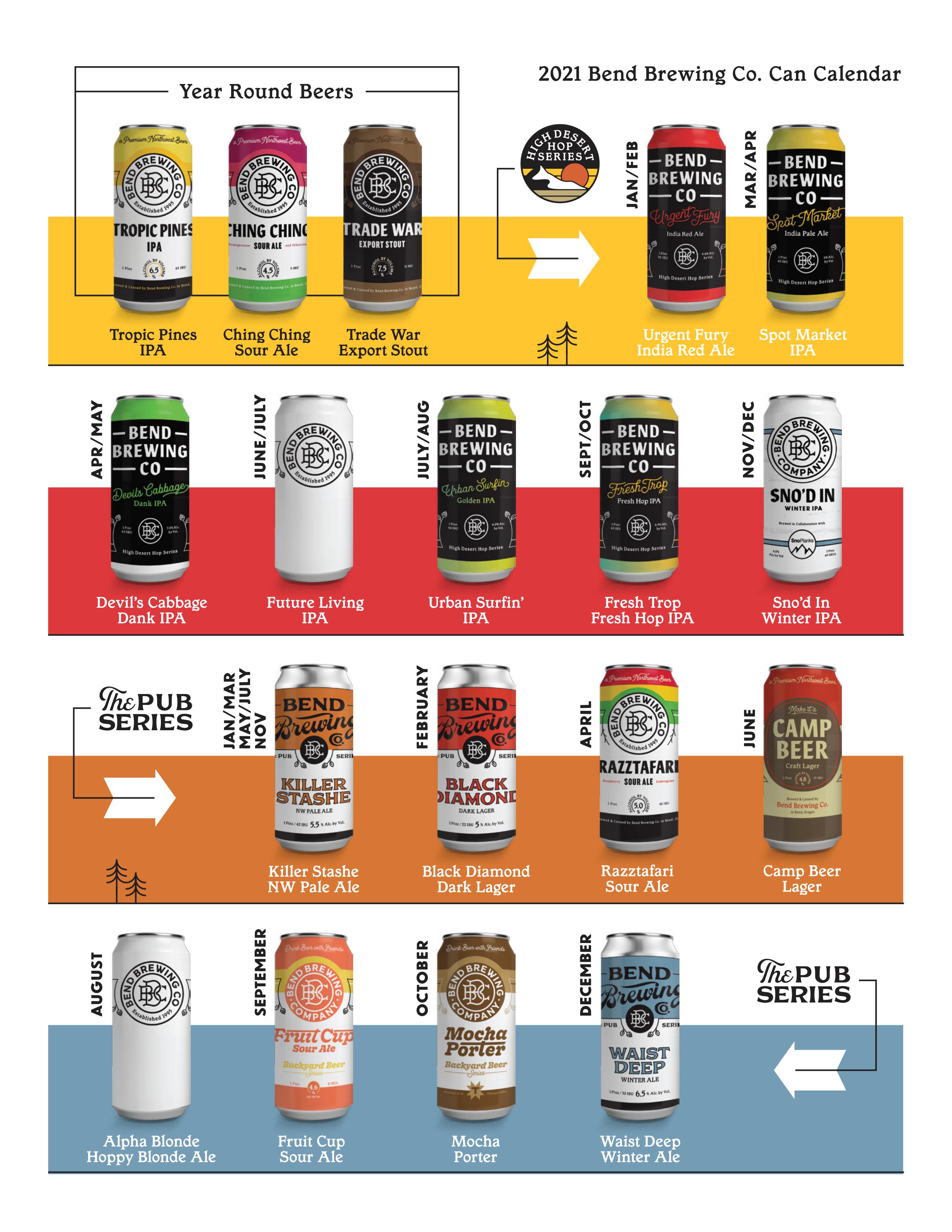 Bend, OR: Bend Brewing Company is looking forward to an exciting 2021 with the brewery's most ambitious can release schedule to date in the company's 25 year history.
The first major highlight of the 2021 release calendar is the expansion of the popular High Desert Hop Series to 7 beers.  Urgent Fury India Red Ale and Future Living IPA will join Spot Market IPA, Devil's Cabbage Dank IPA, Urban Surfin' Summer IPA, Fresh Trop Fresh Hop IPA and Sno'd In Winter IPA in the series.  Each High Desert Hop Series release is given a 6-8 week window ensuring the freshest possible product.  First up is the inaugural release of Urgent Fury India Red Ale.
Urgent Fury India Red Ale is the culmination of over a year's development to craft a beer showcasing malt and hops equally.  German Caramunich and CaraRed malts impart a deep red hue and full malt character, while the absence of crystal malt prevents the beer from becoming cloying and muddling the hops.  Our brewers first tried to contrast the malt character with classic piney hop character before deciding to lean into the malt sweetness and utilize fruity/tropical Citra to complement the malt.  Amarillo, Simcoe and Cascade hops round out the hop bill in this modern 6.6% ABV India Red Ale. Urgent Fury IRA is available now at our downtown Bend brewpub and will see distribution in Oregon and Colorado through our partners at Bigfoot Beverages, Point Blank Distributing, Fort George Distribution and Colorado Craft Distributors.
Other highlights of the 2021 release calendar include an expansion of the newly launched Pub Series to include the award winning Black Diamond Lager, pub favorite Alpha Blonde, and regular releases of the single hop Killer Stashe NW Pale Ale featuring both new hop varieties and old favorites.  Returning Pub Series beers include Camp Beer Lager, Razztafari, Fruit Cup Sour, Mocha Porter, and Waist Deep Winter Ale.