Boneyard Beer and Altamont Beer Works Collaborate on Lupulin Advisory Double IPA in 16oz Cans
|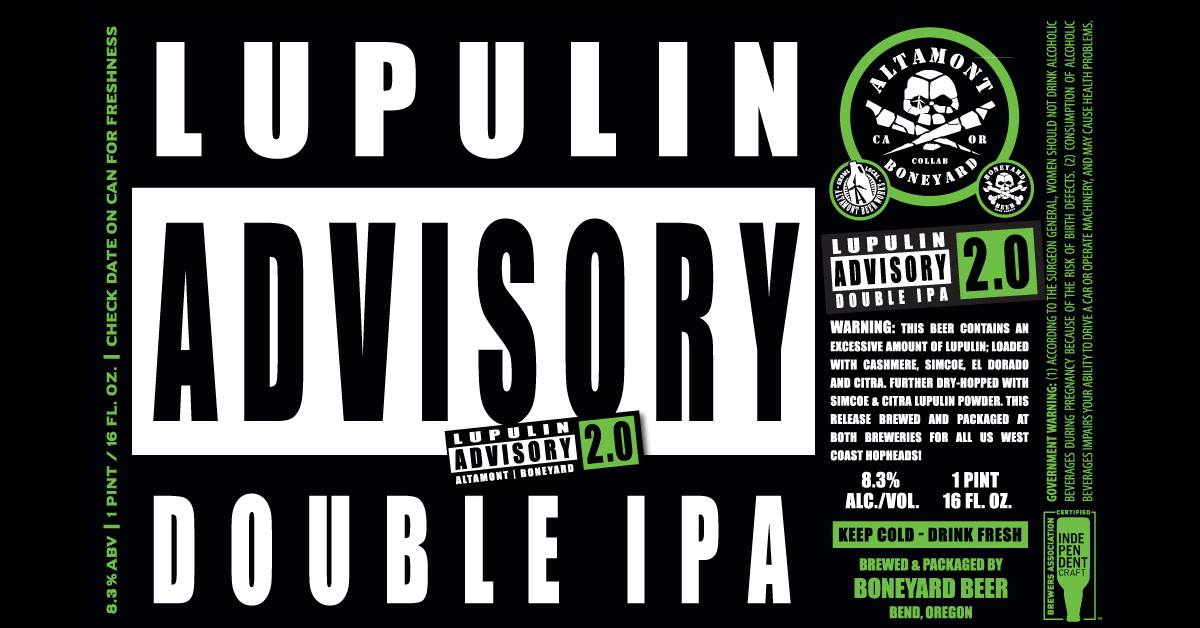 For fans of Boneyard Beer, Christmas as arrived a bit earlier this year as the Bend, Oregon brewer is set to release its first can beer offering on Black Friday. Brewed in collaboration with Altamont Beer Works from Livermore, California, Lupulin Advisory Double IPA has been packaged in 16oz cans and will be available on Friday, November 29th in Bend and only at the Boneyard Pub.
Lupulin Advisory Double IPA was first brewed in early 2018 at Altamont with Boneyard. Now the two breweries have convened again to brew this beer in Bend and will release it in 16oz. cans via the assistance from Craft Canning, alongside a limited amount of draft. Altamont also brewed this beer again at its brewery with Boneyard and re-released it last week.
Described as being incredibly hop forward, Lupulin Advisory uses an excessive amount of lupulin; loaded with Cashmere, Simcoe, El Dorado and Citra. The beer was then further dry-hopped with Simcoe and Citra lupulin powder. In all, hops were used via pellets, Cryo Hops and Resinate CO2 Hop Extract to create this 8.3% ABV IPA.
For its Oregon fans, Lupulin Advisory will only be available at Boneyard Pub this Friday in 4-packs and single 16oz cans beginning at 11:00am. Lupulin Advisory cans and draft will not be distributed. There will be no growler or crowler fills available.
Altamont Beer Works has been brewing up some great beers in California's far East Bay area. The brewery also produces some great merchanidise including one of our favorite beer shirts, Make Beer Clear Again along with one for Lupulin Advisory.
Boneyard Pub
1955 NE Division Street
Bend, OR 97701