Breakside Brewery Expands Barrel-Aged Program with Plunderphonics + Skweee
|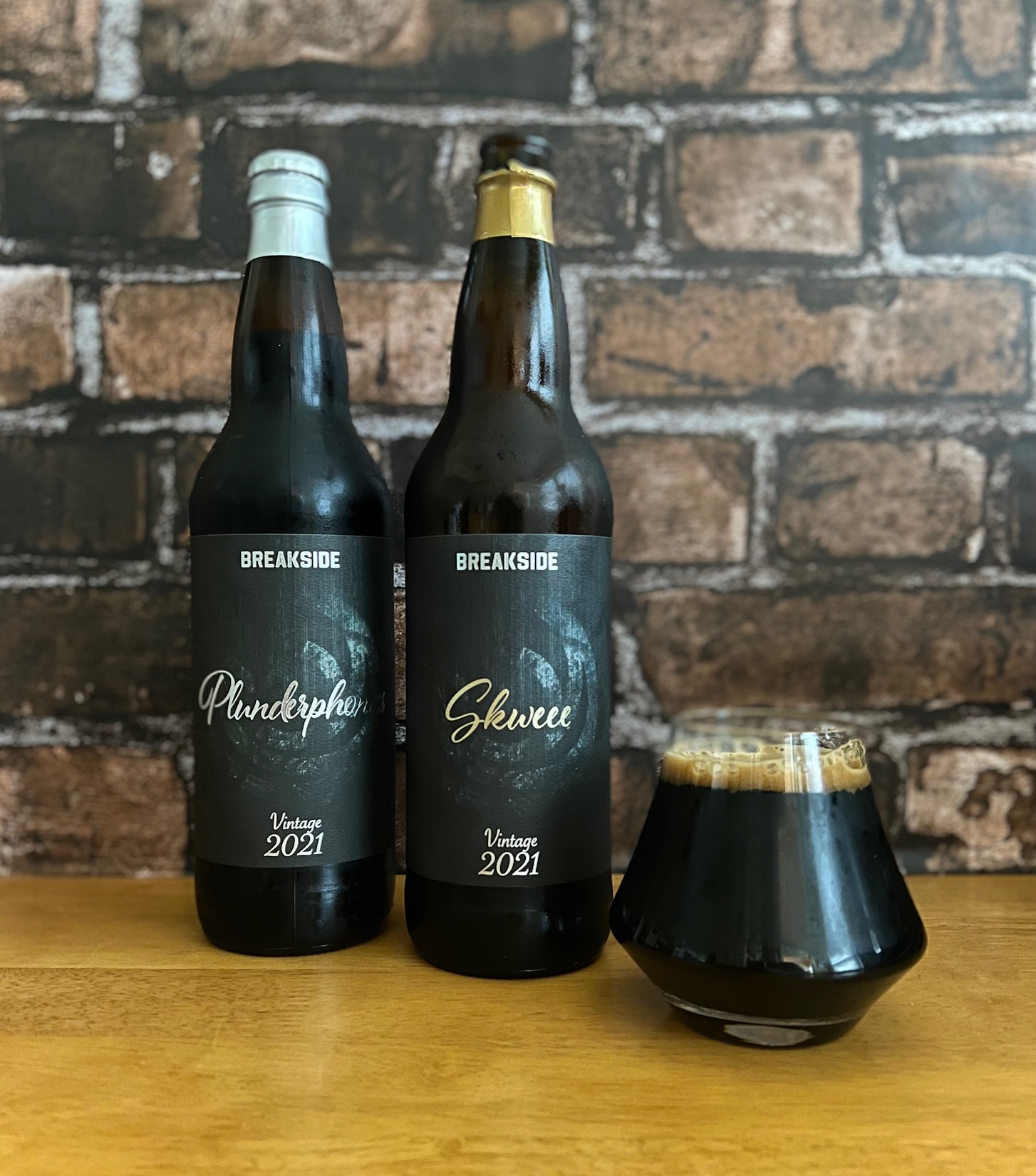 As we close out the year, Breakside Brewery has released the final two of six barrel-aged beers with Plunderphonics and Skweee. Plunderphonics is an American Imperial Stout aged in Bourbon Barrels while Skweee is an Imperial Rye Stout Aged in Bourbon, Maple and Rye Whiskey Barrels. Both are packaged in 22oz bottles.
Earlier this year, Breakside Brewery began releasing beers from its refocused barrel aging program. This revamped program led to the brewing of specific base beers designed to be aged in former spirits barrels. With these two new releases, Breakside has released in total, six barrel-aged beers, all with a spirit focus, throughout 2021. Each release has been well executed and designed for drinkers that prefer a bold dark base beer with plenty of barrel qualities.
Daniel Hynes, Breakside's Wood-Cellar Manager, runs the barrel program as he works alongside Ben Edmunds, Breakside's Brewmaster. Where Hynes takes care of the operations of the barrel program – filling and racking, storage, maintenance, adjunct handling, record keeping, and blending – Edmunds focuses on base recipe development and barrel procurement. Each brings their own knowledge and expertise to this lineup and it unquestionably shows in the products itself.
Both, Plunderphonics and Skweee are barrel-aged beers that predominately feature stouts as its base beer before slumbering away in various barrels. Skweee also features a Smoked Baltic Porter in addition to the stouts in its final blend. Plus, the latest two releases continue with music themed named beers, just as the rest of the series has been named.
Plunderphonics was recently awarded the bronze medal at the 2021 Festival of Barrel Aged Beer in the Barrel-Aged Stout and Porter category. This was the first time that an Oregon beer has ever medaled in this category, a category usually dominated by Midwest brewers, well-known for this beer style.
Below are descriptions and what blends went into both Plunderphonics and Skweee as provided by Breakside Brewery.
Plunderphonics – American Imperial Stout aged in Bourbon Barrels
Plunderphonics is the most intense and aggressive blended stout we have produced to date. It is an adjunct-free blend of imperial stouts that retains punchy, upfront intensity despite having been smoothed with time in barrels. We appropriately embraced the anxiety of influence in blending a beer called Plunderphonics, taking explicit inspiration from a beer that opened our eyes to what beer could be: Bell's Expedition Stout. We paid tribute to that roasty, over-the-top behemoth by using a char-forward, audacious imperial American stout as the centerpiece for our blend.
That's right, this beer takes a deliberate tour in the realm of umami that few beers do intentionally or well. But it's that kiss of savory je ne sais quoi that adds irresistible levels of extra can't-quite-put-my-finger-on-it flavors. We're not dumb dumbs though: too much savory isn't what anyone wants in their barrel-aged stout, so we went back to the blending table to find some casks to temper the "Expedition" blend. Lo and behold– a mix of barrel- and stainless-aged Chocolate Stout gave the appropriate mix of vibrant dry cocoa sweetness, fresh roast, and subtle coconut, and mild lemon that really ties the room together on this one.
Blend:
77% American Imperial Stout Aged in Bourbon Barrels for 12 months
22% Imperial Chocolate Stout Aged in Bourbon Barrels for 11 months
11% Imperial Chocolate Stout Aged in Stainless Steel for 14 months
12.3% ABV
35 IBU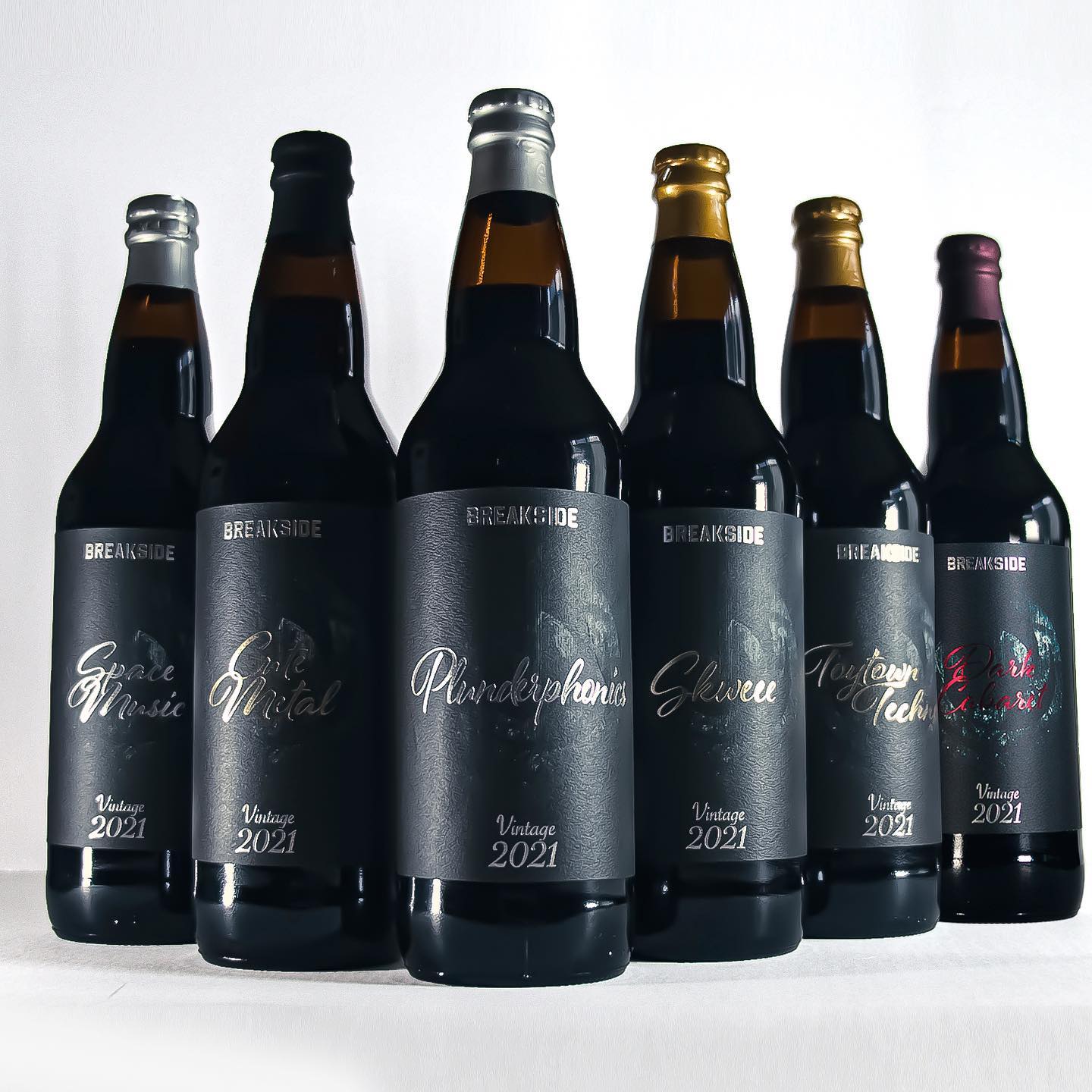 Skweee – Imperial Rye Stout Aged in Bourbon, Maple & Rye Whiskey Barrels
In 2019, we began a project to revamp how we produce our barrel-aged strong beers. Instead of brewing discrete batches for single release at a future date, we decided to treat our strong ales more like the base beers in our mixed fermentation cellar. We designed fifteen different stout recipes for barrel-aging and blending. These beers are a labor of love, demanding long brew days, extended tank times, and careful handling during aging. Through 2021, we have unveiled the first of these small volume blends.
Our final barrel-aged stout for 2021 is Skweee. Like its music-genre namesake, Skweee straddles a peculiar line between minimalism and maximalism. Like four of the other five stouts we have released this year, it is free of adjuncts and allows us to explore and highlight the ways in which particular barrels and unadulterated base dark ales interact when blended together.
We anchored Skweee on a cohort of rye stout casks. These beers were redolent of cherry, bran, raisin plum, and treacle, and as any good rye stout should be, they were oily: mouthcoating in a way that overtakes the entire palate. Honoring and building upon the rye stout became our focus as we put together our final mix of casks. We chose to blend around this central core adding barrels that offered maple and chocolate along with grainy whiskey aromatics. This comes through in every sip of the beer that is Skweee. Unlikely flavor hooks abound: a hint of fruity-boozy rye on the nose, persistent bitterness and char in the back palate, growing warming in the chest. It is decadent in the same way as a rich dish that you just can't stop eating: enjoy and good luck!
Blend:
50% Imperial Rye Stout Aged in Bourbon Barrels for 11 Months
20% Double Wheat Porter Aged in Maple Bourbon Barrels for 10 Months
20% Chocolate Stout Aged in Bourbon Barrels for 14 Months
10% Smoked Baltic Porter Aged in Rye Whiskey Barrels for 5 Months
12.2% ABV
32 IBU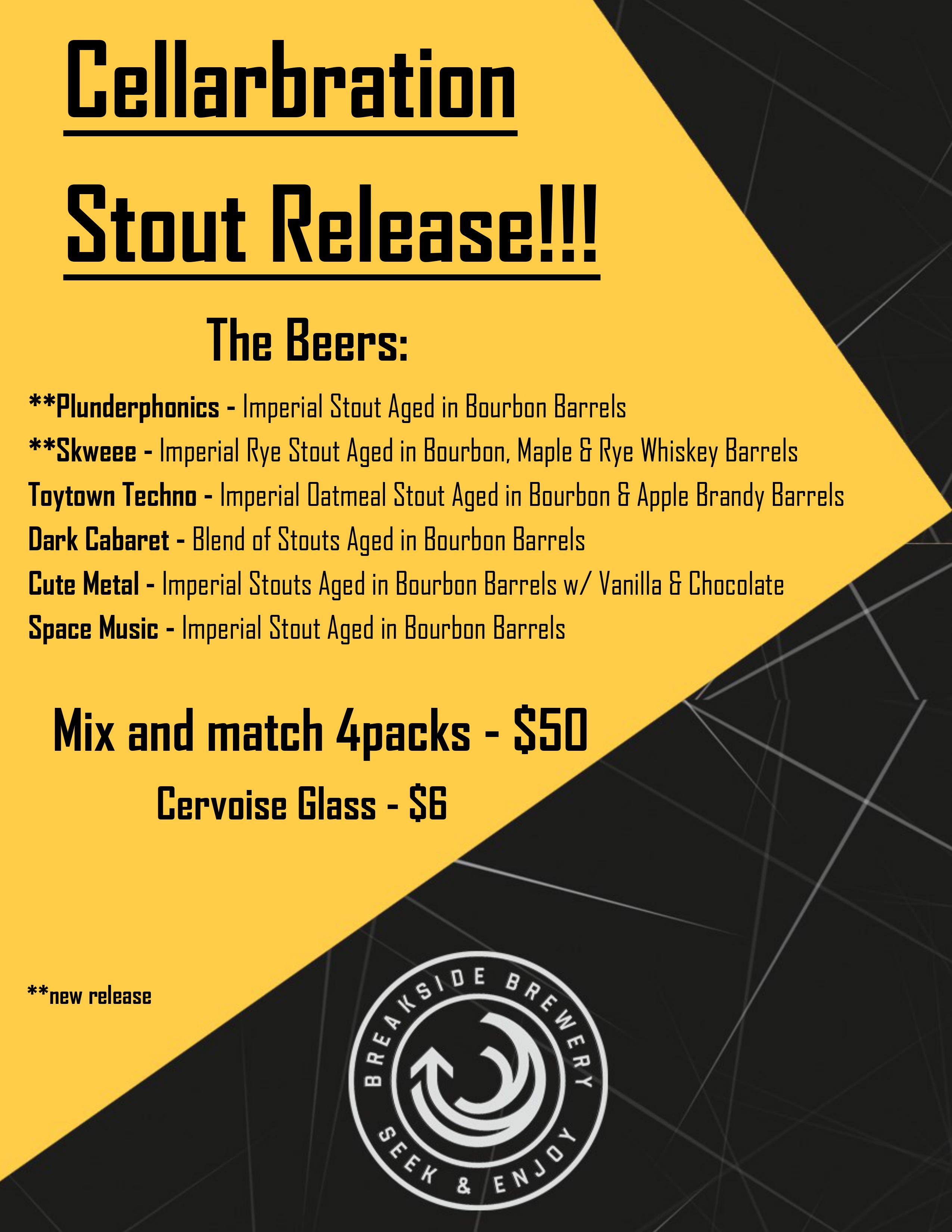 And if you're looking to purchase a few bottles of these barrel-aged beers, Breakside has its Cellarbration sale going on. Mix & Match any four bottles for $50. The sale also includes a Cervoise glasses for $6! This sale includes all six releases from 2021:
Plunderphonics – Imperial Stout Aged in Bourbon Barrels
Skweee – Imperial Rye Stout Aged in Bourbon, Maple & Rye Whiskey Barrels
Toytown Techno – Imperial Oatmeal Stout Aged in Bourbon & Apple Brandy Barrels
Dark Cabaret – Blend of Stouts Aged in Bourbon Barrels
Cute Metal – Imperial Stouts Aged in Bourbon Barrels w/ Vanilla & Chocolate
Space Music – Imperial Stout Aged in Bourbon Barrels
This Mix & Match sale is available now at all Breakside locations