Brewers Collective Returns with its 24 Beers of Cheer for 2022
|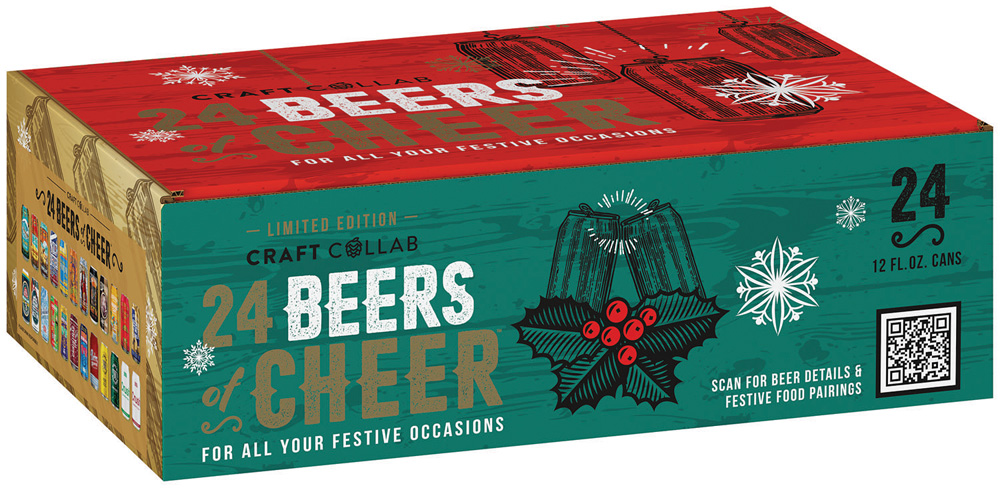 After launching the 24 Beers of Cheer Advent Calendar last year, the Brewers Collective has returned with another one for the 2022 holiday season. This beer advent calendar has expanded for 2022 as it expands from seven to nine breweries that all fall under the craft arm of Anheuser-Busch.
The 2022 edition of the 24 Beers of Cheer includes beers from Widmer Brothers Brewing, Elysian Brewing, Redhook Brewery, Kona Brewing, Goose Island Beer Co., Golden Road Brewing, Four Peaks Brewing, and Karbach Brewing. This assortment of beers includes a half dozen of winter seasonals and a handful of beers that are not readily available here in the Portland Metro Area.
This seasonal package makes for a great gift or for exploring new beers and revisiting a few ones that you may not have enjoyed in some time! Plus, the QR code provides tasting notes and pairing ideas for each of the 24 beers.
And if you want to learn which beers comprise the 24 Beers of Cheer pack, the list of all 24 beers is listed below.
24 Beers of Cheer
Redhook Storm Surge Hazy IPA (6.8% ABV)
Goose Island Hazy Beer Hug Hazy IPA (6.8% ABV)
Redhook Big Ballard Imperial IPA (8.6% ABV)
Goose Island Christmas IPA (7.5% ABV)
Elysian Contact Haze Hazy IPA (6.0% ABV)
Elysian Full Contact Imperial Hazy IPA (8.8% ABV)
Widmer Green Skies Hazy IPA (6.6% ABV)
Goose Island Neon Beer Hug IPA (7.0% ABV)
Redhook Winterhook Winter Ale (8.2% ABV)
Four Peaks Kilt Lifter Scottish-Style Amber Ale (6.0% ABV)
Elysian Night Owl Pumpkin Ale (6.7% ABV)
Karbach Yule Shoot Your Eye Out Red Ale (5.6% ABV)
Widmer Brrr Hoppy Red Northwest Red Ale (7.2% ABV)
Kona Pipeline Porter (5.3% ABV)
Elysian Split Shot Espresso Milk Stout (6.0% ABV)
10 Barrel Crush Cucumber Sour Ale (5.0% ABV)
10 Barrel Crush Raspberry Sour Ale (6.5% ABV)
Kona Longboard Island Lager (4.6% ABV)
Golden Road Golden State Cerveza (4.8% ABV)
Kona Big Wave Golden Ale (4.4% ABV)
Four Peaks The Joy Bus Wow Wheat (5.0% ABV)
Golden Road Christmas Cart Wheat Ale (6.0% ABV)
Golden Road Mango Cart Wheat Ale (4.0% ABV)
Widmer Hefe American Hefeweizen (4.9% ABV)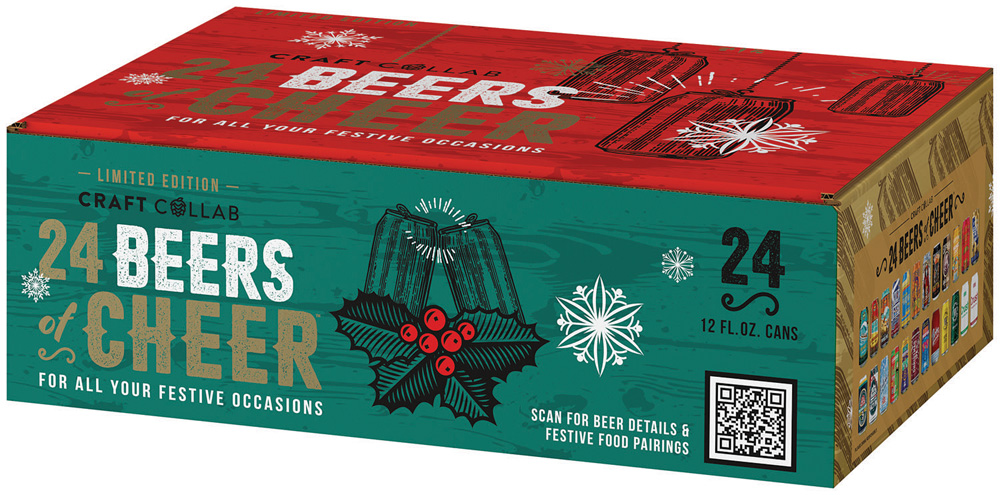 The 2022 edition of the Brewers Collective 24 Beers Of Cheer can be purchased at Total Wine & More, including the location in Vancouver, Washington at a suggested retail of $59.99