Buoy Beer Co. Releases Kölsch in 500mL Bottles
|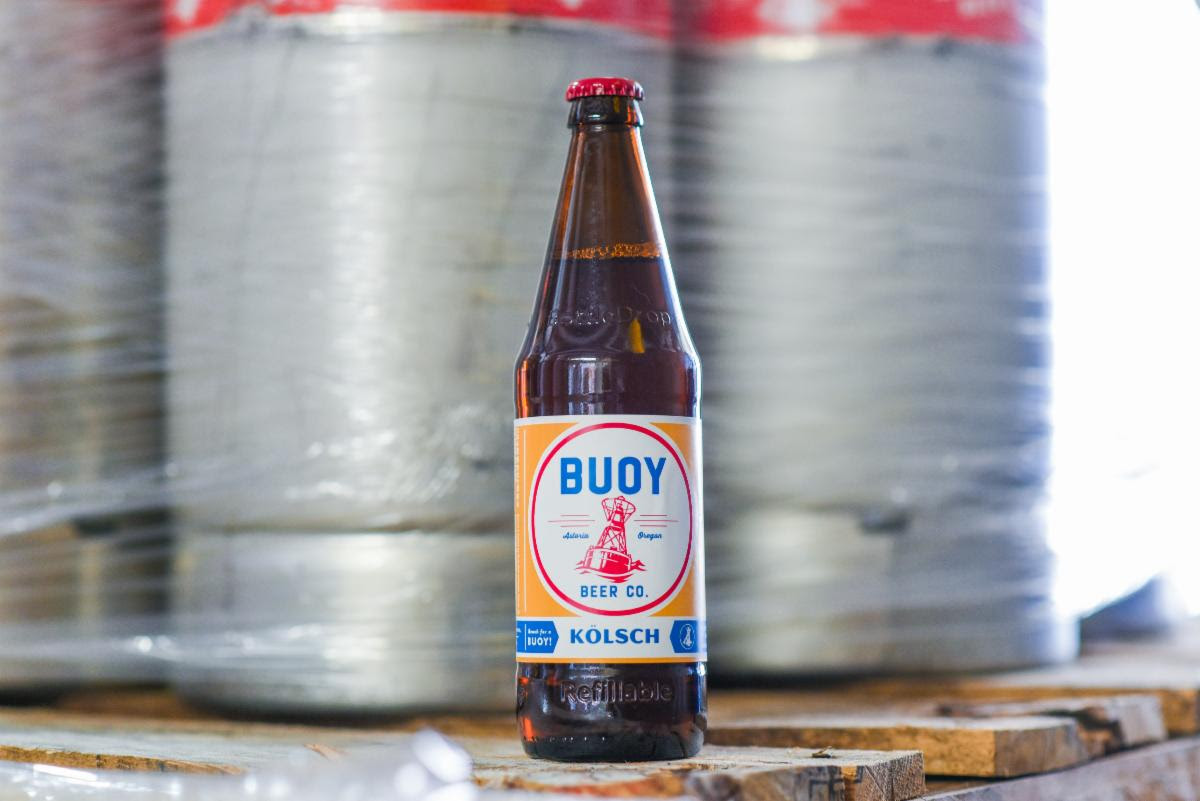 As we close out summer, Buoy Beer Co. packages its Buoy Kölsch in 500mL bottles. A bit strange to see a Kölsch-style beer being marketed as we head into the cooler months but Buoy Beer Co. sees this beer as the perfect beer for heading into the fall season of September and October.
Buoy Kölsch is described by the brewery as being crisp, soft, and thirst-quenching. The beer weaves the strict Reinheitsgebot rules with touches of the Pacific Northwest with its use of Heidelberg Pils, Vienna, and White Wheat malts. This builds a light bready body while Opal and Saphir hops blend spicy, floral aromas with a sturdy bitterness.
"It's been fun to see more of our beers in the package," says Kevin Shaw, Director of Brewery Operations, in a press release. "It's not always convenient to get out to the coast to try our seasonals and one-offs at the brewery, we're happy to have a chance to share more of the beers our team comes up with."
Buoy Kölsch will be available in 500mL bottles and on draft as it'll be distributed in Oregon and Washington. Portland should see the bottles hitting shelves now and the rest of the Oregon and Washington area next week. Once Buoy Kölsch sells through look for Strong Gale from October through December.
In addition to the newly packaged Buoy Kölsch, the Astoria brewer has a few smaller seasonal releases coming out. Here are the details on these beers.
TRIDENT IPA
Brewed with Mecca Grade Pils, Vienna, red wheat and oats to create the perfect foundation to showcase a brand new hop blend, Trident hops. Trident hops featured at the end of boil and fermentation "unleash a tidal wave of flavor." Find fruity hop flavors of citrus, tropical and passion fruits splashed in this bodacious West Coast IPA. 6.5% ABV  41 IBU
GOSCHIE ESTATE FARMHOUSE ALE
This collaboration includes a blend of salmon-safe Wint Barley grown at Goschie Farm in Silverton and White Wheat, both malted by Skagit Valley Malting as well as a hop profile of Pekko and Centennial also grown at Goschie. Fermented with a distinctive farmhouse yeast from Lithuania known for complex esters of citrus and pepper, this farmhouse ale brings together the flavors of one of our favorite family-owned farm estates. 6.7% ABV  29 IBU
COASTAL REIGN
A classic NW Pilsner meets the Southern hemisphere hop treatment of Topaz, Wai-iti, and Nelson Sauvin. With notes of lychee, pineapple, guava, and citrus, it's the liquid incarnate of the Palm trees meeting the Pines! Brewed with our friends at Old Town Brewing, this collaboration will be available at the Buoy restaurant on draft and in cans. 5.2% ABV 32 IBU