Buoy Beer Releases Brett Saison and Kölsch in 16oz Cans
|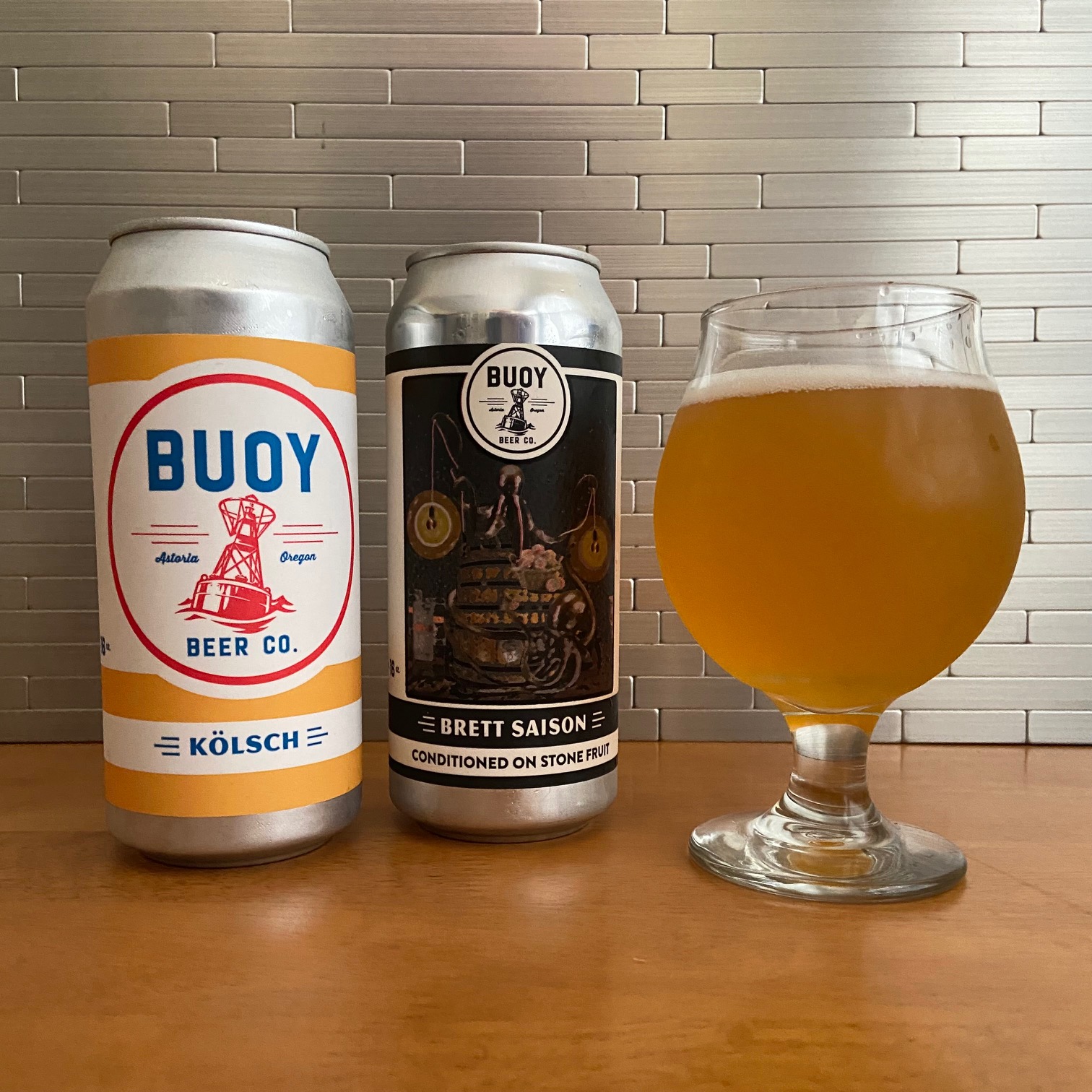 Buoy Beer has recently released its second batch from its Foeder Series, and on this release the Astoria, Oregon brewer has knocked this one out of the park. Brett Saison Conditioned on Stone Fruit is an amazing beer that is full of nuances that keeps one interested every last sip!
A bit hesitant when we first learned that Buoy Beer canned Batch 2 from the Foeder Series as we cannot recall having a foeder aged beer in a can before. However, this canning process did not affect the liquid that's inside the 16oz aluminum vessel. This Brett Saison was brewed with Pilsen malt, oats, and Mecca Grade Vienna rye and red wheat malts. It was then hopped with Czech Saaz and French Triskel hops, and fermented throughout the brewing process with blends of Buoy's house Brett yeast strains for 26 months.
In this process, Buoy took half of the batch of Brett Saison and dry-hopped it with Strata, Citra, and Azacca hops while another half was conditioned on peaches and apricots, creating two unique batches of the Saison. The Dry-Hopped version is only available on draft, whereas the Stone Fruit version is available on draft and in the previously mentioned 16oz cans.
Brett Saison Conditioned on Stone Fruit is full of peach and apricot flavors, that change as the beer warms up. There's tartness, quite pleasant and nothing too acidic. Served in a snifter glass, the tartness mellows out as the beer fully opens up. Brett Saison is definitely a brett beer worth seeking out.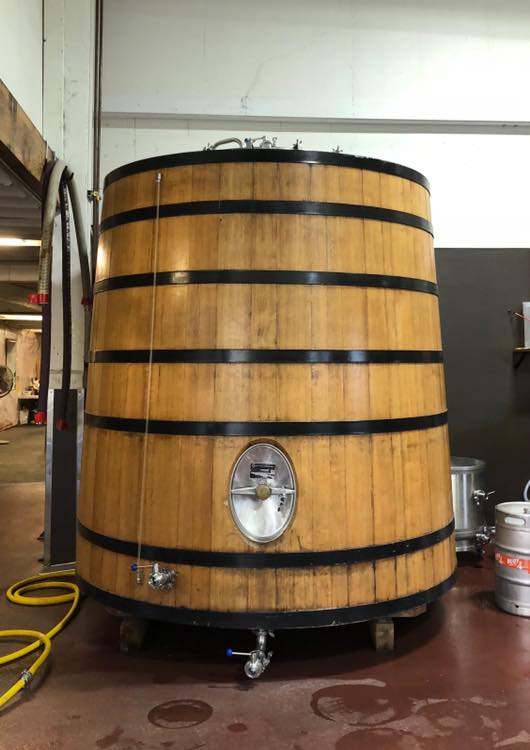 In 2018, Buoy Beer purchased its barrel foeder from The Commons Brewery, the now shuttered yet highly regarded brewery from Portland, Oregon. Prior to arriving at The Commons, this foeder was used by Anchorage Brewing in Alaska and was originally built for Harlan Estate, a winery in the Napa Valley.
Oak Foeders are sometimes preferred over barrels for beer fermentation because of the opportunity to mature the beer longer and create a slower, more controlled O2 exposure. The higher beer-to-wood ratio gives a subtler wood flavor and allows the beer to develop over a longer period of time. The Foeder addition has been an inspiring acquisition for the Buoy brewers, who are excited to expand the styles brewed and continue to create unique beers soaked with spontaneity and history.
"The Foeder stands in a busy crossway in the brewery between the brewhouse, lager fermenters, and the hop cooler," says Michael Duron, Buoy Beer Lead Brewer, in a statement. "While there's not a lot of beer going in and out of the Foeder, there's an energy of activity that exudes from it, a reminder of the intricacy of slow beer."
Something not normally scene with a Brettanomyces Saison is that has been packaged in 4 packs of 16oz cans. The Brett Saison label artwork depicts an octopus juggling fruit in the brewery and was created by Dana Salo, Buoy Beer's resident graphic artist. And if you are digging the artwork, this label is on a new Buoy Beer Foeder shirt that can be purchased for $25.00 by clicking here.
"We want to get this fantastic beer into people's hands," said Jeremiah Smith, Buoy Beer Sales Director, in a statement. "After waiting 26 months to get it into a can, our team is excited to share this unique offering from our brewery."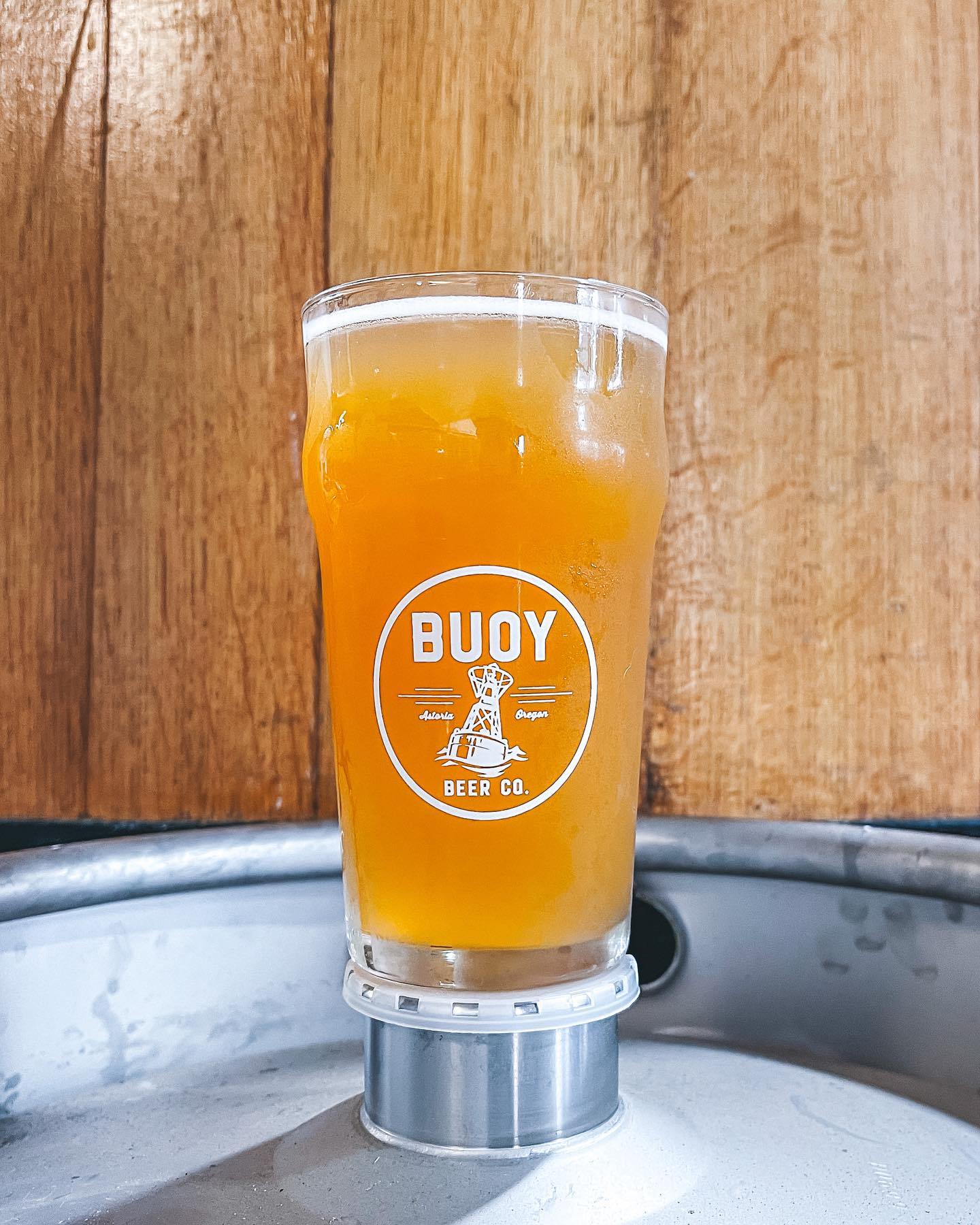 In addition to the Brett Saison, Buoy Beer has also released its popular Kölsch in 16oz cans for the first time. Buoy Kölsch is a perfect companion in your beer cooler this summer. A perfect summer ale, this is brewed to the German Reinheitsgebot rules with a bit of Pacific Northwest thrown in. In brewing Kölsch, Buoy uses Heidelberg Pils, Vienna, and White Wheat malts to build a light bready body. The addition of Opal and Saphir hops adds spicy, floral aromas with a sturdy bitterness. The result is a crisp and refreshing beer that sits at a sessionable 4.8% ABV and 29 IBUs.
Brett Saison with Stone Fruit and Kölsch has been released in 16oz cans and draft; the Dry-Hopped Brett Saison has been released in draft only. These beers are available throughout Oregon and Western Washington.