Buoy Introduces Pride IPA for its 2023 Pride Fundraiser
|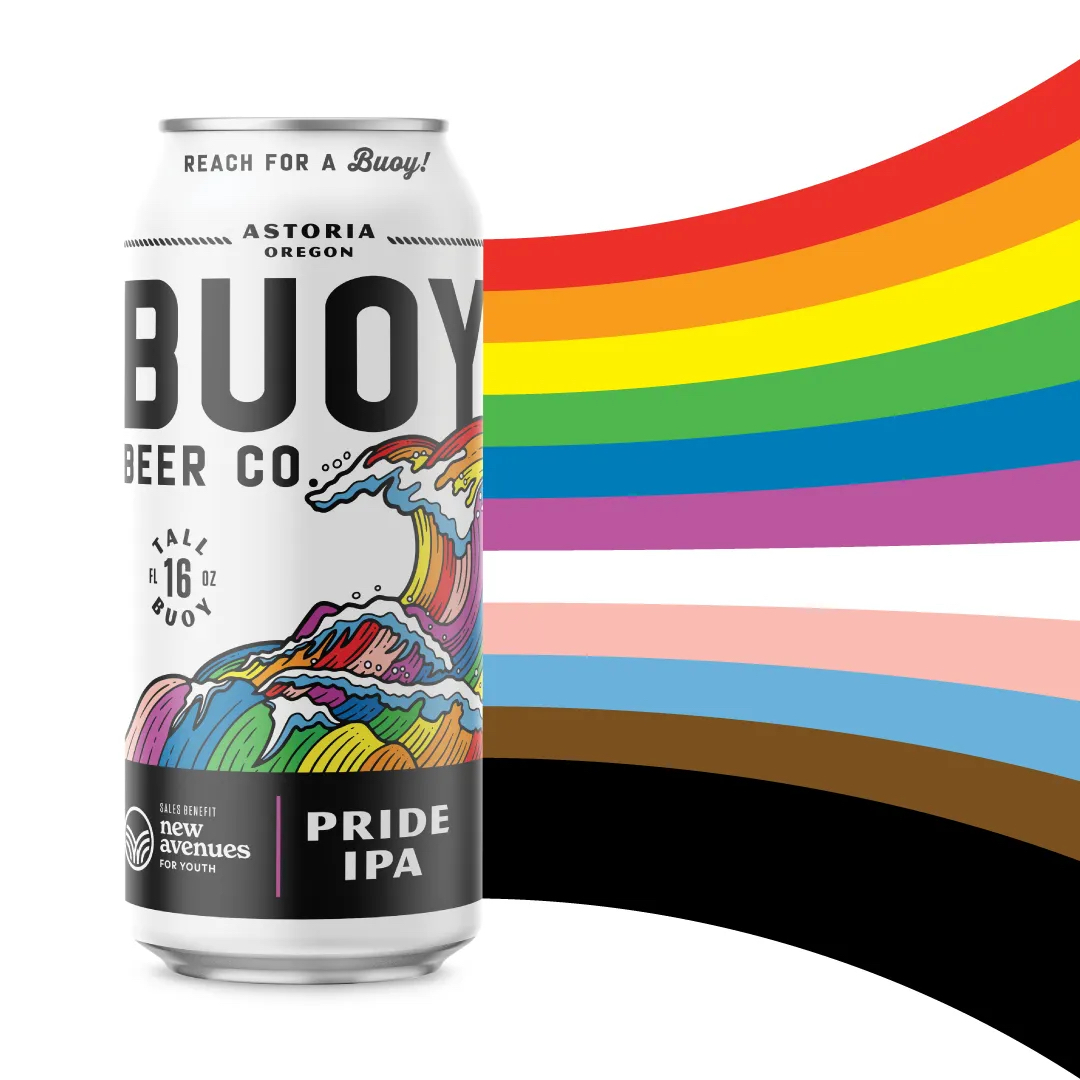 Press Release May 23, 2023 – Pride Month is fast approaching and each year, Buoy Beer Company works to raise money and awareness for the LGBTQIA2S+ community. Since 2017, Buoy has created a unique Pride Tee to benefit Astoria's Lower Columbia Q Center. This year, for the first time, they will also be brewing a special Pride IPA to benefit Portland's New Avenues for Youth.
Both the LCQC and New Avenues for Youth are non-profit organizations that provide programs and services to the LGBTQIA2S+ community.
Both the LCQC and New Avenues for Youth are non-profit organizations that provide programs and services to the LGBTQIA2S+ community. LCQC's events and support groups focus on outreach, education, and charity for individuals and families in the Lower Columbia region while New Avenues for Youth focuses on the prevention and intervention of youth homelessness.
One of the latter's unique enterprises is the operation of Downtown Portland's Ben & Jerry's ice cream shop, which helps supply internships and job training for young adults. Another is New Avenues INK, a screen-printing company that also provides career mentorship and will be printing Buoy's 7th annual Pride Tee.
Sales from Buoy's Pride Tees will go towards LCQC while Pride IPA sales will go towards Avenues for Youth.
The IPA will be available at Buoy's taproom location at the Astoria Food Hub as well as in cans and kegs at independent grocery stores and local beer bars throughout Oregon and the Seattle area. All three locations of John's Marketplace will also feature Pride IPA as well as Buoys Benefit Series beer through June.
"Buoy team members who also identify as members of the LGTBQIA2S+ community were invited, if comfortable, to lead the way in the development of this Pride IPA," says Amy Still, Buoy's Quality Assurance Lead. "This included discussing its can art and design, media surrounding it, and how to use the proceeds. This involvement, as well as sales from the beer benefiting a local organization supporting queer youth, is a step in the right direction for diversity and inclusion to grow and prosper at Buoy and within our community."
For this year's event, Buoy brewers wanted to create a beer balanced, fruity, and perfect for warmer weather. Their Pride IPA is a West Coast-style IPA that elevates flavors of gentle sweetness and moderately bitter flavors with aromas of tropical fruits and grapefruit, followed by notes of lemon and pine.
"As a member of the LGBTQ+ community myself, it's an honor to help bring this bold and flavorful creation to life," says Lauren McGrath, Buoy's Portland Sales Representative. "We hope it will inspire conversations, foster connections, and contribute to a more inclusive society." 
Look for Buoy's Pride IPA at Buoy's Astoria Food Hub location and at local groceries and bars. To get your very own 2023 Pride Tee, visit our online store or Buoy's Astoria Food Hub location.