Cascade Lakes Brewing Co. Releases Elk Camp IPA
|
Once we manage our way through this latest heat wave, visions of cooler fall temperatures lie ahead. One way to get in this fall mindset is with the seasonal release of Elk Camp IPA from Cascade Lakes Brewing Co.
Elk Camp IPA is said to be the unofficial beer of Northwest elk and deer camps. And to get prepared, the seasonal IPA is now available in six-pack 12 oz. cans and on draft throughout Oregon, Idaho, Washington, and Montana, Elk Camp IPA is the perfect companion to any successful elk or deer camp.
"The first rule of elk camp is don't run out of beer, and a good supply of Elk Camp IPA guarantees your camp will be well-stocked not only with beer, but with a great hazy IPA to enjoy after a long day of hunting — whether successful or not," said Cascade Lakes Brewing Co. Brewmaster Ryan Schmiege, in a press release. "We know elk and deer season has been circled on every hunter's calendar since they returned from last year's camp. The responsibility of providing them with an appropriate beverage for the occasion is something we take seriously, and we believe that beer should be Elk Camp IPA."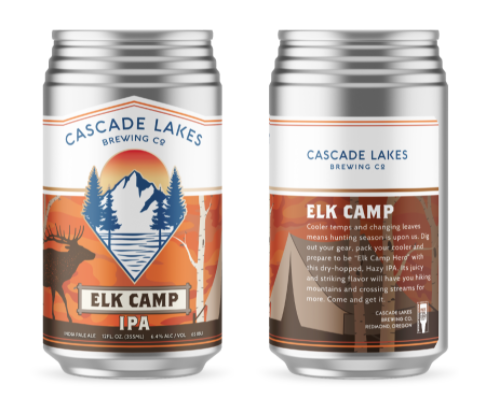 A portion of each Elk Camp IPA purchase is donated to the Oregon Hunters Association, whose mission is to protect Oregon's wildlife, habitat, and hunting heritage. Last year, sales of Elk Camp IPA raised close to $1,000 for the cause.
"We owe it to ourselves, to hunters everywhere, and to the future of the sport to support education, conservation, and protection of our precious resources including wildlife and habitat," said Andy Rhine, General Manager of Cascade Lakes Brewing Co., in a press release. "I can't think of a better way to do that than by drinking a damn good beer around camp, knowing that the Elk Camp IPA you are holding is helping to do just that."
Cascade Lakes' beers can be found in five states along the west coast and at the brewery's pubs including the Bend flagship location on the road to Mt. Bachelor, and the original 7th Street Redmond location. A third Cascade Lakes pub is set to debut in Bend in late 2022.