Cascade Lakes Brewing Co. Releases Koosah Fresh Hop IPA & Wins Gold Medal for EZ As Can Be Cider
|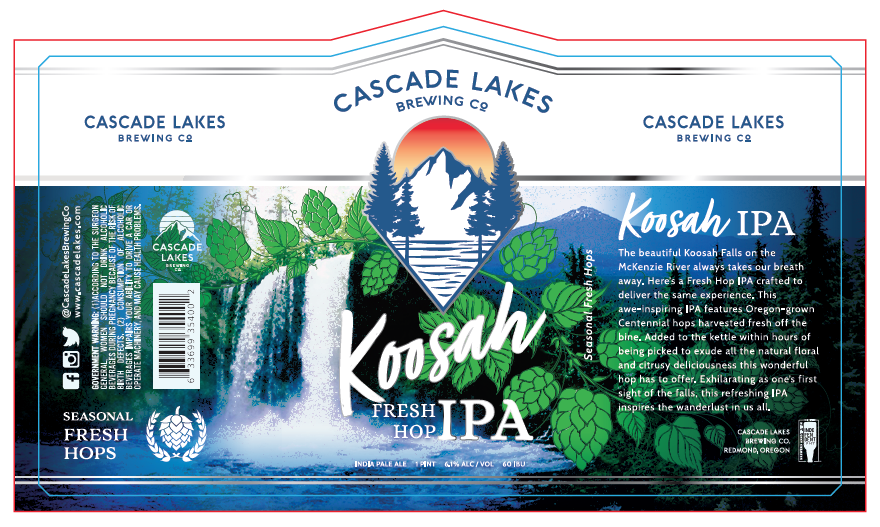 (BEND, Ore.) — Once a year, beer drinkers' favorite flowers – hop flowers – begin to bloom and are ready for harvest, and craft breweries around the world collect the fresh hops to brew a seasonal beer unlike any other. With the 2021 hop harvest underway throughout the PNW, Cascade Lakes Brewing Co. is commemorating the occasion with the launch of Koosah IPA. Made entirely with fresh hops that were hand-selected from Oregon's Goschie Farms by Cascade Lakes' Brewmaster Ryan Schmiege, Koosah IPA is available for a limited time on draft and in stores throughout the Northwest.
Named after Koosah Falls along the McKenzie River, Koosah IPA features Oregon-grown Centennial hops that were harvested fresh off the bine. Characterized by aromatic pine, citrus, and floral notes, Centennial hops are typically one of the first hops to be harvested each season. And because they are only available for a brief period once a year, they are coveted by brewers near and far. Among them, Schmiege, who oversaw the harvest of 360 pounds of hops for the Koosah IPA.
"Fresh hop season is probably my favorite time of the year, much like a chef would look forward to morel or truffle season in their line of work," said Schmiege. "The flavors and aroma of fresh hops are unmatched, and having the opportunity to hand select and brew with them is about as close as a brewer gets to being the proverbial kid in a candy store."
Based in Silverton, Goschie Farms is a family-run farm that has been supplying brewers with some of the world's best hops for more than 134 years. Within hours of harvesting, Schmiege and his team had a triple brew in the tanks and the IPA was on to fermentation. Oregon grown and Oregon made, Koosah IPA represents all things PNW. From the scenic falls that inspired the name, to the award-winning farm that grew the hops, this beer is made of only the best things in Oregon.
Koosah IPA Stats:
Grain: Pale Malt & Crystal 40
Hops: Oregon-grown Centennial
Brewmaster: Ryan Schmiege
IBU: 60
ABV: 6.1%
Availability: Draft & 16 oz. cans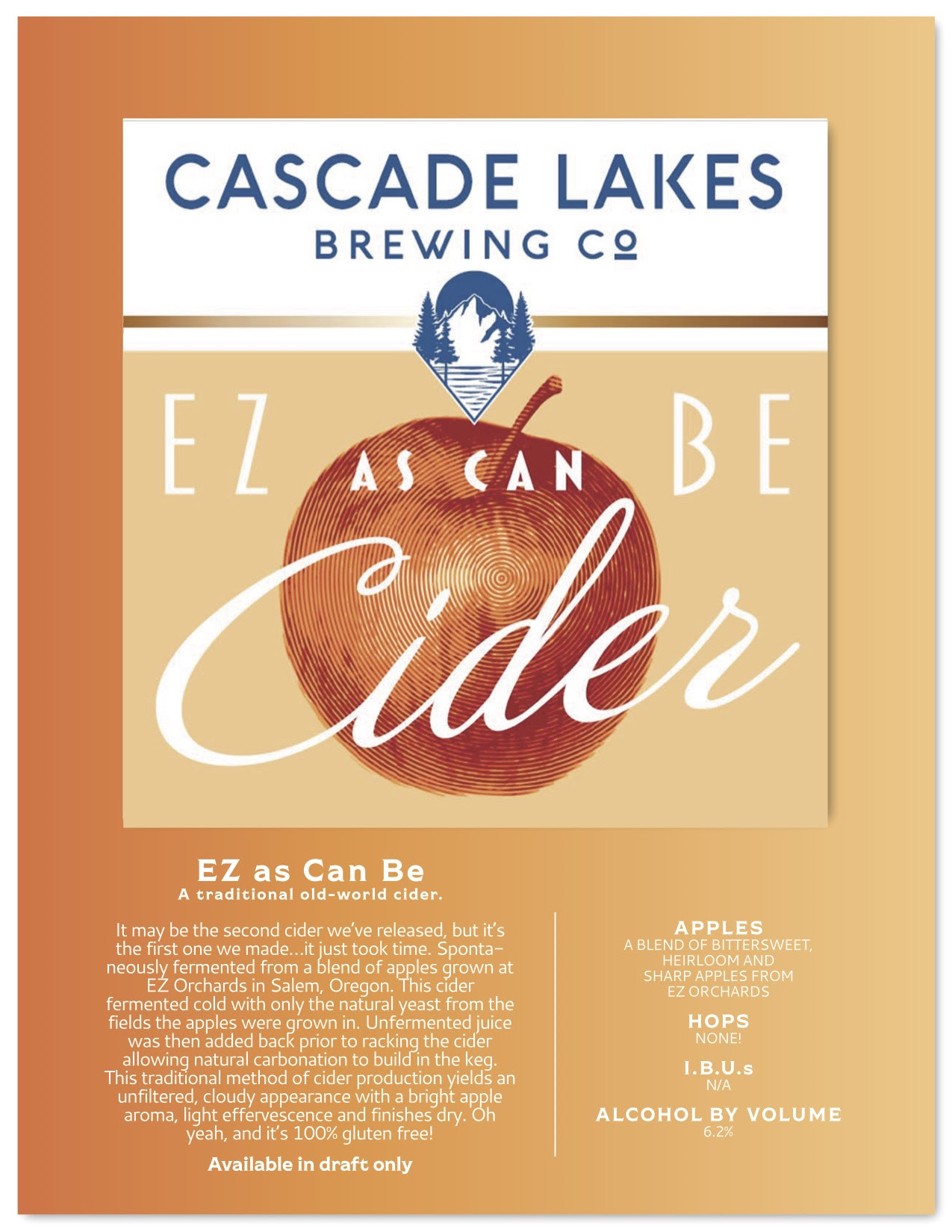 (BEND. Ore.) — Cascade Lakes Brewing Company's EZ As Can Be cider, the brewery's first-ever commercially produced cider, has won gold in the Farmhouse Style Cider and Apple Wine category of the North American Brewers Association's 2021 Beer Awards. The award was announced at the 26th annual Mountain Brewers Beer Fest on Aug. 28 in Idaho Falls, and is a testament to the brewery's ability to innovate and adjust to shifting consumer interest without compromising its commitment to quality.
After a one-year hiatus due to the ongoing pandemic, the Beer Awards returned for their 26th annual rendition in 2021. In 2019, the last year the competition was held, more than 1,900 entries were judged in 90 different categories. In the Farmhouse Style Cider and Apple Wine category, which also included perry and specialty flavored cider and perry, Cascade Lakes' EZ As Can Be cider prevailed over silver medal winner Sidra Pulku from Sidra Pulku in Patagonia, Argentina, and bronze medalist GULB from Mountain West Hard Cider in Salt Lake City, Utah.
"If the brewing industry had a national championship, it just might be the North American Brewers Association's annual International Beer Awards, which attract thousands of entries from breweries across the country and beyond," said Cascade Lakes Brewing Company Brewmaster Ryan Schmiege. "Winning a gold medal with our first-ever cider sets the bar high for our future offerings, and is a testament to the team we have in place, the quality of the ingredients, and the pride and craftsmanship we put into every batch."
Spontaneously fermented from a blend of bittersweet, heirloom, and sharp apples grown at EZ Orchards in Salem, the cider's gold medal is much more than just beginner's luck. Made entirely from a blend of pressed fruit and nothing else, EZ As Can Be is as pure as it gets. While simple in regard to ingredients, the process of arriving at a finished product was anything but.
Employing a traditional method of cider making in which the natural yeast from the apples spontaneously ferments the sugars in the pressed juice, nothing was added to the blend of pressed fruit. After its initial fermentation, a portion of the raw juice, which had been frozen prior to fermentation, was added back to the batch and blended with the fermented cider, and racked into kegs. It then underwent secondary fermentation in the keg over an even longer period of time, adding purely natural carbonation before it was finally ready to serve. From being pressed, cold fermented, blended, secondarily fermented, and finally carbonated, the total brew time was around eight weeks.
"Brewing a traditional farm-to-keg cider takes time and patience, for sure, but the result is well worth the wait and clearly the NABA Beer Awards judges agreed," said Schmiege. "From the unfiltered cloudy appearance and bright apple aroma, to the light effervescence and crisp dry finish, EZ As Can Be is a cider I am proud to call ours."
As its name implies, EZ As Can Be is easy to drink, effortlessly refreshing, and also gluten-free. Weighing in at 6.2% ABV, EZ As Can Be will return to Cascade Lakes Brewing Company's Central Oregon pubs this fall following the 2021 apple harvest.