Cascade Lakes Brewing Co. Returns with Slippery Slope Winter Ale
|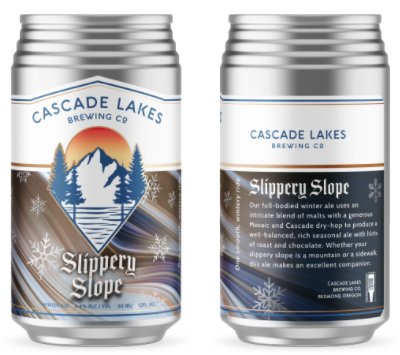 (BEND, Ore.) — As winter descends on the Northwest, Cascade Lakes Brewing Co. has announced the launch of its seasonal Slippery Slope Winter Ale. The full-bodied winter ale uses an intricate blend of malts with a generous Mosaic and Cascade dry hop to produce a well-balanced, rich seasonal ale with hints of roast and chocolate.
"Winters can be long in the Northwest, and whether you fully embrace the season or simply endure it, we all need a good companion like Slippery Slope to help get us through the dark, cold, snowy, and rainy months," said Andy Rhine, General Manager of Cascade Lakes Brewing Co. "We're confident that the combination of Slippery Slope's five-malt blend, Mosaic and Cascade dry hops, and roast and chocolate notes will help anyone celebrate — or tolerate — the months ahead."
For those unable to enjoy a pint at one of Cascade Lakes' Central Oregon pub locations where it is already on draught and in cans, Slippery Slope is now available in six-pack 12 oz. cans at Oregon, Washington, Montana, and Idaho grocery stores, and at select PNW bars and restaurants.
Slippery Slope Winter Ale Profile
Grain: 2-Row, Wheat, Crystal, Chocolate Wheat, Honey
Hops: Mosaic & Cascade
Brewmaster: Ryan Schmiege
IBU: 30
ABV: 6.4%
Availability: Draft & 12 oz. cans
About Cascade Lakes Brewing Co.
Born in 1994 in beautiful Central Oregon, Cascade Lakes Brewing Co. is a bold, genuine, innovative, and community-minded brewing and eatery company. Under the direction of General Manager Andy Rhine and Brewmaster Ryan Schmiege, Cascade Lakes produces more than 7,000 barrels of beer annually, including six year-round brews and a rotating selection of seasonal offerings. Cascade Lakes' beers can be found in five states along the west coast, on select bar and restaurant taps, and at the brewery's brick-and-mortar pubs including the Bend flagship location on the road to Mt. Bachelor, and the original 7th Street Redmond location. A third Cascade Lakes pub is set to debut in Bend in late 2022. For more information visit www.cascadelakes.com.