Celebrate 4/20 With Lagunitas The Waldos' Special Ale
|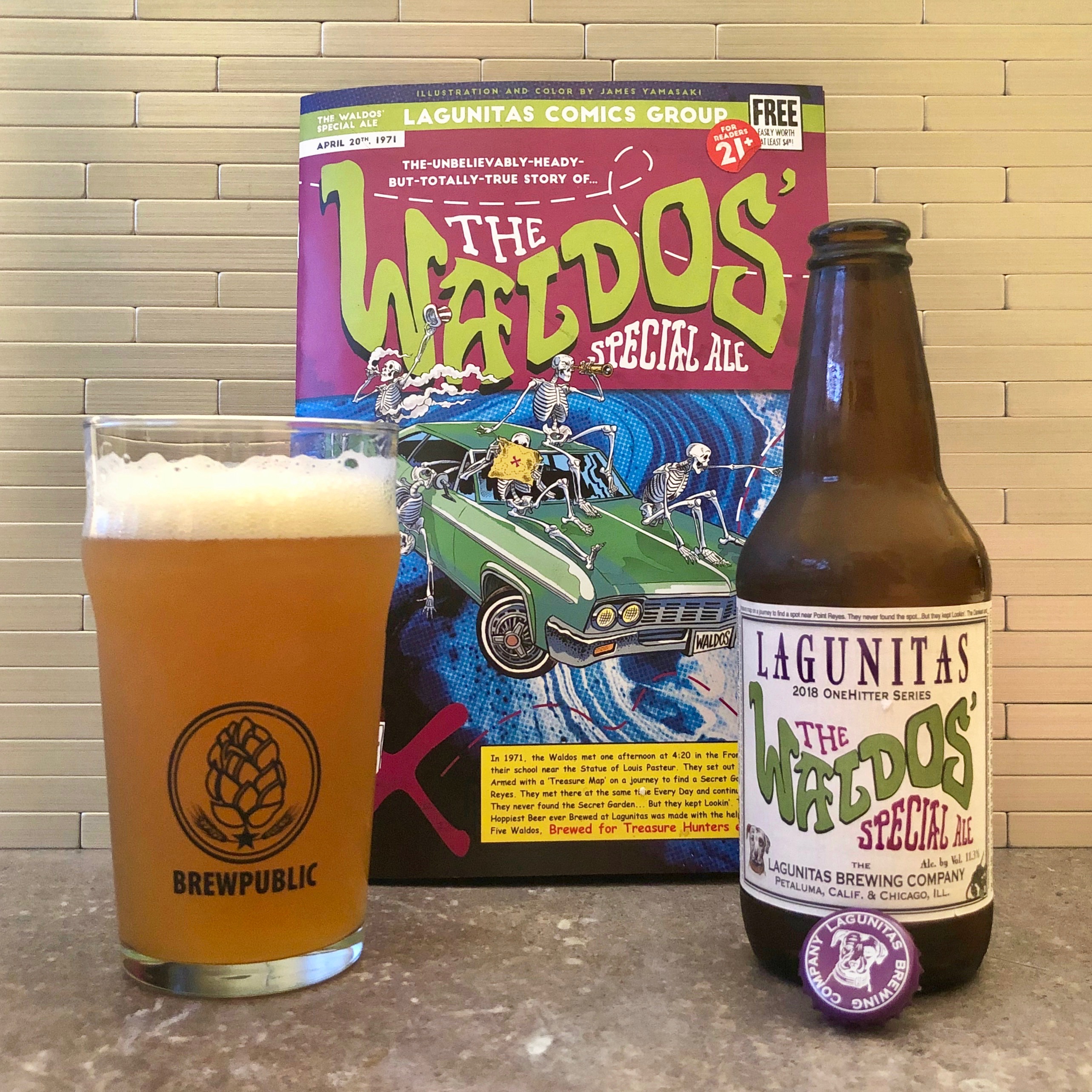 Today is April 20th, the day where aficionados of cannabis celebrate nature's most popular underground herb. It is also the day that Lagunitas Brewing has also been celebrating since 2011 with The Waldos' Special Ale.
Part of Lagunitas' 2018 OneHitter Series, The Waldos' Special Ale has been released every year since 2011. Dedicated to all of the Waldos out there, this hop bomb clocks in at 11.3% ABV and over 100 IBUs.
If you're looking to celebrate with The Waldos' Special Ale today, Belmont Station will be the kick off spot for the Portland Waldos Pub Crawl. The Station will tap The Waldos' Special Ale at 4:19pm and will lead a toast one minute later at 4:20pm. Then on the hour the pub crawl will head to a different bar. Here's the Pub Crawl schedule.
4:19 at Belmont Station
5:20ish at The Rambler
6:20ish at Tin Bucket
*unofficial final final at Bridgetown Beerhouse after Tin Bucket
Here's more on the lore of The Waldos' Special Ale that Karen Hamilton, Director of Communications at Lagunitas Brewing shared with us…
As we approach the highest of holidays, we here at Lagunitas like to sit back, relax, and reflect on how we got here. How do we do that, you ask? By rolling one up and popping an oh-so-dank Waldos, of course!
Wayyyy back in 1971 some high-schoolers who were calling themselves the Waldos met one afternoon at 4:20 in the front courtyard of their school near the statue or Louis Pasteur. They set out in a '66 Impala armed with a 'treasure map' on a journey to find a Secret Garden near Point Reyes. They met there at the same time everyday and continued their quest. They never found the Secret Garden… but they keep lookin'. A few years later a young man named Tony Magee was driving on those very same roads to his new brewery – Lagunitas. West Marin had become the birthplace for both the beer and the Waldos; and thus a delicious, heady brew was born.
Every year in April we invite the Waldos to help brew (and imbibe) our Waldos Special Ale; and while they may mumble a bit, the beer speaks for itself. We recorded the whole story, and our Founder Tony Magee and Beer Weasel Ron Lindenbusch will tell it to ya exactly as it happened, er, as best as they can remember it, anyway. Feel free to share this video far and wide, and best of luck to all the treasure hunters out there…
We didn't stop with Waldos, though. From our SuperCritical beer to this year's annual Seed to Sale Conference, we've been exploring the ever-growing relationship between Craft Beer and Cannabis, and couldn't be more excited to tell you what we've been up to. You can find the transcript of Tony's speech at the conference here.
Wishing you a most excellent, Waldos-filled 4/20. Cheers!