Celebrate National Cold Brew Day with Guinness Nitro Cold Brew Coffee Stout
|
Being fans of coffee beers and throw in the fact that today is National Cold Brew Day, we were excited to try the new Guinness Nitro Cold Brew Coffee. Brewed in Dublin, Ireland at the world-famous St. James's Gate Brewery, home to Guinness, this new variety of Guinness has made its way first to America. The new coffee stout is expected to roll out in other countries over the next 12-18 months.
Combining its satisfying Irish Stout with fresh cold brewed coffee while being served on nitro with its legendary widget, Guinness has come up with a pleasing beer. Guinness Nitro Cold Brew Coffee is brewed in its brewery that dates back to 1759 with in-house roasted barley that gives the beer its dark appearance and roasty flavors. From there the brew team adds cold brewed coffee prior to canning with its widget to provide drinkers with that smooth nitro flavor while not having to be sitting inside a bar.
"Nitro Cold Brew Coffee beer is a welcome addition to the Guinness family, and the response so far has been incredible," said Nikhil Shah, Guinness Brand Director, in a statement. "Now that it's officially iced coffee season, we're excited to give consumers a coffee-forward beer to enjoy during their spring and summertime occasions."
Guinness Nitro Cold Brew Coffee pours a dark ruby color, similar to the appearance of Guinness Draught, that's topped off with a full creamy tan head. Pretty much perfection! Aromas of coffee overwhelm the senses, enough that this may become a favorite or our brunch menu. Upon the first sip, flavors of bitter and sweet creamy coffee hit the tongue.
A lovely well-balanced beer that's perfect for any time of day as Guinness Nitro Cold Brew Coffee sits at a moderate 4.0% ABV and 141 calories with no added caffeine per 14.9oz can.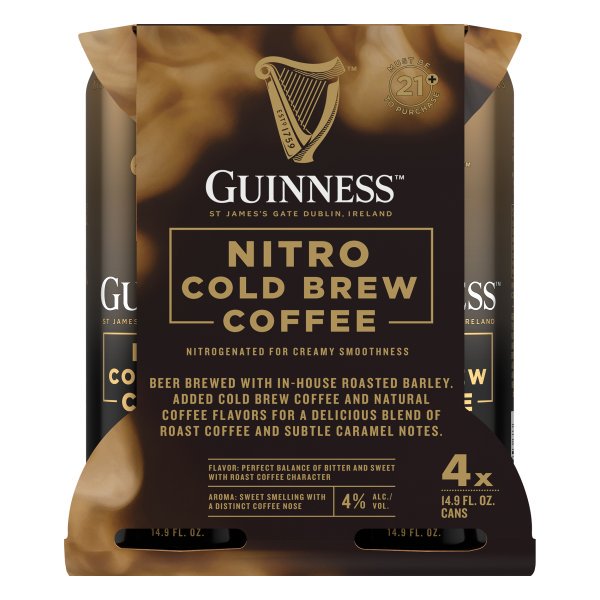 Guinness Nitro Cold Brew Coffee has a suggested retail of $9.99 per 4-pack. However, we found our 4-pack for only $8.48. To help locate this or any other beer from the Guinness portfolio use the Where To Buy feature on the brewery's website.