Chuckanut Brewery Releases Kölsch German Style Ale in 500mL Bottles
|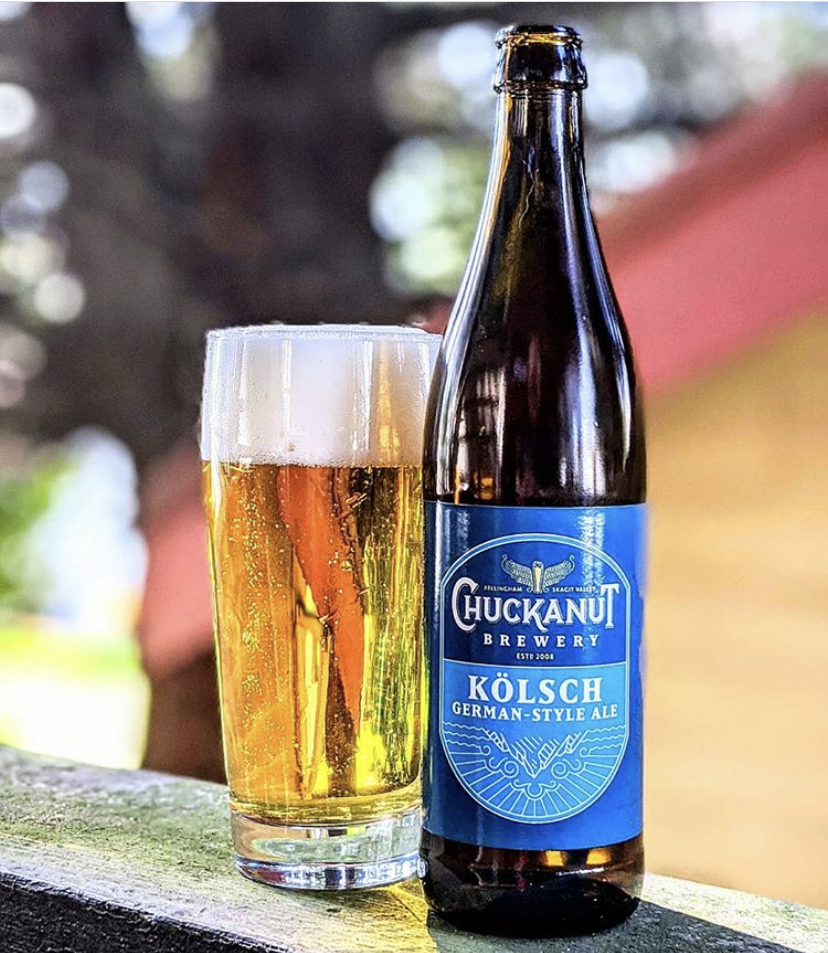 In these strange days, packaged beers reign supreme and Chuckanut Brewery has released its award winning Kölsch German Style Ale in 500mL bottles for the first time. Due to COVID-19, many breweries are transitioning its draft only beer to packaged beers to offer a more efficient and easier way to deliver its product to its consumers.
The first widely available bottle release from Chuckanut Brewery is its Kölsch, the current Gold Medal World Beer Cup winner that's inspired by the ale made exclusively in the city of Cologne, Germany. Chuckanut brewed its interpretation that offers a light bodied soft malt flavored ale with a slightly fruity aroma, effervescent quality and smooth, easy finish that sits at 4.5% ABV and 20 IBUs.
Kölsch German Style Ale is terrific with salads, cheese ­(goat cheese pie), and delicate dishes. A great paring for shellfish or fish the light fruity flavors of the beer work well with citrus based preparations. Kölsch is also a team player with sandwiches and wraps.
Chuckanut Kölsch German Style Ale Medals:
Great American Beer Fest (GABF): Gold 2011, Silver 2012, Gold 2015, Gold 2017
World Beer Cup: Silver 2012, Gold 2018
North American Beer Awards (NABA): Gold 2011, Silver 2012, Gold 2014, Silver 2015
WA Beer Awards (WABA): Gold 2014, Gold 2015, Silver 2017, Gold 2019
Chuckanut Brewery bottled beer will be available from Day One Distribution in Oregon, NW Beverages in Washington state, Dickerson Distributors in northwest Puget Sound and West Craft in Vancouver, BC, Canada. Chuckanut beer in half liter bottles can be found at Metropolitan Markets, PCC, Town & Country and smaller bottle shops in the Puget Sound region. In Portland Chuckanut bottles will be located at Market of Choice, New Seasons Markets and smaller bottle shops and in the northwest Puget Sound it is on the shelves of the Community Food Co-op, Elizabeth Station and other grocers.
For those in Northwest Washington state, Chuckanut Brewery is offering beer to go with curbside pickup at both locations. Chuckanut Brewery & Kitchen located at 601 West Holly St, Bellingham, WA are available 12:30-6:30 pm Wednesday-Sunday (360-752-3377 opt 1. Chuckanut's South Nut located at 11937 Higgins Airport Way, Burlington, WA are available Wednesday-Friday 3-6 pm and Saturday 1-6 pm (360-752-3377 opt 2. Find out additional details at http://www.chuckanutbrewery.com/.