Coin Toss Brewing Cans its Caught in a Pickle Lager
|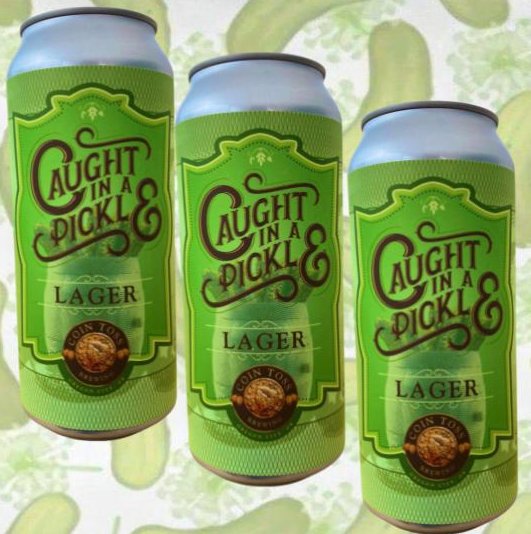 After selling a limited run of cans last year at local farmers markets, Coin Toss Brewing cans its popular Caught in a Pickle Lager on a much larger scale. Available beginning today, Caught in a Pickle Lager is packaged in 4-pack, 16oz cans at select retailers all summer long.
From blending Coin Toss' Half Penny Lager and just the right amount of bread-and-butter pickle juice, Caught in a Pickle Lager was created. The combination has been described as "surprisingly delightful" and appeals to craft beer lovers and even non-beer drinkers. It also makes for a great whiskey back!
First conceived for in 2016 at the Portland Pickles' Great West Brew Fest, and later for a season the local baseball team. The overwhelmingly positive response prompted Coin Toss founder Tim Hohl to bring it back in small batches several times over the years for sale at taprooms and local farmers markets in Oregon City, West Linn, Happy Valley and Tigard.
"People just can't stop talking about Caught in a Pickle Lager. It's a proven crowd-pleaser," said Hohl, in a statement. "Based on the feedback we've gotten from people who have tried it, we decided it's due for canning and wider release so more people can experience the joy of downing a pickle beer on a warm afternoon."
To celebrate the return of Caught in a Pickle Lager, Coin Toss is throwing a Pickle Party from 3:00-8:00pm on Thursday June 3, at its Oregon City taproom located at 14214 Fir Street, Suite H. Killer Burger will be joining the party, serving their renowned Peanut Butter Pickle Bacon Burgers, and there will be door prizes, new t-shirts, stickers, posters and more.
Caught in a Pickle Lager will be available at Coin Toss Brewing's taproom, on its webstore, and at select local retailers including Market of Choice, Grocery Outlet, Hollywood Beverage, Tony's Fish Market and the Oregon City WinCo Foods.